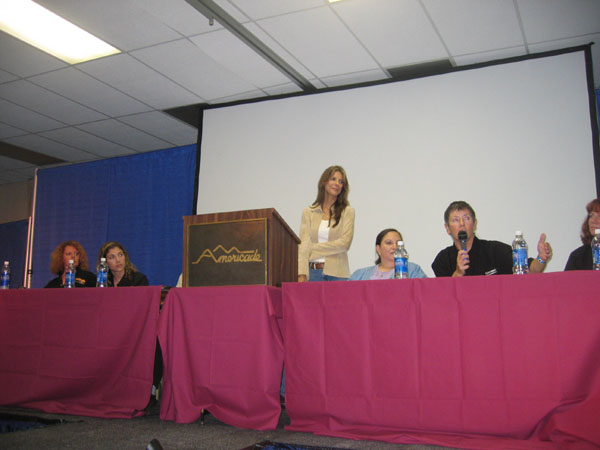 Last week I was at the Americade rally in Lake George, New York, where I emceed a panel on women and motorcycling. Panelists were Shira Kamil, co-publisher of Backroads magazine; Jessica Prokup, editor of Roadbike magazine; Christa Neuhauser, publisher of Road Runner magazine; Sherrie Rau, co-rider and wife of esteemed moto-journalist Fred Rau having traveled a half a million miles on a the back of a bike herself; Sue Slate, co-founder of the Womens Motorcyclist Foundation, and Sukoshi Fahey, North American sales manager for Avon Tyres. Bill Dutcher, organizer of the 24-year-old Americade event (known for its seminars and panel discussions), said the women and motorcycling panel was an experiment. He never featured that topic before.
I estimated there were 150 people in the audience with plenty of hands being raised during the one-hour discussion. Questions ranged from "why arent the manufacturers making more ergonomically friendly bikes for women" to "why dont we see more women in motorcycling advertisements." When the hour was up, there were still many people with questions and opinions wanting to be heard. Were told that next year this discussion may extend from 90 minutes to two hours. I hope I can be part of it again.
The Los Angeles Times recently announced a new biweekly column called "Throttle Jockey" reviewing a full range of mtorcycles, and the test ride editor is a woman. Susan Carpenter, a Times staff writer, is a 14-year motorcycle veteran and a former certified motorcycle instructor. Her column will appear every other Wednesday in the Los Angeles Times weekly Highway 1 automotive section, and will be available online at www.latimes.com/highway1. Her first article was a review of Kawasakis new sportbike powerhouse, the ZX-14. I think she did a superb job on the article. Its clear Susan really knows her stuff. We recently connected via email. Shes looking into maybe doing a story on the surge of women involved in motorcycling, whats fueling the growth. Be sure to bookmark her story link.
You may or may not have heard of Wicked Women Choppers. Bike builder Christine Vaughn formed this company to build custom bikes for women. She recently teamed up with the makers of Tequila Rose, a liqueur, to build a custom chopper thats begin given away in a sweepstakes. Click on www.tequilarose.com/sweeps/ to enter the sweepstakes.
I want to share with you that another motorcycle magazine is interested in running my column about women and motorcycling. Midwest Motorcyclist is a successful regional motorcycle newspaper serving the Midwest states. Like the three other magazines to which I contribute a regular monthly column, Midwest Motorcyclist is interested in attracting more women readers to their publication recognizing the power and influence women riders have in the motorcycling market. My regular monthly column will appear starting with the July issue. Thank you to publisher, Ray Peabody, for the opportunity to spread the word.
There will be a lot of women crossing the country on their motorcycles this summer. I know of several groups riding from all points south to Athens, Georgia, for the AMA womens conference, including two women from Billings, MT, whom I just met today. Plus, visit our "Way To Go Girl" link in the next week as Ill be posting updates on some women embarking on some statement-making motorcycle journeys this summer.