Most women riders know that motorcycling ladies don't fit a single mold, and our latest Way to Go, Girl! reminds us that women who ride can run the gamut from teenage racers to suit-wearing politicians to Hollywood stars. Check out the accomplishments of four women riders—Valerie Thompson, Ashley Fiolek, Margaret Cho and Gabrielle Giffords—who are setting records, gaining national exposure for motorcycling and embarking on the passion of a lifetime.
Valerie Thompson to Pilot North American Eagle
Valerie Thompson, a two-time motorcycle land-speed record holder, is joining forces with the North American Eagle (NAE) team to pilot a jet-powered car designed to travel more than 800 mph. Thompson is
replacing motorcycle racer Leslie Porterfield
, who stepped down due to health issues.
"Were expecting Valerie to set a new record as the worlds fastest female racer when she eclipses Kitty ONeals 1972 record of 512 mph," said Ed Shadle, NAE driver and project manager. Test runs are set to begin this summer.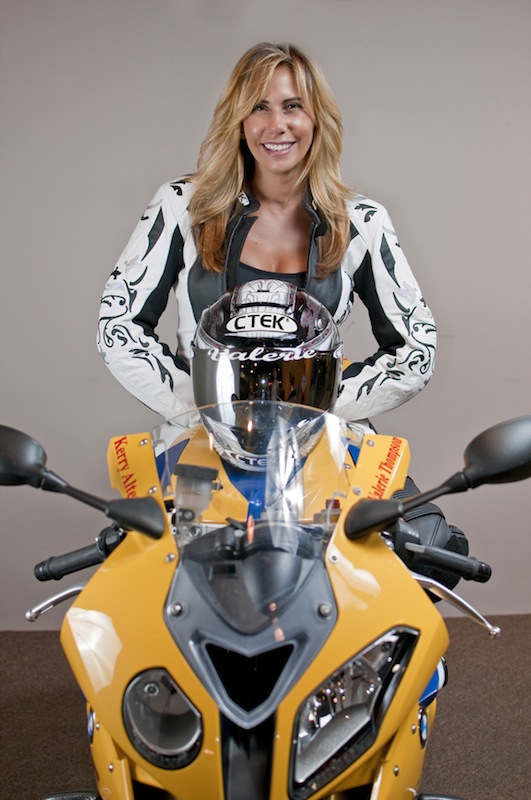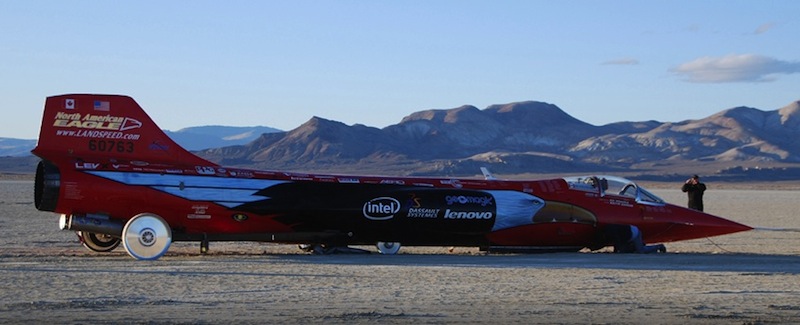 "I feel truly blessed to be given this opportunity. It's something I have dreamed about since competing at my first land-speed racing event in Bonneville [on] August 25-30. Since the team is based in my home state of Washington, I feel like I'm going back to where it all started," said Valerie.
The NAE team is also aiming to beat the world land-speed record, which the UK has held for 15 years, by successfully running a jet-powered car at 763 mph. The NAE team, which includes American and Canadian engineers and former military personnel, says its time to bring the record back to North America.For more information, visit
LandSpeed.com
or ValerieThompsonRacing.com.
Ashley Fiolek Featured in Vogue Magazine
In what can be viewed as a timely boost to the sport of women's motocross, Team Honda's Ashley Fiolek is the focus of a feature article in the April 2012 issue of Vogue magazine.
Fiolek, a three-time Women's Motocross Champion and two-time X-Games gold medalist (who also happens to be hearing impaired), made history in 2009 by becoming the first female to
sign a contract with the American Honda Racing factory team
. In addition to her impressive run of race wins, she has helped bring attention to women's motocross and has become a positive role model for young girls everywhere.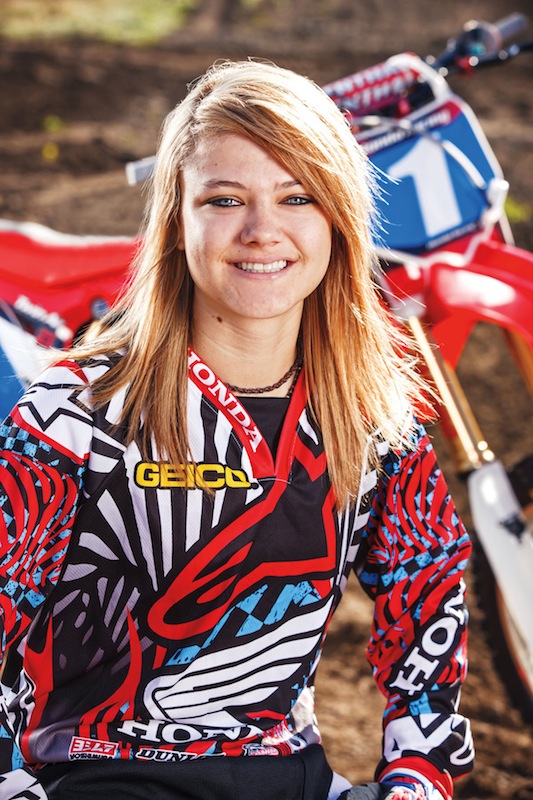 The four-page Vogue feature gives an inside look at how Fiolek has not only overcome her disability in a high-speed sport that puts a premium on the sense of hearing, but has also earned numerous accolades on and off the track as a female racer in a male-dominated sport. For more information, pick up the April 2012 issue of Vogue magazine or visit Powersports.Honda.com.
Margaret Cho Gets Motorcycle License
Look who recently became a woman in the wind! Comedienne Margaret Cho, who stars in the TV series "Drop Dead Diva" on Lifetime, recently took the leap and got her motorcycle license. WRN Editor Genevieve Schmitt interviewed Margaret about her thoughts so far about life on two wheels.
GS: Why did you want to learn how to ride a motorcycle, and what inspired you to do so?
MC: I have always wanted to ride. I have been on the back of a bike as a passenger. Its so exciting! I figured that it was about time to start—and 42 is not too late! I took a beginner rider course at Riders Edge at the Harley-Davidson in Glendale, Calif., and I got my M1 endorsement on my drivers license after I finished the course. I have never felt such a keen sense of accomplishment.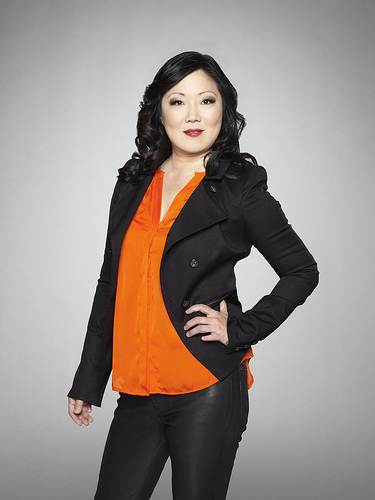 GS: How did you feel being on a motorcycle for the first time as a rider?
MC: Completely right and completely scary. Its an awesome power that needs to be respected. I think motorcycles are simply magical, and they can be very dangerous if they are not handled properly. When I swung my leg over and felt the roar of the engine, I understood the power—its a big responsibility. Being out on the street with this machine and negotiating your way around drivers who are operating even larger vehicles—and mostly not paying attention and texting and doing all sorts of activities that have nothing to do with driving—can be really difficult.
GS: What are you looking forward to most about being a rider?
MC: I look forward to hanging out with other motorcyclists, getting to understand bikes better, riding with folks—and I love the gear! That's what I am super into—boots and jackets!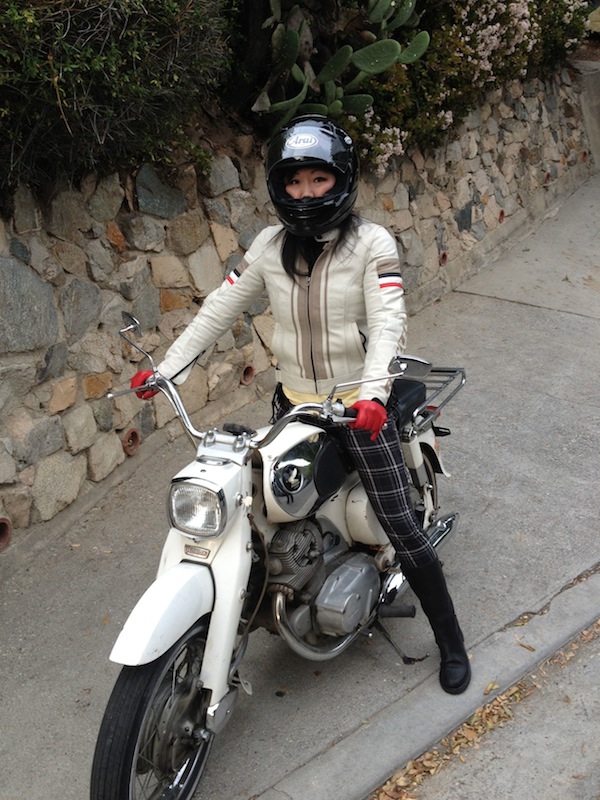 GS: What kind of motorcycle do you want to buy—or do you have one and what is it?—and what kind of riding do you want to do?
MC: I have a 1966 Honda Dream305, and I have also been renting and riding other larger bikes, like Harley-Davidsons and Buells and Kawasakis, to get a feel for them and also to build my confidence in handling different types of motorcycles. I think that I would also like to try dirt bikes and possibly a track day if I can manage my nerves enough to do it! Id love to be able to do short commutes to work and little journeys around my quiet neighborhood and build up to doing longer rides gradually.
Thanks, Margaret, for taking the time to chat with us! For a few motorcycle tales from Margaret Cho, visit the motorcycle section of her blog at
MargaretCho.com
.
Gabrielle Giffords Wins AMA Award
The American Motorcyclist Association (AMA) has announced the recipients of six national awards that recognize outstanding contributions to the world of motorcycling, and one well-known and inspiring woman rider is among them.
Retired U.S. Rep. Gabrielle Giffords is this year's recipient of the AMA Bessie Stringfield Award. First awarded in 2000, the award recognizes individuals who have introduced motorcycling to emerging markets. It was created to memorialize the accomplishments of AMA Motorcycle Hall of Fame member Bessie Stringfield, an African-American motorcycling pioneer of the mid-20th century.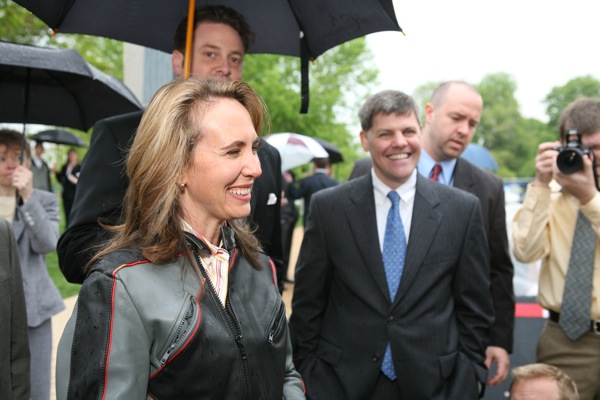 Until her recent retirement announcement, Rep. Giffords was the co-chair of the Congressional Motorcycle Caucus. As a rider for more than 20 years and as a member of the U.S. House and the caucus, she worked with the AMA and the motorcycling community on a number of issues to protect and promote motorcycling. Giffords is arguably the most visible woman motorcyclist ever elected at the national level, and her embrace of motorcycling encouraged many other women to take up riding.
"This is a great honor from the AMA," said Mark E. Kelly, Gifford's husband, on her behalf. "Gabby and I have been motorcyclists for many years, and I can tell you that motorcycling and motorcyclists have been important in our lives. She has been able to inspire so many others to take up riding, particularly women."
Kelly added that Giffords is progressing in her recovery from the failed assassination attempt on her life in January 2011 and that the couple hope to ride together again one day in the future. For more information about the AMA awards and to see Giffords's fellow award recipients, visit AmericanMotorcyclist.com.