What is Periscope?
Periscope is the latest social media app that lets users stream live video using their cell phone or tablet from wherever there is a Wi-Fi or cellular signal, which means pretty much anywhere! Periscope.tv was launched in the spring of 2015 and has already amassed a huge following of users.
The unique aspect of Periscope is that watchers can type in comments that appear live on the screen to the person doing the broadcast as well as to all other people watching. This creates a fantastic dialogue and unique way for people to interact with one another.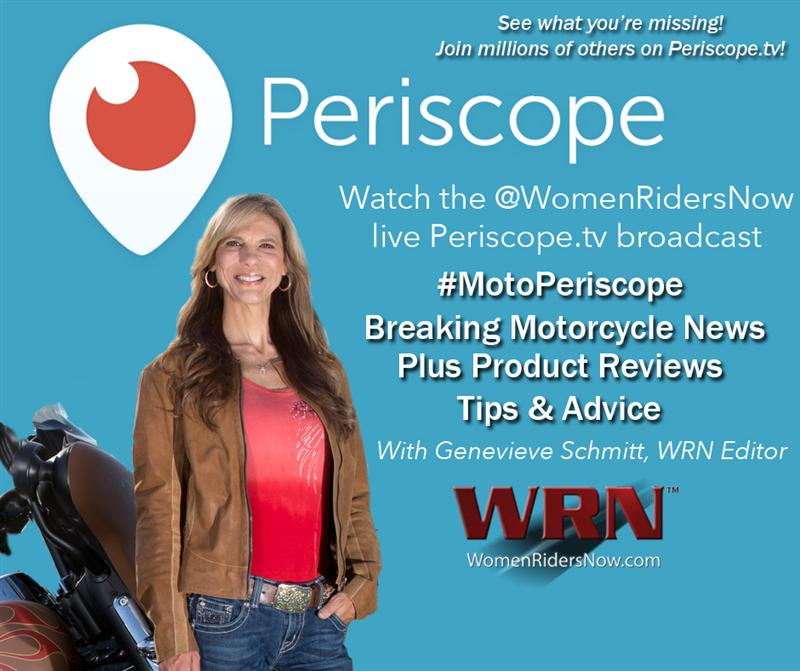 Women Riders Now (WRN) editor Genevieve Schmitt has a Periscope account named @WomenRidersNow. She has started doing live broadcasts called "MotoPeriscope" covering everything from breaking news in the motorcycle world, motorcycle gear and product reviews, safe riding tips and advice, and beginner topics like how to get into motorcycling. She will be broadcasting live at events in the future, so be one of the first ones to follow her because there is no other show like this on the Internet right now.
How to watch Genevieve:
1. Visit Periscope.tv and create a free account.
If you have a Twitter account, you can sign in with that account as Twitter owns Periscope. Your Twitter followers are now your first Periscope followers.
2. Do a search for @WomenRidersNow and click follow.
Be sure your notifications for Periscope are turned on in your settings on your cell phone or tablet. You will receive a notification each time Genevieve starts a live broadcast. Periscope broadcasts remain on a users Periscope profile for 24 hours so you if cant watch live, you can check in later to view the replay.
3. Dont want to sign up for another social media account?
Then you can watch Genevieve at Periscope.tv/womenridersnow without having an account. Again, replays will be available at this link for 24 hours.
4. Still want to watch but missed the 24-hour window? Want to see previous shows?
Visit Katch.me/womenridersnow.com for the most recent broadcasts. Shows are uploaded to that link immediately after the broadcast has ended and stay there beyond the 24-hour time period.
5. Still cant find WRN Periscope shows?
Do a search in Google, Twitter, or Facebook for #MotoPeriscope and youll find our latest shows.
Watch Genevieves first broadcast here, sponsored by HotLeathers.com.
Watch my second MotoPeriscope here, sponsored by Klock Werks.


Related Stories
WRN Produced Videos