Part 2 of my V-Twin Show report looks at more custom motorcycle companies and what they're doing to attract women to their brand.
Ultra Motorcycles
I was introduced to Ultra Motorcycles, a company making a comeback after going under several years ago. The new management team is determined to make this new brand of Ultras a player in the game. In terms of the women's market, CFO Michael Vos told me, "No one else is going after the women's market aggressively, so we are."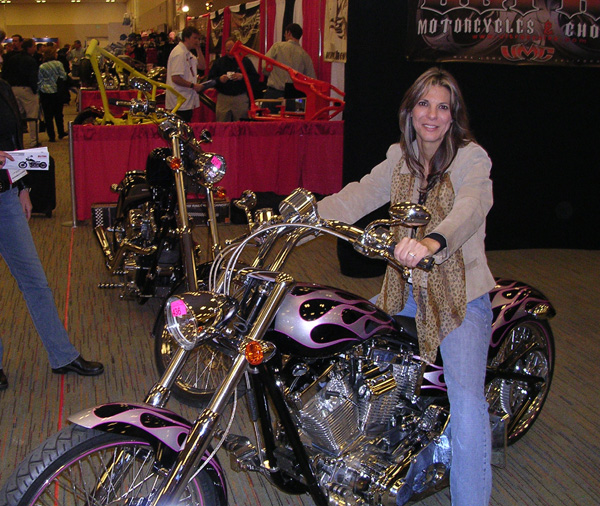 I sat on a custom pro-street style model called the Groundpounder LE (Limited Edition). Its a limited edition because its a modified version of the company's popular Fatpounder model. The LE has a more stylized tank, pullback handlebars, a conventional front end, and a 96 cubic inch motor versus a 113 on the other models. Plus, the LE is painted pink. I normally don't prefer girly-girly bike designs, but the subtle pink flames on this model sizzled, and the bike fit me like a glove. The pink pinstriping on the wheels was a cool accent. Visit for EXTERNALwww.ultracycles.com details.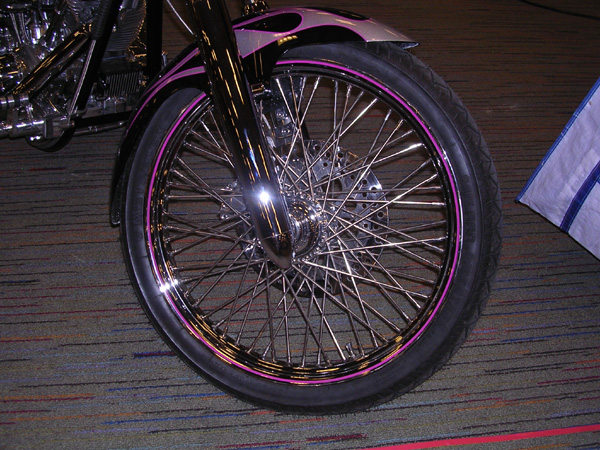 Ridley Motorcycle Company
This is the manufacturer of automatic motorcycles (no gears, no shifting) that is hugely popular among women. Anyone who wants the chopper style look, but is skittish about muscling such massive amounts of metal, Ridley has an alternative, the Auto-Glide Chopper new for 2006.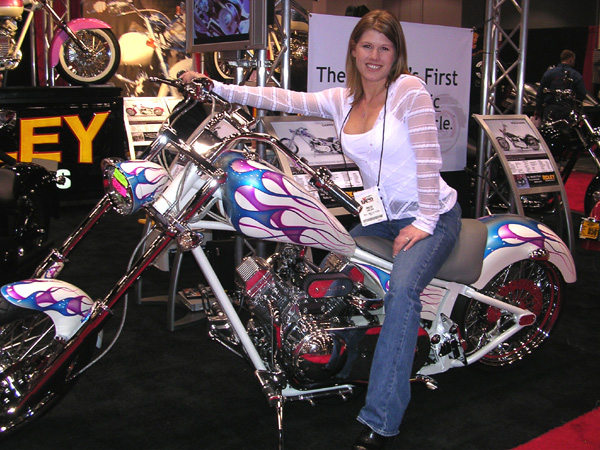 It looks and feels like a chopper, weighs a mere 460 pounds and has an automatic transmission – no shifting. It is extremely low to the ground with 23.5-inch seat height, and has an automatic kickstand for people with short legs. You push a button and the kickstand automatically flips up and down. To read more about the Auto-Glide Chopper and see all the other Ridley models visit EXTERNALwww.ridleymotorcycle.com.
American Trike
Can you believe there are chopper trikes now? I thought this might be of interest because so many women ride three-wheelers. American Trike out of Glen Ellyn, Ilinois, is converting Big Dog Motorcycles into three wheelers.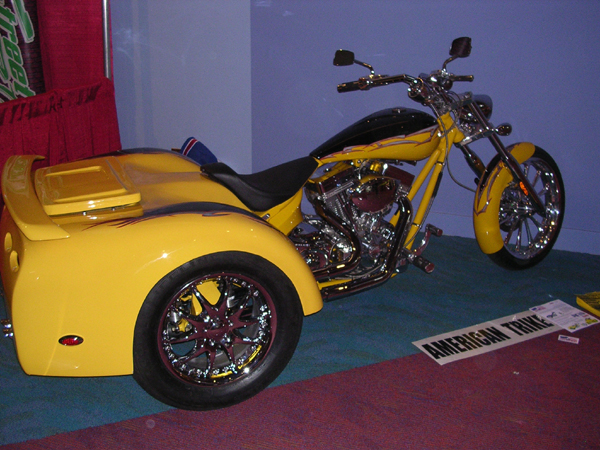 There are several different back-end designs including the two you see here: the trunk version and the open back-end version.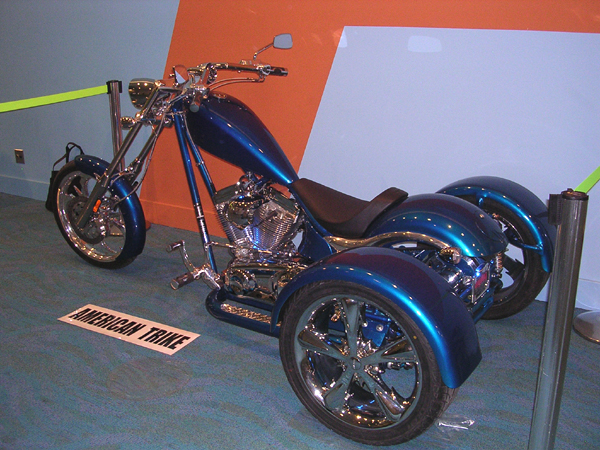 Sam Camp, American Trikes marketing guy, told me he's getting interest from other manufacturers like American IronHorse to do trike conversion with their bikes. American Trike is the only company with a patented swingarm that can convert a 300 mm tire series frame into a trike. Read more at EXTERNALwww.americantrike.com.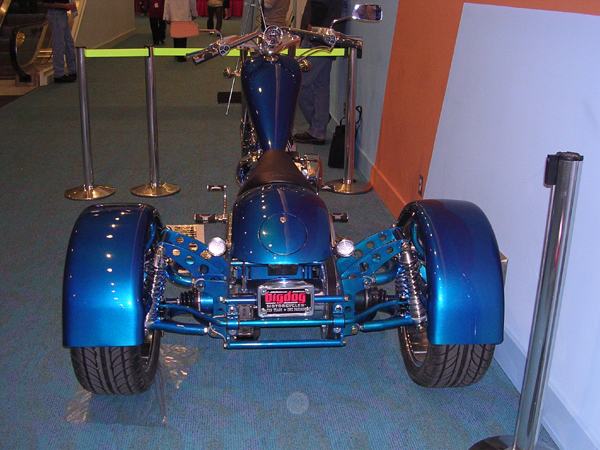 My Female Rider Forcast
I sensed a heightened awareness of the womens market among vendors at this years V-Twin Show. The V-twin segment of the industry sets trends. The larger manufacturers keep an eye on what these trend-setters are building incorporating some designs into mass-produced motorcycles and aftermarket parts. We saw that with the bobber-style motorcycle. The custom guys reintroduced that style a few years ago. It became popular again, and this year Harley-Davidson introduced the Street Bob, a take-off of the bobber.
Think of the V-twin custom motorcycle builders as the high fashion designers (Gianni Versace, Calvin Klein, etc.). The V-twin expo is motorcycling's version of "Fashion Week" with models strutting the runway. What you see on the runway sets trends for clothing that ends up in department stores. So it goes with V-twin builders setting trends for styles and parts that end up on mass produced motorcycles.
I predict well be seeing more women customizing their motorcycles with exotic parts and paint jobs. Some will even purchase and/or design a custom motorcycle for themselves. Women will definitely want a piece of this custom motorcycle action.
In part 3 of my V-Twin Show Report running Monday, what's new in motorcycle clothing for women.