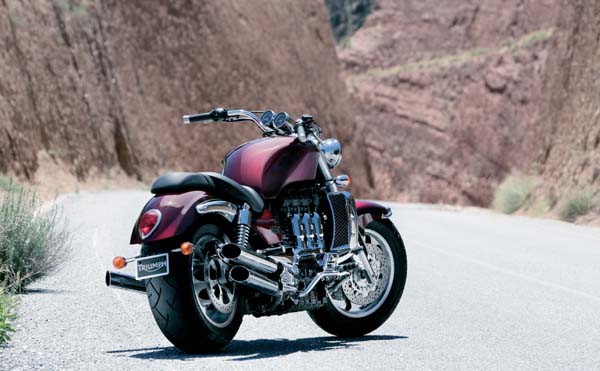 Triumph Motorcycles (America) Ltd. is launching its "Win a Rocket III Classic" Sweepstakes. Under this promotion, all eligible customers who test ride any Rocket III model at a participating U.S. dealer or demo ride between now and September 30, 2007 will be entered into a sweepstakes to win a brand new Rocket III Classic.


The Rocket IIIs are the worlds largest displacement production motorcycles. They feature a torquey 2,300cc in-line 3-cylinder engine, a very low center of gravity, and superb handling and brakes. The Rocket III family includes three unique members:
The original Rocket III is designed for the performance-minded rider who wants the ultimate power cruiser. The matte black engine is wrapped with stunning single-color bodywork. The handlebars, solo seat, and footpegs combine to create an aggressive riding position ideal for spirited riding. A removable passenger seat is included. MSRP is $14,999.
The Rocket III Classic is a more relaxed and elegant version of the original. The powerplant is unchanged, but the Classic features stylish 2-tone paint, rider floorboards, pull-back bars for a more relaxed riding position, and a generous touring seat that enhances rider and passenger comfort. The passenger-friendly Rocket III Classic is priced at $15,699.
For those looking to ride off towards the horizon, Triumph has created the Rocket III Classic Tourer outfitted with a silver engine, a roadster windshield, passenger backrest, and large full-leather saddlebags to create the worlds first performance touring cruiser. MSRP: 16,399.
One lucky rider who test rides a Rocket III at a participating dealer or at one of Triumphs national demo events will win a brand new Rocket III Classic for free. For a list of participating dealers and Triumps national demo event schedule, visit TriumphMotorcycles.com/usa.