"Girlfriend Getaways" are all the rage these days. Everywhere you look dude ranches to adventure sports outfitters are promoting an opportunity for a group of gal pals enjoy some stress-free downtime together. One savvy state tourism bureau is expanding that concept into motorcycling. Last fall, I was invited by the Idaho Division of Tourism Development to participate in a girlfriend getaway with a group of female motorcycle journalists to ride a scenic loop that crosses into Washington and Canada. "How fun," I thought. Im so busy writing about motorcycling that I rarely get the chance to tour with a group of women riders, especially my female riding colleagues. "Woohoo!"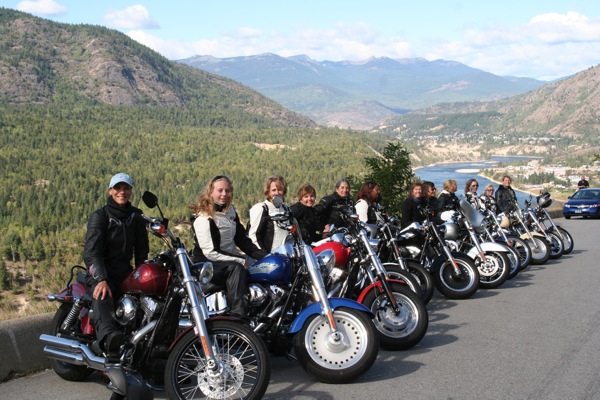 Before I share the nuts and bolts of this incredibly scenic route called the International Selkirk Loop, Ill tell you that of all the long distance overnight motorcycle journeys and organized tours Ive been on, this is one Id do again and spend a lot more time the second time around. Four days was just too short to see it all. And riding this loop with women was definitely the way to go for me because there is a lot of shopping and museums along the way in all the small towns you visit and, well, Ive yet to find a male motorcycle rider who enjoys browsing shops when he could be adding another 200 miles to his days mileage. Im so not saying men wont enjoy this ride gosh the roads in the region are some of the best for riding. Its just a shame to pass by all the cute shops.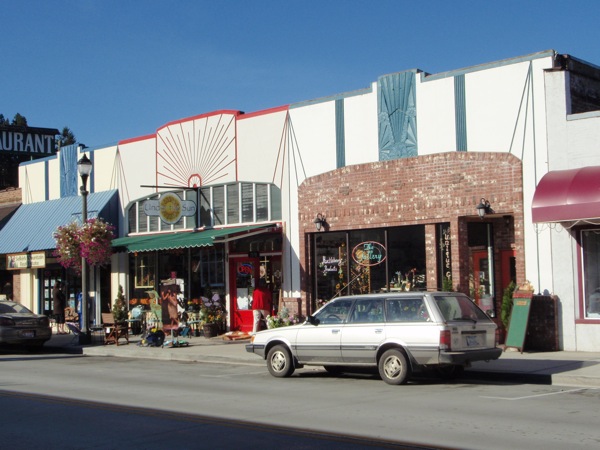 The International Selkirk Loop is a 280-mile international scenic byway that winds around the Selkirk Mountains through Idaho and Washington in the U.S., and British Columbia in Canada. The roadway meanders alongside crystal clear lakes and rivers leading riders to quaint towns bursting with color and local flavor. The Loop is relatively new to being promoted as a scenic ride by tourism departments as it was put together just over 10 years ago. In 2009, it was named one of the Top 10 Scenic Drives in the Northern Rockies.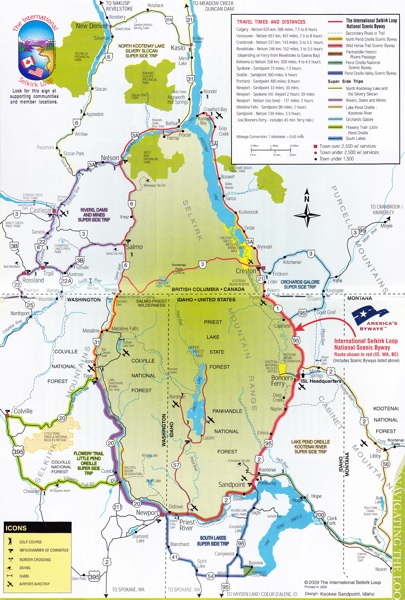 To add more incredible miles of majestic mountains and beauty – 450 to be exact, there are six "Super Side Trips," loops that offshoot from the main loop. You can do one, two, or four of them like we did.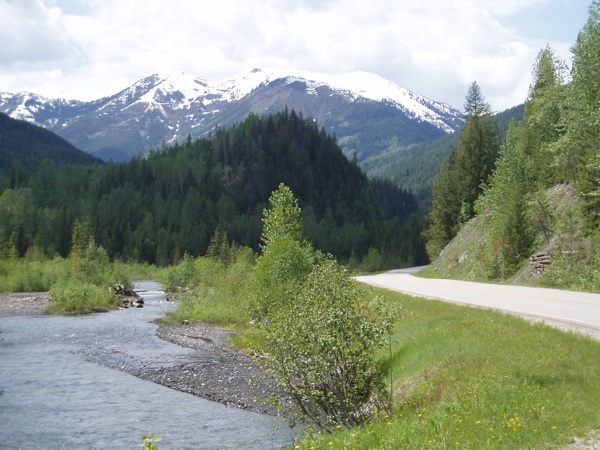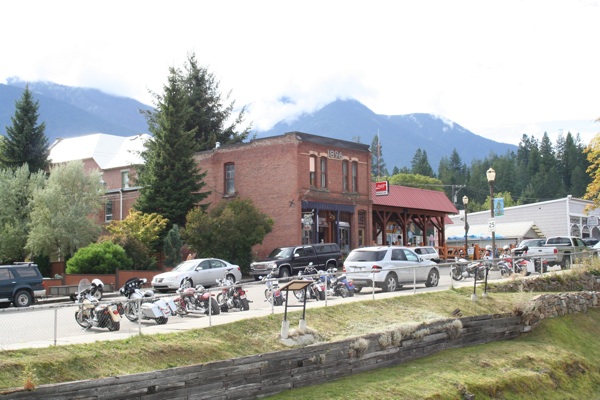 What makes this loop special is that its the only "designated" loop that straddles the U.S. and Canada, and for riders seeking a taste of international culture without heading overseas, Canada (for Americans) is the next best thing with currency, a government, and weights and measures all different from the U.S. Theyre on metric and use kilometers, not miles. Canadians will experience all those differences when they head south on the loop into the U.S. portion. The other appeal for motorcyclists is the uncrowded roads. Oftentimes we were the only vehicles on a section of highway.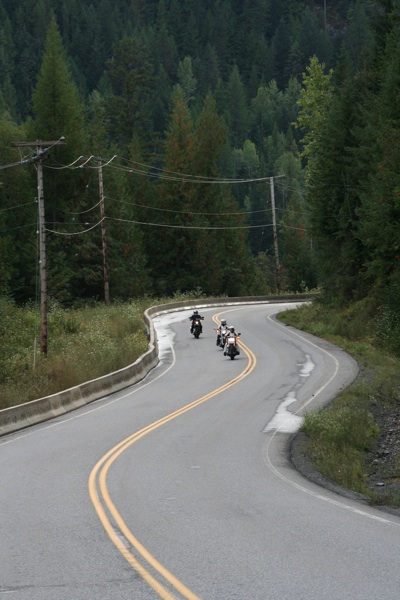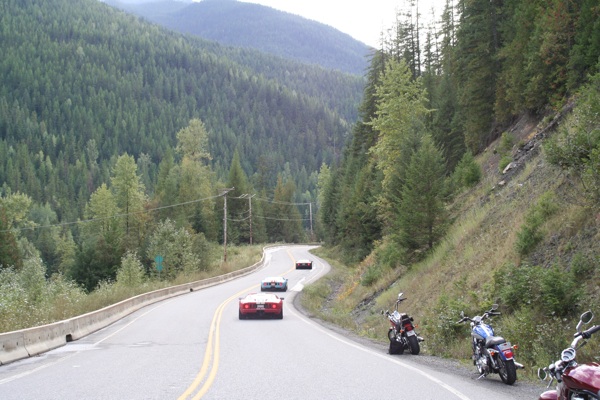 Another appeal of the loop is that it's hard to get lost; maybe some riders like that, but when limited on time, keeping on track is best. The loop is marked with a colorful highway sign placed at various points along the way.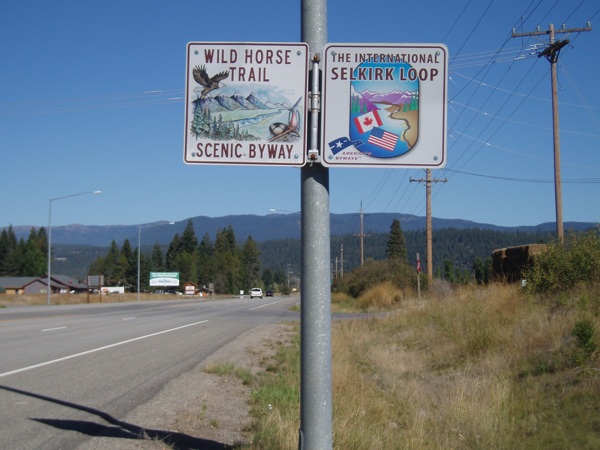 Details of My Trip and Recommendations
Our tour guides and route planners are Diane Norton with the Idaho tourism bureau, and Carol Graham, executive director of The International Selkirk Loop. Carol is in charge of the 400 businesses on the Loop that contribute to promoting the scenic byway to tourists. Since this ride was designed to showcase the best the loop has to offer to working journalists, Ill share where we stayed, where we ate and what we did, as well as my thoughts on each, so if you plan to do a the same route which I suggest you do youll have some recommendations, because I believe that on any girlfriend getaway, what you eat all day long and where you lay your head at night is as just as important as the roads you travel.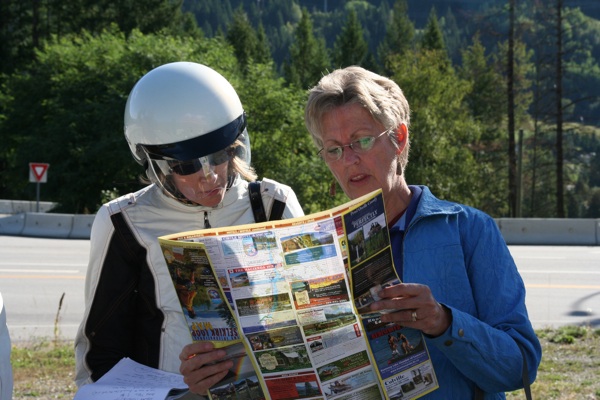 You can start the loop from one of many entry points in the U.S. Because of easy air travel access, we began our ride in Spokane in eastern Washington. Harley-Davidson corporate trucked out a fleet of 2010 motorcycles for us as rentals in the area are hard to come by. Nearest Harley-Davidson authorized rentals are in Seattle, Missoula, Montana, and southern Idaho.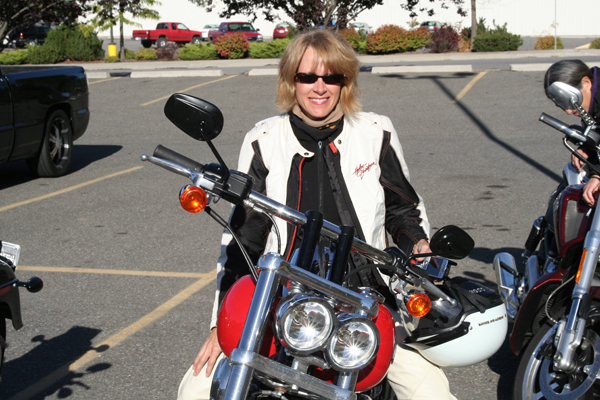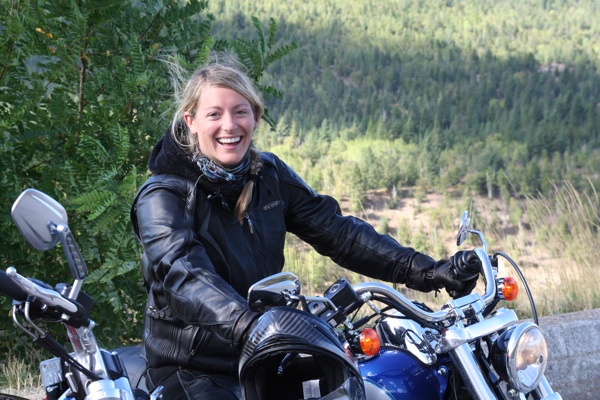 Arrival Day: Spokane, Washington
In Spokane we stay our first night at the one hotel that, if youre going to splurge, this is the place at which to do it. The Davenport is the jewel of Spokane, a grand hotel of the Gilded Age that opened in 1914 and went through an extensive renovation recently making it one of the top luxurious hotels in the U.S. It is a AAA Four Diamond Award winner, including other prestigious tourism credentials. Summer rates range from $150 to $299. (Click on photos to make them larger.)
| | |
| --- | --- |
| The Davenport takes up the corner of a city block in downtown Spokane. Covered parking near one of the entrances is available for motorcycles. | Heres one of the swankier rooms at The Davenport, but luxury abounds in every room. |
There is a lot to do and see in the metropolis of Spokane making that part of the trip worthy of at least a two-night stay at The Davenport. Carol and Diane arranged a special treat for us the evening we spent there. We drove to Gonzaga University to tour the Bing Crosby memorabilia room. Bing graduated from Gonzaga in 1924 and went on to raise funds for the universitys first library in 1957. Classic movie buffs will get a kick out of seeing Bings brag room, and his boyhood home nearby.
| | |
| --- | --- |
| Bings Oscar for "Going My Way" on display at the Crosbyana Room in what is now the Gonzaga Student Center. | Many of Bings gold and platinum records on display, some autographed by the star. |
| "Im dreaming of a white Christmas!" | Enjoying a catered dinner at Bings boyhood home, now the Crosby Alumni House. Its open weekdays to the public free of charge. |
Riding Day 1: Spokane to Bonners Ferry, Idaho (217 miles)
We pick up Highway 2 of the Selkirk Loop in Newport, Washington, a small historic town on the Idaho border, a short ride from Spokane. Highway 2 snakes alongside the Pend Oreille River (pronounced Pon-deray) into Idaho. The roadway is smooth and wide open allowing me to shift my gaze off the pavement momentarily to drink in the stunning views of the meandering river to my right. Soon, we come upon the town of Sandpoint, which has become an escape in recent years for former urbanites seeking peace in the countryside.
Leaving Sandpoint, we ride along Lake Pend Oreille. Definitely pull over and take a photo. I learn a little known tidbit: 40 miles offshore the U.S. Navy does small submarine sonar testing in the lake.
| | |
| --- | --- |
| Lake Pend Oreille is the 13th largest lake in the world and 1,000 feet deep. I rode a 2010 Dyna Super Glide for part of our tour. | Heading north on Highway 56 in Montana towards Kootenai Falls. |
Just past Sandpoint, we veer off onto the "Lake Pend Oreille Kootenai River" Super Side Trip. Crossing into Montana on Highway 56 the terrain becomes more rugged and mountainous. We head down a paved side road to the Kootenai Falls, one of the largest free-flowing waterfalls in the northwest. A half-mile walking trail leads us down to the cascading water, which I opt not to embark on because my heavy leather pants and riding boots combined with warm temperatures dont make for comfortable hiking attire.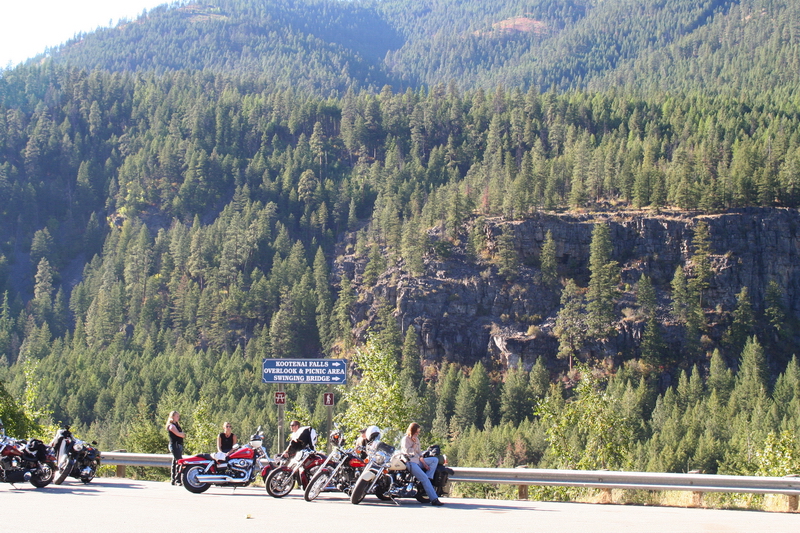 We spend the night in Bonner's Ferry, Idaho, population 2500, 30 miles from the Canadian border. Other than one or two chain hotels, lodging options include small family owned accommodations. I'm sure we stayed at the best one, The Northside School Bed & Breakfast; I'd stay there again. Built in 1912 as a schoolhouse, Gene and Ruth Perry now operate the beautifully renovated, cozy accommodations as a bed and breakfast. Rates are $100 to $140 in the summer, and a full hot delicious breakfast is included.
| | |
| --- | --- |
| Spacious windows allow plenty of light into each of the rooms at the Northside B&B. The gravel parking lot means riders must take it slow and steady here. | Journalist Sheryl Bussard plops herself down in one of the rooms at the Northside B&B, each decorated in a different theme. |
We eat a scrumptious authentic Italian meal at Papa Byrd's Bistro in Bonner's Ferry. Chef Mark Truesdell prepares all his specialties and being Italian, I can attest that the food was freshly prepared and oh-so delicious — a must stop on your tour!
| | |
| --- | --- |
| Michaela Fischer and Anne Tattersall, riders from Germany and the Netherlands respectively, are right at home in the European styled bistro atmosphere of Papa Byrd's. | My buddy Debbie Macdonald with Thunder Press, enjoying the assortment of desserts prepared especially for us at Papa Byrd's. |
Riding Day 2: Bonners Ferry to Nelson, British Columbia (203 miles)
Greeted with sunny skies and morning temps in the 40s, we bundle up and head north 30 miles to the Canadian border crossing in British Columbia. You're required to have a copy of your birth certificate and your drivers license, or your passport. You'll also want to check with your motorcycle insurance company about being covered in Canada should you need to file a claim for an incident that happens there. My insurance company issued me a Canadian non-resident motor vehicle liability insurance card.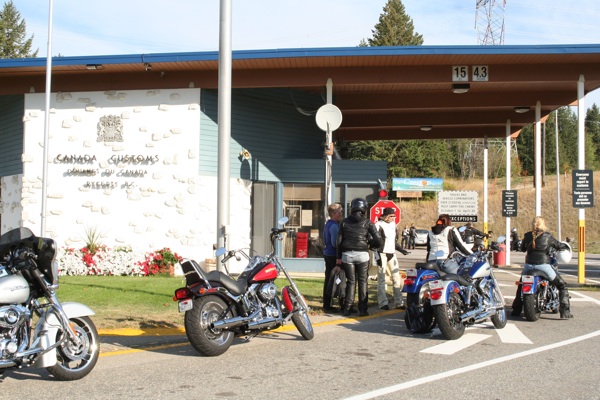 I've been referring to all the shopping opportunities and no more is the experience unique than in Crawford Bay, an hour's ride north of the border. Artists have been converging on this picturesque waterfront town now with no less than six working studios where you can observe crafts people at work and buy samples of their work. All of the places we visit on the Loop in Canada accept U.S. dollars, but we were given change in Canadian dollars. I don't know if the U.S. Loop towns accept Canadian money. I doubt it. Depending on the exchange rate of the time you plan to be in either country, it may be advantageous to convert your money to the native currency.
| | |
| --- | --- |
| Pulling over in Crawford Bay. | Across the street we visit a few of the artists. |
| | | |
| --- | --- | --- |
| John Smith, the first craftsman to settle into Crawford Bay back in 1981, says visitor traffic is great, thanks to being on The Loop. | Artist Helene Carter is making a necklace pendant out of copper painted with enamel created from heated powdered glass. | Watching a weaver turn fine threads into sweaters, shirts, bags and more. |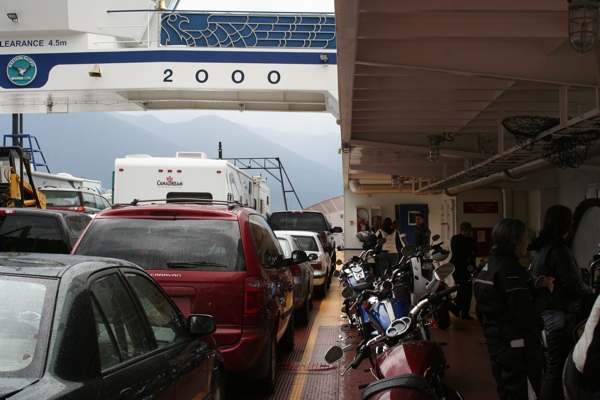 We embark from the Ferry and ride the wide sweeping twisties up Highway 31 towards Kaslo. In Kaslo, we tour the SS Moyie, an old ferry that shuttled people up and down the Kootenay River from 1898 to 1957.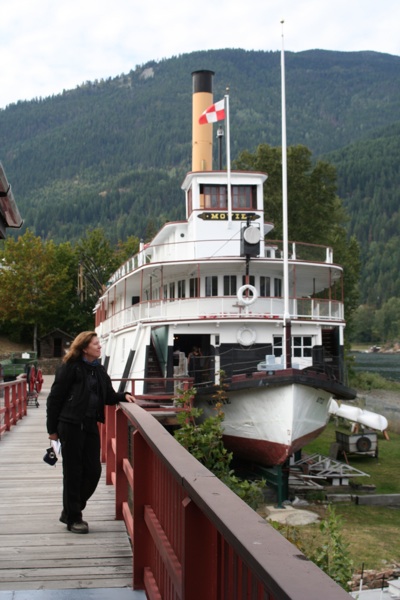 Kaslo is part of the North Kootenay Lake Silvery Slocan Super Side Trip route that takes us to Nelson, the biggest town we visit with a population just under 10,000. Between the Kaslo and Nelso we cruise one of the prettiest sections of the whole journey, Highway 31A and Route 6, noted for being two of the best motorcycling roads in Canada. Unfortunately, we hit a downpour the last half of the ride to Nelson that we ride right through.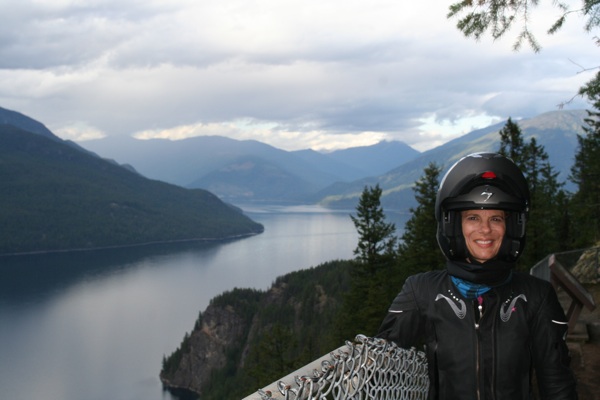 That evening, we dine on a gourmet meal at the All Seasons Cafe billed as "the hippest back alley bistro" in Nelson. It's one of those jewels off the beaten path where ambiance is matched by the quality of the food.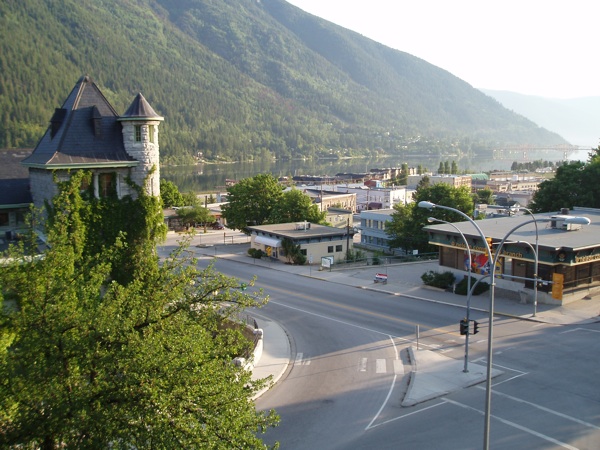 Riding Day 3: Nelson, British Columbia to Colville, Washington (170 miles)
Riding out of Nelson we head west instead of south to embark on another Super Side Trip — the "Rivers, Dams and Mines." The ride is gorgeous as we climb in elevation. I recommend staying in Nelson an extra day and using that as your home base while exploring the area either on motorcycle or by foot.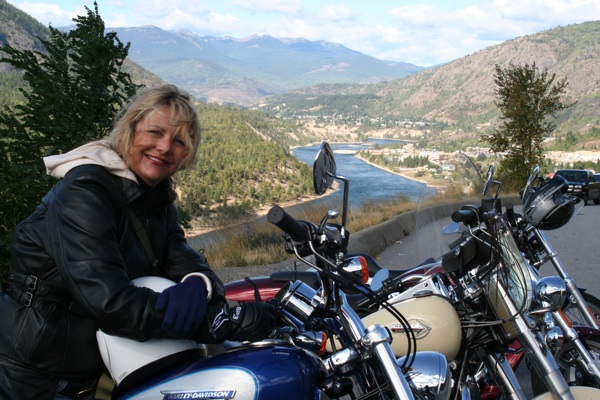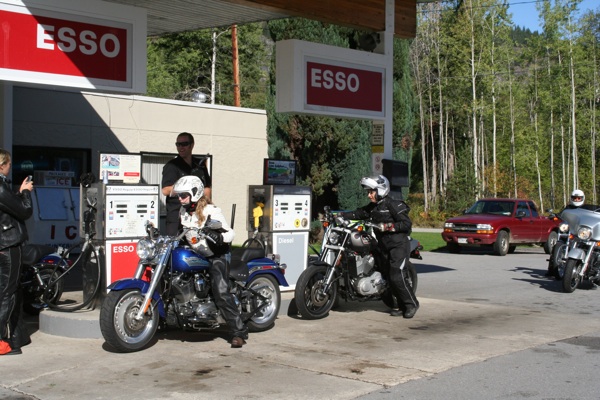 This is the day we cross the border back into the U.S., which is simple as answering a few questions asked by the customs officer. "Why were you in Canada, business or pleasure? What did you buy there? Where do you live?" Having crossed the border several times in my life, you're asked a variety of these types of questions; it's never a big deal if you're honest and straightforward with the customs agent.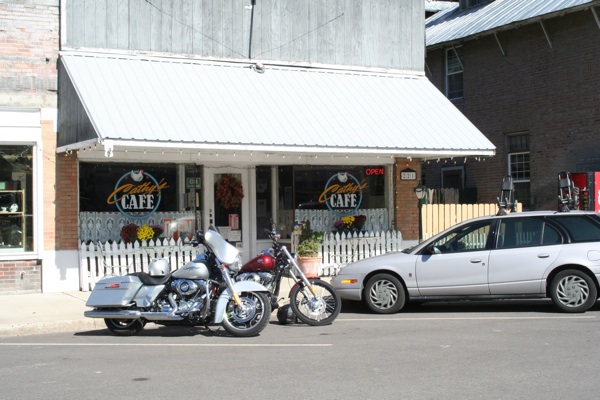 The Comfort Inn in Colville, Washington, a midsize outdoorsy town (large enough for a Wal-Mart though), located on the last of our side loops — the Flower Trail Little Pend Oreille Super Side Trip — is where we park our bikes for the night. Thank you Comfort Inn for providing us with area brochures that beckon me to return and explore this nature paradise in northeast Washington. And I'd stay at this Comfort Inn again as I was pleasantly surprised by the higher end linens, mattress quality, ambience and overall cleanliness.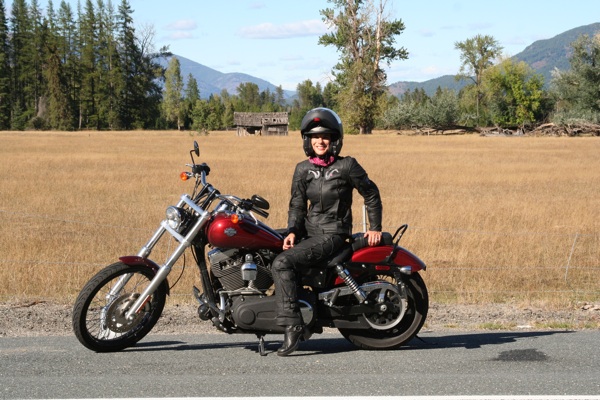 By far, the best dining experience of this ride for me was Lovitt Restaurant in Colville. This 1908 farmhouse was converted into a restaurant and is now owned by chef Norman Six and his wife, Kristen. After being trained and working in high-end restaurants in Chicago, he and his wife left city life for the peace and quiet of rural living. They prepare meals with ingredients grown in their garden or purchased from local growers. I love fresh wholesome ingredients and the Sixes pulled out all the stops for us.
| | | |
| --- | --- | --- |
| Anne Tattersall, my new gal pal from the Netherlands, looking divine on the deck of Lovitt Restaurant in Colville. | Our group at Lovitt Restaurant celebrating our last evening together. | Beet soup made from beets grown in the chef's garden. Delish! |
I sum up the International Selkirk Loop as a "ride, sightsee, and shop motorcycle adventure," more than a "ride, ride and more ride" itinerary. The Loop is best ridden with folks who like to stop and smell the roses as there are plenty of "roses" to be had on these incredible and relatively unknown stretches of highway in the northwest corner of the U.S and southwest corner of Canada. It's all just begging to be explored!
Resources:
SelkirkLoop.org
DriveTheTop10.com
TheDavenportHotel.com
NorthsideSchoolBandB.com
AllSeasonsCafe.com
LovittRestaurant.com