Editors Note (thats Genevieve): Betsy wrote this story on March 4 before the story broke this past week of Jesse James alleged affair that has him cheating on his wife, Sandra Bullock. In light of the current events, we are running this story that centers around Betsys visit to Jesse James No Love Ride, an ironic name to a ride now in light of the latest events and considering the way Betsy starts off the story. But first a note from Betsy
Authors Note (thats Betsy): I cannot even express how sad I am to hear of the news of Jesse and Sandra. As a lifelong single woman, I always notice when a couple comes together that seems to exemplify the American Dream. Just a few short months ago, they appeared to have it all. Watching them through the lens of my camera, they laughed a lot, and looked like two people who were also very good friends. Watching them gave ME hope in my lifetime search for a love that I can believe in. Sadly, no one wins when a lifetime dream dies. I wish them both the best in these very strained times.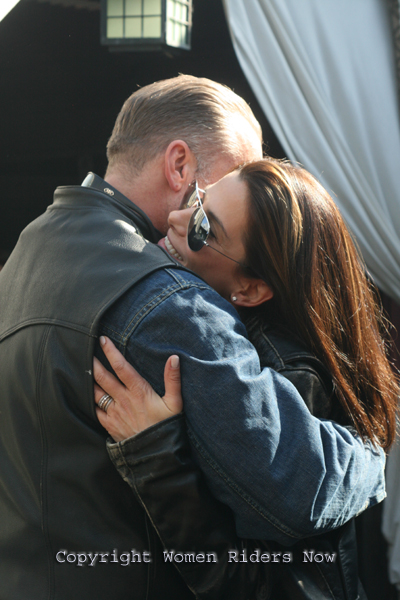 No Love? Well I dont want to blow Jesses James bad boy cover, but I felt some love in the air today. Jesse ditched his regular ride some version of a custom rigid chopper to ride his beautiful better half, Sandra Bullock, around on a cushy, red Harley-Davidson Road King to keep her comfy as they toured all of the five stops on his annual "No Love Ride" held November 13, 2009. You wouldnt even know that it was Sandra and Jesse under those helmets and stylin Ray-Bans!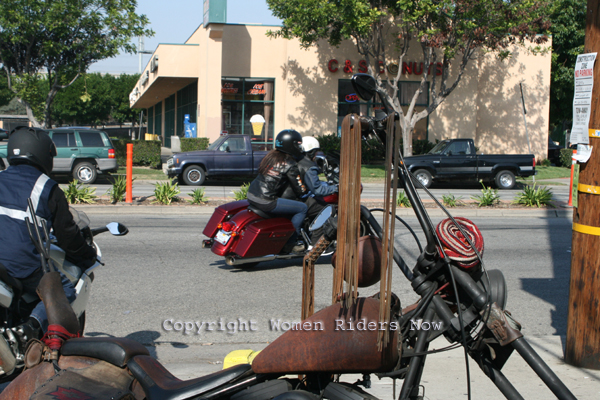 The No Love Ride is a long standing tradition of Jesses West Coast Choppers shop that he started back in the mid 1990s. The name "No Love" was Jesses way of competing with the big one-day ride held each in each year in Glendale, California, called the Love Ride. Up until last year when the Love Ride was cancelled due to the recession (first time in 25 years), the Love Ride drew more than 20,000 riders from all over Southern California. The No Love Party as it was called back then, was Jesses rebellious alternative to those who didnt want to participate in the Love Ride.
Over the years as Jesses fame grew, the No Love Party became more and more elusive. It was no longer the free-for-all "backyard BBQ" type of event held outside the gates of his West Coast Choppers facility in Long Beach. It couldnt be due to fact that he and Sandra would be attending; it would just turn into a major fan fest with people everywhere bombarding the party. So the date and attendance was invitation only spread by word of mouth.
Gevin and I arrived at West Coast Choppers before 9:00 a.m., as per the instructions of attending the No Love Ride. Pay up sucker! We paid our $50 that goes toward a Long Beach charity, and then we were off. Didnt know where to, it was like a scavenger hunt. We just followed the crowd, and hoped they knew where we were going. Especially since this crowd moves fast. This isnt the Love Ride folks! Move over into the fast lane. In fact, zig zag into all of the lanes. It was a mad poker run with cards and location maps at each destination.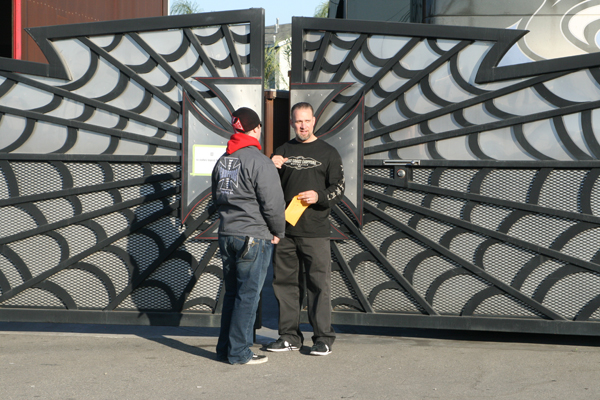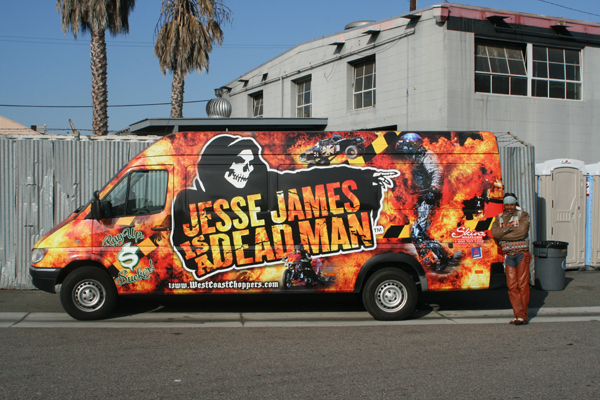 The first stop was Century Motorcycles in San Pedro, with owner, Cindy Rutherford, sporting raccoon tail off of her back side. The shop is loaded with cool old vintage bikes and paraphernalia.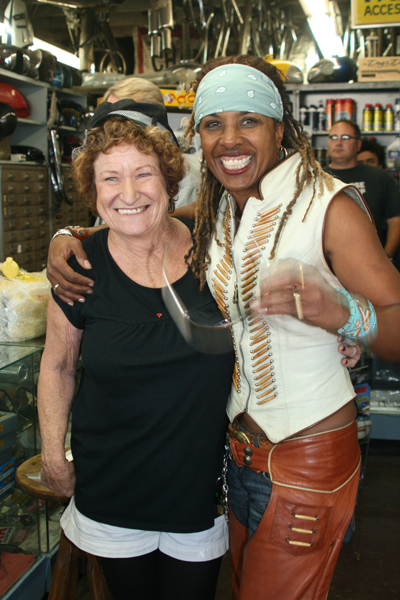 Second stop was Sugar Bears chopper shop. Sugar Bear is a custom motorcycle builder. I had never been to his place before. It is full of the bad ass rakes that he is famous for, and lots of old historical pictures of his life and builds. His motto is, "If it aint long, its wrong." Sugar Bear and his wife, Fuji, are always side by side and represent the most perfect couple. We have ridden together in Sturgis several times. The man can ride those bad ass choppers like the wind. In 2009 he led the "Legends Ride," a charity event that takes place during the Sturgis Rally, alongside Aerosmith front man, Steven Tyler, that WRN editor Genevieve Schmitt and I rode in. He is presently busy building Fuji a bike of her own.
Third stop was Bobs Big Boy, a diner in Long Beach, that is a popular hangout for custom car and motorcycle aficionados. There were a lot of hot rods on the ride today as well as bad ass bikes, including girls on bad ass bikes. Everyone fit right in at Bobs.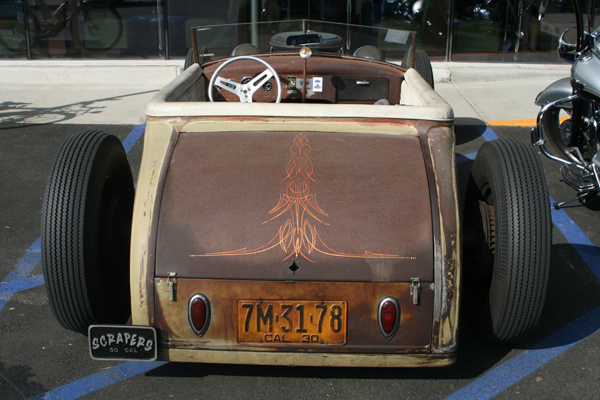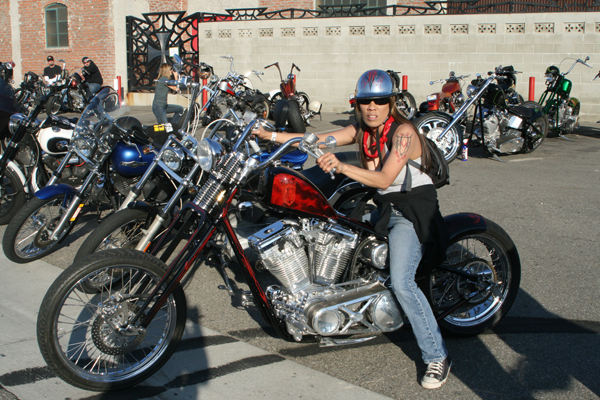 Fourth stop was Pistons Bar in Long Beach, and last was Pike Restaurant and Bar on the waterfront in Long Beach. Now, Im not sure if these are Jesses regular hang outs, but I can tell you, they were all interesting and unique places. Pistons is a gay bar that offers some really interesting literature at the front door, not to mention the VIP areas in the back.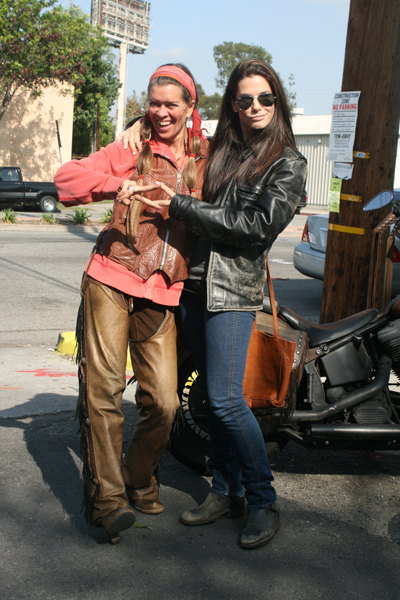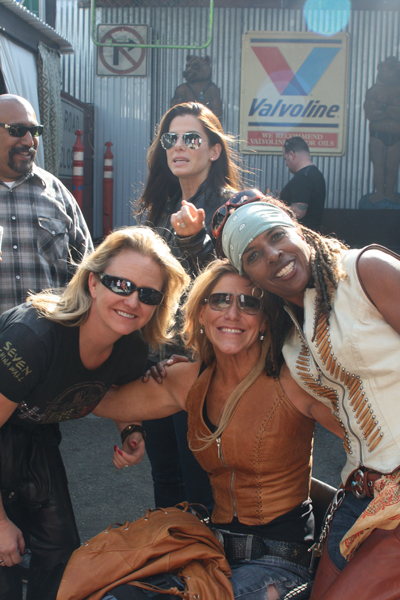 Back at West Coast Choppers there was a simple barbeque of hamburgers and hot dogs. The place sure has grown into a metropolis. I hadnt been to West Coast Choppers since 1997 when Jesse welded a pair of saddlebag brackets for my bike. He claims I was his first customer. I have an uncle that likes to brag that Jesse James built my bike. I have to keep on correcting him saying that, "Uncle Dave, Jesse just welded the saddlebag brackets on my bike."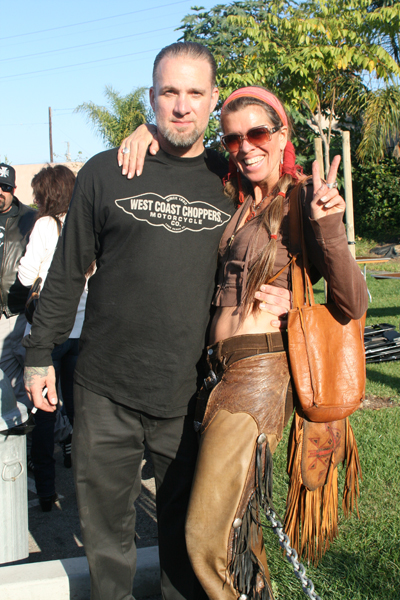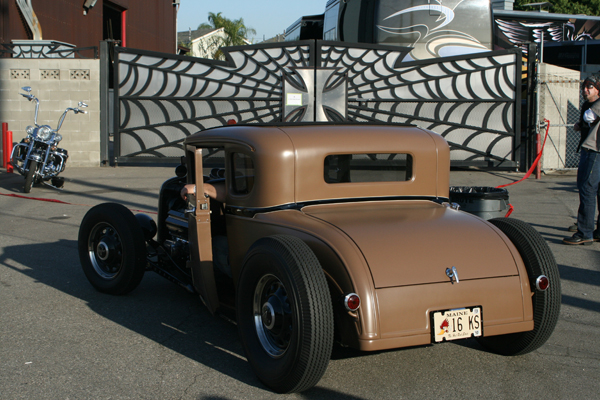 It was a different sort of biker scene that day with mostly all bad ass bikes ridden by boys and girls with attitudes to match. No stock bikes here! Jesse is a fan of hot rods he has his own collection so some hot rodders joined us on our ride as well. A few Hells Angels even showed up. We couldnt have asked for a perfect day weatherwise with lots of sunshine. At the end of the day prizes were raffled off.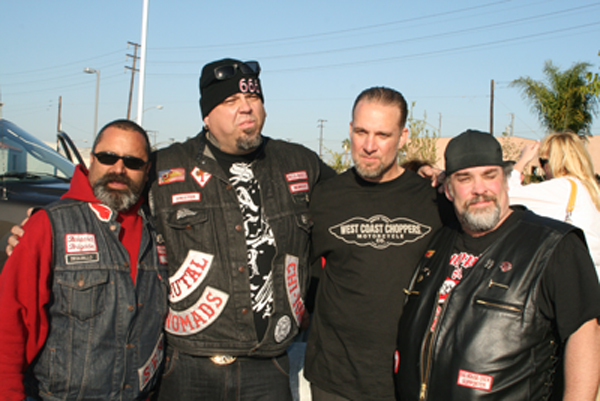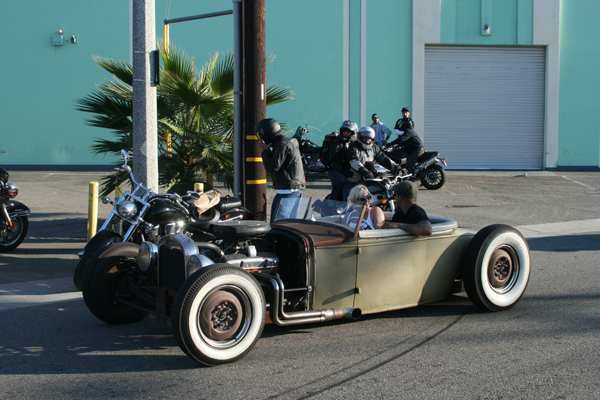 Jesse took a genuine interest in my friend Carlana Stone and her new Harley-Davidson trike. Carlana was in a car accident when she was 17 that left her in a wheelchair. It has long been her dream to be able to ride a motorcycle. Last year, her husband helped modify a Harley Tri Glide with hand controls so Carlana, a paraplegic, could ride it. Jesse awarded the trike the best of the Bad Ass Bikes and gave her a vintage trophy. She told her story and was moved to tears for being recognized as a Bad Ass Biker. She said she actually feels pretty bad ass when she rides her own Harley. Her story and speech moved the whole crowd. Jesse could have awarded that trophy to any one of the bad ass bikes in attendance, but he chose Carlana. No love…yeah right.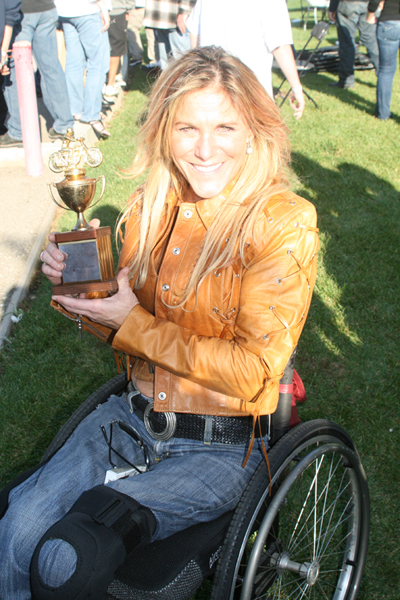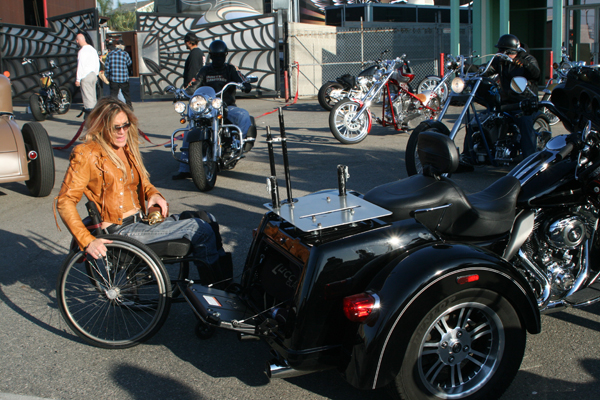 It was a day of laughing, seeing old friends, and meeting new ones. The riding was fast and furious. Lots of fun. Lots of sun. I wouldnt call that No Love at all. I think we all felt the love.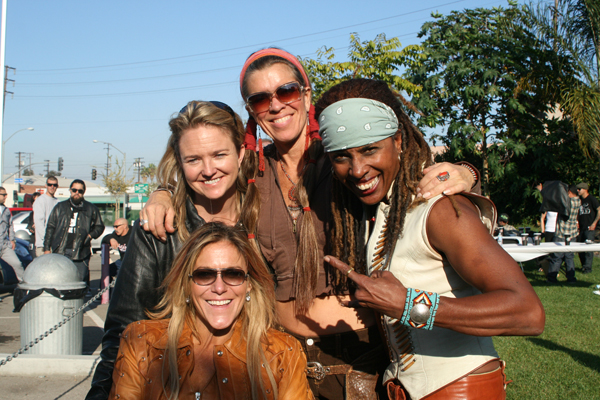 To see more of Betsy, visit her Web site, BetsyHuelskamp.com.