Click here to read Part 1.
Ann reiterated that the best part of their journey was the unknown of each day. "What are we going to see today? Whos out there? Who are we going to meet?"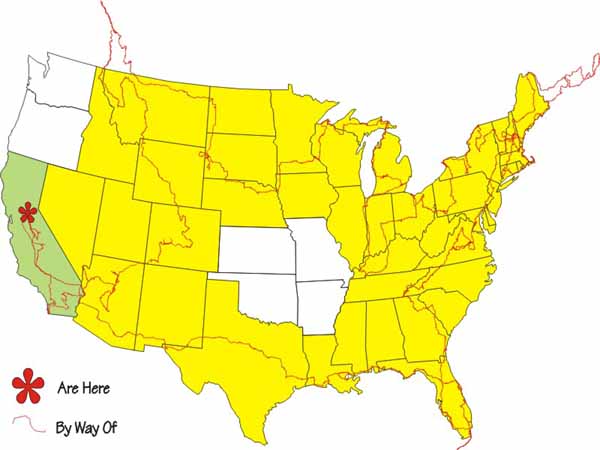 When they left in May the weather was warming up, so they stayed in campgrounds half the time and moteled it or stayed with friends the other half. Progressing north and east, less time was spent in tents. In the end, weather dictated their route despite their best efforts to head counterclockwise and hit all four corners of the U.S. Each night they checked the forecast to determine the general direction in which theyd proceed. Initially, they headed south from northern California towards Arizona, but when they hit 120-degree heat in May in the Southwest, they did a 180 and headed north to Banff, Canada, crossing their fingers that the snow had cleared out. Their perfectly "unplanned" route after that had them riding through New England and the East Coast in the midst of falls beautiful colors, and Florida to bask in warm sunshine in November. From there, they pointed their bikes north and west to meander back home with no particular return date circled on the calendar.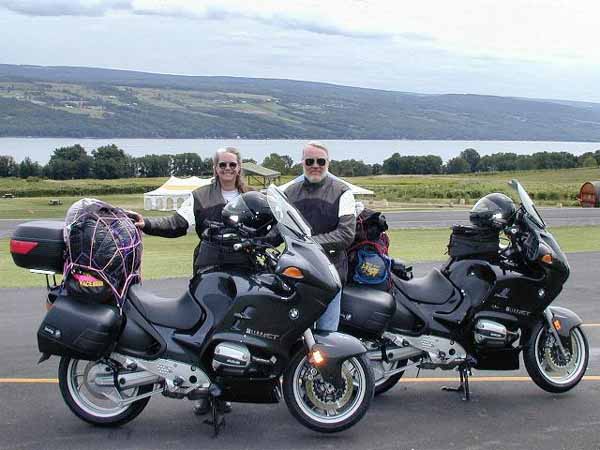 It wasnt until December, when they witnessed inch-long icicles hanging on the barrel cactus in New Mexico, that they set their bikes on a straight course for home. "That was the final straw and we couldnt get much farther south without going into Mexico and that wasnt on our list," Jym says. The heated vests they purchased to wear under their BMW riding suits came in handy about that time.
They never found themselves in one location for more than two or three nights, except for when they bunked with Jyms sister in New Hampshire using her place as a home base for day trips throughout New England.Daily mileage was not an issue. "It was never a goal for this whole trip that we were going to average 300 miles a day. There were days we went 18 miles and decided we had enough because we stopped seven times," Jym explains. Ann adds with a laugh, "We couldnÕt get through Vermont. It took us three days to go 150 miles."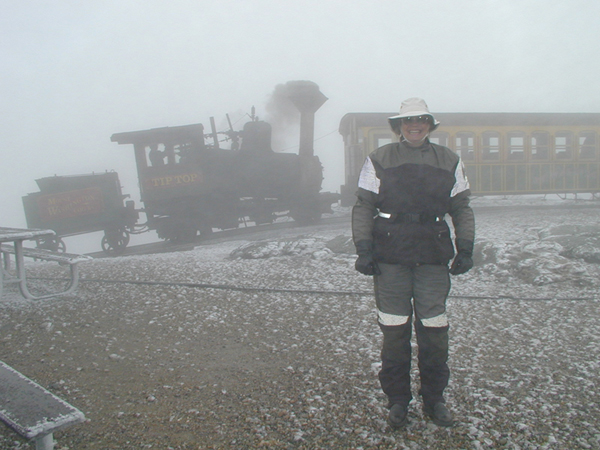 They kept track of their progress with a GPS, the main reason they purchased one. It interfaced with the map program on their laptop allowing them to catalog their route… a route that, by happenstance, put them in some interesting places at interesting times. Like when they ended up at Mt. Rushmore on the fourth of July, and how they stumbled upon the worlds second attempt at creating the largest grilled cheese sandwich while riding through the Everglades in Florida. "It was absolutely incredible," says Ann bubbling over with excitement. "And there it was in the Guinness Book of World Records the other day when we went to the bookstore. And we ate a piece," she smiles proudly.The only time the Bateys scheduled a stop was when the motorcycles needed their scheduled oil and tire changes. "It really put a cramp in our style of not caring where we were going to be and when," says Jym. "We found, though, most dealers will give you preferential treatment if they understand you are traveling."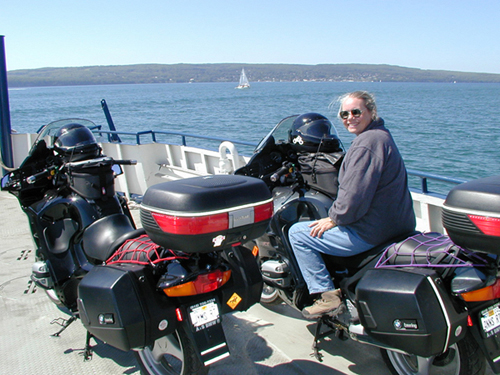 Jym and Ann each went through three sets of Metzeler ME Z4s, opting for the sportier compound tire as opposed to long distance rubber to match their style of riding. The list of North American BMW dealers they carried with them came in handy.
No major problems with the motorcycles except for a rear brake failure on Anns bike early on in the trip that had them showing up at a dealership sooner than expected. Ann also got hit with a totally-out-of-the-blue case of kidney stones that forced her and Jym to park it for a few days in Arizona while the drugs she was prescribed made their way through her system.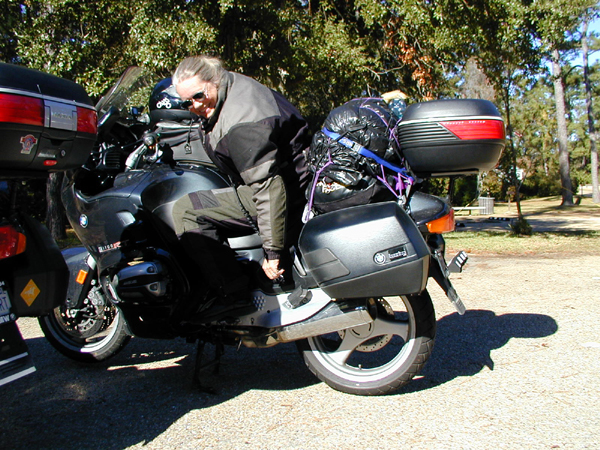 When asked if theyd do this type of trip all over again. Without hesitating, they replied in unison, "In a minute!" adding that a grand excursion like that will have to wait until they fatten up their savings account. "Its expensive to do it the way we did it," Jym says, adding that their trip tallied up to $30,000.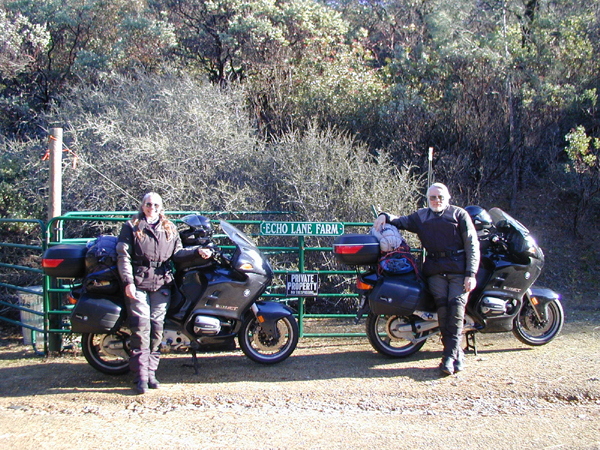 Ann already knows one thing shell be packing next time. "Well take two computers," she grins. Jym finishes, "…so she can do the diary and the finances, and I can do the Web site and computer stuff." Thats right, two computers, but still no cell phone. To read more about the Bateys trip and see lots of spectacular photos, visit this link.