The "face" of the Sturgis Motorcycle Rally is changing. Once the bastion of motorcycle rebels who arrive in the Black Hills of South Dakota to raise a ruckus each summer, the Sturgis Rally of today, now in its 72nd year, is much tamer.
This difference is due mostly to the changing face of motorcycling over the last 10 to 15 years. Riders are aging, and more women have gotten into the sport. Ten percent of riders are female, according to the Motorcycle Industry Council's latest statistics, meaning if you sit on a bench on Sturgis's Main Street, the main drag of activity, you should see one female rider for every 10 that ride by. By my account, I saw an even larger percentage of women than that, likely because cruisers, the most popular type of motorcycle among female riders, are the dominant style of motorcycle at Sturgis.
| | |
| --- | --- |
| Riders on Main Street in Sturgis. | A woman rider wearing a helmet in Sturgis! At WRN, we always show riders wearing helmets, but at the Sturgis Rally, the majority of riders do not wear helmets, so it's hard to get a group shot of helmeted riders that includes a woman. |
I've had a front-row seat to the evolution of ridership at Sturgis, as I've attended the rally for the last 17 years, missing only one rally, in 2002. As the face of the rally has changed, organizers have had to look at different ways to appeal to the crowd. One way is by offering smaller events within the bigger rally, and there are now several events where women take center stage, or least share it with their male counterparts.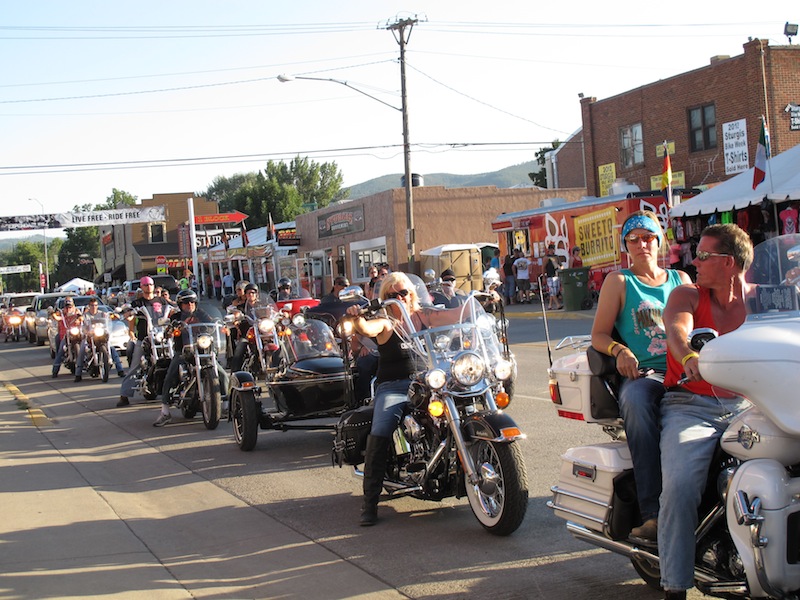 The most dominant female-focused event at Sturgis is the Biker Belles celebration, a women's ride that just completed its second year. That event was such a success that I wrote about it in a separate WRN article.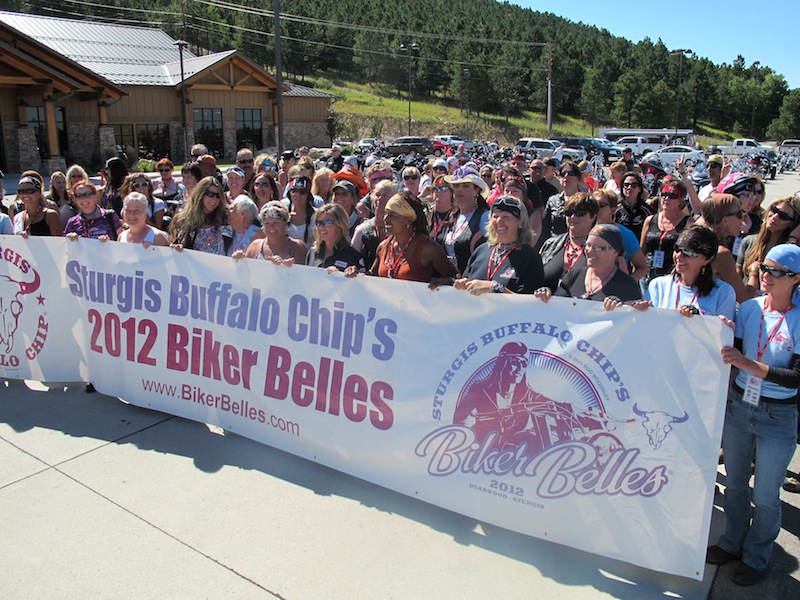 A second rally event that makes an effort to highlight women riders is the Sturgis Motorcycle Museum's annual Hall of Fame induction ceremony. For the last 12 years, notable women riders have consistently been inducted into the Hall of Fame. This year, Laura Klock was inducted along with her husband, Brian Klock.Laura is a land speed record holder and, along with her husband, owner of Klock Werks Kustom Cycles, which is credited with creating innovative motorcycle part designs, including the Flare windshield.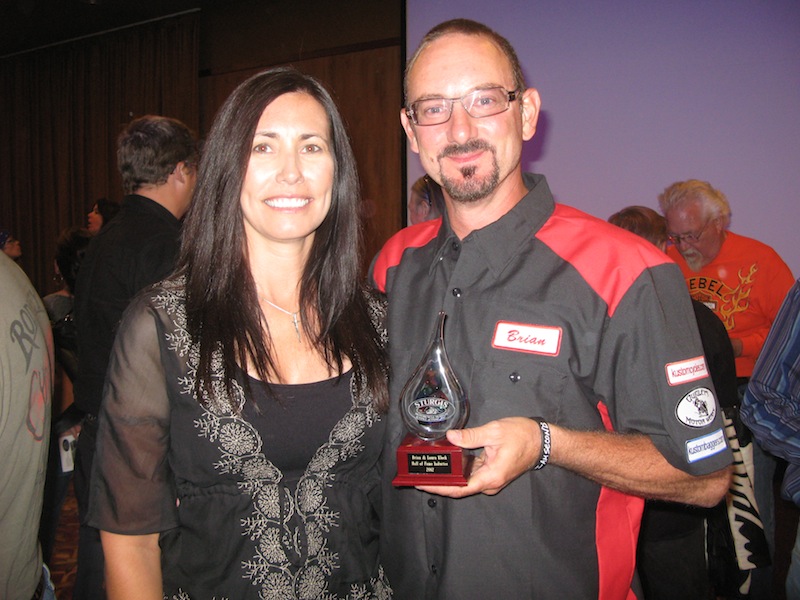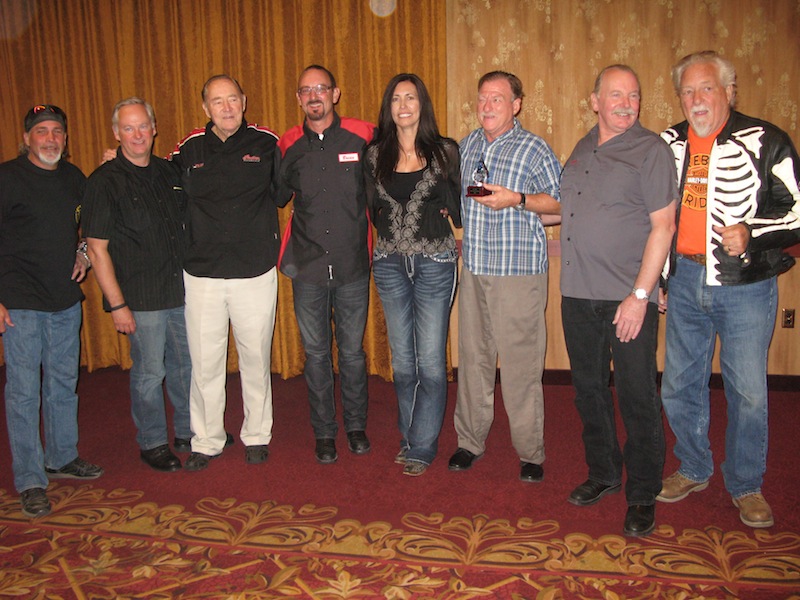 To read more about the accomplishments of the other people inducted into the SturgisMotorcycle Museums Hall of Fame, visit SturgisMuseum.com.
What other events at Sturgis are notably friendly to women riders? Women are very much a part of the Legends Ride, now in its fifth year. Organized by the Buffalo Chip, the Legends Ride allows participants the opportunity to join in on a 50-mile scenic ride led by a motorcycle "legend" (or two) and a celebrity rider. To justify the $150 price tag, the ride includes a catered dinner at the Buffalo Chip and a concert afterward, with proceeds benefitting two charities.
There were plenty of women participating in the Legends Ride. We even saw Jan Yu, on the blue bike, at the Biker Belles Celebration later in the week!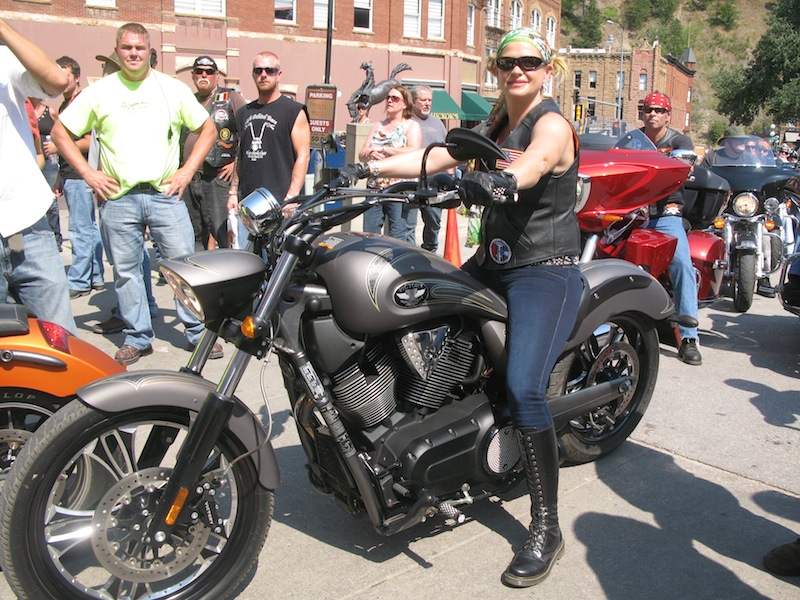 There are very few female celebrities who ride, so it was a nice surprise to meet actress Kristy Swanson, a newly minted rider participating in the Legends Ride as a VIP. She's known mostly from her lead role in the 1992 movie "Buffy the Vampire Slayer," but Kristy has a long list of other film and TV credits to her name. At the Legends Ride she told me she had just started riding on two wheels four months prior after riding a Can-Am Spyder for a few years. "Riding is something my husband and I can do together," she said. "We meet a lot of cool people. Bikes are just fun—it's a very social thing for us."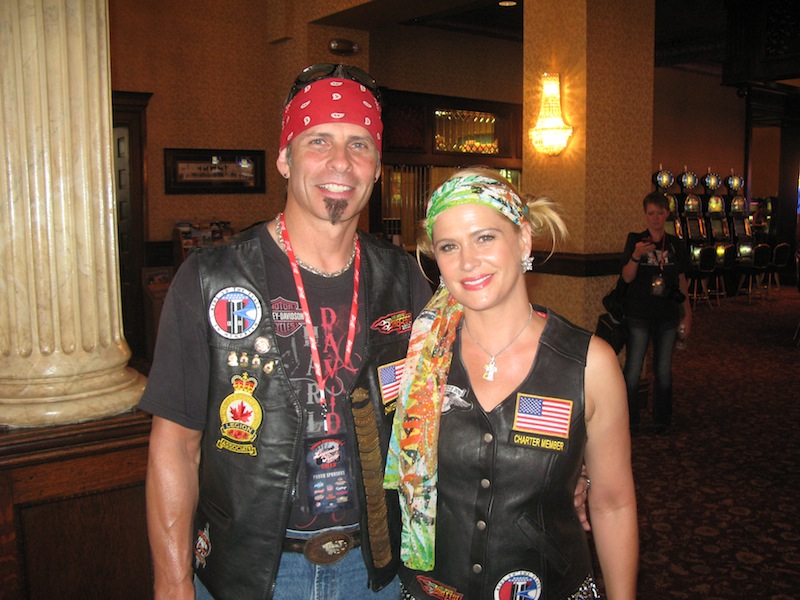 The "legends" who led the ride this year were custom motorcycle builder Arlen Ness (his son, Cory, and grandson, Zach, also rode), along with Journey guitarist Neal Shon, who played that evening at the Buffalo Chip. Shon is the only member of Journey whos played on all of the band's albums.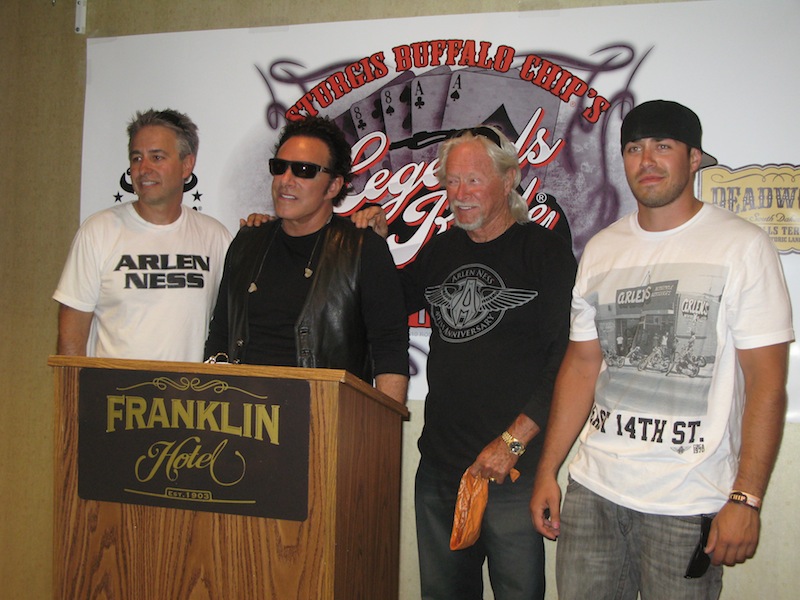 | | |
| --- | --- |
| Journey guitarist Neal Schon with the shiny custom bagger loaned to him for the ride. | Custom bike builder Arlen Ness on his latest creation. |
The Legends Ride has raised more than $240,000 for its two benefitting charities, the Sturgis Motorcycle Museum and the Black Hills Special Olympics.Christine Paige Diers, the museums executive director, told us that the money donated in the past has helped the museum purchase land for a much-needed expansion. The Black Hills Special Olympics have used past donations to buy a van to escort the kids to and from events.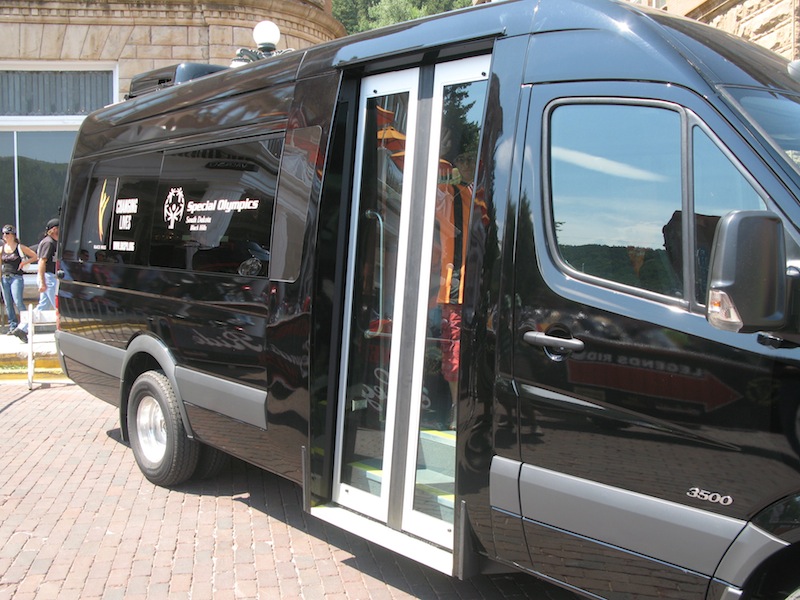 For at least five years now, Harley-Davidson has had a dedicated spot for women riders at its large display at the Sturgis Rally. The Motor Company is the only major motorcycle manufacturer with a specific department that actively markets to women. The companys large tented womens area at Sturgis provided information for new riders, including demonstrations on how to lift a downed motorcycle, an obstacle that keeps many women from considering riding a motorcycle.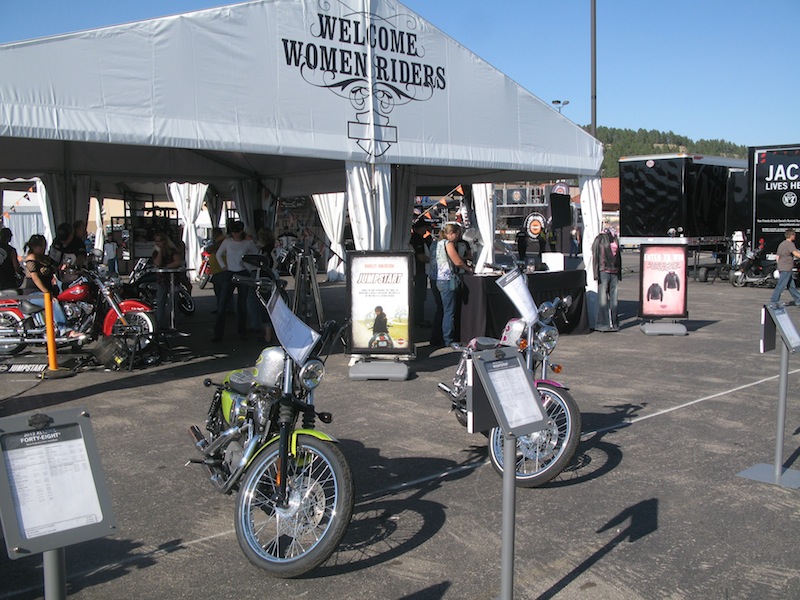 | | |
| --- | --- |
| WRN contributor Tricia Szulewski (on the green bike) and WRN Editor Genevieve Schmitt sit on two Harley-Davidson Seventy-Two models accessorized with custom paint and accessories from Harley's Color Shop, its aftermarket paint program. | Pink is the most popular color in Harley-Davidsons MotorClothes line for women, so its no surprise that the Motor Company chose pink metal flake as the color choice for the Sportster Seventy-Two model on display at the women's area in Sturgis. This paint scheme is available from Harley-Davidson's 2013 Color Shop. For details, ask your local Harley-Davidson dealer. |
Attendance numbers at the 2012 Sturgis Rally were up over last year's rally. This could be due in part to the increase in consumer confidence heading out of the recession.To read more about women at the Sturgis Rally, check out this
article from the Milwaukee Journal
in which I was quoted.