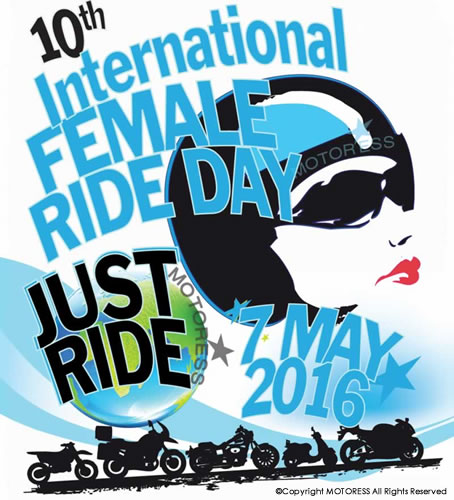 International Female Ride Day (IFRD), a one-day event exclusively for women motorcyclists, is celebrating its tenth anniversary this year, with the 2016 ride being held on May 7. This globally synchronized ride occurs each year on the first Saturday in May.
The group behind IFRD is Motoress, an online motorcycle community based in Canada. The women at Motoress wanted to bring greater awareness to women and motorcycling by designating one day each year for all female motorcycle riders to get out and ride. Through their tireless grassroots effort mailing flyers to dealers and female riding groups in its early days, and in recent years through social media, IFRD has grown to be the worldwide phenomenon it is today with hundreds of thousands of women getting the message to take out their motorcycles on that one day and ride.
As is the case with women and most any activity, give them a reason to gather and they will—and probably do so in a bigger way than whats expected. So, on Saturday, May 7, in communities all over the U.S. and globally, women riders are organizing their own group of riders to spend the day on their motorcycles together. Riders who dont have a group to ride with or simply want to ride alone, just getting out on your motorcycle, scooter, or trike on that day is good enough. If you feel like sharing your day with others, take a photo and post it on social media with the hashtag #ifrd.
There are several ways to find a group in your area of youre not aware of one yet:
– Visit our list of Womens Motorcycyling Clubson WRNand connect with one in your area
– Call your local motorcycle dealership and ask the folks if they know of any groups of women riding on that day
– Network with other women on the WRN Forum; this is our forum where you can reach out to other female riders
– Check out the official Facebook page for IFRDfor more info and for sharing photos
To learn more about this special day and how to get involved, visit the IFRD page on Motoress.com. Youll also find a link to buy t-shirts and other IFRD merchandise.
In addition, there are a couple of big organized events happening that weekend including one in the mountains of North Carolina. You can learn more about the Mountain Moxie rally here, and the others at our WRN Calendar of Events.
Related Stories
Read our story about last years IFRD
Read our story from 2013s IFRD
Women Motorcycling Events Calendar