Pak Mail Centers of America, Inc. (Pak Mail) is the Official Shipping Solutions Provider for the 2008 Sturgis Motorcycle Rally, according to Ronda Gusinsky, President of OutSource Solutions, Inc, Official Sponsorship Agent of the Sturgis Motorcycle Rally. Pak Mail will serve as the official packing and shipping resource for rally attendees and vendors at the 2008 Sturgis Motorcycle Rally. As the rally continues to grow, hosting more than 850 vendors and an estimated 500,000 participants from all 50 states and various countries around the world, the need for on-site convenient and professional packing and shipping services has risen significantly.

An exciting new service will now be made available by Pak Mail to 2008 Sturgis Motorcycle Rally visitors. Through the companys logistics division, motorcycles can be picked up from any destination including a local motorcycle dealership and transported to the Sturgis Motorcycle Rally and then back home again. "White-glove" valet service will prepare the motorcycle for shipment, handle all the shipping arrangements and have it ready to ride when the owner arrives in Sturgis.
"Many motorcycle enthusiasts who would like to participate in the Sturgis Motorcycle Rally cant afford the time it takes to ride to and from the rally and still have enough time to enjoy the rallys festivities. Whatever their reason, we feel our valet service provides an attractive convenience for repeat or new visitors to Sturgis that solves issues related to time and individual preferences," says Pak Mails Director of Logistics, Jaime Ciarla.
From August 1 – 9, Pak Mail will also have a retail booth in Sturgis to offer the maximum amount of convenience when it comes to shipping goods and merchandise. Vendors can direct customers to the Pak Mail booth located on the corner of 1st and Lazelle Street. "Since more than 60 percent of the rally attendees ride their motorcycles to the event, there is limited space available to pack away and safely transport merchandise purchased at the rally. Our professional packing and shipping experts will ensure that items shipped get to their final destinations in one piece and on time," added Ms. Ciarla.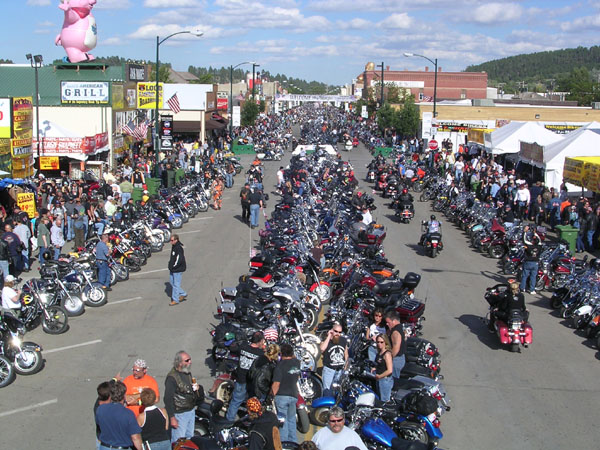 "We are excited to have Pak Mail come on board as a Sturgis Motorcycle Rally sponsor and feel that having the services that Pak Mail provides available to the vast array of rally activities will be a great advantage to both our vendors and visitors who have to deal with the logistics of getting merchandise and supplies to either the rally or to their final destination. The added bonus of being able to transport a motorcycle right to Sturgis and then back home again is an additional benefit and we are happy to have Pak Mail on-site to offer these services," says City of Sturgis Mayor Maury LaRue.
Founded in 1984, Pak Mail is a premier specialty packaging, shipping and business support franchise with more than 400 centers in North America and 60 international locations in six countries. For information and locations of Pak Mail Centers, call 800.778.6665 or visit PakMail.com. For information on the 68th Annual Sturgis Motorcycle Rally, log on to the Official Sturgis Motorcycle Rally website SturgisMotorcycleRally.com.