Ottawa, Ontario, might not be the first place you think of when planning a motorcycle trip in Canada. The West Coast and Rocky Mountains have much more commercial appeal. But I kept an open mind as I traveled with seven of my female motorcycle journalist colleagues to the Ottawa Valley as a guest of the Ottawa Valley Tourist Association (OVTA). We were there to get a taste of what this part of Canada has to offer tourists who like to enjoy the view from the seat of a motorcycle.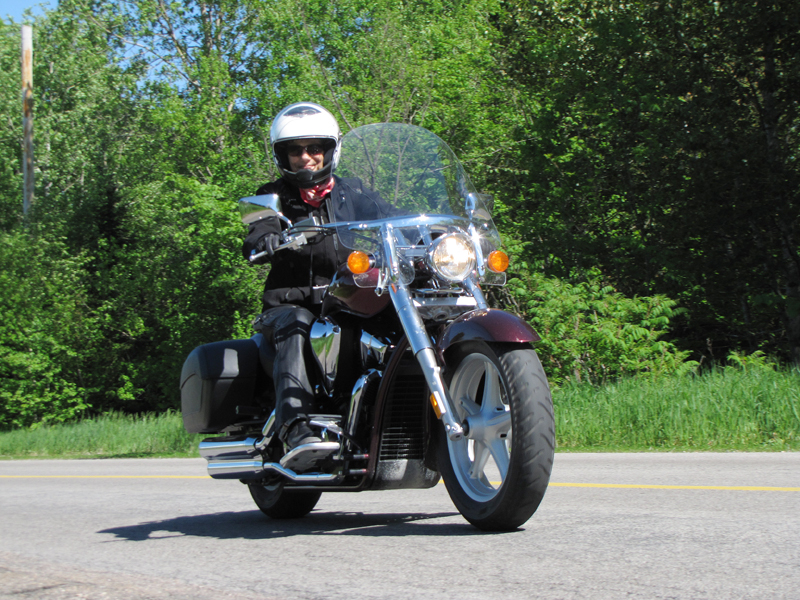 The OVTA is making a big push to reach motorcycle riders, specifically women riders, as the organization recognizes the influence a woman has when she and her riding friends are deciding where to travel. There's even a dedicated Web site with an interactive trip planner that makes it easy to visit this area on a motorcycle.
I applaud tourism groups that go above and beyond to include motorcyclists in their marketing efforts, as that usually means all the merchants in that tourism region—those who run lodging, dining and sightseeing establishments—are welcoming to motorcyclists. I'd rather experience top-notch hospitality in a so-so scenic area than tour through spectacular vistas with locals who are rude to riders. In the case of the Ottawa Valley, the down-to-earth folks, more than the scenery, are what made this trip special for me.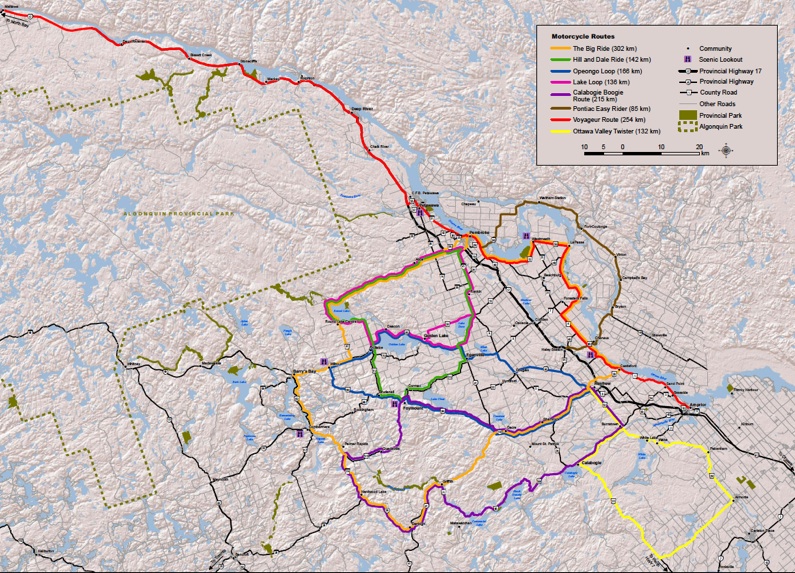 The Ottawa Valley runs just west of the Ottawa River in eastern Ontario's Renfrew County and is mostly rural farmland dotted with lovely, quaint towns. The OVTA puts out a suggested motorcycle routes map (see photo caption above for link) on its Web site. Our tour touched on nearly all of these highlighted routes so we could get a taste of what the whole valley has to offer. Here are some highlights and recommendations for other riders, including when to plan your trip.
| | |
| --- | --- |
| Everywhere we rode, we were met with a beautiful, bright-green landscape. Our ride took place in early June 2011. | The Ottawa Valley has four major river systems and more than 900 lakes. You'll cross a lot of bridges. |
The first place we stayed was the Calabogie Peaks Resort in Calabogie (love those Canadian town names!). The 51-unit condo-style hotel has one-, two- and three-bedroom units, all of which are well appointed. There's an on-site restaurant and bar, so the Calabogie Peaks Resort makes an ideal place to stay a few nights while you explore the area on your motorcycle.
| | |
| --- | --- |
| Calabogie Peaks Resort is a multi-season resort with skiing in the winter, hunting in the fall and golf in the summer. Motorcyclists receive a very warm welcome, as group rides are often hosted there. | Motorsports fans can combine their motorcycling trip with an outing to the nearby Calabogie Motorsports Park, a top-notch, well-maintained racetrack. Auto racing and motorcycle track days are just some of the events held there. |
The Ottawa Valley is known as the whitewater capital of Canada, boasting some of the best rafting rapids in the world. Four of my colleagues braved the cold and chill of a rainy day and made good on their commitment to participate in a pre-arranged guided rafting trip down the Ottawa River, which was swelled from the spring runoff. Living near class-three rapids in my home state of Montana, I knew better than to get in a raft with water that high.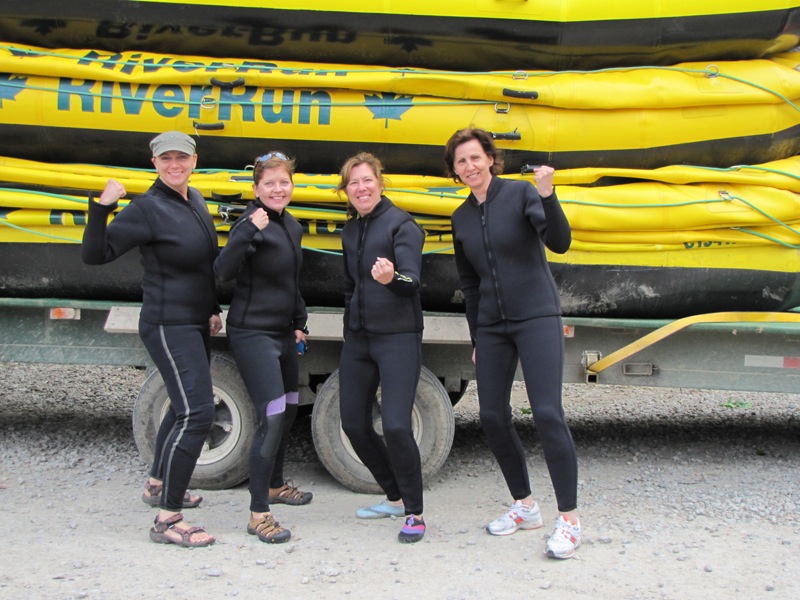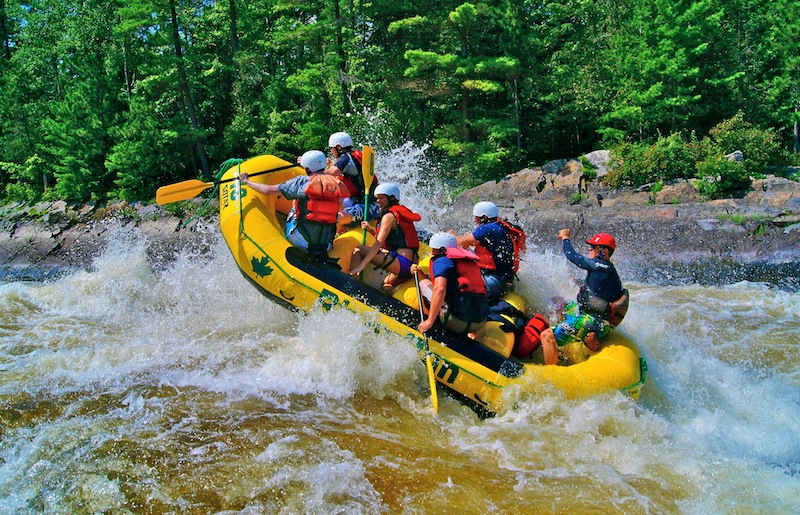 Two hours after they'd left, four wet noodles came slithering through the door of the London House Inn and Spa, where we were staying, shaking and chilled from being dumped into the Ottawa River. Their raft had overturned at Bus Eater Rapids, a spot on the river known for its tough waves. Here's a great video on YouTubeof Bus Eater Rapids so you can get a sense of what my colleagues experienced. (My colleagues are not in the boat in the video.)
If this kind of activity excites you, do a two-hour rafting trip in the morning before heading out on your motorcycle for the day. On our ride from Calabogie to Forester Falls, where the rafting company is located, we enjoyed a leisurely jaunt on rural 40 to 55 mph roads, stopping in quaint towns and enjoying some rural retail therapy along the way.
| | |
| --- | --- |
| Plan your route to stop in the quaint town of Wilno, a nice place to grab a snack. | Across the street is the Polish Kashub Heritage Park and Museum, which sheds light on the history of this area. |
| If the day is warm and you're roasting on your ride, then stop at Bonnechere Caves in Eganville to cool off. Here WRN contributor Pam Collins and I pose at the cave entrance. | I always enjoy going underground to see caves. This one takes a short 20 minutes to get through, but it's worth seeing. |
Heading away from the river, we made another stop at Golden Lake, a pristine body of water in the center of the Ottawa Valley. We stayed at the Sands On Golden Lake Inn and Resort, another well-appointed hotel with porches that look out on the lake. Plan to stay in for the evening, as the on-site restaurant offers a delicious dining option. If you ask, they'll even deliver a bottle of wine to your room upon arrival!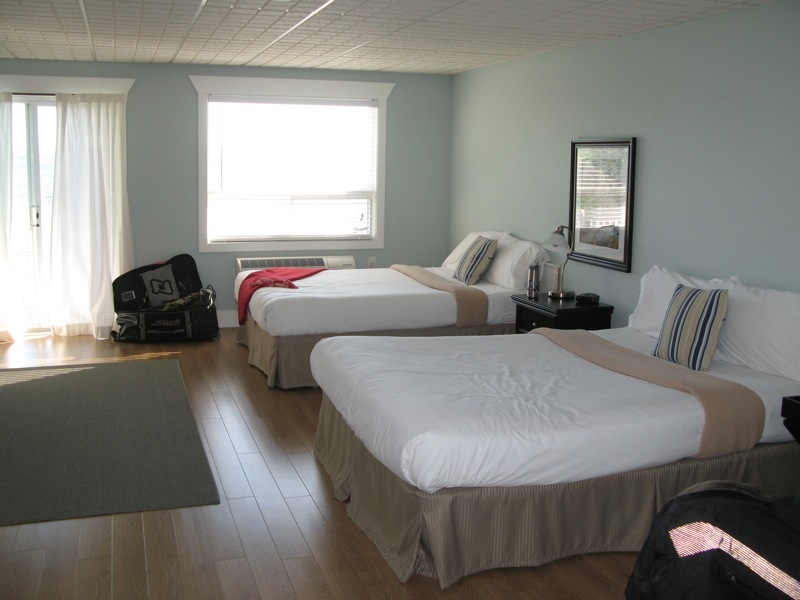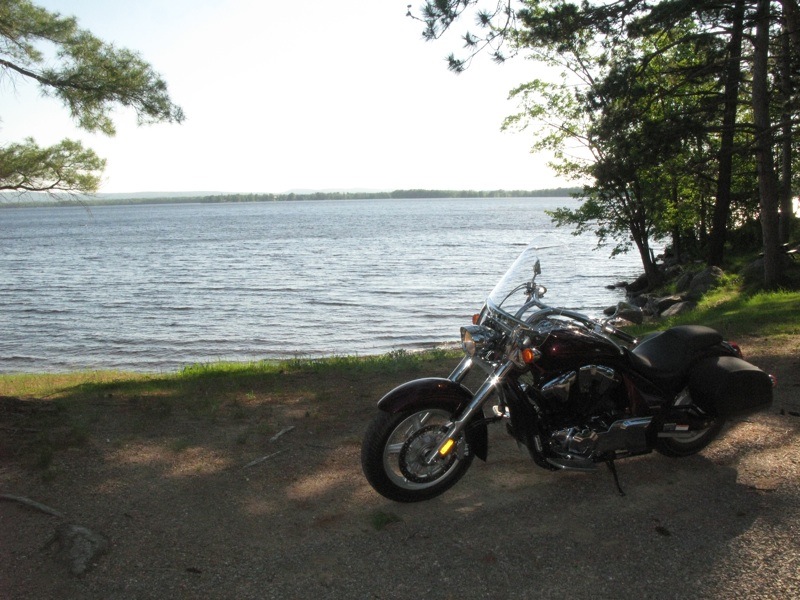 After leaving Golden Lake, our group headed north to Petawawa—say that three times fast—the most populated town in the Ottawa Valley, with just 16,000 people. It sits on the west bank of the Ottawa River, at the confluence of the Petawawa River. We stayed at the brand-new Petawawa Quality Inn amp; Suites, a very nice chain hotel with motorcycle-enthusiast owners. They'll even let you park your motorcycle under the covered entrance.
When's the best time to visit the Ottawa Valley? I'd recommend avoiding late spring and early summer if there's been a wet spring, as was the case when I visited in June 2011. The mosquitoes and biting flies were out in full force that first week in June. Plan your trip anytime from late June to August. I'd even recommend heading there in the fall to catch the autumn colors, which I'm told are spectacular!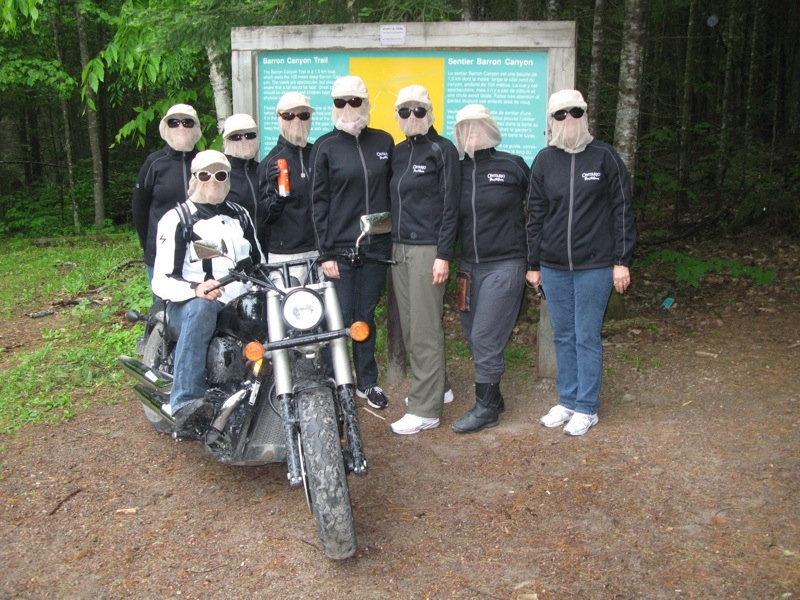 While Algonquin Park is not technically considered part of the Ottawa Valley, visiting Canada's first provincial park should be on your list if you're a national park buff like I am (I live just outside one of the entrances to Yellowstone Park, the United States' first national park). Note that some of the interior side roads are dirt, so be prepared for that. Entrance price for a motorcycle is 16 Canadian dollars. You may want to spend the day with a tour company, as we did, and have them guide you to some highlights in the park. Be sure to have a plan, though, as Algonquin is huge—roughly the same size as the states of Delaware and Rhode Island combined!
| | |
| --- | --- |
| Alastair from Canadian Voyageur Adventures can arrange single- and multi-day trips to Algonquin Park. There are waterways galore, so fishing and canoeing are popular here, as is wildlife watching. | A short hike from the parking lot took us to this overlook in Algonquin Park. I'm armed with my mosquito net and bug spray in my pocket. Notice my gloves so the bugs can't bite my hands. They were that bad that day! |
| Most of Algonquin Park is heavily forested, with deep, lush landscape. In this photo, two of my mosquito-netted colleagues make their way down the trail. | Tricia gets close to the cliff's edge to snap a long shot of the gals. |
Ottawa is Canada's capital, so before we wrapped up our riding tour we did a walking excursion ofParliament Hillin downtown Ottawa. We were even treated to a night's stay at the high-end Fairmont Chateau Laurier Hotel, located next to the parliament buildings.
| | |
| --- | --- |
| Posing in front of one of the parliament buildings, which are very old and ornate. | The Peace Tower, part of the Centre Block of Ottawa's parliament buildings, is so vast that I can't get the whole thing in one photo. |
If you plan to visit the Ottawa Valley, think more in terms of combining sightseeing with riding, versus all riding. The riding from each stop to the next is not long; our days averaged 180 miles. This journey is all about the sights and stops you make along the way, and, of course, the people you meet.
To be honest, I wasn't overly "wowed" by the scenery. It looked much like upstate New York, where I grew up—and it should, as Ottawa is just over the border due north of New York. It was the warmth of the people and the simplicity of the ride that appealed to me, making for a nice, easy getaway.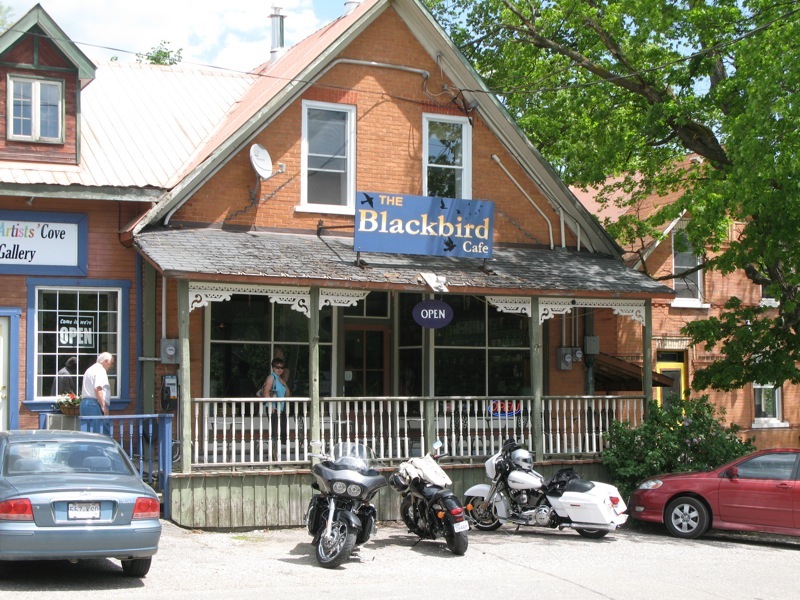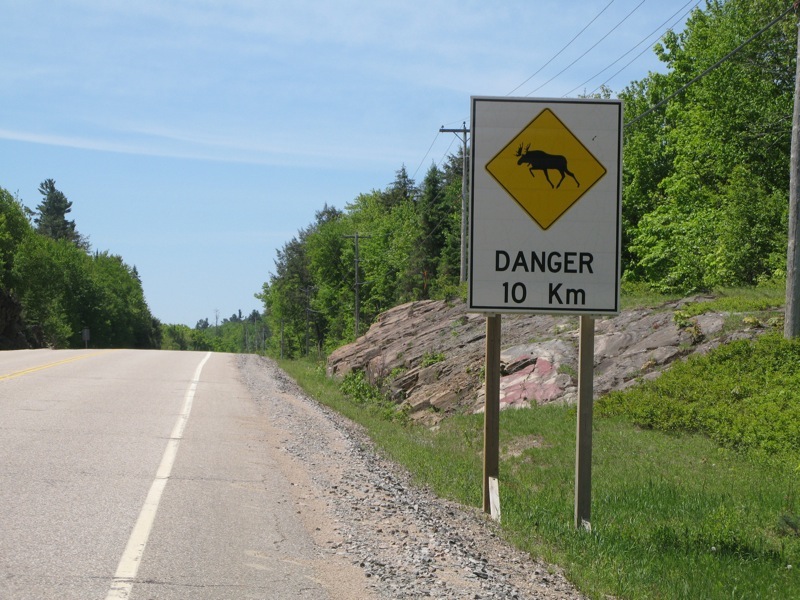 We were told to be on the lookout for moose during our rides. They cross roads as often as deer do in the states. But bummer for me (who's not seen one moose in her life, and I live in Montana!), we didn't see even one. I'll just have to head back to this special place, next time in late summer or early fall, to sightsee more—and hopefully see a moose once and for all.
For American riders who want to experience a little foreign culture without going too far, Canada is the place to go. The people are very friendly, and the Ottawa Valley is a treasured jewel that beckons motorcycle riders to experience it. The area's dedicated Web site will help you plan your route. Visit GoRideOntario.com/en/motorcycle.
Resources
PetawawaQualityInnandSuites.com
Fairmont.com/Laurier
GoRideOntario.com/en/motorcycle