Working on your own motorcycle can be rewarding. I was 18 years old the first time I performed an oil and filter change on my motorcycle, and the knowledge I gained from doing it was gratifying and confidence inspiring. Since then Ive done a lot of mechanical repairs and maintenance on motorcycles, but always with the thought in the back of my head that working on a motorcycle is serious business. If a procedure was unclear to me, I bothered the local motorcycle mechanics (and my mechanically-minded brother) with a lot of questions before attempting to try it. If I still wasnt sure then I had a mechanic do the work. Although at times the mechanics treated my questions as if they were the dumbest ones in the world, I persevered until I got the answer. If they wanted to think I was just another dumb blond, who cared? The only thing I regret in my years as a home mechanic is not spending the money for good tools or for tools that would make some jobs easier. Here is a list of 10 tools or items that are a good place to start if you intend to do a lot of work on your own bike.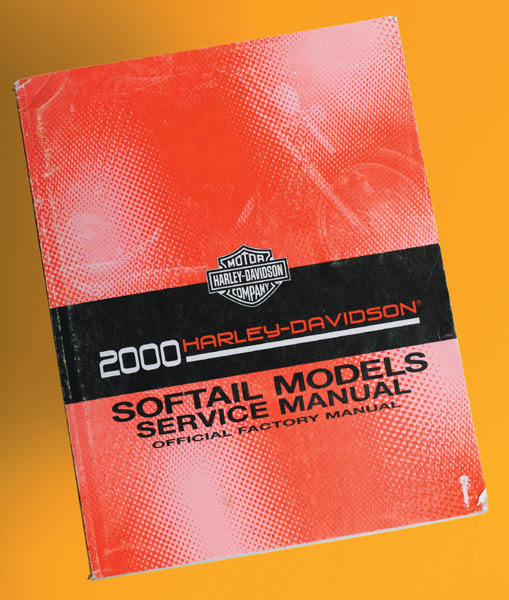 1. Service manual:
The official service manual for your motorcycle is one of the best things you can buy, although the Japanese brands are often written in poor English and usually cover derivative models of the bike you own. Regardless, these books have all the basic information to perform almost any repair on your motorcycle. A good backup manual is one by Haynes, Chilton or Clymer (manuals produced independent of the official service manual). Just make sure your first book purchase is the official service manual for your motorcycle. Cost: about $40 and up.
2. Reference book:
A good addition to any motorcyclists library is "Motorcycles Fundamentals, Service, Repair" by Bruce A. Johns. This book covers how modern motorcycles work, from engine strokes to carburetor adjustments to ignition problems to power transmission overhaul. This is a comprehensive book thats well written and easy to understand. I often use it as a reference when writing about motorcycles and when working on my own motorcycle. Cost: around $45, or check for deals on used books.
Other Books To Help You Get Started
3. Torque wrench:
Almost every fastener on a motorcycle has an associated torque number with it. If a fastener is tightened too much you could damage the part, and of course if it isnt tight enough the part could come loose. Take the guesswork out of tightening parts by buying a good quality torque wrench. Before buying the wrench look through your bikes service manual to see what the range of torque figures are. If youre only going to be performing minor work such as oil/filter changes, battery maintenance, or spark plug maintenance, you would probably use a torque wrench with a range of 10 to 50 ft-lbs. Axles tend to have torque numbers greater than 50 ft-lbs. Check your service manual to make sure you buy the right torque wrench(es). Some small nuts and bolts have torque numbers in the inch-pound range.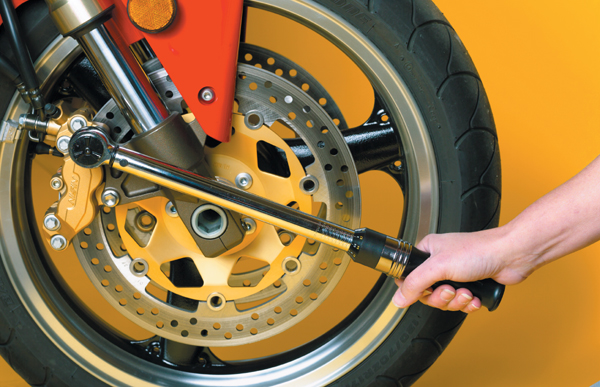 A beam-type torque wrench uses a scale and pointer to let you know how much torque is being applied to the fastener. A dial-type torque wrench also uses a needle and number format, but the needle goes around the dial (much like the hands of a clock go around the clock). A "clicker" torque wrench is user preset to the desired torque. When the desired torque is reached while tightening the fastener, a distinctive click is heard and felt. Cost: $30 and up.
4. Socket set:
A small socket set usually has most of the socket sizes you will need, except what is needed for a motorcycles axles and maybe even the oil drain plug. (The drain plug on my bike is 19mm while the largest socket in my set is 17mm.) Still, I like the set because the design of the box lets me know exactly which sockets are missing (there is place for everything), and I can keep this set separate from the tools I use in my house. The set also packs easily into a tank bag so I can take it with me on the road if I want.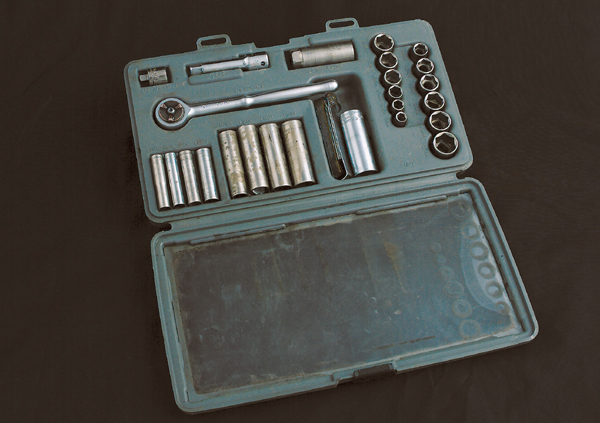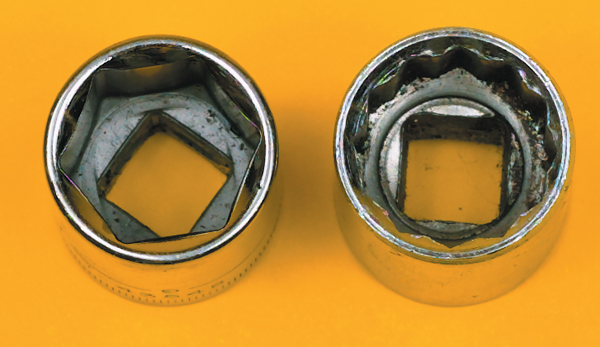 Where To Get The Tools
5. Motorcycle lift:
If you plan to do all the oil changes on your bike, you might want to invest in a motorcycle lift. A lift raises your bike to a level that makes it much easier to work on than lying on the floor. Oil drain plugs and filters are not always located in a convenient easy-to-reach place, so not having to lie on the floor is much easier.
Different types of lifts are available, from a scissor-jack type that goes under the engine to a full-size lift like the one in your local full-service dealership. Space (and budget) considerations (scissor-type lifts are smaller) as well as what you plan to do to your bike (remove the rear wheel) are things you need to think about when choosing a lift. Some of the full-size lifts have a section at the end that drops down so you can remove the rear wheel of your bike more easily. Also, do you plan on putting your bike on the lift by yourself or will someone else be helping you? If doing it by yourself then the lifts front wheel chock must be easy for one person to operate. Scissors-type lifts can cost less than $100 while full-size lifts can cost $400 and up.
6. Mechanics roller seat:
Whether or not you buy a lift for your bike, one thing thats very handy to have is a mechanics roller seat. Its basically a short seat on wheels so you can easily move around your bike at the right height for working on it – or cleaning it if thats all you think youll do "working" on your bike. Another nice feature is the tray thats attached beneath the seat so you can stop losing tools and parts because youve forgotten where you put them. On some models the seat height is adjustable and the seat swivels. If you dont care about rolling around (and you dont care about the tray), an ordinary vanity seat also works well. Cost: starts at $30.
Where To Find Your Motorcycle Lifts and/or Mechanics Roller Seat
7. 12V Battery Charger:
Sometimes your motorcycle ends up sitting a long time for whatever reason, so a charger will help keep your bike's battery ready. Most modern chargers have circuitry that senses the battery's voltage so the charging stops when the battery is fully charged. A product such as the Battery Tender by Deltran is one such product. According to information on Deltran's Web site, a trickle charger may drop the current to a safe level but the output voltage will be too high for the battery whereas the Battery Tender's current and voltage drop when the battery is fully charged. The Battery Tender Jr. retails for $39.95 while the Battery Tender Plus retails for $64.95.
8. Multimeter:
A multimeter is capable of measuring resistance, volts, and amperes, and if you plan to do any type of electrical work or maintenance on your bike (like checking the voltage of the battery) then a multimeter is necessary. Although multimeters come in pocket sizes up to full-blown technician sizes, I recommend the larger size just because you might find other uses for it as well. The smaller multimeters are easier to pack on your bike if you like to travel with your entire garage as I do (but I still pack the big multimeter). Cost: $15 and up ($300 or more for a professional multimeter).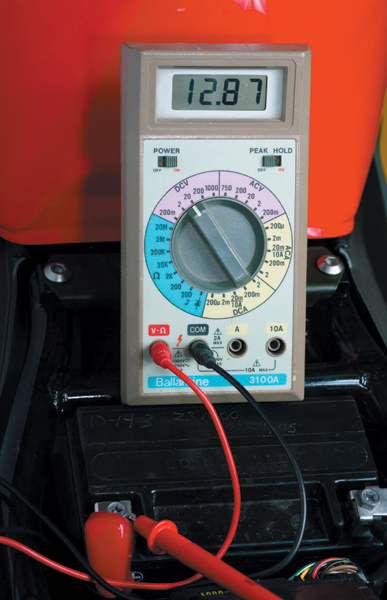 Where To Find Your Mulitmeter and Battery Charger
9. Tire Gauge:
This should be a part of every motorcyclist's tool kit. (I have about 10 of them all over the place so I always know one is within reach. Check the pressure of your car's tires as well.) Whether you get a fancy tire gauge or one of those freebie giveaways, use it as often as you ride. Make sure you check the pressure when the tire is cold, and adjust the pressure based on how much of a load your bike is carrying. Follow your motorcycle owner's manual recommendations, and never exceed the pressure stamped on the tire's sidewall. Cost: $2 and up.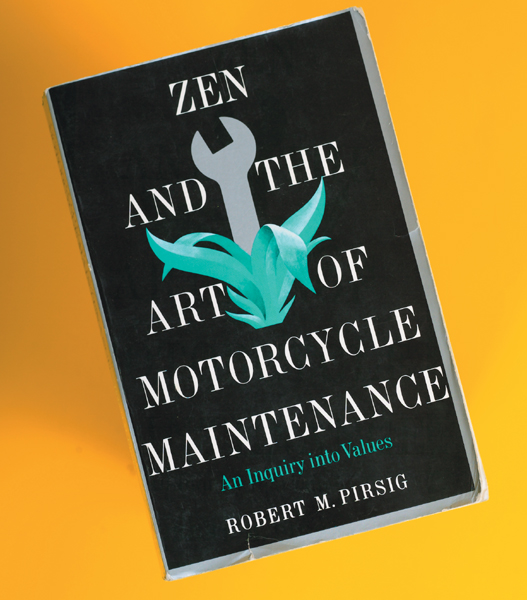 10. Miscellaneous:
If you really want to get into motorcycle maintenance, pick up a copy of Zen and the Art of Motorcycle Maintenance by Robert M. Pirsig. Parts of the book can be difficult to read, but in the end you may realize that you're not really working on your bike–you're working on yourself. Cost: $8 and up.
Amy Holland is the editor of Friction Zone, a motorcycle magazine serving the West Coast region.
Related Articles:
Product News: Garage Organizer