The entire Screamin Eagle Harley-Davidson Racing team spent two days in Milwaukee visiting area children, promoting a free meals program and hanging out with Harley-Davidson employees. The racers went first to Bethune Academy last Monday to help launch the start of another summer of the Fueling Young Minds program.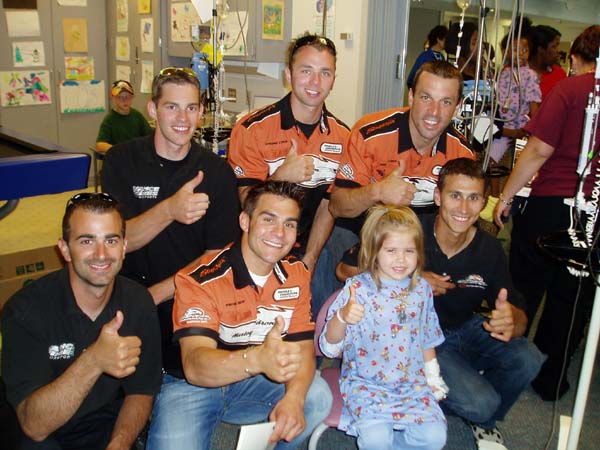 Spurred by a $125,000 grant from the Harley-Davidson Foundation, the award-winning Fueling Young Minds summer meals program will feed meals to low-income children at more than 200 Milwaukee locations this summer, as well as provide dinner at 25 area schools. Harley-Davidson partners with the Hunger Task Force of Milwaukee, Milwaukee Public Schools and other non-profits in the public-private collaborative.
Screamin Eagle drag racers Andrew Hines and Eddie Krawiec were joined by AMA Flat Track champion Kenny Coolbeth and his Wrecking Crew teammates, Jared Mees, Joe Kopp and Bryan Smith."The kids are so important and I feel lucky that our Screamin Eagle team is in a position to help bring awareness to a great program," three-time NHRA POWERade Pro Stock Motorcycle champion Andrew Hines said. "We won the race on Sunday (in Joliet) and I brought the trophy to the school and let all of the kids pass it around. It was just cool hanging out with all the kids."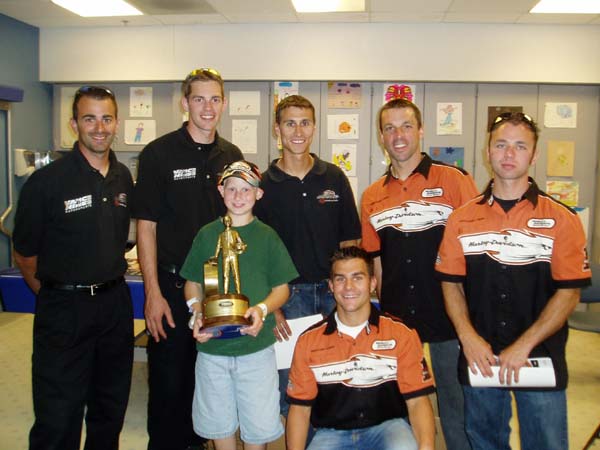 The Screamin Eagle team went to Milwaukee Childrens hospital once lunch at Bethune was finished. The racers signed autographs, handed out gift bags and chatted with the kids who were well enough to come to a visiting room. Kopp, father of 11-year-old Garrett and 2-year-old Kody, said the visit to the Childrens Hospital made him want to spend even more time with his own kids. "I really enjoyed the hospital visit because I have two sons of my own and it means a lot to be able to help kids. It hurts a lot to see them because you dont want any child to be hurt, ill or suffer any pain. It hit home because Im a parent and it just makes me want to get home and give my sons a hug. Im so glad we got to visit the hospital and hopefully it brightened a few faces."
Harley-Davidson Racing Manager Anne Paluso said the Screamin Eagle racers were the perfect spokesman to encourage kids to take part in the Fueling Young Minds program and put smiles on the faces of hospitalized children. "We are very fortunate in the way that we have not only some of the most talented riders in each series, but we have genuinely caring people who want to do what they can to help promote worthy causes," Paluso said. "When they walked into the room, all eyes were on the racers. Our guys are basically kids at heart, so the kids felt comfortable, there were lots of smiles and our team had a great time sitting down and chatting with all of the children."
Coolbeth, Mees and Hines have each won a race in their respective categories already this season. Smith, Kopp and Krawiec are ready to join that list of 2007 winners. Before they went back to work Kopp said it was nice to spend some time with the team in a non-competitive environment. "Its been a good time being able to hang out with my teammates outside of the competitive racing arena," said Kopp. "We dont get a chance to do that very often. It was also great to finally be in Milwaukee and see the Harley headquarters and meet some employees. We met a lot of people who contribute to the Screamin Eagle racing program and that was something Ive wanted to do since joining the team."
The NHRA Pro Stock Motorcycle class gets back to racing action at the ProCare Rx NHRA SuperNationals at Old Bridge Township Raceway Park in Englishtown, N.J. on June 21-24. The AMA GNC Twins tour continues June 16 at Route 66 Raceway in Joliet, Ill. Screamin Eagle Performance Parts are inspired by and built in the spirit of the raw adrenaline and power of motorcycle racing. Screamin Eagle Pro parts are specifically designed for race-use applications, while Screamin Eagle parts offer street-use performance options for the Harley-Davidson motorcycle owner. Visit for more information harley-davidson.com.