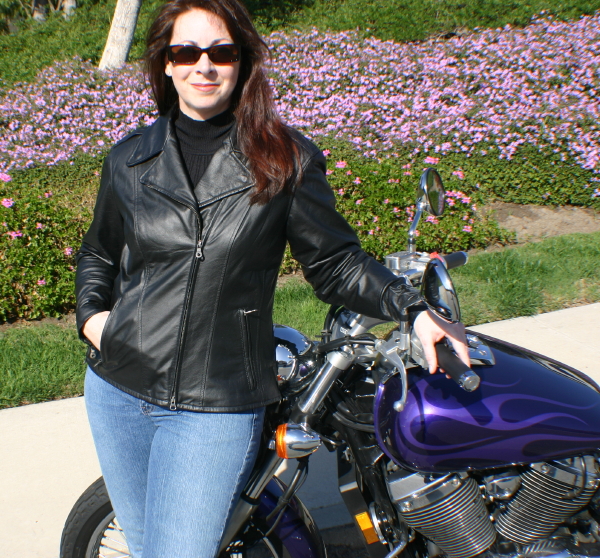 When it comes to Harley-Davidson Motor Clothes there are many items to choose from. But when it comes to jackets, my favorite is the Spirited leather jacket for women. This mid-weight leather jacket with it's lay down collar is soft to the touch and is cut to flatter a woman's curves.
Being a woman who likes to stash various items in my jacket pockets rather than carry a backpack or purse, I was quite surprised by the roomy pockets found on this jacket. There are two soft and roomy outside zipper pockets, and one zipper pocket hidden inside for a cell phone, lipstick, and other essentials.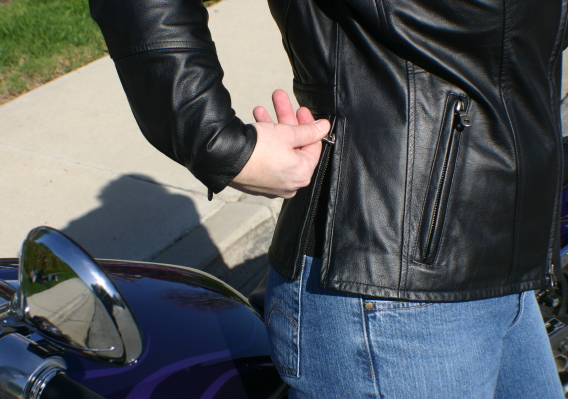 Now let's talk zippers. There are zippers everywhere! There are zippers on the front pockets, zippered cuffs, zippered sides, and a double-zippered front. This goes a long way with me, as snaps don't always stay snapped.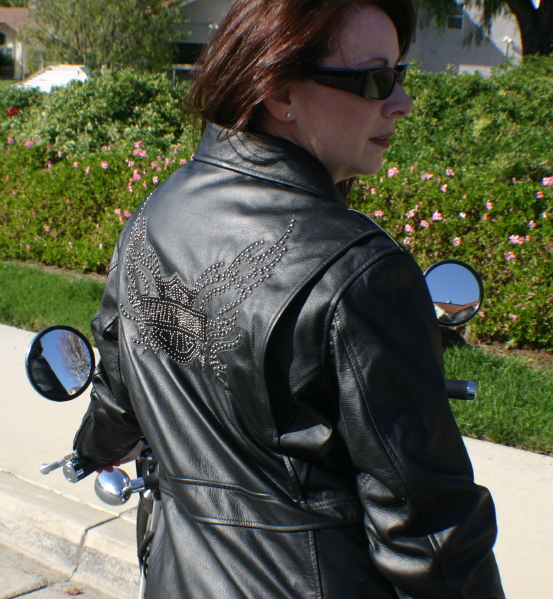 As is typical of the Motor Clothes line, there is no shortage of detailing. On the back there is an authentic, large studded Harley-Davidson graphic which I especially liked. Equally appealing is the embroidered stitching on the left wrist.
My favorite feature on this jacket is the double front zipper. Similar to leaving the last two buttons undone on a shirt; the double zipper can be unzipped part way from the top or bottom for added styling. Another reason why I like this is versatility. This jacket provides easy access so you don't have to take the jacket off when you need to visit the restroom. The side zippers provide extra hip room if needed, or a more relaxed appearance while riding.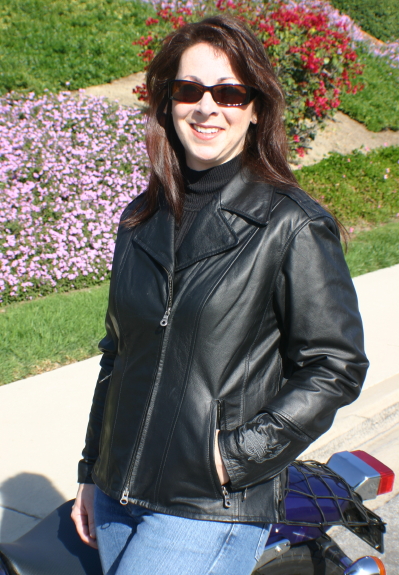 While this jacket may not be conducive to heavy layering underneath, there was definitely room for a sweater without appearing bulky. There was one item that I missed on this jacket, and would like to see added, that being built-in CE approved shoulder and elbow body armor. With the classic styling found on this jacket, it will easily become one of your favorite pieces to wear both on and off the motorcycle.
The Spirited leather jacket is available in Black, sizes XS-3W. MSRP: $350.00. Visit harley-davidson.com for more information.