Want to share your story? Click here to find out how.
In the spring of 2004 I experienced the scare of a possible MS diagnosis. That was it. It was time make the most of now.
I had sport bikes in the past but had given them up because I was told supporting a riding habit as a single mom was not the best use of my time or money. My son always will come first, but I had to ask myself, "If tomorrow is my last day, am I doing what I want to be doing today?" This became a strong motto of mine. I have responsibilities to my son, but also to myself and my quality of life.
For years I had taunted the Harley-Davidson dealership owner saying that when he finally came around to giving me a great deal, I would buy. Fortunately, in the spring of 2004 he did. Not knowing a soul that rode anymore, I rode away with a white 883 Custom Sportster. Because of my size, it had to be lowered in the front and back, with a scooped seat and kick stand extender installed. I have to wear boots a size to big so that I can reach the shifter and they have 3-inch heal so that I can touch. Yes, I have dropped it many times.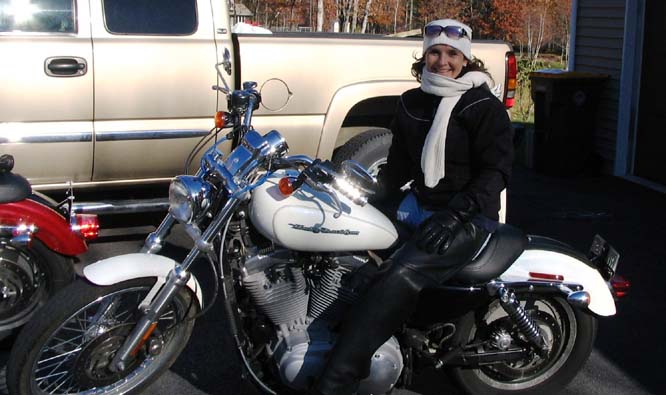 Today I am surrounded with all new friends who ride, female friends at that! Some who had never ridden before and some who were new to the saddle. There are about four or six of us on the road together at any one time along with some great male friends too. Friends! On my son's sixteenth birthday he was introduced to my riding family on his own bike. No, it isnt a Harley, but I think he'll come around someday. Actually, I think he has convinced me to take the fun onto the track with him and sign up for a racing course. Never too old for anything, right?
I am always amazed by the comments that I get when I ride about how refreshing it is to see a woman on her own bike. It's nice to have "biker chic" as a positive title. There is great admiration and intrigue. I stand 4 feet 11 and one half inches, am 39 years old, ride in 38 degree weather and am all female. I feel empowered and free when I ride.
I have beaten the odds on so many levels. There were many times people said "You can't do that, you are a single mom." Yes I am, but I am not dead! "You are too short to ride and furthermore who are you going to ride with?" That's what lowering kits and thick soled boots were made for. As for who, who cares? "The season in Maine is too short for the amount of money that you are spending." Nothing a hat, scarf and insulated chaps can't remedy. "Girls belong on the back." (My favorite!) Guys belong at the back of the pack. The women will lead this ride!
Ladies, its time to become empowered and beat the odds. Feel the wind in your hair beyond that of your blow dryer. Life is meant to be lived not looked at. Life without taking chances means no chance at living. If tomorrow is your last day, are you doing what you want to be doing today?
Want to share your story? Click here to find out how.