Want to share your motorcycle or product review?Click hereto find out how.

After several years of riding on a Honda Shadow Spirit 750, I decided to start saving my money for what I thought would be a Harley-Davidson Fat Boy. When I was ready to make my big purchase, I decided that I should probably test ride a few other bikes. After all, I wouldnt spend that kind of money on a car without testing various brands and models.
I had heard some good things about a newer bike on the market, the Victory Vegas. When I went to the Victory dealer, it was love at first sight. I had my eye set on a Victory Vegas 8-Ball. The dealer set up a test ride for my husband and me. Needless to say, we were both sold. In fact, my husband took delivery on his Victory Vegas 8-Ball a week before mine arrived. He had just purchased a Honda VTX 1300 (also a very good bike), but "just had to upgrade to the Victory."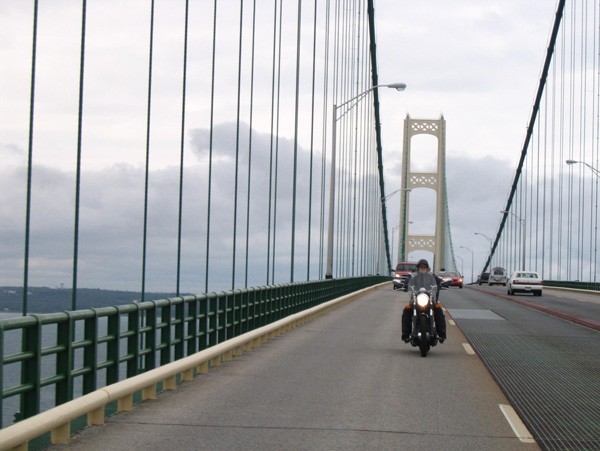 After logging about 15,000 miles on my Victory, I still look forward to riding the bike any opportunity I can. With a 26.5-inch seat height and a low profile, I am able to maneuver the bike with confidence and ease. There is very little vibration, and the bike has plenty of power. The bike also attracts a lot of attention. We have had several people comment on our bikes when we have been at various bike events over the last two summers.
I have replaced the stock handlebars with 2-inch pullbacks. I also installed Victory Stage-One chrome-swept pipes, a mini-standard windshield and Switchblade foot pegs. The pipes look great and have a really good sound without being obnoxiously loud. My only complaint is that I find myself having to reach more than I would like for the handlebars. This only causes problems when Im on longer rides. Last summer, we took a trip around Lake Michigan over the course of three days, and I found my neck and right shoulder and arm got very sore. I think handlebars with a greater pullback would help. Ive also considered cruise control to remedy my problem.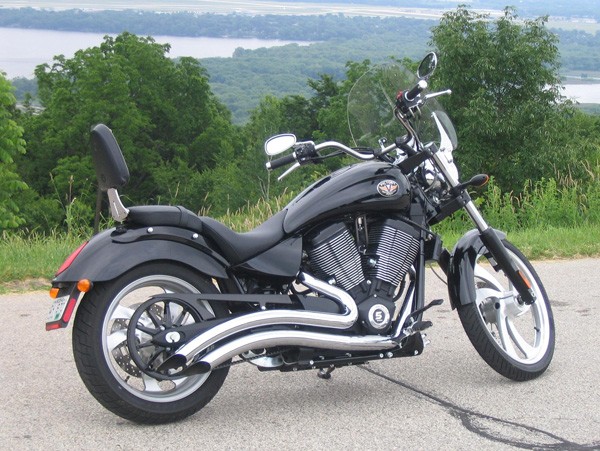 Overall, I am very happy with my decision to purchase a Victory Vegas 8-Ball, and I look forward to logging many more miles on my motorcycle!
Update, September 21, 2009: I recently had my review published on your Web site. I must say that I am very impressed with the response I received from Victory. In the review, I mentioned that I was having some problems with regards to handlebar fit. Within a few days of posting this review, we were contacted by an engineer at Victory who is very interested in making sure that I am able to achieve a comfortable position on the bike. We are currently working with him to find some solutions. I know that your Web site is very popular, but I would have never guessed that my review would have caught that kind of attention! I wonder how many other bike manufacturers would have taken the time to track me down to offer up some solutions. We are very impressed with Victory and WomenRidersNow.com. Thanks.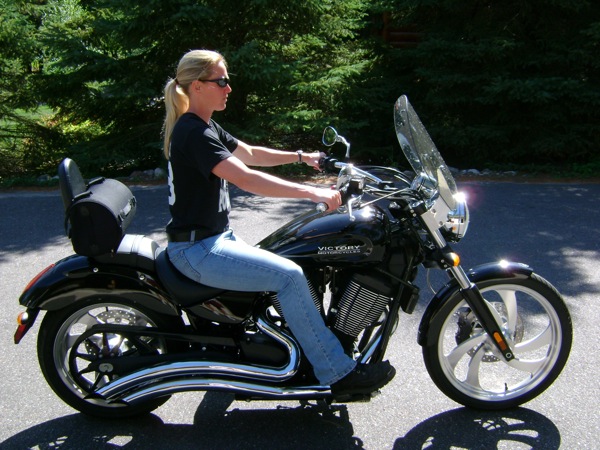 Want to share your motorcycle or product review?Click hereto find out how.