Nichole Cheza is one of two women racing in a sport dominated by men. Nichole, at 24 years old, is a professional flat track racer competing in the AMA Pro Racing Grand National Championship (GNC) series. In 2011, she raced in select rounds of the GNC Expert Twins Class, the class for twin cylinder motorcycles, earning two top-10 finishes and a best position of seventh place. Her goal is be the first female to win the Grand National Championship series.
Nichole, who hails from Clio, Mich., is currently training for the 2012 season opener in Daytona on March 15. She took some time out of her busy schedule to answers a few questions for Women Riders Now.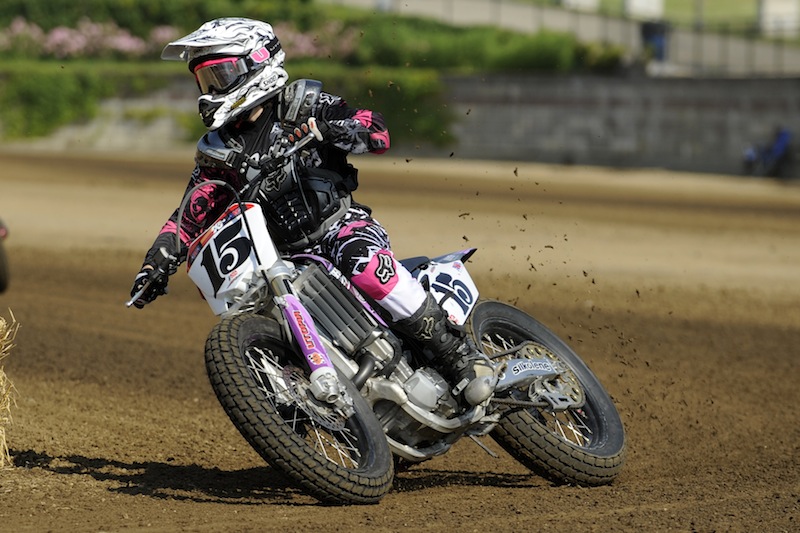 What is it about flat track racing that you love?
I love flat track racing because it is a big family sport. Everyone, or most everyone, gets along with everyone. On the racetrack, we are competitors, but off the racetrack, we are friends. I also like that flat track racing doesnt separate females from males as other forms of racing, such as motocross, do. I like competing against the guys, and I like beating them! I also love that fans are allowed to come into our pits and see what is going on.
Is this your full-time job, being a professional racer? And if you werent racing, what would you be doing for a living?
Actually, racing isnt my full-time job. On top of racing, I am a sales representative for a company that sponsors me called Global Products, Inc. I am also going to school to be a teacher. I love working with children.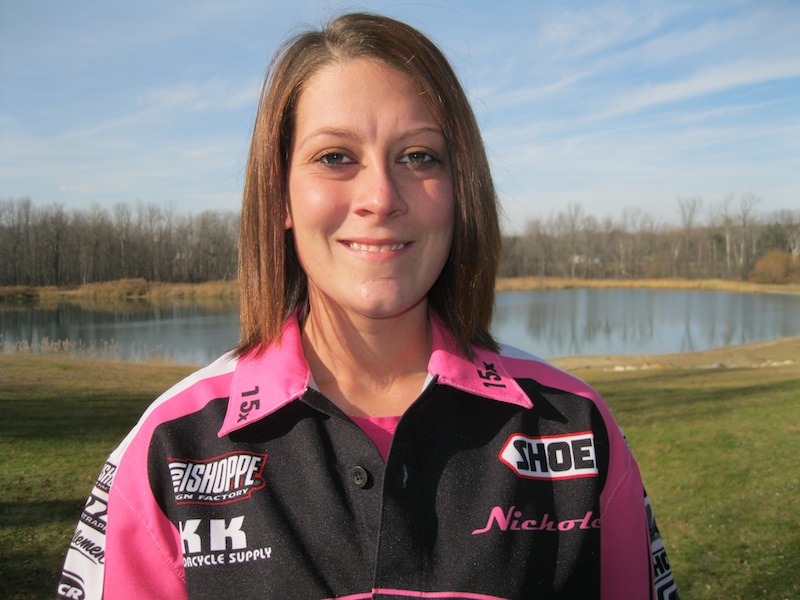 It says on your race poster that your goal is to be the first female AMA Grand National Champion. How close are you to making this happen?
Becoming the first female AMA Grand National Champion has always been one of my dreams. I never really thought it was possible until I started winning races when I turned pro-sport. When I started winning a lot of races and finishing on the box at a lot of races, I thought maybe I really could be the first female to become AMA Grand National Champion.
Ever since then, Ive worked very hard. I've got two Global Product/Black Hills Harley-Davidson bikes that work great. I lift weights and do cardio three times a week so that I can be as strong as my competitors. I also try to ride at least twice a week. This goal is getting closer and closer. Each year, I have improved tremendously.
Are you married and/or do you have any children? Do you have plans for that in the future?
As of right now, I am not married and I do not have any kids. I do plan on someday getting married. I have been with former Grand National Champion Jared Mees for seven years now, and we have a great, but competitive, relationship. We are always pushing each other to do better. I also someday wish to have kids when I am done racing and settled down.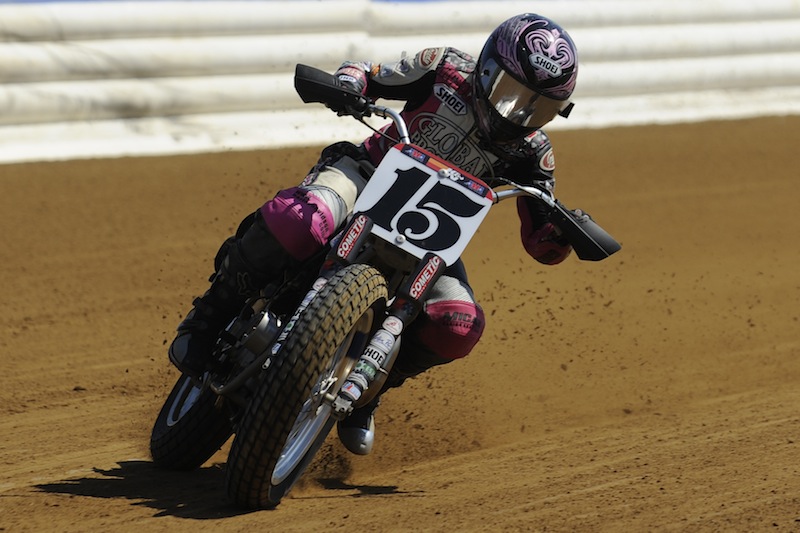 Who inspires you?
Ive been inspired by many people. Watching people like [GNC champions] Scott Parker, Jay Springsteen and Kevin Atherton since I was five years old has definitely played a big role in my racing career. I even got to ride on the ice with Scott Parker when I was racing a PW50cc motorcycle and he was on an XR750 Harley-Davidson. Now, how cool is that?
Another person who inspires me, even though she is younger than me, is Shayna Texter. Her dad sponsored me for many years when I first started riding the twins. Last year, Shayna lost her dad and her grandfather in a short period of time. Her father and her grandfather used to take her to the races week in and week out. At the race in Knoxville, Iowa, last year, we both were doing really well. We qualified and both rode well in our heat races. Right before my main, I was watching her main event, as she rides the Pro Singles class. After a bad start, she worked her way through the pack to catch the leader and then battled with him for the next few laps. She ended up coming out on top and being the first female to win a Pro Singles main event on the Grand National circuit. Its amazing what shes accomplished after the year she has had, with both her father and grandfather passing away. Godspeed, number 65, and awesome job, Shayna! Now that she has made history in the Pro Singles class, I want to do the same in the Twins class.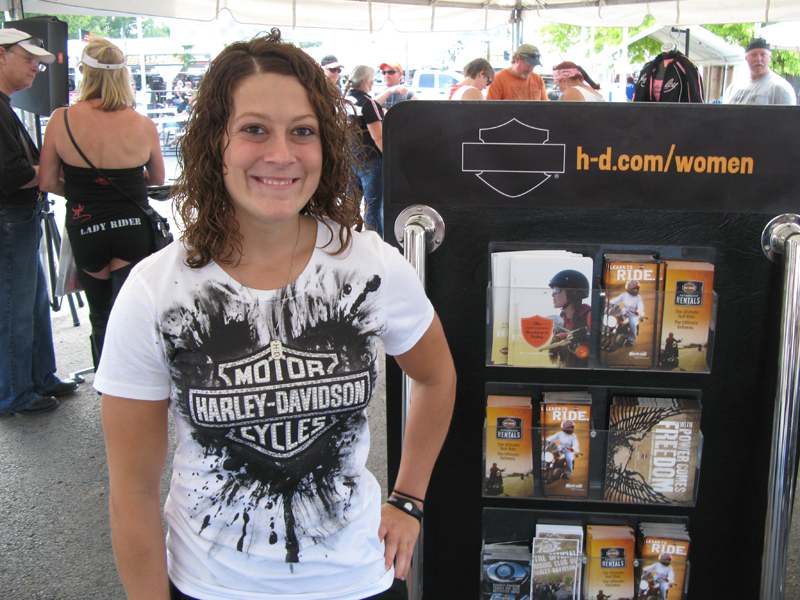 Thanks, Nichole, for answering our questions. See this related story on WRN to watch that incredible win by Shayna Texter—it will give you goose bumps as you watch history being made by a female racer. It's also worth mentioning that AMA Pro SuperSport racer Elena Myers made her debut in flat track in 2011. However, Elena's primary racing is road racing in the AMA SuperSport class.
Nichole Cheza is grateful to the following companies that have stepped up to sponsor her: Global Products, Harley-Davidson, Black Hills Harley-Davidson, Mr. Sign Yonkers New York, Christy Webber Landscapes, National Cycle, Vanson Leathers, Shoei Helmets, Silkolene, G2 Ergonomics, Kamp;N Air Filters, Motion Pro, Gunk, Bill's Machining Service, Saddlemen, Wiesco Pistons, Gene and Gail Cummings, Esjot Sprockets, KK Motorcycle Supply, Fly Racing Gear, Utopia, Honda East Toledo, West Coast Hot Shoes, Cosmetic Gasket, Mikuni Carburetors, Penske Racing Shocks, EBC Brakes, Aamp;A Racing, Web Cams, Twenty Six Suspension, Royal Publishing and Axis.
Related Articles
Woman Makes History in Motorcycle Racing