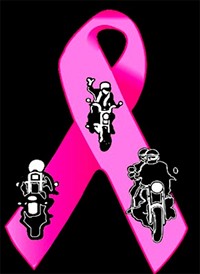 The Pony Express Riders are back on the Road to the Cure and looking for new recruits to join their ranks. Not content to rest on their laurels having already raised $2,145,925 towards the eradication of breast cancer, the riders will be out once once again pounding the pavement on two wheels to raise more funds.
Pony Express Ride 2007 takes place September 17- 22, 2007, in the foothills of the Sierra Nevada Mountains. For five days, the Road to a Cure will take riders through covered bridges, along the Feather River Canyon, over to Lake Tahoe, and to some great, quaint mining towns that retain the flavor of the Gold Rush Days. At the end of each day, riders return to the Lake Frances Resort in Dobbins, California, a camping resort set aside exclusively for use by the Pony Express Riders.
Now, more than ever, as a cure lies on the horizon, the Pony Express Riders know they cannot give up the fight against a monster that is still claiming more than 40,000 American lives a year and delivering more than 285,000 Americans a new diagnosis of breast cancer annually.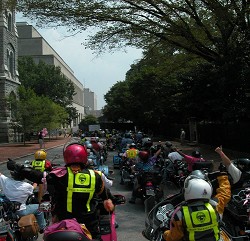 To become a Pony Express rider, visit Womens Motorcyclist Foundation, Inc; call 585.768.6054, or email wmfginsue@aol.com.