OCC Motorcycles is adding two new bikes to their Limited Edition Production Line. Paul Sr., Paul Jr. and Mikey Teutel of "American Chopper" TV fame recently unveiled the motorcycles at the 2008 V-Twin Expo in Cincinnati, a trade show open to dealers.
The OCC Sweet Amber and The OCC SR Cruiser play on the latest trends in the industry and incorporate unexpected features that are hallmarks of OCC#8217;s unmistakable style.
The OCC Sweet Amber pulls strong, sexy curves out of a traditional Softail frame, proving performance need not come at the expense of style. Unusual details like an oil tank discreetly mounted in the bomb-proof transmission, 2-inch springer front end suspension and original OCC flow-cut chrome wheels set the Sweet Amber apart from its competition. An EPA-certified engine unleashes incendiary speed while a large 21-inch front and a thick 240mm rear tire balance that power with sure-footed stability. Finally, a sleek, low slung design, internal wiring and premium OCC paint designs lend refinement to a body that#8217;s built for speed.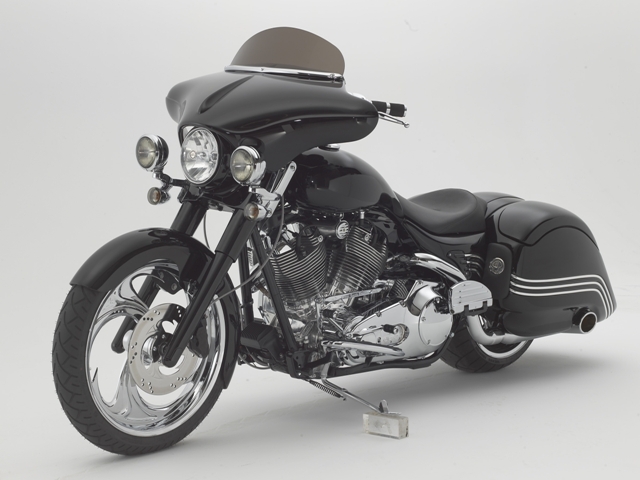 The OCC SR Cruiser is a classic redefined. A completely re-imagined old style glide, it retains the essential elements of a true bagger: stability, storage and comfort. A dual-style gas tank and twin exhaust pipes that exit out the side of the saddlebags lend an aggressively updated style, while a progressive EPA-certified X-wedge engine and brawny, custom-framed rear 240mm tire add power, steadiness and control. Deftly rendered extra wide bags increase the cargo area without being obtrusive, and a uniquely designed seat adds the finishing touch to this new bike.
OCC will be at this years Daytona Bike Week festival Feb 29th – March 9th. You can say hello to the guys from OCC and check out the new production bike line at the OCC Motorcycles trailer.
For more information about Orange County Choppers and OCC Motorcycles visit OrangeCountyChoppers.com.