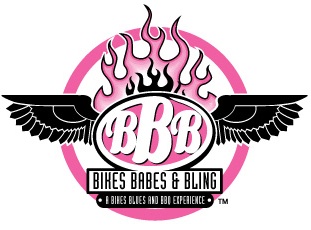 A new women and motorcycle is rally shaping up in the southern Midwest region called Bikes Babes amp; Bling scheduled for July 1-3, 2010 in Fayetteville, Arkansas. Bikes Babes amp; Bling is the sister rally of the Bikes Blues amp; BBQ festival which just celebrated its 10 year anniversary in 2009. The goal of this first time female oriented event, say rally organizers, is to focus on providing women a safe and fun experience where they can come together to share their love of motorcycles and riding.
Bikes Babes amp; Bling came about because Bikes Blues amp; BBQ organizers started seeing a marked increase in the number of women riders attending their event. "Weve been noticing more and more women becoming riders and the women involved with our organization have been saying we should do something for the ladies," event director Coleson Burns tells WRN exclusively. "So we finally got the board to agree on this. There is a huge part of the market that are women and we want to honor them in some way."
The three-day rally in northwest Arkansas, which is open to men, will focus on women and their needs and desires with a ladies only bike show, ladies only parade, live music, a poker run, a silent auction and 50/50 raffle, and female focused vendors. Coleson tells WRN that organizers are also planning a "bike crawl" much like a pub crawl but instead of visiting bars along the way, the women will be stopping at spas and shops.
For a little fun and humor there will be a Bubba Contest where women can submit their husband, boyfriend or male friend to take part in what is basically a male version of a bikini contest. "Much like we have the Babe Contest with Bike Blues amp; BBQ, we want to do a Bubba Contest more for humor than the #8216;ooohs and aaahs,#8217;" says Coleson.
While the events dates fall on the July 4th holiday weekend, Coleson says, "This could work for us, or may work against us. Well have to wait and see."
Bikes Babes amp; Bling is free of charge and open to all riders. Much like its sister rally, the event is set up as a non-profit so all profits will go to designated charities that Coleson says will be benefit women and children. Local charities submit requests and the board decides who gets the money. In 2009, the Bikes Blues amp; BBQ donated $48,500 to 33 charities.
Bike Blues amp; BBQ has grown over the years as the largest rally serving the Arkansas, Oklahoma, Missouri region. As its gotten bigger, the event draws people in from Kansas, Texas, Louisiana and Mississippi. Coleson and his team hope Bike Babes amp; BBQ will grow much the same way eventually drawing riders from outlying states.
People interested in attending are encouraged to visit BikeBabesandBling.com for more information. WRN will also keep up to date on developments and report them here. Were told hotel package deals are being put together and sponsorships and vendor information is now available by contacting Coleson Burns at bikesbabesandbling@gmail.com, or by calling 479.527.9993.
More information on the Bike Blues amp; BBQ rally, held September 29 through October 2, can be found by visiting this Web site: BikesBluesandBBQ.org.