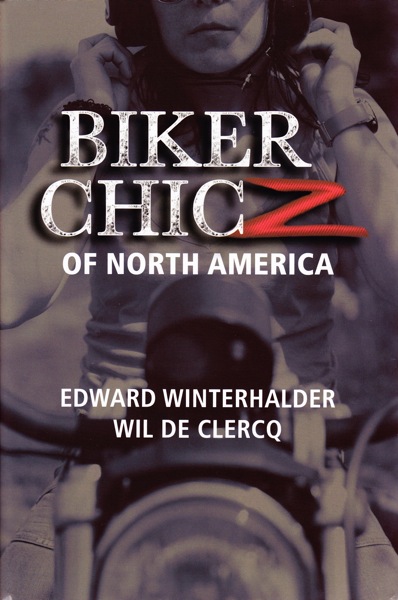 Biker Chicz of North America is the latest book released to cover the popular topic of women and motorcycling. With females being the fastest growing demographic of new riders for the last decade, there is a cultural yearning to understand what drives women to take up motorcycling, an activity that continues to be dominated by men and was once socially unacceptable for women to partake.
Authors Edward Winterhalder and Wil De Clercq tackle this subject by profiling 22 women who ride a Harley-Davidson motorcycle. Included in those profiles is Women Riders Now contributor Betsy Huelskamp who writes the Backroads With Betsy column. If you ever wondered about Betsys "back story" this book devotes 11 pages to her. Biker Chicz of North America also profiles some other women who we regularly feature on WRN like author and Motorcycle Hall of Famer Cris Sommer Simmons, land speed racer Laura Klock, motorcycle painter JoAnn Bortles.
The other 19 women featured are: Mandy Rossmeyer Campbell, Lucky Belcamino, Gevin Fax, Sasha Mullins, Becky Brown, Gina Woods, Deborah DiMiceli, Vicki Roberts-Sanfelipo, Pepper Massey, Lorrie Penteluke, Lauralee "Freedom" Conkin, Meg McDonough, Marilyn Elmore Bragg, Cathering "Katmandu" Palmer, Gloria Tramontin Struck, Banshee "The Lost Soul" LaDucatti, Andrea Perrino, and Danni Stockley.
Using the stories of the 22 women, the authors attempt to shed light on the questions of why women ride, as well as the type of women who chooses to ride a Harley-Davidson motorcycle. The books introduction provides some background on the history of women and motorcycling and segues to a brief history of Harley-Davidson as it relates to women riders. The hard cover book is 291 pages and features black and white photos of the women profiled. Its published by Blockhead City Press and available for purchase from online retailers like Amazon.com on December 1.