One of the first things a lot of motorcycle owners do when they buy a new bike is change out the stock exhaust pipes for an aftermarket brand for a better sound and added performance. Cobra is introducing two new exhaust products that not only look good but sound great. Cobra is the brand of exhaust pipes WRN editor Genevieve Schmitt chose to put on her Harley-Davidson Street Glide.
[photo 10832]Cobras new Tri-Oval mufflers really grab attention visually with oval shaped tips, and audibly with their thundering bass sound. For those interested in a boost in power as well, the mufflers deliver increased performance gains over the stock mufflers hitting in the low and mid-range of the powerband. Mufflers mount to stock head pipes or to Cobra's new PowerPort head pipes as well as Cobra's True Dual head pipes for pre-2009 baggers.
[photo 10830]Another product is Cobras PowerPort Duals, which take duals to a whole new level. This system has it all, looks and performance. PowerPort is a unique crossover that connects the front and rear head pipes that performs like a true 2-into-1 pipe with the clean look of a traditional dual system. The PowerPort Dual head pipes broaden the low end and mid-range torque curve, perfect for touring and highway use, and it provides noticeable power boost across entire rpm range.
[photo 10833]Lastly, Cobra has a new Air Intake system that is a replacement air filter for your bike with a custom aluminum cover for riders who want to add some style to their metric V-Twin or Harley-Davidson motorcycle. This bolt-on air intake replaces the entire stock system, giving a custom look with an aerodynamic style and improved performance.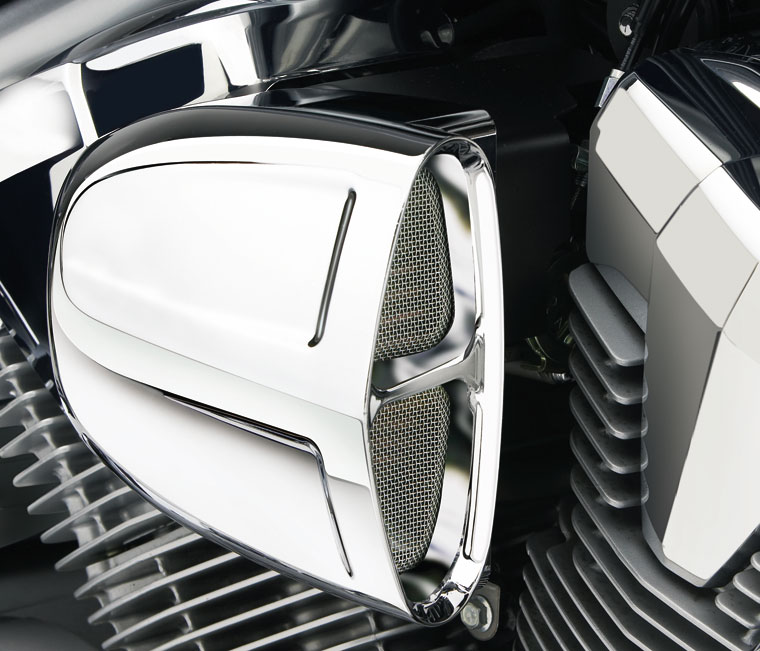 To see if these products are available for your motorcycle and to hear the sound of the pipes, visit CobraUSA.com.