Banana Guard and Froot Guard
| | |
| --- | --- |
| The Banana Guard sells for $6. | The small Froot Guard sells for $6; large is $7. |
These ingenious crushproof holders are the perfect packing solution for fruit lovers. Made of hard crush-resistant plastic, the Banana Guard features a nifty snap lock so your banana wont fall out and mingle with the rest of your belongings. Its even equipped with ventilation holes. Thel arge Froot Guard (3.5 inches x 4 inches) holds apples, pears, peaches, oranges, etc.; the Small Froot Guard (2.375 inches x 3 inches) protects kiwi, plums and apricots from pack-sustained trauma. Sure, you might get a laugh or two when you pull these thing out of your tank bag but at least your fruit will be in tact. Order from Aerostich.com.
Biker Chick Tees
| | |
| --- | --- |
| Fun tees from Wild Heart Apparel. | Show your biker style with these accessories. |
Check out these cool T-shirts with biker chick sayings from Wild Heart Apparel. Also available are mouse pads, mugs, jewelry and other accessories with the Wild Heart biker woman logo. Wild Heart Apparel has clothing to fit all body types and lots of fun accessories. Visit WildHeartApparel.com.
Bionic Woman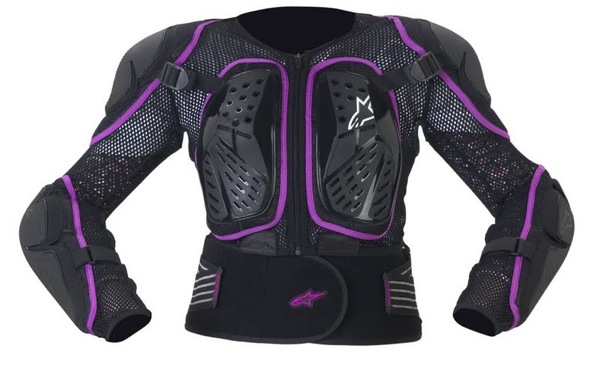 Its called the Stella Bionic 2 Protection Jacket that can be worn alone—youll look like the Bionic Woman—or under a jacket for added armor protection. All armor is CE certified; that means it meets the highest standards in motorcycle armor. Sizes S to XL. Price: $229.95. Visit Alpinestars.com.
Fog Dawgs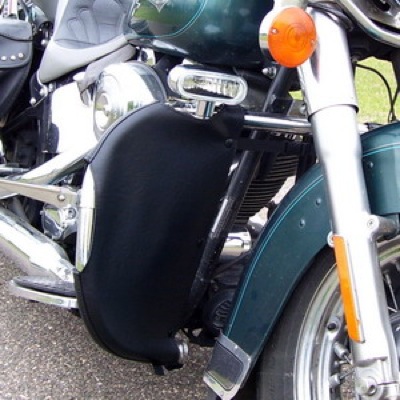 From the company that makes Desert Dawgs, the leather flap that attaches to the engine guards on a motorcycle to protect against rain and road grime, come Fog Dawgs Desert Dawgs. These include an opening at the top of the engine guard bar to mount fog lights (or helmet locks or the Roadrunner drink holder!). Check out the Fog Dawgs and the regular Dawgs to minimize cold drafts, keep bug juice of your legs and so much more. Visit LeaderMotorcycle.com.
You See Me Now
| | |
| --- | --- |
| Harley-Davidson's women's Illumination Jacket sells for $250. | Here's the back. Part number is 98312-11VW. |
Theyll know youre coming with this stylish Illumination 360° Functional Jacket that helps the rider be seen from nearly every angle. The waterproof 100-percent nylon jacket features 3M Scotchlite reflective material in the tape, piping and graphics to achieve exceptional low light and nighttime reflectivity. Other features include a zip-out removable vest liner, zippered air vents, and a neck cinch at the collar. Available in XS to 3W and tall sizes. Visit your local Harley-Davidson dealer, or log onto Harley-Davidson.com for more info on the extender.
Get Low on the Big Bikes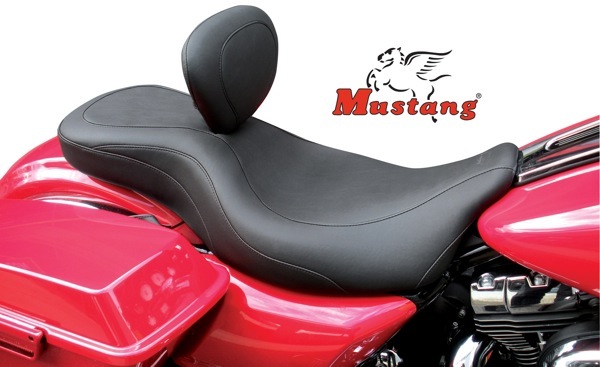 Mustang is offering its popular Tripper line of seats to include its new one-piece Wide Tripper with a full 14-inch width for the driver and 11-inch for the passenger or for your backrest bag if you dont carry a passenger. This is a sleek seat that drops you down lower from most stock seats. Its available for Harley-Davidson FL (touring) models 1997 and up. Price is $579. Rider backrest is sold separately. Mustang is celebrating its 30th year in the motorcycle business handcrafting all its seats in the US. Visit MustangSeats.com.
Reach that Kickstand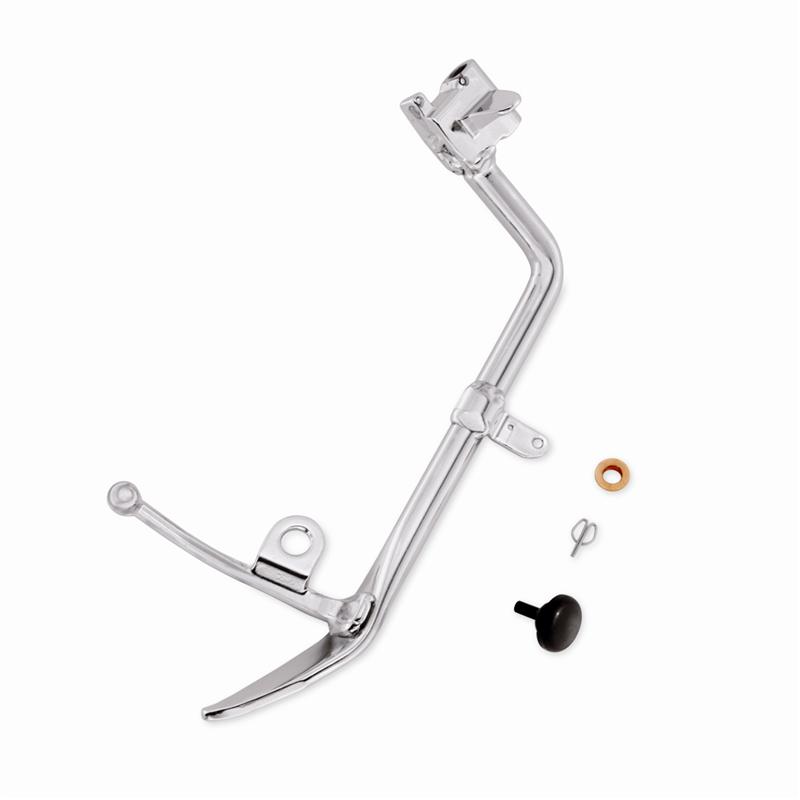 If you ride a Harley-Davidson Softail model, say the very popular-with-women Softail Deluxe or the new Fat Boy Lo, youll be interested in this extended jiffy stand or kickstand as we call it, that has a ball tipped extension arm making it easier to locate with your motorcycle boots. Check out our review of the Fat Boy Lo where WRN editor Genevieve Schmitt mentions the stock hard-to-reach kickstand. She also reviewed the Softail Deluxe if youre interested. Just click on the highlighted links. Visit your local Harley-Davidson dealer, or log onto Harley-Davidson.com for more info on the extender.
Commuters Gadget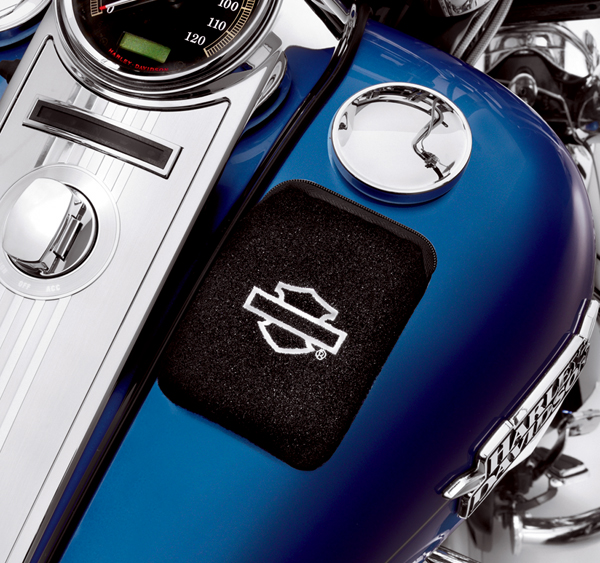 Designed for use on a motorcycle or in a car, the new Tall Toll holds the owners electronic toll transponder in a durable neoprene jacket with zippered closure. Built-in magnets hold the pouch securely to the top of a steel motorcycle fuel tank. If you dont mind the Bar amp; Shield logo this gadget can fit on any motorcycle with a steel tank. Pouch dimensions are 4 inches wide by 5.5 inches long. Visit your local Harley-Davidson dealer, or log onto Harley-Davidson.com.
Harley-Davidson Casual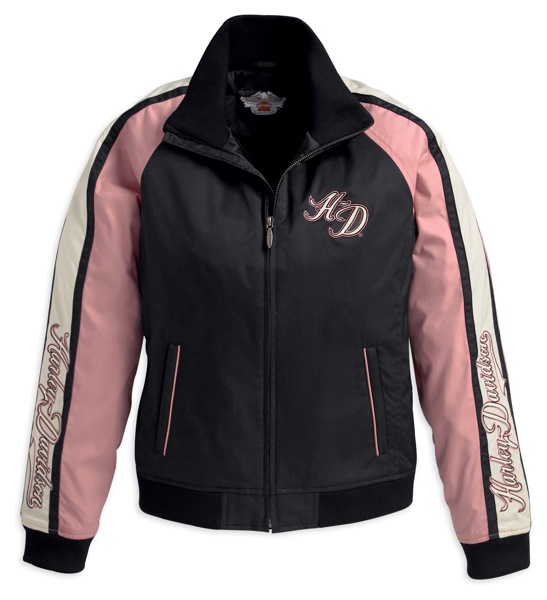 Karen Davidson told us at WRN that pink is Harley-Davidsons best selling apparel color in womens gear so heres another item from the Motor Company thats pink, the new Colorblocked Nylon Jacket, for showing off your motorcycle style when not on the bike. It has feminine-styled raglan sleeves and embroidered graphics that make a visual statement. Made from 100-percent nylon twill with a poly-mesh lining, featuring a ribbed collar, cuffs and waist. Two hand-warmer pockets and one interior pocket. Sizes XS to 3W, petite and tall sizes. Visit your local Harley-Davidson dealer, or log onto Harley-Davidson.com for more info on the extender.