Outfitted with Indian Motorcycle's powerful air-cooled Thunderstroke 116 engine, the Sport Chief is Indian's latest model in its Chief cruiser lineup. Packaged in a frame with slightly forward mid-controls, a low 27-inch seat height, a maneuverable moto-style handlebar behind a retro-styled quarter fairing, and Sport, Standard, and Touring ride modes, the sportiest Chief is getting a lot of well-deserved attention from women and men.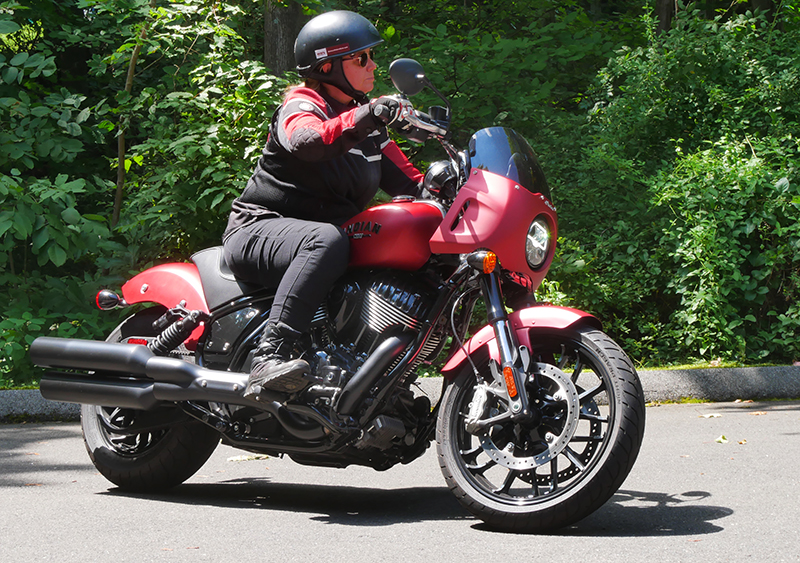 Whether you want a powerful cruiser to just tool around on or one that you could take off for a weekend of fun, the Sport Chief has you covered. Equipped with a fairly substantial quarter fairing, the wind protection on the highway is noticeable. Current Indian Motorcycle accessories available include taller (and shorter) windshields, taller handlebar risers, an adaptive headlight, and some small luggage options. I found inside the fairing a suitable place to bungee a small bag with some extra gloves and rain gear.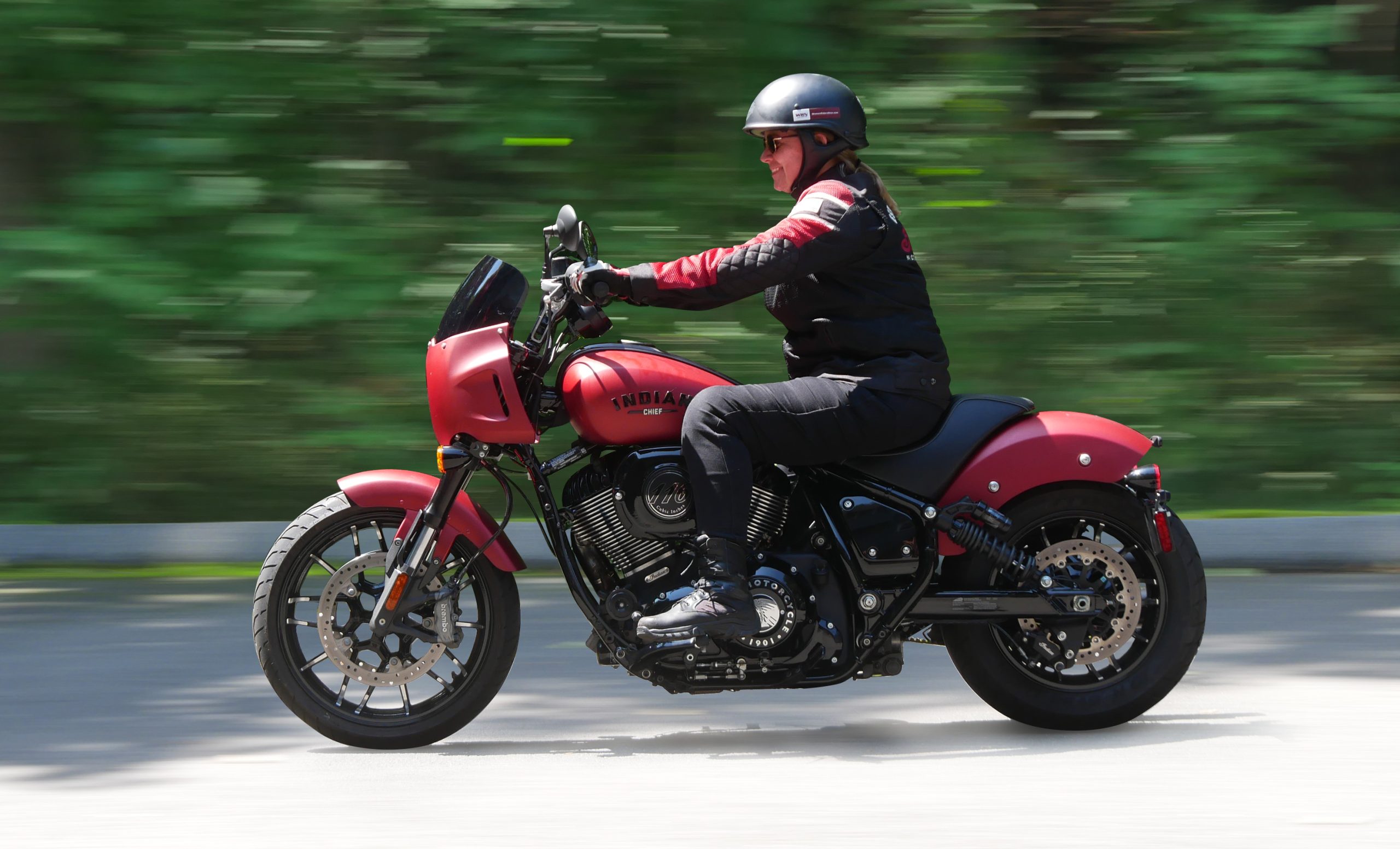 Sport Chief Ergonomics and Fit
The long, low hot rod is commanding in presence and finished beautifully in one of three flat paint options or glossy Stealth Gray. The solo Gunfighter seat, bobbed fenders, tall handlebar setup, and mini fairing follow the current trend of what you see regularly at bike night burnout contests when riders show off the power and performance of their custom cruisers.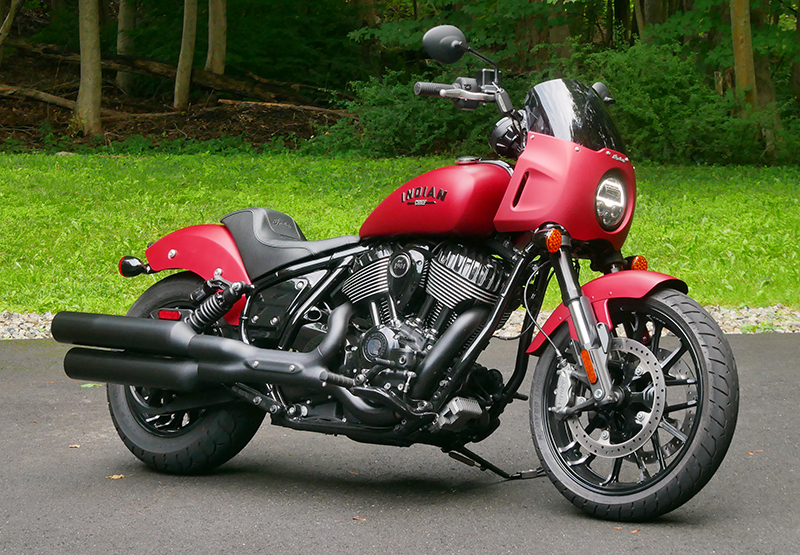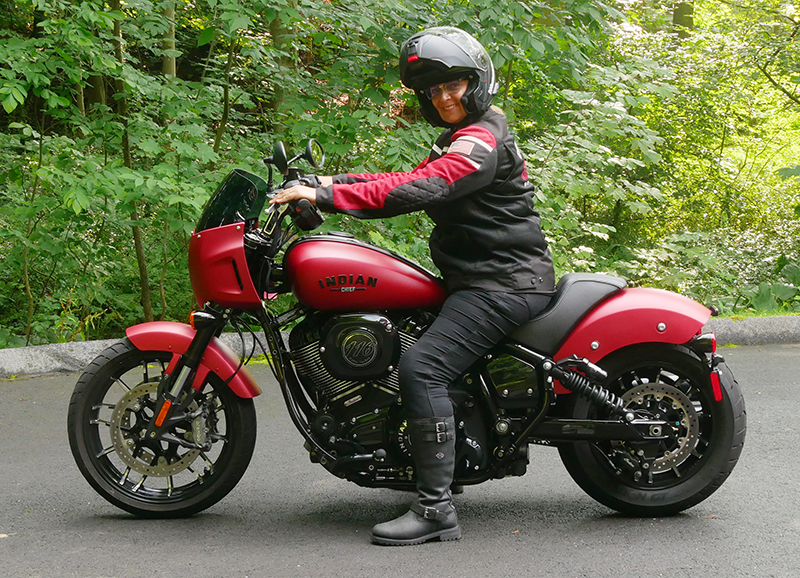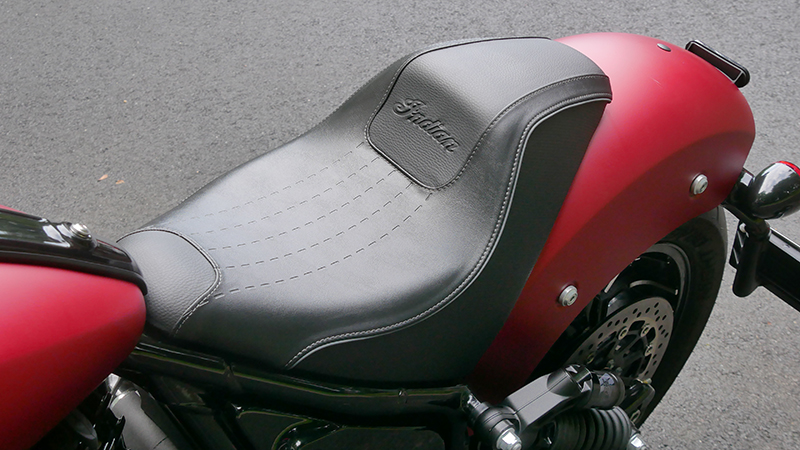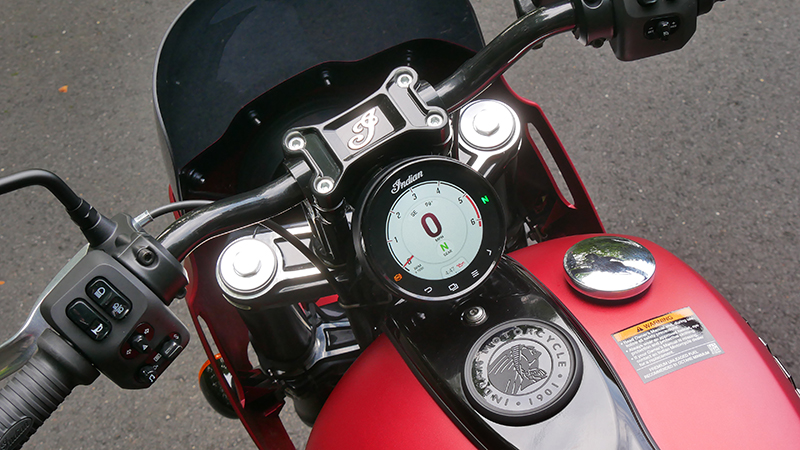 Class Leading Instrument Display
A feature-rich full color touchscreen display offers a wealth of information in a traditional round screen centered under the handlebar clamp. Paired with Indian's Ride Command app, riders get turn-by-turn navigation, music, and phone info right out front and center in the easy-to-see display.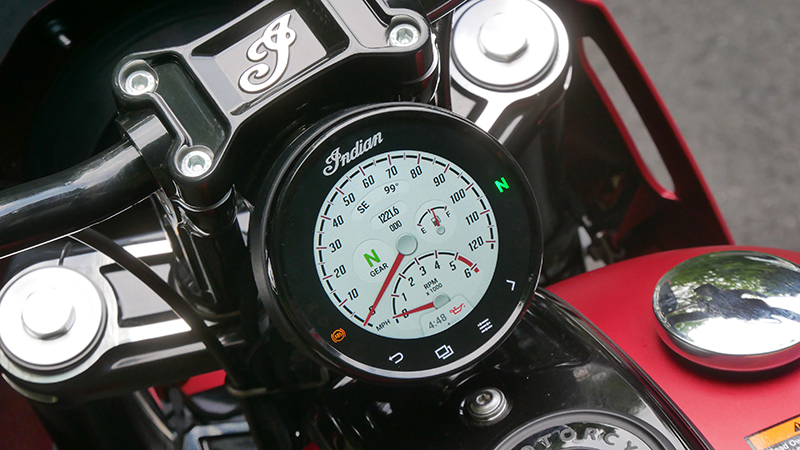 While the 4-inch round display is touchscreen compatible and works with any gloves, I love that there are also multiple buttons near the grips to cycle through display options. You can use your left forefinger as well as left thumb to toggle through the different displays.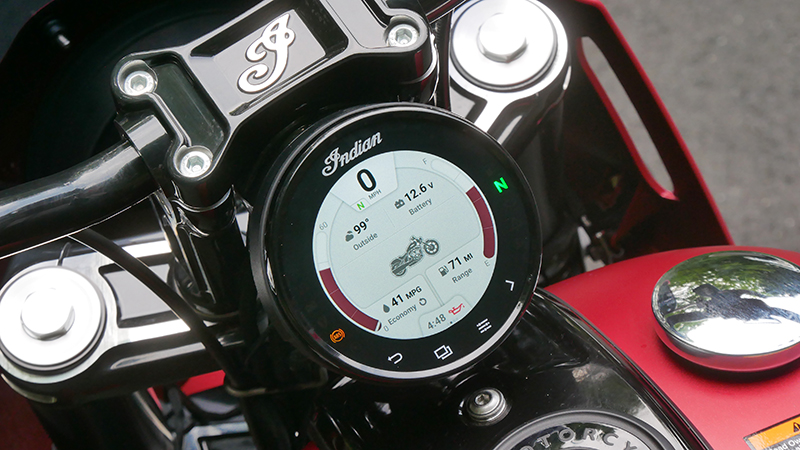 Sport Chief: Premium Components
To match the bike's powerful engine, the Sport Chief gets Indian's premium suspension and brake components. With an inch more rear travel suspension than Indian's other Chief models, dual Fox piggyback shocks offer plush ride comfort and better cornering clearance.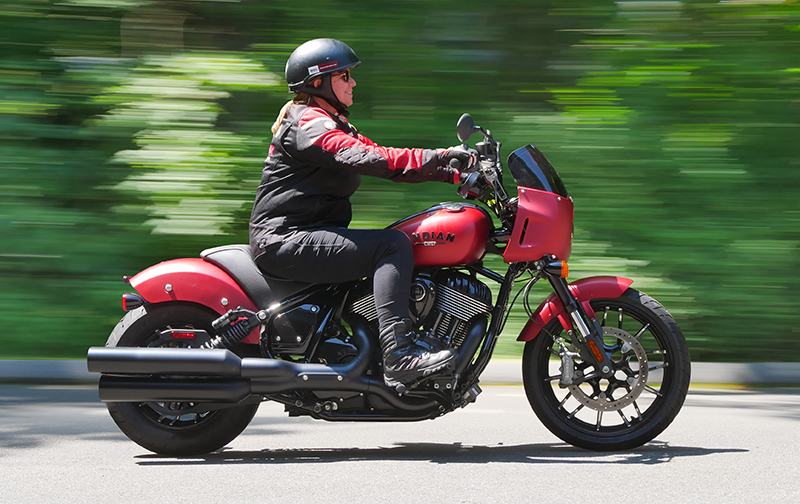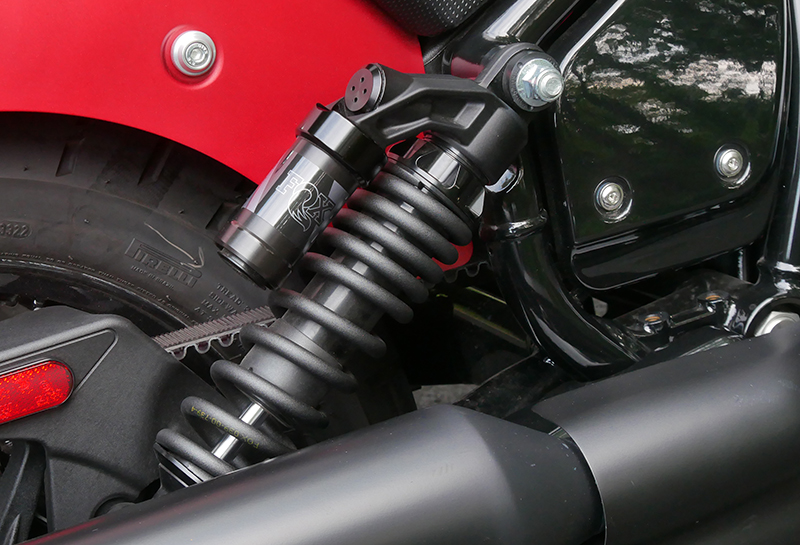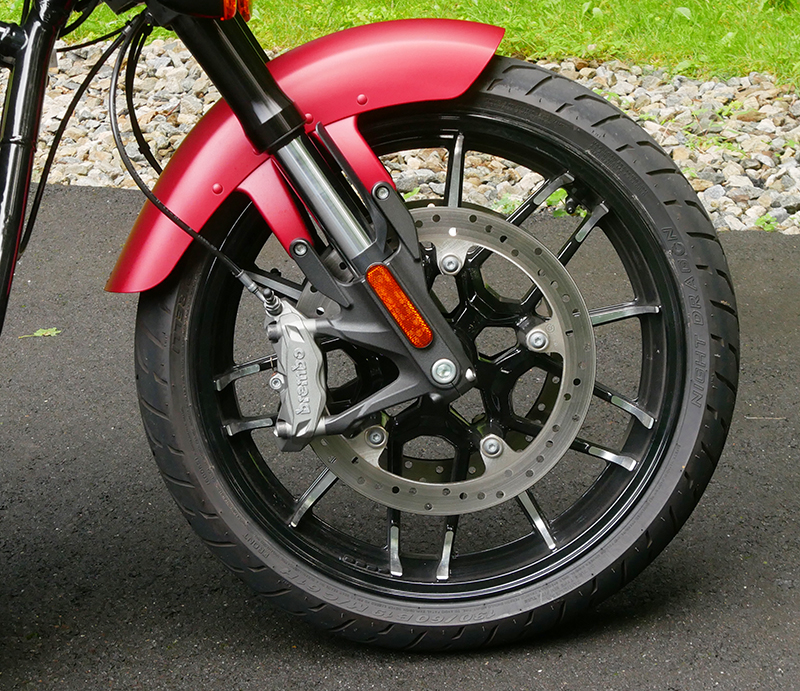 Sport Chief Riding Impression
Taking off on the Sport Chief gives me the same adrenaline rush I feel when taking off quickly on a sportbike. In fact, it's almost hard to ride slowly even in standard ride mode. This huge powerful engine just wants to "go!" You feel the 120 foot pounds of torque right away upon takeoff. 
Shifting through the six gears is done with an easy-to-deploy clutch, although there is no adjustment on the lever for smaller hands. Premium features like Standard, Sport, and Tour ride modes and cruise control are standard equipment and work well to customize the ride.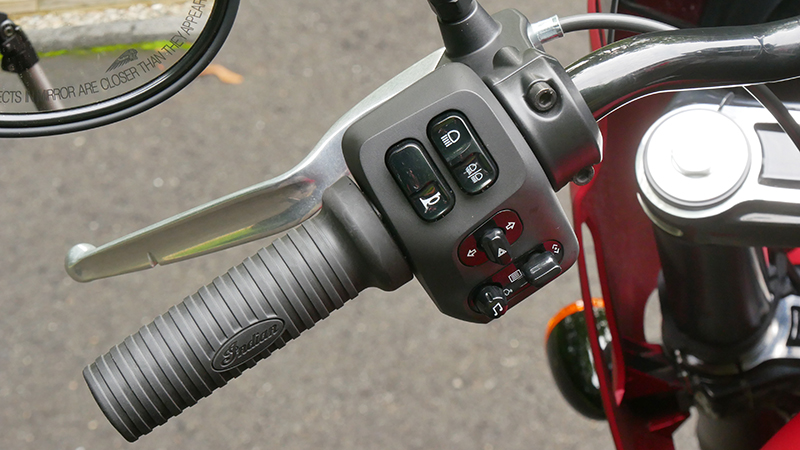 The mid foot controls match the sporty riding position and are easy to reach for any leg length, but on longer rides I ache to stretch my legs out. The combined forward arm reach and rather tight knee bend of the peg position makes sense when riding aggressively, but for long highway jaunts, I start wiggling around a bit.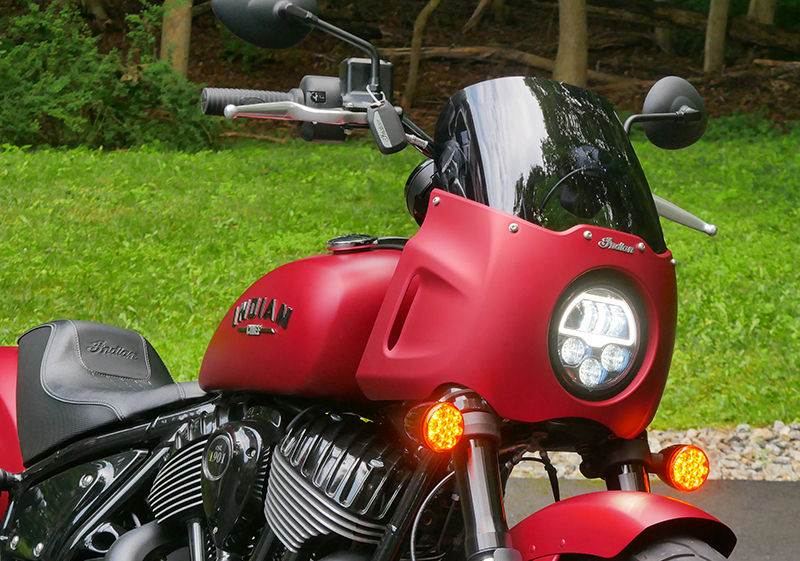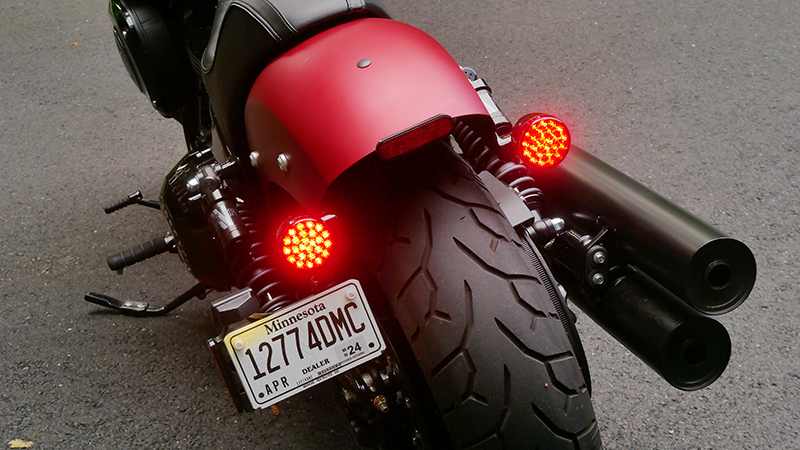 Specs at a Glance: 2023 Indian Motorcycle Sport Chief
Engine Size: 1890cc
Seat Height: 27 inches
Fuel Capacity: 4 gallons
Wet Weight: 685 pounds
Colors: Black Smoke, Ruby Smoke, Stealth Gray, Spirit Blue Smoke
MSRP: $18,999
If you love carving corners on a powerful cruiser and want class leading performance, look no further. Indian Motorcycle's Sport Chief is your ride. Even if you don't find the ergonomics to be perfect for your size, you'll find a plethora of parts and accessories to make it so. Starting at just $18,999, you get a host of premium quality parts with a motorcycle that has gobs of torque that brings instant smiles.