In its continuing effort to help decrease the number of alcohol-related motorcycle crashes, the Motorcycle Safety Foundation is partnering up with the RADD California Coalition for its Winter Holiday Campaign to encourage responsible riding and driving.
The campaign, which will appear on radio, at college campuses, and in retailers throughout California, addresses the issue of alcohol use and the operation of a motor vehicle whether a car, truck or motorcycle. The campaign asks all roadway users to consider "Whats the Plan? … Figure It Out!" to encourage everyone to think about their behavior and the choices they make this holiday season. The Coalition promotes designated driving and other lifestyle solutions to prevent drunk driving.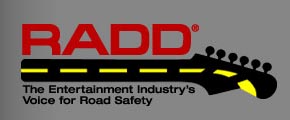 Given a motorcyclists unique circumstances, a special "Decide Before You Ride – You Are the Designated Driver" message will be part of the campaign communication just for riders. "Since a motorcyclist cant have a designated driver, and is unlikely to be willing to leave his bike and take a cab, a rider simply needs to choose whether to drink or to ride. The two just dont mix," said Dean Thompson, spokesperson for the Motorcycle Safety Foundation.
"Alcohol use is a factor in a large number of motorcycle crashes. Riding a motorcycle requires even more coordination and operational skill than driving a car. Even a small amount of alcohol can diminish those abilities by affecting balance, coordination, reaction time, vision and judgment," Thompson added. "Serious injuries and fatalities would drop dramatically if motorcyclists didnt drink and ride."
The RADD statewide awareness campaign will include celebrity PSAs, grassroots outreach, popular websites, college campus activities and the RADD Card, which offers non-drinking designated drivers 21 years of age and older free or discounted incentives from participating retailers throughout the state. The MSF will distribute campaign posters and RADD Cards to all motorcycle dealers in California to support the effort.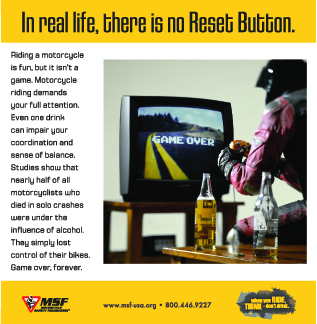 "Were pleased to be part of the RADD California Coalition to address the issue of impaired driving in California, and encourage every motorcyclist to Decide Before You Ride," said Thompson.