Degas, Van Gogh, Matisse world-famous artists.
Ducati, Vincent, Mosley world-famous motorcycle manufacturers.
Their commonality? Members of the first group have long had their masterpieces admired in art museums around the world. Now, members of the second group have ridden into that artistic realm as well.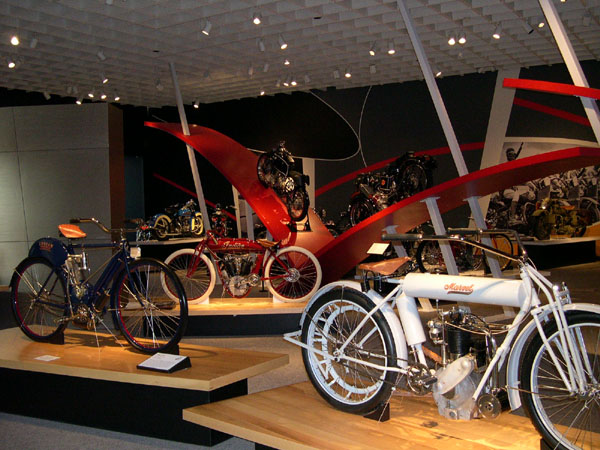 From January 22 through July 23, 2006, the Orlando Museum of Art (OMA) in Orlando, Florida, is hosting the latest showing based on the landmark "Art of the Motorcycle" exhibition. This collection first opened at New York City's Guggenheim Museum in 1998, and its record-breaking attendance for that type of an exhibit made history.
Two-wheel, motor-driven fanatics have long regarded their obsessions as rolling works of art; this exhibit provides the non-motoring public an opportunity to see that point of view. Exhibit organizers say their purpose is to "challenge" conventional assumptions about art and popular culture in the modern age and show that art is truly everywhere.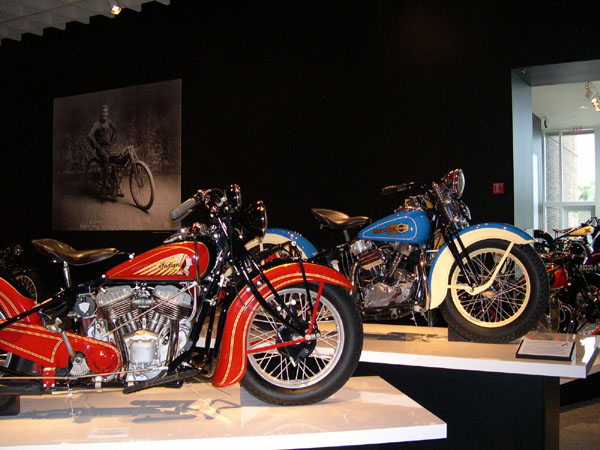 Here's a sampling of the magnificent machines on display: The Orient (1900), the first-commercially-produced motorcycle in the United States; the Cyclone Board Tracker (1914), known as the "yellow speed demon" and the fastest bike of its period; the BMW R32 (1924) which shows the influence of German Bauhaus design; the Harley-Davidson EL (1936) with its knucklehead engine and forefather to many of H-Ds current designs; a 1994 Britten V1000; 1992 Bimota Tesi 1DSR; 1948 Vincent Series B Black Shadow; the list goes on and on.
A Different Form of Artwork
Within the museums sleek confines, under the bright lights, the motorcycles sit like pampered Hollywood stars. Some rest on pedestals, some stand on the floor, some look as if they're riding into the sky on a glossy, red-ribbon-like platform that sweeps above your head in the largest gallery. Looking at these machines gleam and twinkle they almost don't seem like motorcycles at all. They seem more like sculpture.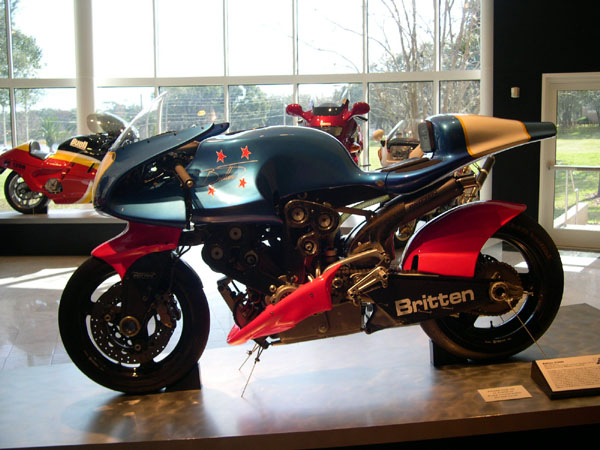 Look ahead and see a study in color – the beautiful shiny red Indian V-Twin with tan seat and white rubber tires looking absolutely elegant in this setting. This 1912, 8-valve board track racer with its 20 horsepower ran more than 100 mph go-fast art? Why not?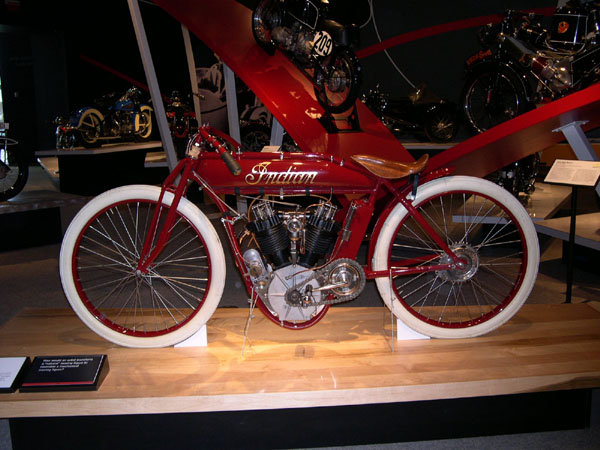 Strolling through the display, engine displacement and horsepower fade in importance. Instead, the lines of a frame, the shape of a motor, color palettes, silhouettes come to the forefront as the motorcycles rev from being simply "rolling" art to "high" art.
OMA Curator Hansen Mulford said putting this exhibition together presented special challenges. "We wanted to make the art aspect of this visible and relevant and not to just display a collection of machines. Each bike is presented on a pedestal so it can be viewed as a sculpture. There are also many other elements, such as the graphics and murals that connect the bikes to other events and cultural things that are part of the motorcycle world."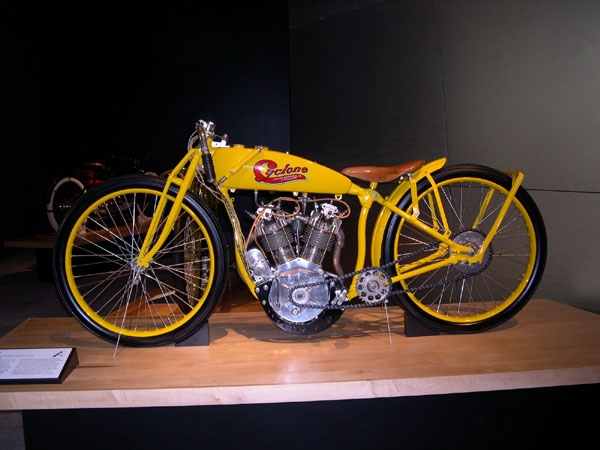 Exhibit curator Ed Youngblood hopes visitors will see motorcycles in a different light. "They'll probably be entertained, they may find it very interesting, they may learn some things they didn't know, they may leave here still convinced that motorcycles aren't art, and that's OK. Hopefully some will leave looking at motorcycles in a different way and understand the beauty that comes out in the design, the decisions that the designers made about the shape of a fuel tank, the style of an engine, or how its all put together. There really is beauty in a lot of these machines."
All tolled, 79 motorcycles bring the 14,000 square foot exhibit to life, categorized by era this exhibit literally walks you through time, not just about motorcycles, but the history of our country and the development of our culture as illustrated by the evolution of our beloved two-wheelers. An audio tour, narrated by Jay Leno, tells stories about many of the machines.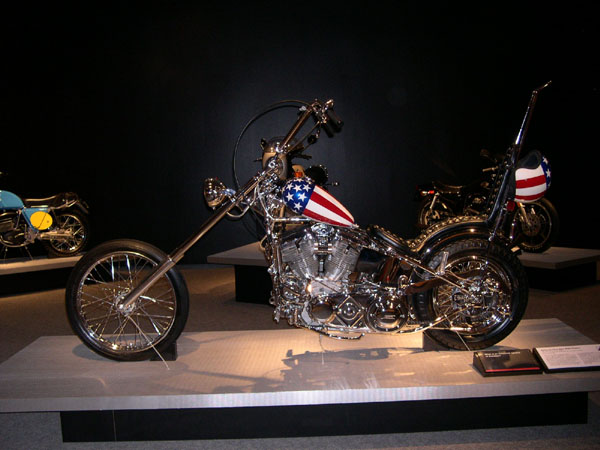 Youngblood says though all the display bikes have cultural significance, he feels there are several standouts. "To me, number one on that list is the Honda Super Cub. That is the little bike that changed motorcycling in America. Honda brought it to the United States and used very unconventional marketing. They bought advertising in Life and Look magazines. Nobody had ever done that before. They brought in a whole new audience of motorcycle enthusiasts." Youngblood also cites the Vespa Scooter and the Captain America Chopper as two other very culturally significant motorcycles.
Motorcycles as art? Well yes, we knew that. We lucky insiders don't even have to pay an admission fee for the privilege of viewing them. We only have to step into our garages.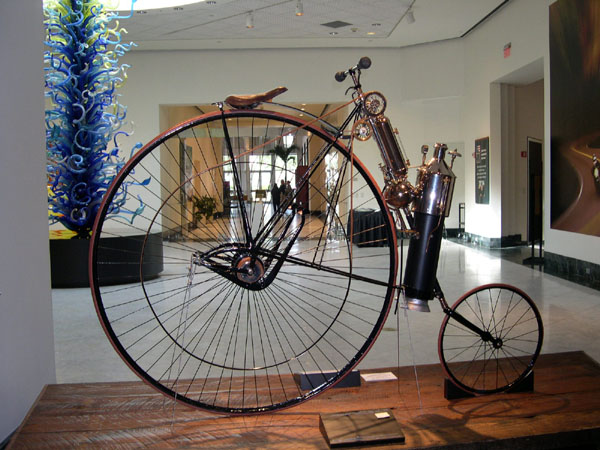 Admission to the exhibit costs $15. For more information and directions you can call 407.896.4231 or view the Orlando Museum of Art Web site at www.omart.org. The museum is located in Orlando off of Interstate-4, exit 85, 1 hour southwest from Daytona.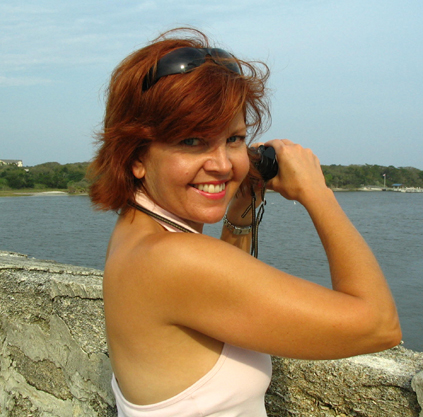 Moto-journalist Pam Collins divides her time between Pennsylvania and Florida. She is a regular contributor to Keystone Motorcycle Press, a regional motorcycle magazine in Pennsylvania. Pam says, "The thing I love best about riding is every time I see the odometer turn on my bikes, I know those are moments I'm truly living and not just sleepwalking through life. Riding has a way of turning even the most familiar places and roads into special, new adventures." Pam rides a Kawasaki ZZR-600 and Harley-Davidson V-Rod.