Large-displacement cruisers usually mean large everything else, too. But for women and smaller-framed men who want a big V-twin that handles well and is in proportion to their not-gargantuan bodies—without sacrificing power—there aren't many options in today's motorcycle market. Thats why when we find one, we make sure you know about it.
A new viable option for just such riders is the Judge, a muscle cruiser
released by Victory last year
to much fanfare. While maintaining Victory's trademark swoopy tank lines, the Judge's character derives from old-school American muscle-car styling, delivering big-twin power in a modern, good-looking package that begs to be tossed through some corners.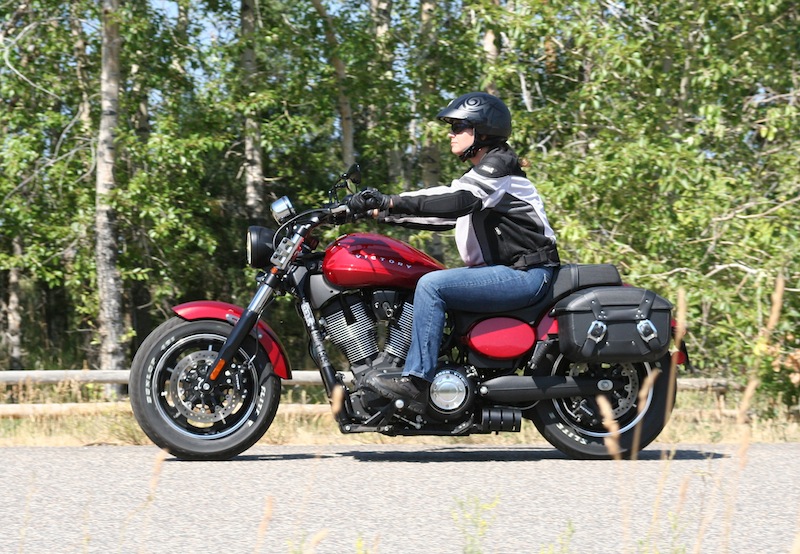 After throwing the bike into aggressive twisties, you'll quickly discover the Judge's cornering clearance limitations, as hard parts start scraping at a fairly moderate lean. The Judge is not a sportbike, however, and it isn't difficult to get used to taking wide lines, braking hard, and even downshifting before the more serious switchbacks. Pulling out of the turn is even more exciting when you give this bike a good twist of throttle and hang on as the big brute straightens up and takes off.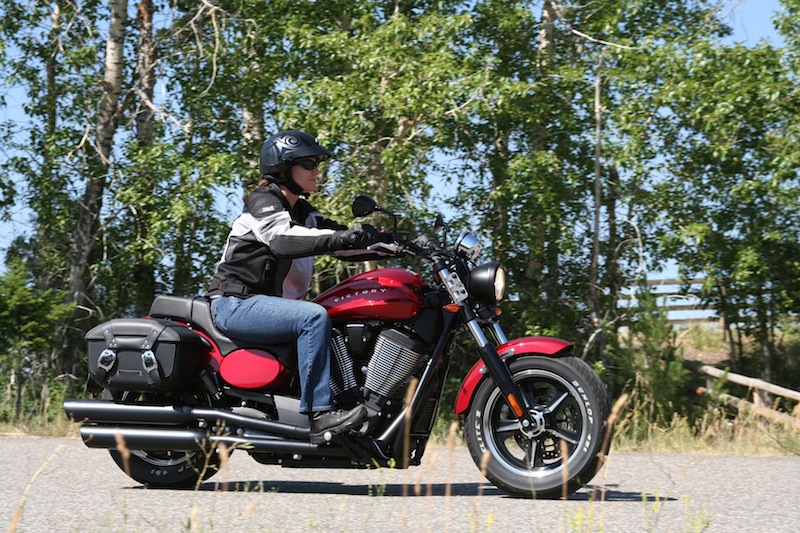 The only criticism I have of the Judge is that, like other Victory Motorcycles, it has no built-in lock—that is, no fork or ignition lock—so you have to bring along a disc lock or another security device.
The fuel tank holds 4.5 gallons, and I averaged a decent 46 mpg on my test ride. This means you can travel a long way on the Judge, or about 200 miles, between fill-ups. Just don't wait for the low fuel light to illuminate, as there are only approximately 17 miles between the light coming on and the fuel running out. I learned that lesson the hard way, while riding to the airport to catch a plane, no less!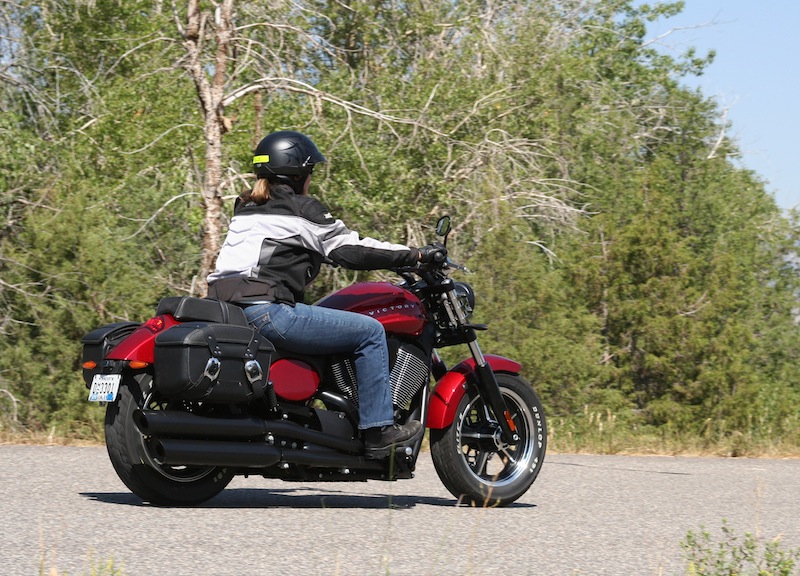 | | |
| --- | --- |
| The Victory Judge tested by Tricia was outfitted with several Victory-branded accessories, including Lock Ride rigid saddlebags ($750, plus $150 mounts), a Lock Ride Medium Fly Windscreen ($349.99), a Lock Ride passenger backrest ($350), and a touring seat ($400). | Removing all the quick-release accessories—which can be accomplished in seconds—leaves the Judge in almost stock form. Note the lack of shiny chrome. Instead, the Judge gets black details to complement its edgy character. |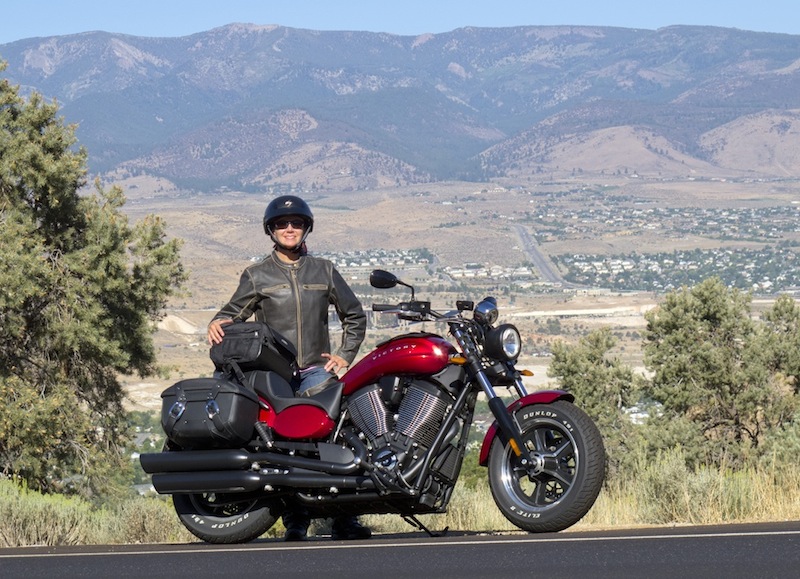 | | |
| --- | --- |
| Each of the Judge's fat 16-inch wheels (front and back) is fitted with a Dunlop 491 Elite II with a classic cruiser tread pattern. We like how the raised white lettering illustrates the muscle-car theme. The front and rear single floating rotors—four-piston caliper upfront and a dual piston in the rear—handle braking duties well. | The Judge uses Victory's Freedom V-Twin engine with 6-speed overdrive. With the bikes 113 ft-lbs. of torque, pulling away from a stoplight is strong and demanding, and power delivery is smooth all the way through. |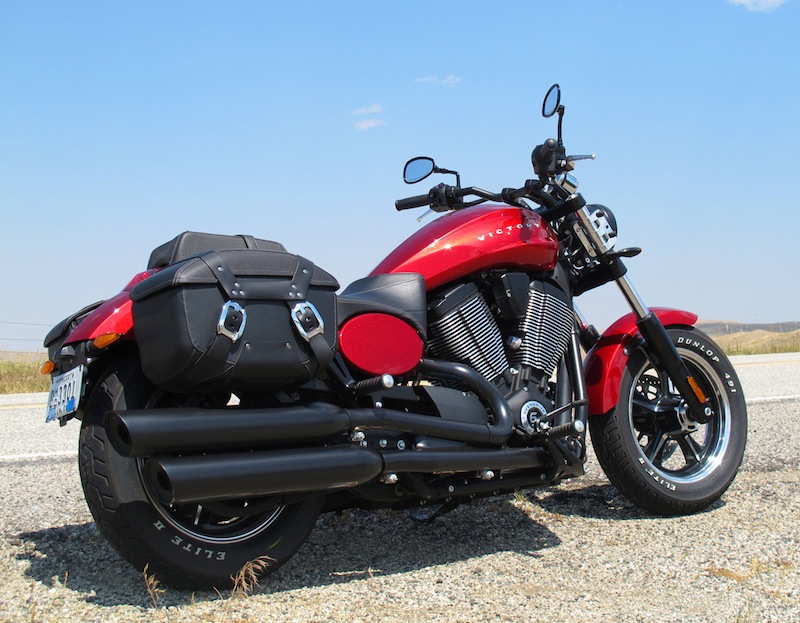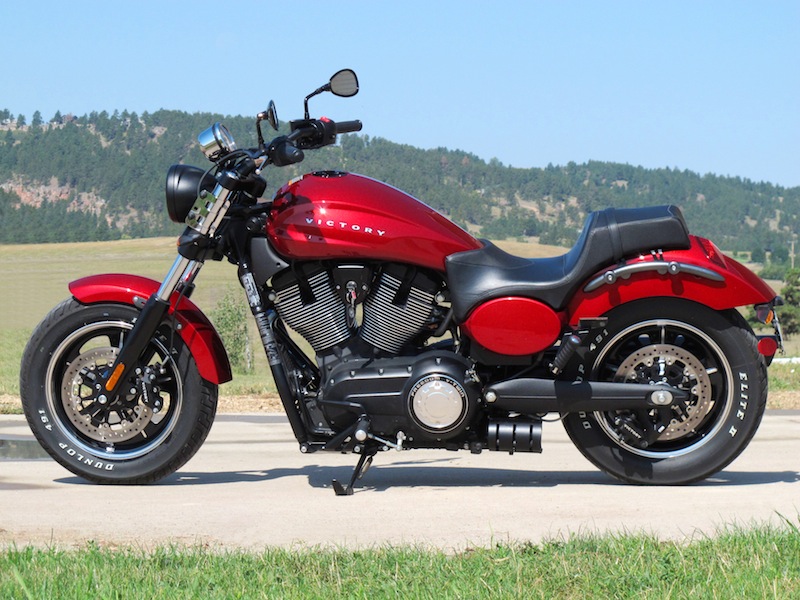 | | |
| --- | --- |
| The instruments on the Judge are easy to see without taking your eyes far from the road. A simple unit mounted in front of the upper triple tree is placed perfectly for ease of use. | An analog speedometer and warning lights surround an LCD display, where a digital clock and shift gear display are always visible. |
| | | |
| --- | --- | --- |
| The left grip control includes the usual items, plus a handy hazard switch. | Using your left pointer finger, you can toggle the digital display on the meter pod, which shows the odometer, one tripmeter, and RPM readouts. | A small dial on the lever adjusts the front brake lever. Unfortunately, the clutch lever is not reach-adjustable, and the clutch pull is a bit strong and may be difficult for smaller hands. |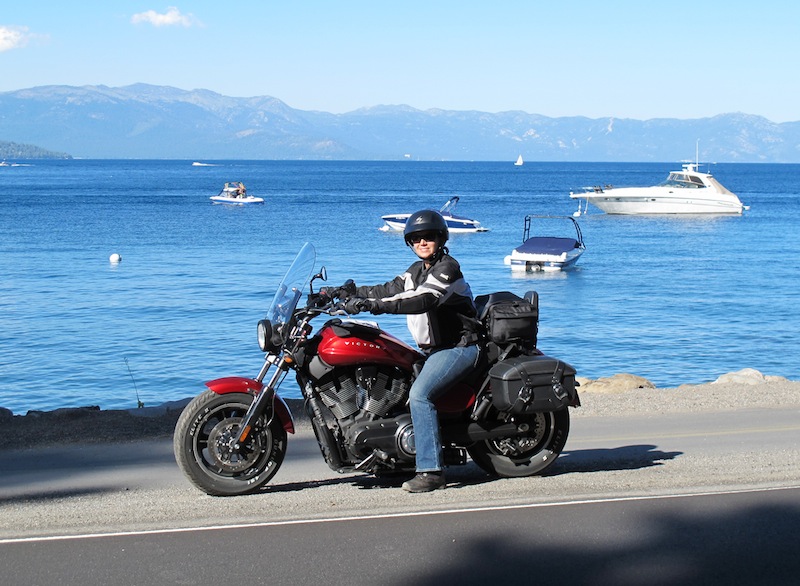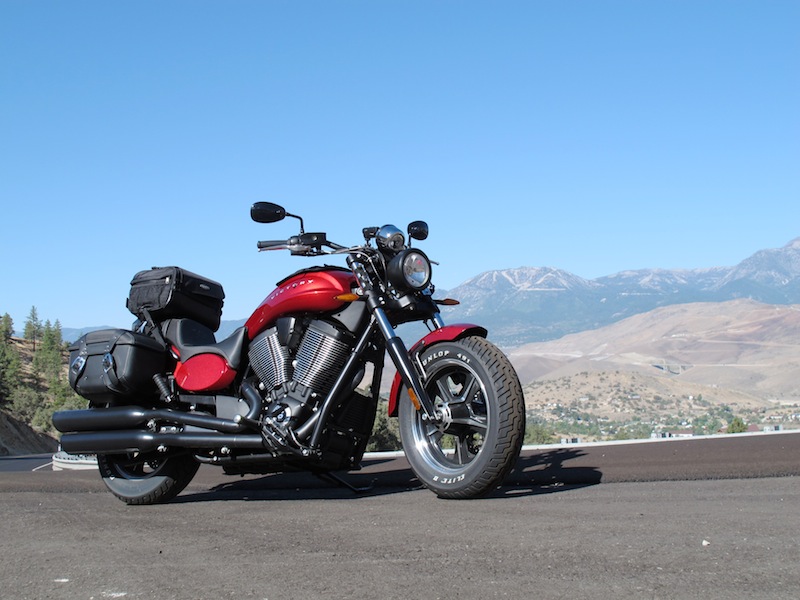 Specs At A Glance: 2013 Victory Judge
Displacement: 106ci (cubic inches); 1731cc (cubic centimeters)
Seat Height: 25.9 inches
Weight: 660 pounds
Price: $13,999
Colors: Gloss Black, Gloss Sunset Red, Suede Nuclear Sunset
WRN Recommendation
The Victory Judge is an ideal choice for smaller-framed riders who desire the power, heft and looks that a big twin delivers but in a more manageable package. Plus, like its biggest competitor, Harley-Davidson, Victory is a US manufacturer, with the Judge priced $1,500 less than its counterpart, the Harley-Davidson Fat Bob, and $3,000 less than the
Harley-Davidson Fat Boy
. For those looking to buy an American-made machine at a more economical price, the Judge is an excellent option.
———————————-
Related Articles