One of the best things about living in the San Francisco Bay Area is that I'm at about the halfway mark on the Pacific Coast Highway. I can't count the number of meandering journeys I've made over the years on and off its black ribbon of asphalt headed north to Canada or south to the Mexican border. If it's foggy I have no problem diving inland to the twisty woodsy hilly byway that more often than not leads to some charming town occupied in winemaking or other such picturesque agricultural enterprise. The past few years I've explored the iconic California highway and its environs on the various Kawasaki touring bikes: the Concours 14, the Vulcan 1700 family, the KLR650 and the Versys. Read on and find out which one will suit the touring junkie in you.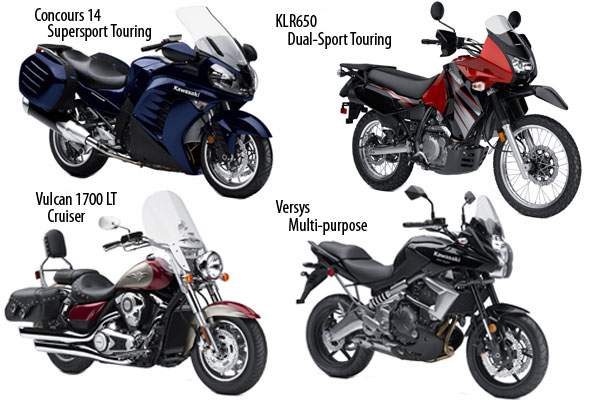 The Concours 14 Supersport Touring Bike
Kawasaki's biggest, most powerful, most feature-heavy touring model is the sporty Concours 14. When I was told by Kawasaki marketing reps that this would be the most comfortable bike I'd ever ride, I didn't believe them. How could I? The thing is based on the companys supersport racing bike and when I twisted the throttle to merge into the above 75-mph highway traffic I accelerated into a mini-wheelie and not on purpose. After my heart settled itself back into my chest I started to enjoy the smooth power of the Concours, and finally believed the "most comfortable" claim after a long 14 hours on the road. It's no cruiser, but whoever designed the seating position knows how a body wants to position itself. Excellent ergonomics and the gel seat helped me keep my cool fighting traffic to Los Angeles and the long, hot highway to Palm Springs, which I do not recommend in August as the only feature the bike is missing is air conditioning.
Back on the sunny, sandy, surfy Pacific Coast Highway I stop at Neptune's Net in Malibu to mingle with its massive Sunday afternoon crowd of bikers gathered around to meet up for some canyon carving or just to see and be seen. The Concours is an instant hit. It's a pretty bike, and pretty big, and its fun to watch everybody stare when I take off my full-face helmet and shake out my hair. I can't help it, but when I head back to San Francisco (with a stack of business cards) I feel like doing that mini-wheelie again, on purpose this time.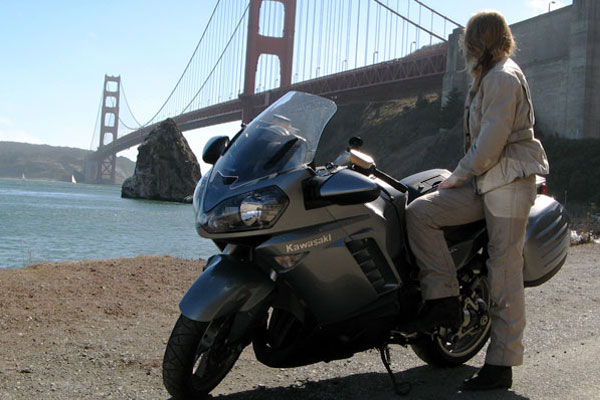 Three months later I make Kawasaki promise not to let me have it again no matter how much I beg. I am starting to feel like a testosterone-injected teenaged boy making bad decisions based on the ability of the bike to get me out of the trouble I get myself into. Speed junkies with track practice and Iron Butt contestants will love love love it. Read the entire review here.
Cruising on the Vulcan 1700 Family
Two-up requires a good back seat and my passenger on the Concours started complaining after a couple of hours. Not so on the Vulcan Voyager, which is the family's biggest touring model, and the ultimate in pillion pampering with padded seating and wraparound backrest.
Personally, I prefer the Classic LT after trying them all on the Bay Area riders favorite routes: backroads through golden hills and the redwood groves to the Pacific Coast Highway. The chaparral-lined twisties from Stinson Beach to the top of Mount Tamalpias provided a demonstration of the Vulcans surprising grace and maneuverability. Read the review here.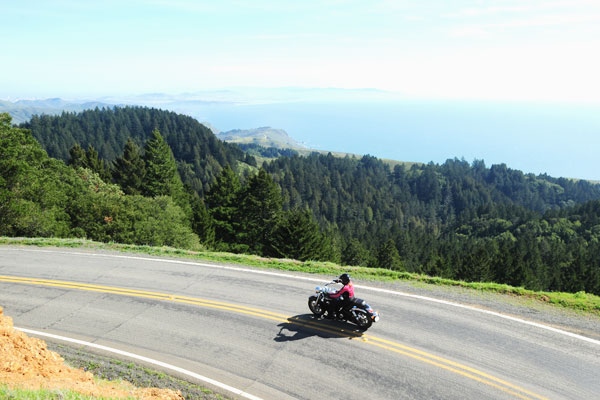 I was comfortable with the Vulcan because it responded to my whims without either lagging or trying to flip me off the back. I was able to relax and enjoy the scenery, which is exactly the point of cruising, no?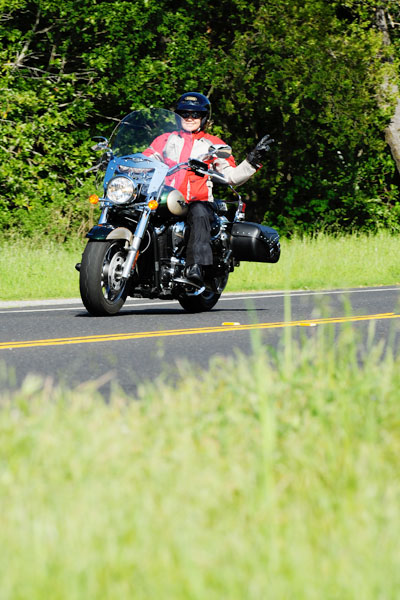 The 650cc Versys for Touring and…
People ask me, "What is a touring bike?" and I always say it's any bike you're touring on. I know I know, but really, unless you're doing some truly hardcore riding, anything with a decent-sized gas tank that's comfortable for a couple-day's ride that you can strap some gear on is fine. Still, it's very nice to have a bike that's actually built for touring and the 650cc Versys is a versatile choice. It's both mid-sized and mid-priced with multi-use in mind. It's got long-travel suspension and the natural upright seating position most touring riders look for. Touring options are an adjustable windshield and saddlebags. It comes with a big 5-gallon fuel tank so you can wander confidently off the road most traveled.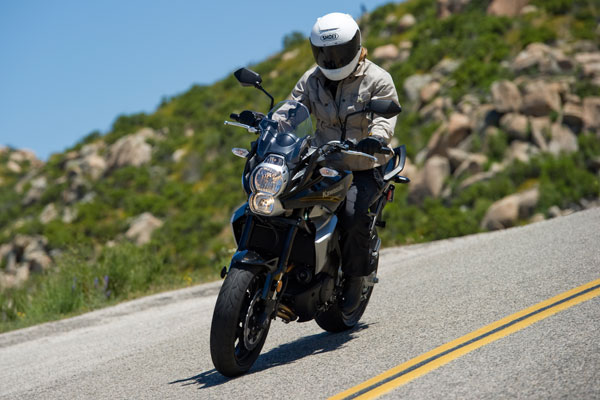 I tried out the Versys on the highway and in the mountains and found nothing to complain about. Lest this sounds boring, I assure you that Versys is the opposite of ennui. I'm excited to find a bike that's really and truly versatile. If you want it all—or don't quite yet know what you want—here you go.
The Versys competes with popular bikes like the Suzuki V-Strom, BMW F 650 GS and the Aprilia Shiver. I can recommend it heartily as a comfortable, peppy, nimble, maneuverable, affordable bike for everything but racing, maybe, and that leaves a lot: commuting, canyon carving, and long-distance touring included. It's not unheard of to put different tires on it for dual-sport riding.
By the way, the Versys has the same engine—just tuned differently—as the Ninja and its naked cousin, the ER-6n. Go figure!
Getting Dirty on the KLR650 Dual-Sport
Touted as the "Swiss-army knife of motorcycles" the KLR is popular with the hardcore adventure touring crowd traveling from California to Canton. I found out why in the mountains above Palm Springs in Idyllwild, California.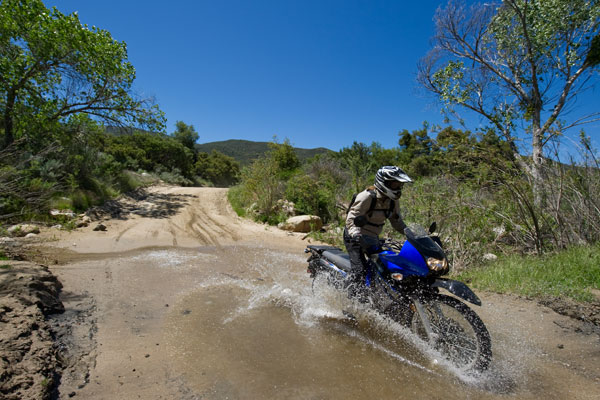 The KLR is a tall bike with serious suspension. It has to be if you're going to make a habit of diving into the kind of pothole I was headed for. This particular hole obliterated the entire width of the fire road save for a tiny strip of dirt inches from a barbed-wire fence along a cliff. Of course you're not supposed to fixate on something you don't want to hit because you're sure to hit it, but the last thing I wanted to do was kiss that barbed-wire. So as the hole swallowed my front tire I resigned myself to a head-firster over the handlebars hoping the ground was soft and I was still chanting "tuck and roll, tuck and roll" when it climbed me right out of it.
Though you might think I'd be more cautious after that, the event only served to increase my recklessness and reliance on its talents. I don't ride off-road much since my bones stopped being bouncy but soon I was fishtailing through sand, standing through puddles, skittering along wet rocks, even coming within a whisper of that barbed-wire fence. Instead of fixating on the terrain I was enjoying the view from the San Jacinto mountains across to Palm Springs, breathing in the scent of pines and cedars and thinking, yeah, Africa, here I come.
A couple of years ago Kawasaki redesigned the KLR to be more street-worthy and, except for the skinny dual-sport seat, I agreed that it was a nice way to head back to town on Highway 243 aka the Banning-Idyllwild Panoramic Highway. The road is one after another after another sweeping long curve and plenty of turnouts and car drivers who happily pull over for you. Yeah, really. Heaven.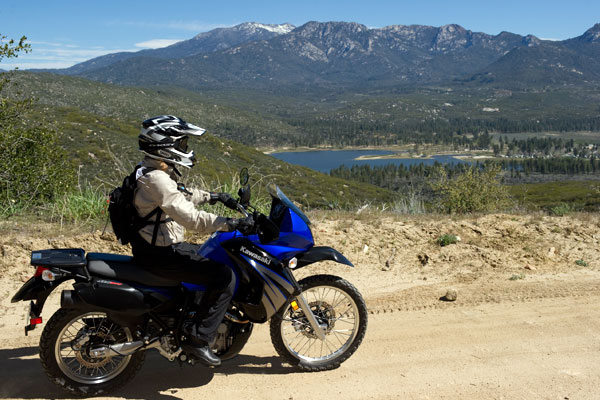 The KLR is one of those bikes that people feel compelled to personalize. I've seen completely naked versions in San Francisco squeezing through traffic and jumping curbs. A friend of mine lowered hers (she's 5 feet 4 inches). She and a few others I know make endless modifications for journeys around the world.
Hey, Touring Junkie!
It's tough being a touring junkie, and if I could have all these bikes in my garage I would. The Concours 14 for long-distance touring, the Vulcan 1700 for stylish cruising, the Versys for zippy backroads touring, and the KLR for dual-sport adventuring. If I had to choose just one, the Versys, I guess. No, the KLR. No, the… shoot. See my problem?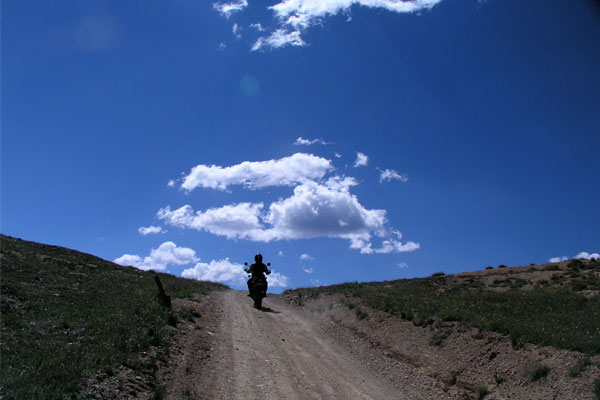 Specs at a Glance: 2010 Kawasaki Vulcan 1700 Classic LT
Displacement: 1700cc
Fuel Capacity: 5.3 gallons
Weight: 798 pounds
Seat Height: 28.3 inches
Price: starts at $14,199
WRN Recommendation
The Vulcan 1700 family offers ideal choices at what we think are ideal prices for experienced riders who want to move up to a big V-twin cruiser. The Classic is great for short runs and day-tripping and additional features on the Classic LT make it suitable for multi-day trips or longer if you're riding solo. On the Nomad you could comfortably ride two-up for weeks, but the Voyager is the ultimate for leisurely two-up cross-country journeys.
Specs at a Glance: 2010 Kawasaki Concours 14
Displacement: 1352cc
Seat Height: 32.1 inches
Fuel Capacity: 5.8 gallons
Weight: 670 pounds
Price: starts at $14,599
WRN Recommendation
Who wants the Concours 14? With its combination of supersport power and high style, it's the ultimate sport-touring bike for the experienced sportbike rider who wants to upgrade to long-distance comfort and occasional two-up travel. We think it's priced right for all you get.
Specs at a Glance: 2010 Versys
Displacement: 649cc
Seat Height: 33.1 inches
Fuel Capacity: 5 gallons
Weight: 454 pounds
Price: starts at $7,599
WRN Recommendation
Versatility and fun are this bike's strengths. It shares the Ninja's engine (tuned differently) so if you're crossing over from sport riding you won't feel deprived of the pep and maneuverability you're used to. But its big fuel tank, upright positioning, and anti-vibration features make it worthy of even round-the-world touring.
Specs at a Glance: 2010 KLR650
Displacement: 651cc
Seat Height: 35 inches
Fuel Capacity: 5.8 gallons
Weight: 432 pounds
Price: starts at $5,999
WRN Recommendation
The ultimate adventure dual-sport touring motorcycle is also great for city curb-hopping and you can't beat the price. Buy one and you're an instant member of the large community that's gathered around this bike. Start customizing!