Star Motorcycles' Road Star Silverado S is a 1670cc, 773-pound heavyweight cruiser with a fairly long, 66.5-inch wheelbase, which might put off women riders concerned about riding a big bike. However, the Silverado's controls are well within reach for the average-size woman. At just 5-foot-5, I found it to be stable and well balanced, making it a great choice for women riders craving the stability and power of a bigger motorcycle.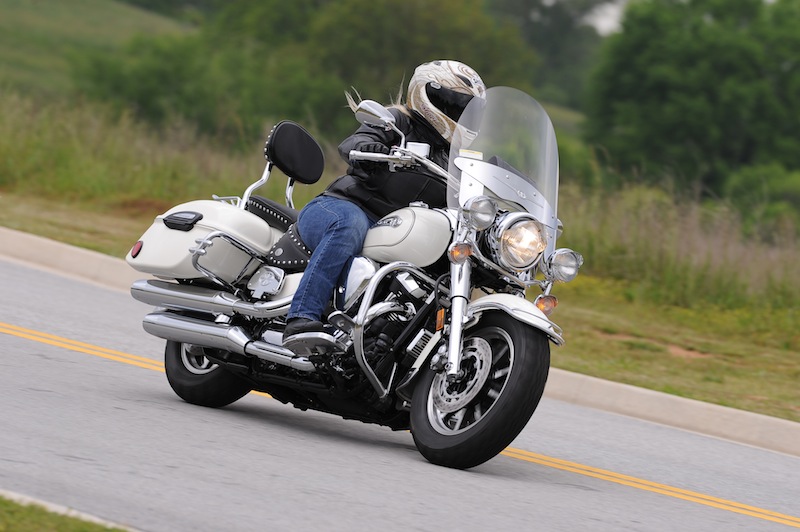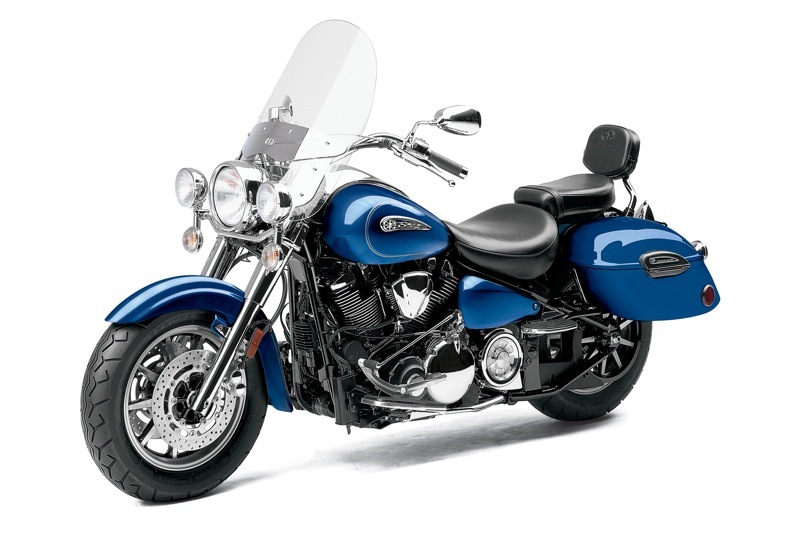 The Road Star Silverado S is a glammed-up touring cruiser with chrome bits throughout. It is outfitted for extended touring with an adjustable windshield, color-matched hard bags that lock, a passenger seat with a backrest, and a powerful 102-cubic-inch V-twin engine. For a few days last summer, I test rode a 2012 model in Atlanta that was decked out with more than $4,000 of hard parts from the Star Accessories Catalog. Other than a color change, the 2013 model is identical to the 2012.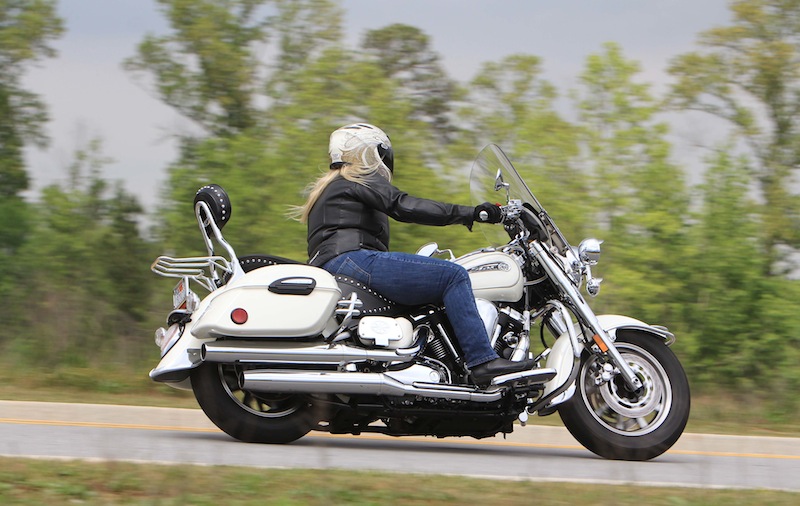 As I learned from experience, backing up the heft of the fully loaded Silverado S is not impossible while seated or standing alongside—it just happens very slowly, one inch at a time. Thoughtful parking is a must for those who want to avoid breaking a sweat.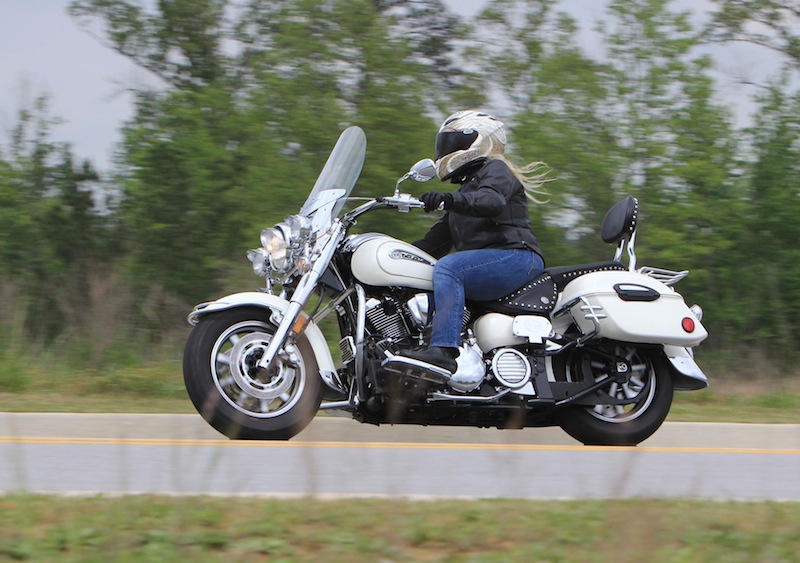 Even though the Road Star Silverado S is a large touring cruiser, the 27.9-inch seat height is within reach for shorter riders thanks to a seat that narrows where it meets the tank. Most bikes in this class have a wide seat without a tapered front, making them difficult for the average-height woman (estimated at 5-foot-4) to flat-foot.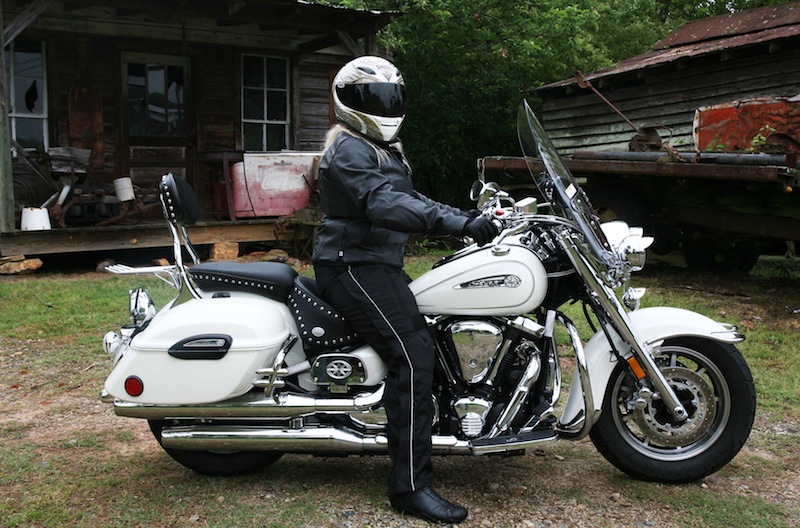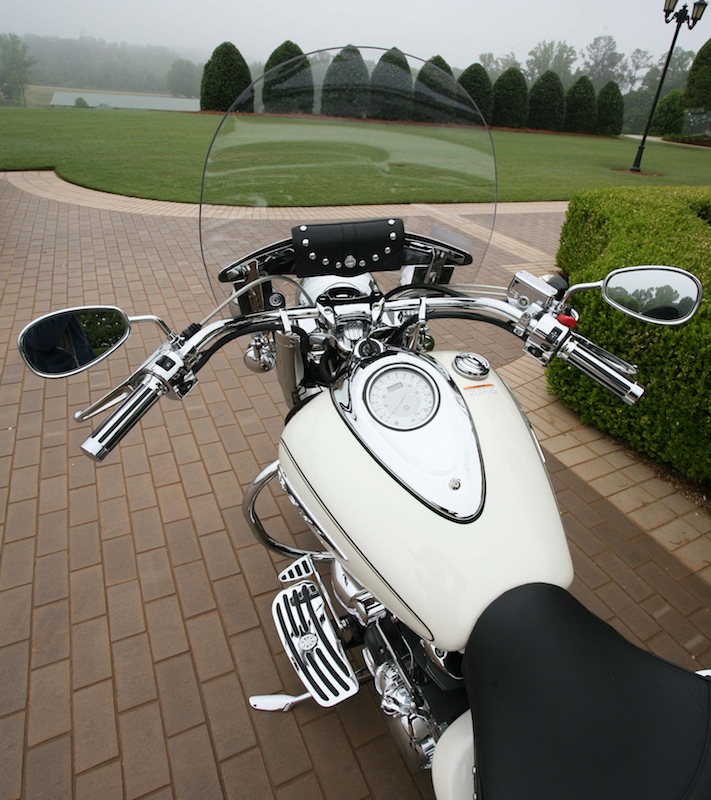 The heart of the Road Star Silverado is its 102-cubic-inch (1670cc), air-cooled, 48-degreepushrodV-twin powerplant. The two-into-two exhaust system lets out a distinctive V-twin growl, which rumbles out of staggered shotgun dual pipes. At faster speeds, the Silverado S runs at lower rpm and quiets down for more pleasant highway cruising.
| | |
| --- | --- |
| The Road Star Silverado is powered by a 1670cc, air-cooled, pushrod V-twin powerplant that doesn't give off uncomfortable heat in stop-and-go traffic situations. | Staggered shotgun dual pipes are positioned low and rearward, well out of the way of both the riders and the passenger's feet and legs. |
The Road Star Silverado S is made for hitting the highways for long road trips. The gears shift smoothly, and top gear (fifth, in this case) is well suited for highway cruising speeds. The engine doesn't have to work hard to keep the pace. It gets an estimated 36 miles per gallon, so the 4.8-gallon fuel capacity means it can motor on for around 170 miles before the low-fuel warning light comes on.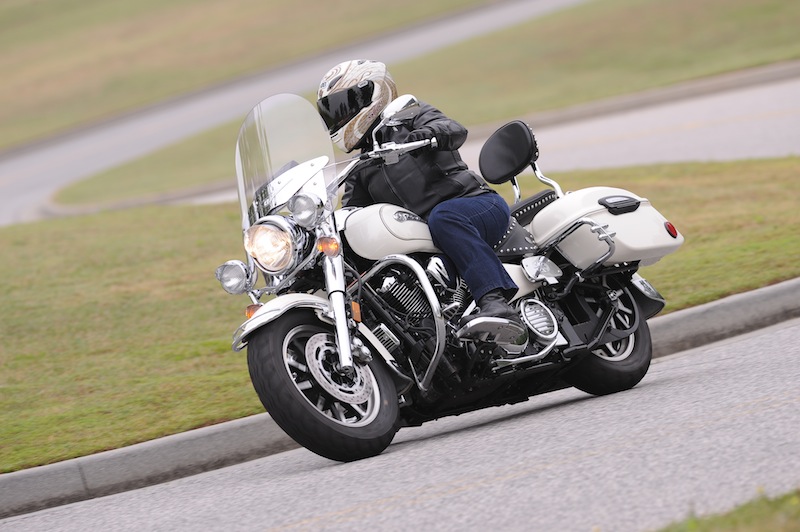 | | |
| --- | --- |
| The Road Star Silverado S has attractive nine-spoke cast wheels with tubeless tires. Dual 298mm front discs and a 320mm single rear disc slow the Silverado S to a stop progressively and effectively. | Telescopic 43mm front forks with stainless steel covers have 5.5 inches of travel, while the hidden link-type, preload-adjustable rear shock provides 4.3 inches of wheel travel. |
The Silverado S feels very balanced at slow speeds, a welcome effect of the bike's dry-sump lubrication system, which uses a spin-on filter and helps centralize mass by keeping overall engine height to a minimum.The Silverado Salso lacks that big-bike handlebar flop when making tight turns.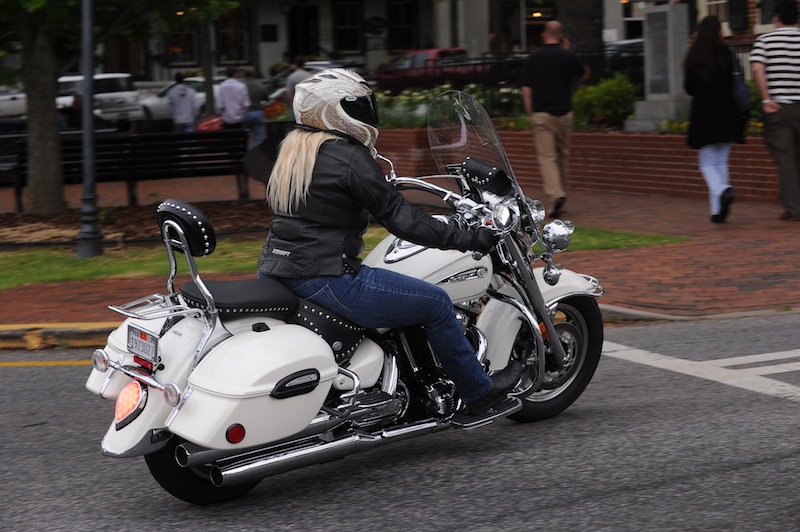 The saddlebags on the Silverado S are hard sided, lockable, and color matched to the rest of the bike. One half-shell helmet will fit in a saddlebag, while a full-face lid can latch to the helmet holder accessible under the seat.
| | |
| --- | --- |
| The leather studded windshield bag on Michelles test model, which can be found in the accessories catalog, holds small items like sunglasses or a bottle of water. | A half-shell helmet fits inside the locking saddlebag, which uses the same key that removes the seat, locks the fork, and turns on the ignition. |
A studded solo seat and tall passenger backrest, along with almost three dozen other parts, were added to the Road Star Silverado I test rode. Extended riding time requires a cushier seat, and Star Motorcycles has some of the most amazingly comfortable seats around, which compare in comfort to some aftermarket seats that cost twice as much.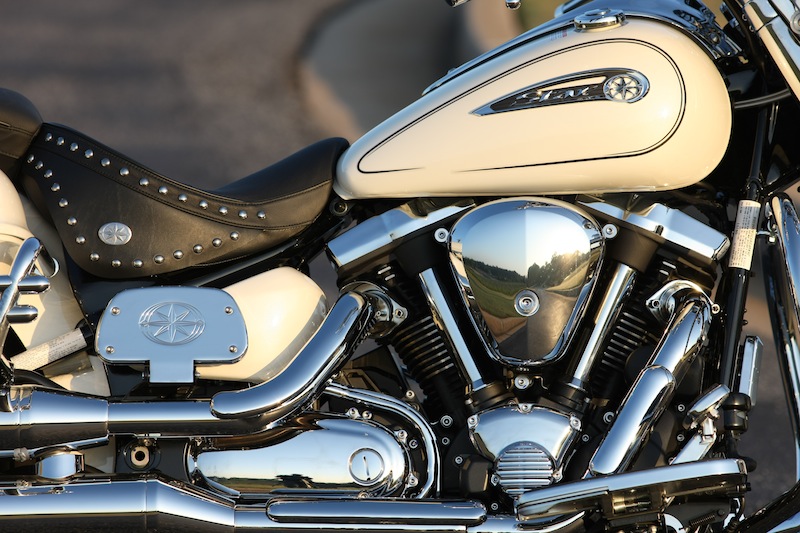 Passenger space is sufficient, and while some bigger riders might find it cramped, the tiered seats allow the average-sized pillion rider to see more than the back of a helmet. Plus, both riders get their own roomy floorboards.
| | |
| --- | --- |
| Full-size rider and passenger floorboards are long and comfortable. A two-piece heel-toe shifter comes stock, but this model was upgraded with the Billet Shift Arm and Billet Rider Floorboard Covers, which eliminated the heel shifter. | This add-on Billet Brake Pedal Cover means less chance of foot slippage in the rain. |
Information from the tank-mounted speedometer is easy to read with a glance down. It includes an odometer, dual tripmeters and a clock. The switch to adjust that information is on the right grip, so the rider can keep both hands on the handlebars when toggling through. There are also all the usual indicator lights expected from a modern motorcycle, including a low-fuel warning light, high-beam light, turn signals, and engine diagnostic indicator lights.
| | |
| --- | --- |
| The low-profile tank-mounted speedometer has old-school-cool looks. | A switch on the right handlebar lets riders toggle the trip meter and other info. The custom-looking stainless steel braided throttle and clutch cables come stock. |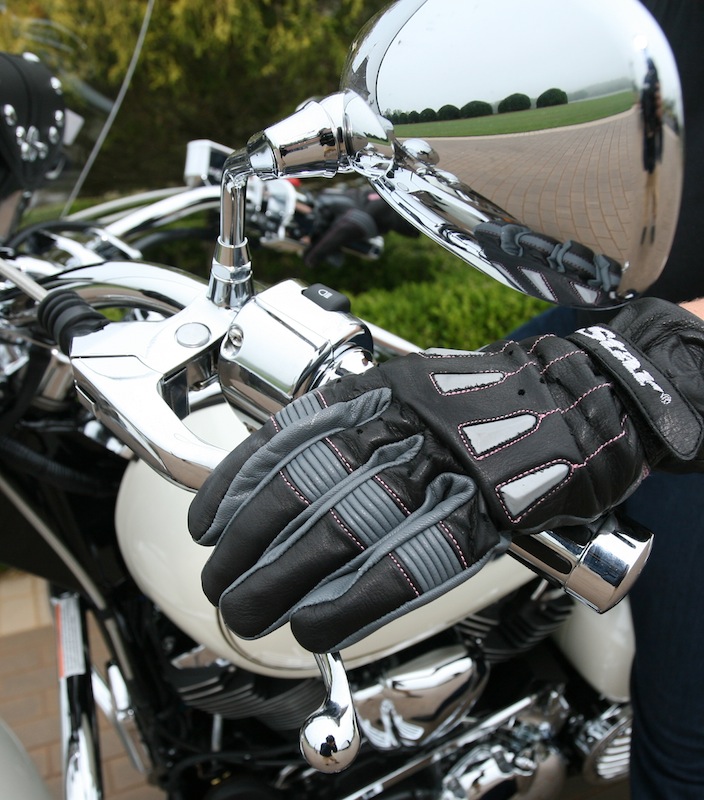 | | |
| --- | --- |
| With its white paint that sparkles in the sunlight, silver chrome throughout, and a jewel-like LED taillight, the 2012 Road Star Silverado S has sophisticated looks. | White paint usually means constant wipe-downs to keep it looking good, but the high-quality Lunar White Pearl finish stayed surprisingly clean despite several afternoon downpours. |
The best part of the Road Star Silverado S is that it comes stock with all the accessories you need to tour. The price is also competitive, at $15,590 for the 2012 and just $300 more for the 2013 model.
Specs at a Glance: 2013/2012 Star Motorcycles Road Star Silverado S
Displacement: 1670cc
Seat Height: 27.9 inches
Weight: 773 pounds
Price: 2012 price $15,590; 2013 price $15,890
Colors: 2012 Lunar White Pearl; 2013 Impact Blue
WRN Recommendation
Star Motorcycles' Road Star Silverado S is an ideal choice for riders who are ready to move up to a touring bike but don't want the heft of a full dresser with a full front fairing and rear top case. Plus, the fact that "smaller" riders can actually maneuver the bike is a plus, so experienced riders—men and women—should consider this motorcycle. It has nice-sized saddlebags that lock, an adjustable windshield, and decent fuel consumption, and best of all, it's dressed for touring right off the showroom floor.
To learn more about Michelle Baird, visit the WRN Contributors page.

Related Articles