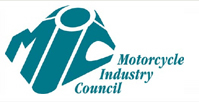 The Motorcycle Industry Council Aftermarket/Allied Trades members will contribute $200,000 to the Oklahoma Transportation Center for a new Motorcycle Crash Causation Study. Combined with the $2.8 million from Motorcycle Safety Foundation member companies, the industry has now pledged $3 million to this new research study. This compares to the approximately $2 million being provided in federal funding.
"The estimated cost of the study went up considerably, and the motorcycle industry stepped up contributing well beyond the original matching funds needed to make this important work a reality,"said MIC Chairman Larry Little. "The more than 300 members of MIC believe that they share a responsibility to improve safety for motorcyclists. This new research will play a vital role."
"The motorcycle industry has shown enormous commitment to this new research," said Samir Ahmed, professor of civil engineering and principal investigator for the study at Oklahoma State University. "This new funding provided by the Motorcycle Industry Council will help make this study invaluable to the motorcycling community in the years to come."
The Motorcycle Industry Council (MIC) is a not-for-profit, national trade association representing manufacturers and distributors of motorcycles, scooters, motorcycle/ATV parts and accessories and members of allied trades, located in Irvine, California.