To some people life in the fast lane equals jet-setting jaunts, late nights, and hard-partying ways. Karen Stoffer defines "fast lane" differently. To her it runs at dizzying speeds and higher rpms than Paris Hilton could ever imagine. Try nearly 200 miles per hour. Or a blazing fast quarter-mile lasting just over six seconds.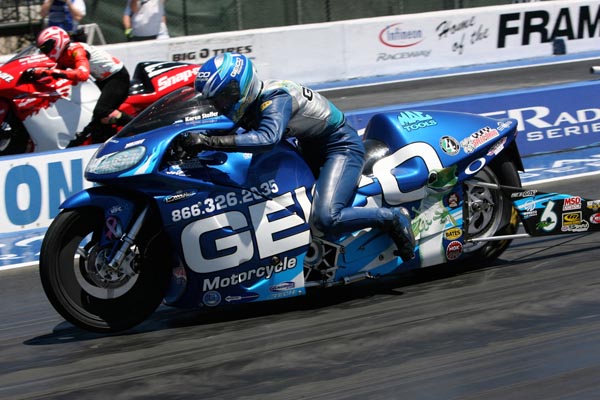 One…two…three…four…five…six…now imagine during that one-tenth of one minute combining the need for hair-trigger reflexes, mental acuity, physical strength, and skillful finesse while G-forces battle your body as it thrusts through space and time and you get the idea. Were talking life in the really, really fast lane.
These seemingly super-sonic jaunts represent just another day at the office for Karen, a five-year National Hot Rod Association (NHRA) Pro-Stock Motorcycle drag race veteran. When I interviewed Stoffer this spring at the seasons first race, the NHRA Gatornationals event in Gainesville, she faced a tough job. She needed to win her last elimination round race just to stay alive in the competition, which she did, but it landed her in sixteenth (last) place for the upcoming qualifying round.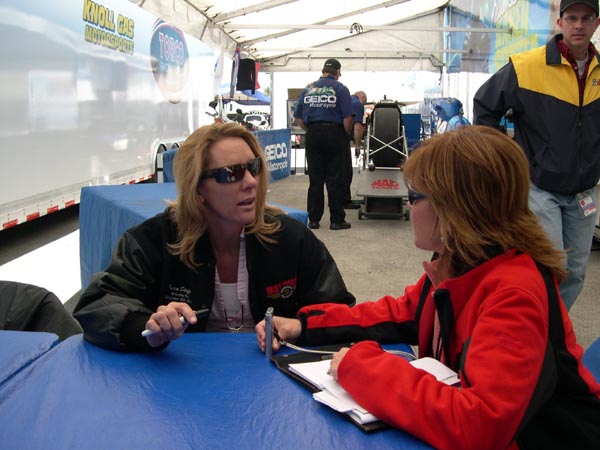 This disappointing start to the season resonated especially hard following a 2006 filled with successes: entering the coveted 6-second Pro-Bike Club (for riders whose race times came in under seven seconds) and finishing with a career high sixth in points of all Pro-Stock Motorcycle Racers.
Her 2007 season didnt begin as planned and that, she said, presents one of the biggest challenges, and hardest parts of drag racing. "You know you have the ability and the power, its just that things arent falling into place. There are 29 people out here trying to get into 16 (qualifying) spots. You look at the odds. Its almost 50-50 youre not going to be in. But we know we have the ability, so to be in this position is probably the toughest part of racing. The emotional ups and the downs you go from being a hero to a zero in a matter of seconds, truthfully."
However that day the hero won. Karen pulled off an "underdog" win, moving from sixteenth to first place, capturing the Gatornationals victory and leading in points for the first time in her career.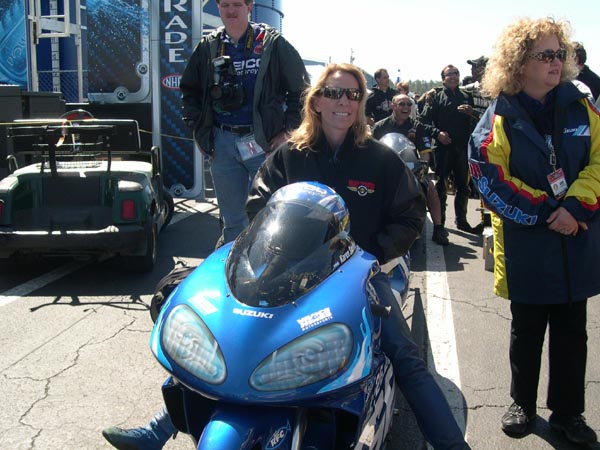 The Geico-sponsored Suzuki-riding Karen is one of three women competing in NHRA Pro-Stock Motorcycle this year, and while the women dont have particular rivalries, Karen says spectators seem to think otherwise. "I have a lot of people who say to me beat the other girl and I know Angelle does, too," Karen says, referring to Angelle Sampey, the three-time Pro-Stock Motorcycle Champion. "There are sixteen people on a ladder and Angelle and I very rarely meet, but it seems people think that, because were both females, we will race each other or should race each other. Angelle is a great racer, a great rider. Shes had to beat a lot of people and I would be one of them. But there are a lot of men there, too. So its interesting that the fans and media specifically focus on the females out of all the riders here."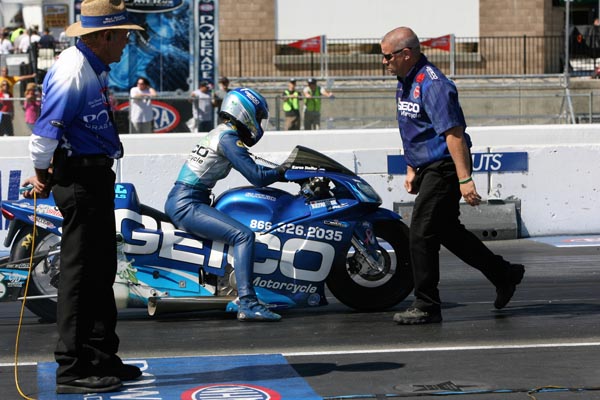 Motorcycle drag racing overwhelms the senses. When the riders heat their tires to improve traction it literally burns rubber, spewing black smoke clouds. The sound of the engines deafens. The starting lights called Christmas trees flash glowing red, amber, green as they signal the riders when to twist that throttle. And the race itself resembles a rocket launch more of a blastoff into space than a jaunt over tarmac that severely jolts the body and requires complete control over the motorcycle while navigating the quick quarter-mile.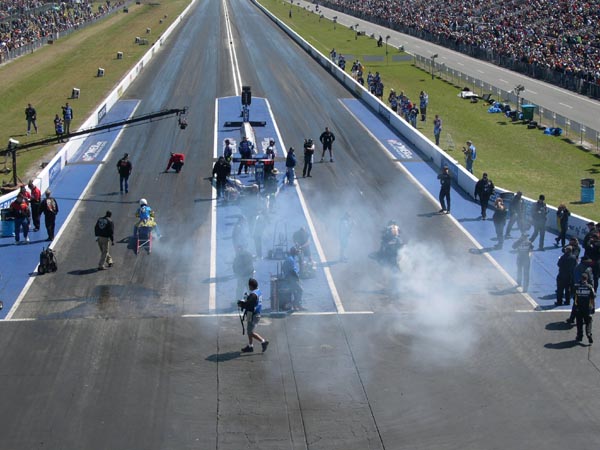 Does being a lighter weight competitor in the field of larger men give the women any advantage, or does brute force win out? The lithe, blond Karen says smaller riders require more strength. "If you think about the rules of the class, we (rider and bike together) all have to weigh a certain amount. However, riders are obviously different sizes, so that allows teams to make up the difference by weighting the bike. Angelle and I, who I think are the lightest riders, actually race the heaviest bikes because we ourselves are light. When the bike gets out of control or does something funny, we have to put that much more power to it to fix it. So physical fitness is definitely a big piece of racing."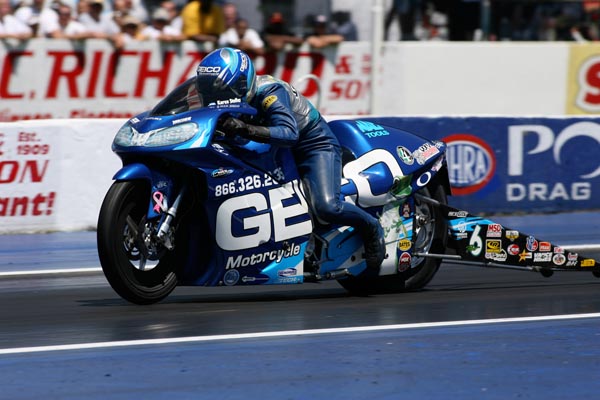 Karen works extremely closely with her crew chief, who happens to be her husband, Gary, saying that personal relationship helps her professionally as well. "Were working together as a team of husband and wife, best friend and support network. He knows my riding style, I know his working style, so that helps us quite a bit. I know exactly what hes going to do and he knows what Im going to do. He knows me best, and I think it actually helps us."
Editors Note: as of 9.1.07, after 17 out of 23 events, Karen is in fourth place in NHRA Pro-Stock Motorcycle competition. For the record, Angelle Sampey is in second place.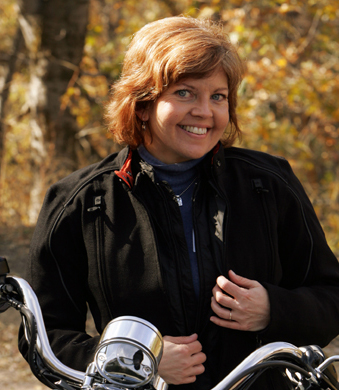 Moto-journalist Pam Collins divides her time between Pennsylvania and Florida. She is a regular contributor to Keystone Motorcycle Press, a regional motorcycle magazine in Pennsylvania. Pam says, "The thing I love best about riding is every time I see the odometer turn on my bikes, I know those are moments Im truly living and not just sleepwalking through life. Riding has a way of turning even the most familiar places and roads into special, new adventures." Pam rides a Kawasaki ZZR-600 and Harley-Davidson V-Rod.