I hadnt even finished unpacking my bags from my Tibetan journey when it was time to switch gears and start loading my fringed leathers for my favorite month of every yearAugust. Is there a place out there as fun as Sturgis? If there is, I havent found it. And I do go looking!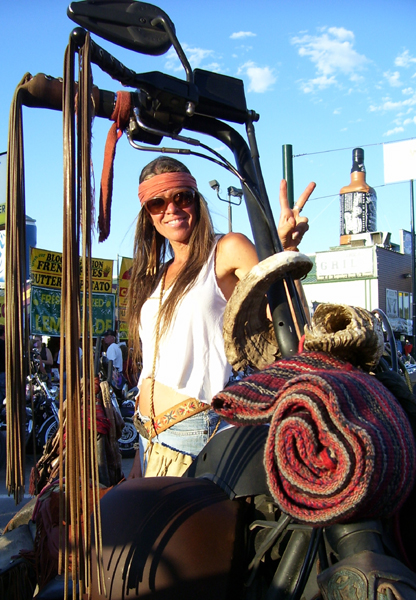 If I learned anything from my time on Mount Everest, it was that I am very lucky to be healthy, and incredibly wealthy with great family and diverse friends. I dont know what could be more important than the people you love. Everything we are in life and everything we do is directly affected by the people with whom you choose to surround yourself. We are all energy forces and we are highly affected by the energy around us. Which is why choosing a mate is such a vitally important choice in life. Your life can take so many different paths simply based on who you allow to be next to you on your daily journey.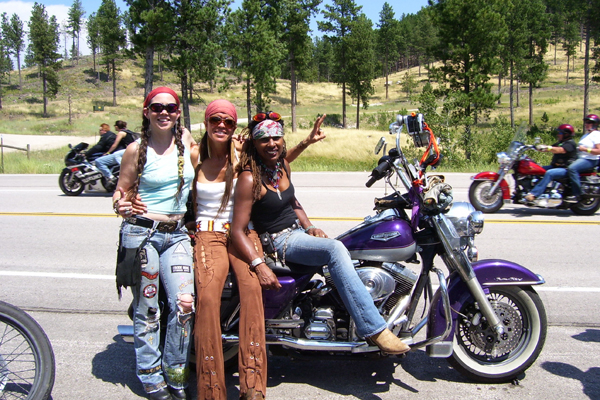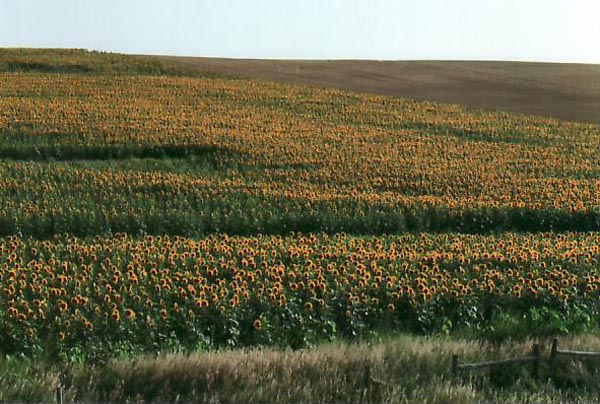 If you are a biker, there is a good chance that you love nature, the great outdoors, the open road, wildlife, the feeling of the wind on your face, and, ultimately, the feeling of freedom. I love surrounding myself with half a million wild and crazy people who share that same love of freedom. From the oldest to the youngest, the cleanest to the grungiest, bikers come in all sizes, races and religions. And when I walk around by myself in Sturgis, I feel like I have something in common with every one of them. Sturgis is a place to meet up with old friends who gather from every state in the country, as well as making new friends from places as far away as South Africa. And "What happens in Sturgis doesnt always just stay in Sturgis!" My best friends and the greatest loves of my life all have their roots in the Black Hills.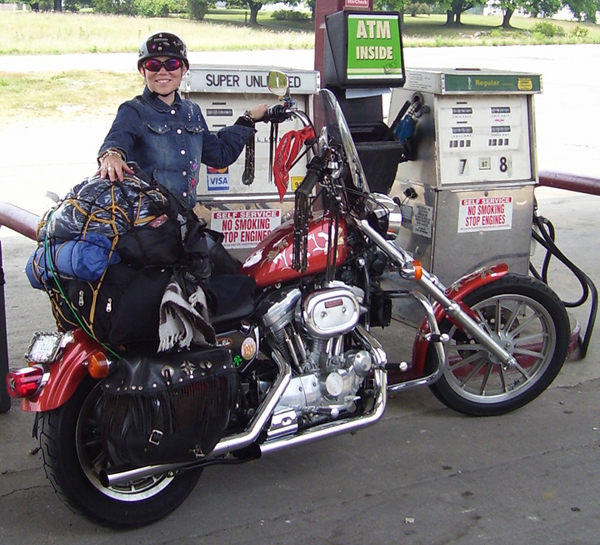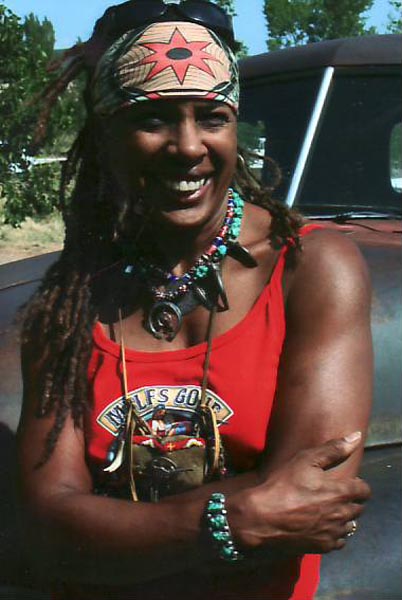 This year I headed across country with my good friend Gevin Fax. My 3- and 6-year-old nephews in Lander, Wyoming, took one look at her bandanna, beautiful jewelry and long dreadlocks, and decided she must be a pirate from the Caribbean. So we decided the way we hunt for treasures in every trading post made us bike pirates in search of leathers, turquoise and coral.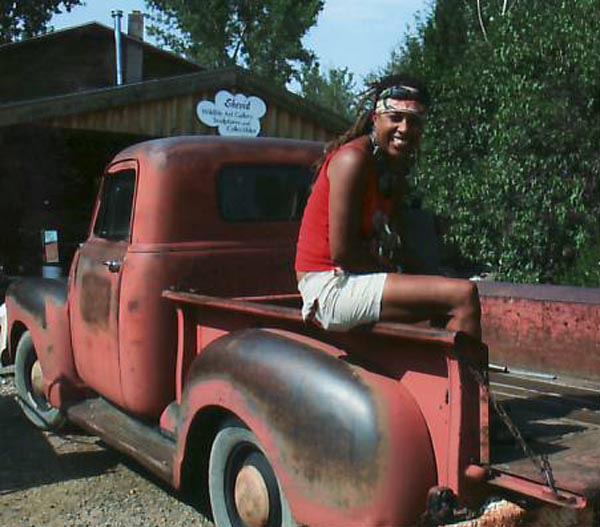 In Sturgis, I shared a house that I have stayed in many years before with my pal Genevieve Schmitt, the editor of WomenRidersNow.com. Other than running past each other in the mornings, we barely had a chance to ride together. But that only means it must have been a fun year.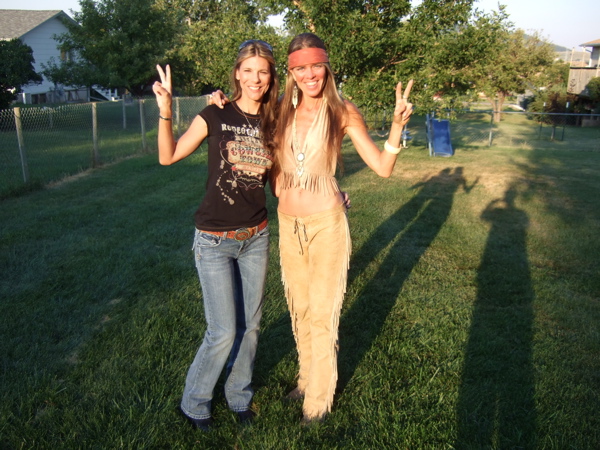 Even though I have a lot of old friends who all find themselves each year in Sturgis, I find I have the best time if I let the wind sort of take me where it wants to go. Its hard to make plans and time commitments work in all of the chaos there. For 10 solid days my head spins around like Beetlejuice! There is a never ending source of distractions and oddities to look at. I find that if I am open to things not going the way I planned them, interesting opportunities just present themselves. So I try to blow with the wind instead of against it, and see where the roads lead.
It seemed like there were fewer bikes on the road than years past, but perhaps things are just getting more spread out. Less 1-percenters than in years gone by. I continue to mourn that loss. Wednesday night used to be the most exciting night when the clubs would roll down Main Street and move any bikes in the way of where they needed to park at Gunners Bar. The wild, wild, west needs a certain amount of outlaws, doesnt it?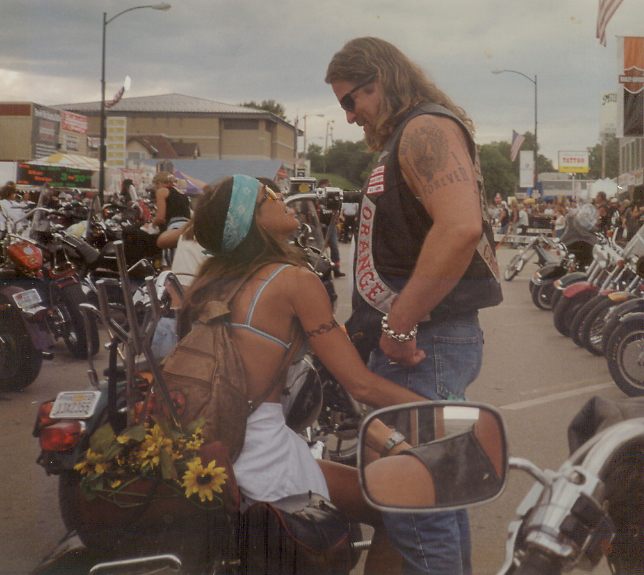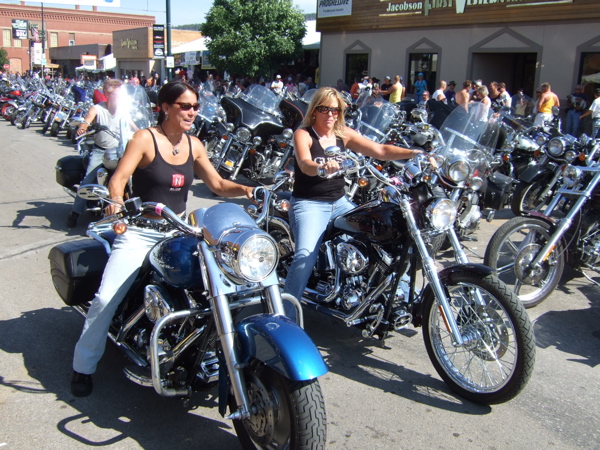 But women riders were definitely more present this year, and that was fun to see. The male to female ratio still makes Sturgis prime hunting ground for the biker woman. Being the single woman I am, I always tell my mother who just wants to see me settle down, that this will be the year I will find my husband in Sturgis. Of course, at 47, there seems to be a flaw in my theory. But who, other than a fellow motorcycle enthusiast, would understand the lifestyle of a biker nomad chick?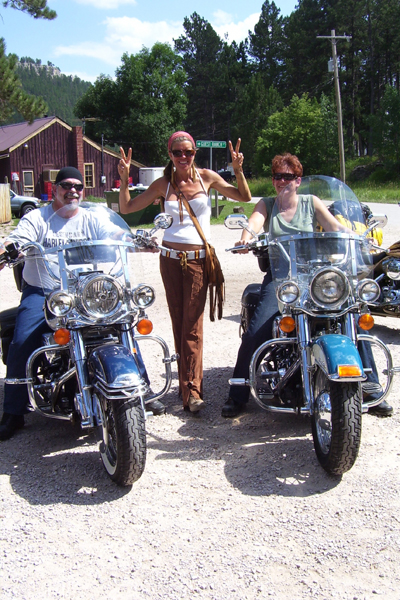 The element I love about meeting people in Sturgis is that the energy is always high. Its like a 10 day shot of espresso. Its sexual, its electric, and its always upbeat. It is the most unusual mix of the good, the bad, and the ugly that you could ever hope to find. Its full of humor and silliness, in a sea of the most macho and manly men around. It is a brother and sisterhood unlike any other I have ever experienced.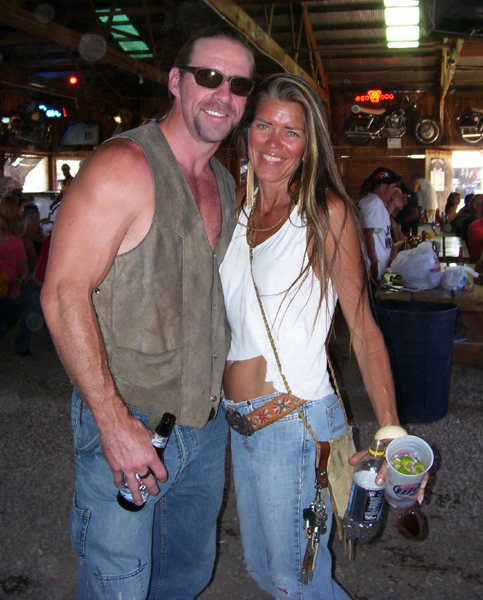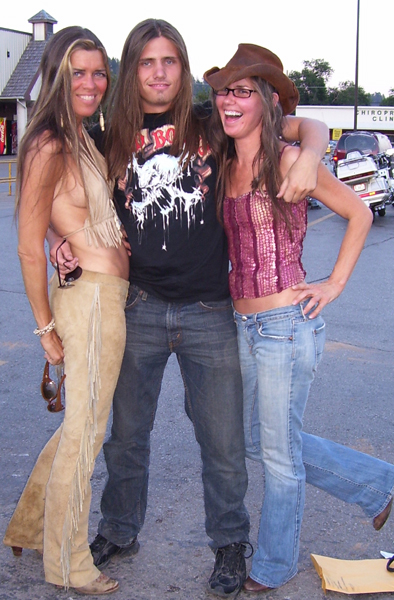 At the Sturgis Museum Hall of Fame breakfast this year, my friend Robbie Knievel was inducted in the Hall of Fame for being the greatest daredevil alive. In his acceptance speech he stated, "My favorite bird is the Bald Eagle, and my favorite colors are red, white, and blue." A statement as simple as that reminds us we are lucky to live in America, and have freedom of choice in everything we do. We can choose to remove ourselves from negative energy in this country in whatever form that energy may present itself in your life. If something or someone in your life is a negative influence, you can and should move away from it. Peace, kindness, humor and freedom are abundantly present in a group of people that might look intimidating to the rest of the country.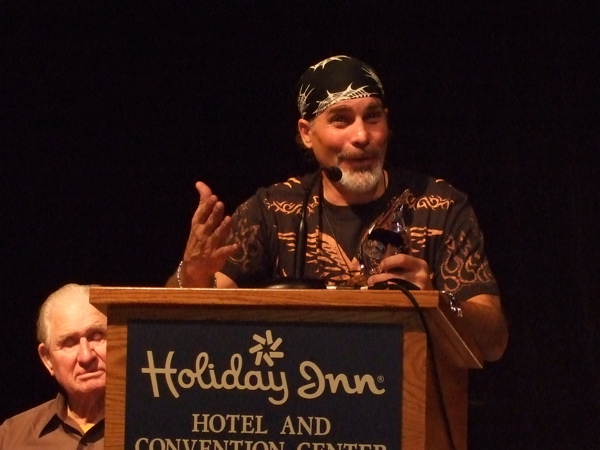 And at the same breakfast, "NY Myke" (owner of San Diego Harley-Davidson), who is never shy about stating his opinion loud and clear, led the pledge of allegiance. He proudly raised his voice when he came to the line "One nation, under GOD, indivisible, with liberty and justice for all." You dont need to agree with his opinions, but I certainly respect the fact that the man knows his heart 100 percent, and is never ashamed to wear it on his sleeve. I love that manly man.
And I loved my chaotic 10 days in the Black Hills, and I am not even home yet. I took a detour through Wisconsin that I havent quite recovered from yet.
I am now back in Wyoming at my brother Joes who is a deputy sheriff. Tonight, I get to ride shotgun in the sheriff truck looking for trouble makers. Last year we came across a couple of butt naked teenagers learning about love in the back of a car. Joes words of wisdom were, "I dont care if you do that, but you just cant do it here." The couple seemed quite happy with that wisdom.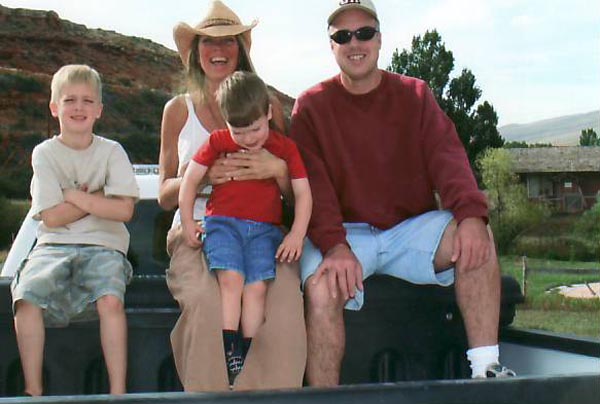 Its interesting to be on the other side of the fence. Lander is a quiet town where people enjoy the simple pleasures. Smores around the campfire, ghost towns, and tree house fun. Simple pleasures ARE the best, and I never want to take that for granted.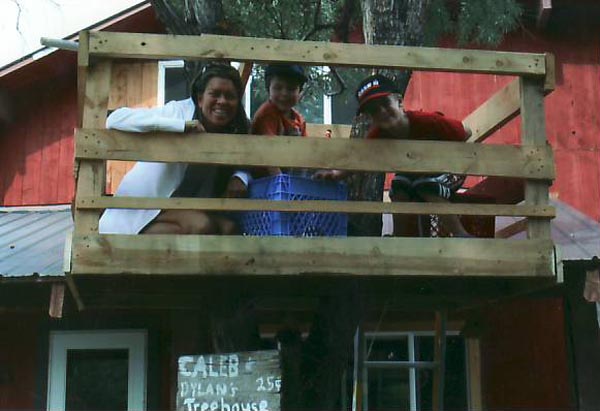 My favorite new place in the Black Hills this year was the "Roo Ranch," which I visited with my father. Its located just outside of Deadwood, and has 52 Kangaroo, Wallaroo, and Wallaby. Many were albino, and they had a whole lot of young babies. They really make you laugh as they nibble your clothing and try to box with you.
I got to hold an 8-month-old kangaroo named "James" who really enjoyed chewing on my leather jewelry. Its a great addition to the other fabulous wildlife exhibits in the Black Hills like Bear Country, and the Wild Horse Sanctuary, not to mention all of the wildlife you see just roaming the hills.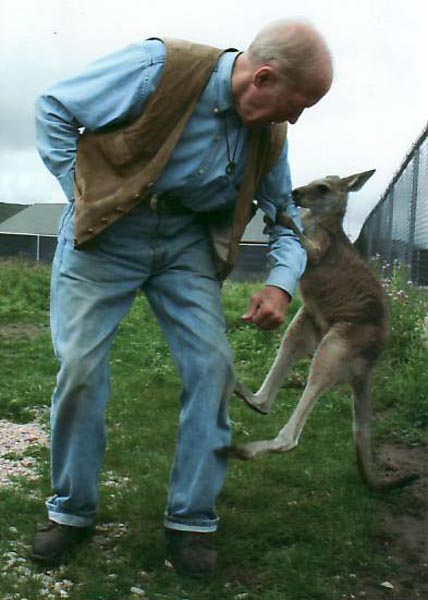 The new Smithsonian Network spent a couple of days filming me and my girlfriends Sasha Mullins, Gevin, and Genevieve. They videotaped us riding down Main street and cruising through the nearby canyons. The production company is the same one who filmed me for the documentary "Hell on Wheels" appearing on the National Geographic channel. Airdates and times will be posted on WomenRidersNow.com as soon as we know it. Enjoy the rest of your summer.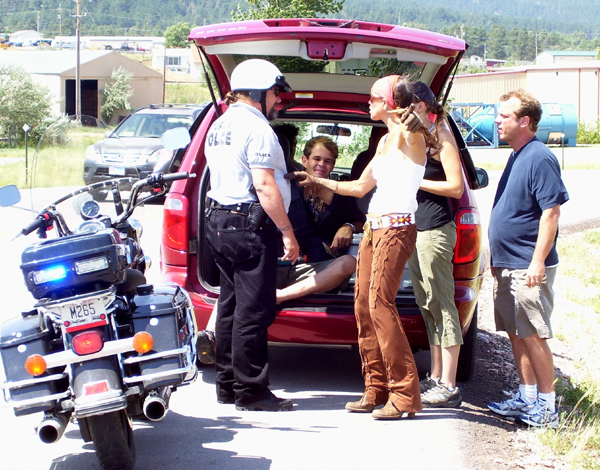 To see more of Betsy, visit her Web site atBetsyHuelskamp.com.