Custom baggers are all the rage these days and Kawasaki is introducing its entry into the growing market that is sure to go head to head with Harley-Davidson#8217;s Street Glide and Road Glide. The Vaquero is the latest motorcycle to join the Vulcan line up and WRN editor Genevieve Schmitt was in Las Vegas when the motorcycle was first unveiled to dealers recently.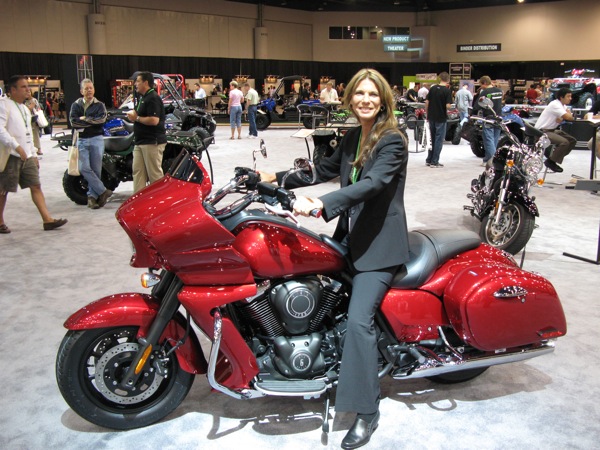 Kawasaki engineers and designers didn#8217;t just throw custom paint and a blacked-out motif on a Vulcan 1700 and call it done. They digested valuable owner and market research, and scrutinized every system #8211; engine, chassis, features, bodywork and appearance #8211; to ensure that the bike being developed squared nicely with what cruiser buyers wanted. #8220;Being the owner of a Harley Street Glide it will be interesting to see how the Vaquero plays in the custom bagger market,#8221; said Schmitt. "Seat height is 28.7 inches#8212;a bit higher than its counterparts#8212;but allows for more ground clearance.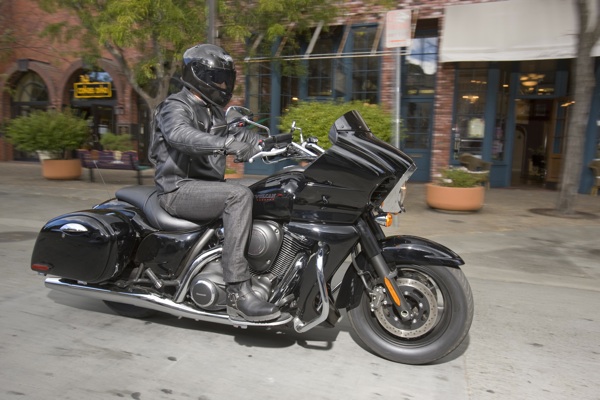 Custom, blacked-out details are your first clue to the new Vaquero#8217;s mission, and there#8217;s plenty to see. It all starts with the Ebony or Candy Fire Red paint on the abbreviated fairing, sculpted tank and curvaceous bodywork. Chrome accents (engine guards, exhaust, mirrors, etc.) provide a counterpoint to the glossy paintwork, but it#8217;s perhaps the multi-textured blacked-out engine and chassis treatment that best highlights the Vaquero#8217;s radical aesthetic look. The engine, air-cleaner cover, wheels, fork assembly and tank cover all get the blackout treatment, which gives the bike a custom look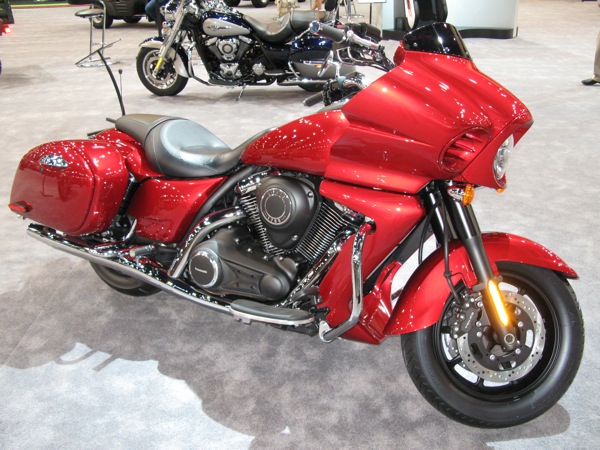 The Vaquero is powered by a 1700cc liquid-cooled V-twin, the same one that powers the three Vulcan 1700 models for 2011, Voyager, Classic, and Nomad. Vaquero#8217;s throttle valve system works with the advanced electronic fuel injection to optimize engine response without detracting from its distinctive V-twin rumble. With 108 foot-pounds of torque, the Vaquero delivers a powerful ride.
Vaquero offers touring-bike conveniences in the form of its electronic cruise control system, conveniently operated from the right handlebar and usable at any speed between 30 and 85 mph in any of the top four gears. Additional touring acumen shines through the engine#8217;s six-speed transmission with overdriven 5th and 6th gears. Power is routed to the rear wheel via a narrow carbon fiber-reinforced drive belt that has a 40 percent higher tensile strength than current Kevlar belts.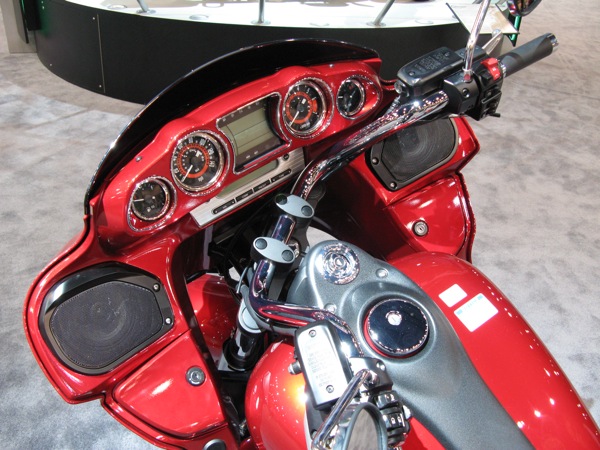 Lockable side-loading hard bags set the Vaquero apart from the other Vulcan 1700 models. A wildly shaped rear fender integrates equally stylish taillight and turn signal assemblies. The frame holding all this hardware together is a single backbone, double cradle unit designed to be a slim and light as possible for an easy reach to the ground and optimal handling. Bolted to the steering head is a mammoth 45mm fork assembly offering a generous 5.5 inches of wheel travel. Suspension in back consists of twin air-assisted shocks with spring preload and rebound damping adjustability working through a beefy steel swingarm. Nine-spoke cast aluminum flat-black wheels hold fat 130/90 front and 170/70 radials. Braking hardware consists of dual 300mm front discs with twin-piston calipers and a 300mm rear disc with a two-piston caliper. And the Vaquero name? The dictionary defines vaquero as a Spanish-origin word meaning #8220;cowboy#8221; or #8220;herdsman.#8221; We like that.