Update April 23, 2015:
The tour is sold out. We have nine participants including one husband and wife. We welcome men so long as they are accompanied by a woman. If you want to be part of our next tour, as well as read a report on this tour afterwards,
sign up for the WRN Newsletter
so youre the first to know when those articles post.
Update February 9, 2014: Two motorcycle industry VIPs are joining us: Tricia Szulewski, one of the few females on staff of a major motorcycle magazine (Motorcycle magazine) and part-time contributor to Women Riders Now. She is documenting the tour for an article in Motorcycle. And Michele Carter, CEO of Adventuress Skin Care, is coming along. Michele is leading the outdoor industry with a a line of skin care developed specifically for outdoor women.
| | |
| --- | --- |
| Tricia test rides many new motorcycles, part of what she does for a living. Shes excited to join this tour and share all she knows with the other riders. | Michele Carter, CEO of Adventuress Skincare, is joining the WRN tour of Italy in May. Shes looking forward to meeting all the other tour goers and share the joys of being outdoors on our motorcycles! (Photo courtesy of Image Projection) |
For the last few years I've had several national and international tour operators approach me about collaborating on a women's motorcycle tour knowing I have access through WomenRidersNow.com to thousands of female riders and passengers. The time never felt right until now!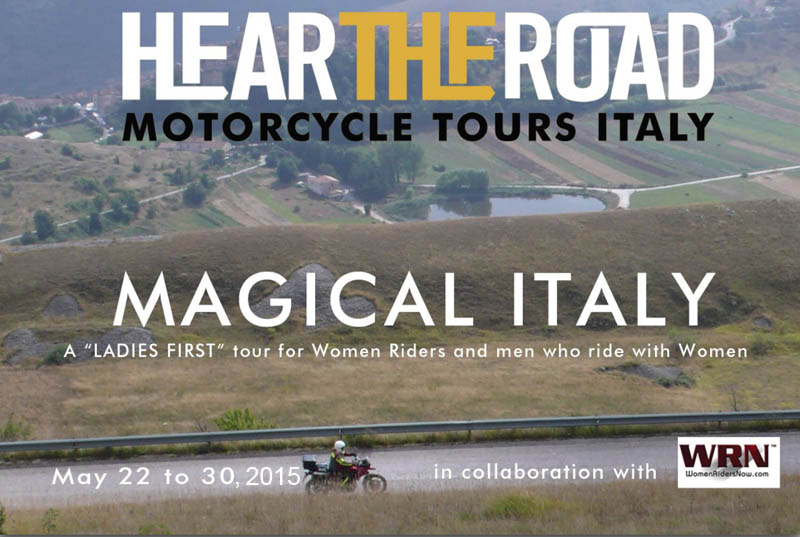 WRN is partnering with Hear the Road Motorcycle Tours Italy for our inaugural "Ladies First" Magical Italy Tour taking place May 22–30, 2015. "Ladies First" means men are invited as long as they are accompanied by a woman. Click here for an overview.Continue reading for my personal thoughts on the tour.
How this tour is different and why you'll want to attend:
There's a reason that national and international motorcycle tours for women is an undeveloped market. I believe no one has been able to design a schedule and riding routes to meet the needs of women and their female friends and/or male spouse/partners. Most organized motorcycle tours are developed by men for men. Additionally, many women riders and passengers find the thought of touring overseas intimidating for a variety of reasons.
With input from the owner of Hear the Road Motorcycle Tours Italy, Enrico Grassi—who knows Italy like the back of his hand— along with Blue Strada Tours operators, Bill and Debbie Kniegge (a U.S. based company), we've designed an itinerary that blends riding, relaxing and rejuvenating, all while alleviating the factors that can be intimidating.
A downloadable itinerary is available at the end, but in a nutshell, here's how the tour is designed to meet your needs:
• Two days upon arrival in Italy before starting the tour to adjust our bodies for jet lag, grab snacks for the road, repack our bags, and get to know our new motorcycle in a controlled environment.
• Easy ride days. Of the five riding days, the longest mileage day is 140 miles. The other four are no more than 100 miles. This leaves lots of time for breaks, sightseeing and photo opps along the way.
• The ride pace will be leisurely. If speed is what you want this tour is not for you.
• We will be riding in a group with a tour leader and a sweep rider and will go over the rules of group riding for those new to it. If group riding is not your thing, this tour might not be for you.
• Four nights of the nine-day tour are spent in the same hotel, in Siena, with a rest day and loop day-rides from that hotel. This allows us to settle into one hotel and enjoy its amenities, instead of having to unpack and repack each day in less than 24 hours time. There will be options to pre-schedule a massage on our rest day in Siena.
• A support vehicle will carry our luggage so we can travel light on our motorcycles. If we want to extend our stay, well also have the opportunity to leave extra luggage at the hotel in Rome, our start and end point.
• Siena, the four-night hotel location, is home to one of Italy's finest shopping districts.
• All the roads we'll travel are paved and are categorized as easy, meaning a minimum of hairpin turns or crazy off-camber twisties. The roads were chosen to meet the needs of first-time overseas tour travelers who will be overwhelmed enough by the new environment.
• This "Magical Italy" itinerary was designed to showcase a lot of variety of Italy in a short amount of time. Well get a good taste of all that this historical and beautiful country has to offer.
• Since the majority of women in the U.S. ride a Harley-Davidson, Harleys will be available in addition to BMW and Moto Guzzi.
• Since most North Americans are not used to European traffic patterns, weve planned it so were leaving Rome early on a Sunday morning when streets are relatively quiet.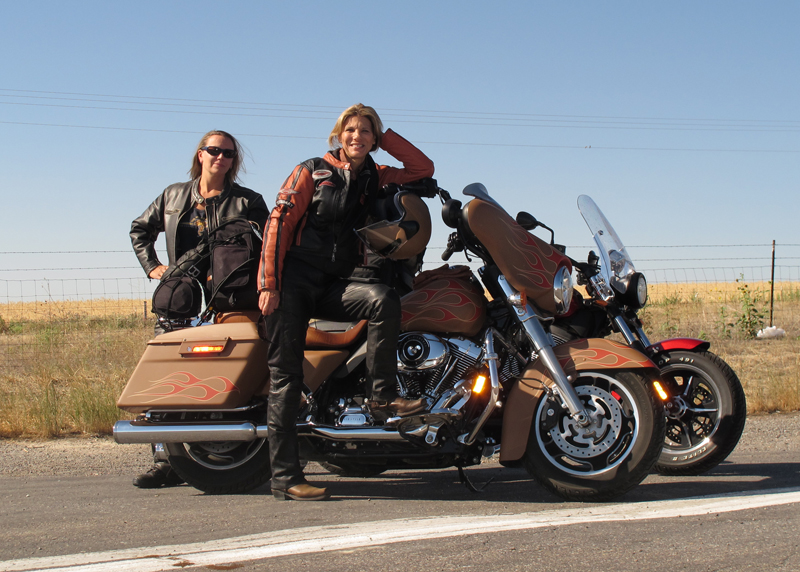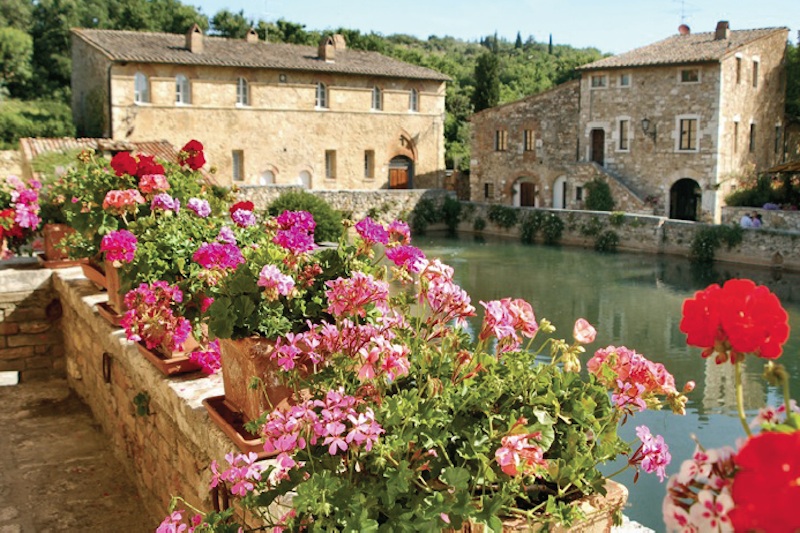 FAQs Off the Top of My Head:
• Solo female riders are encouraged to attend. I will make sure you don't feel alone. If you want to share a room we can try and hook you up with another solo rider to cut down on costs.
• Female co-riders (those who ride on the back) are encouraged to attend with their male co-rider piloting the bike.
• Italians drive on the same side of the road as we do in North America.
• My colleague Tricia Szulewski is joining me on this tour. We are both documenting this tour for magazine stories, and for marketing of possible future tours with Hear the Road. So, if you want, you can be part of our stories.
• This is the first time Enrico and I are offering this tour. We will be giving a lot of attention to detail and customer service as that is a priority for both of us. That said, we will continue seeking your feedback to help us improve the tour for future offerings.
• Weather in Rome, our arrival and departure city, in late May averages a high of mid-70s to a low of mid 50s.
• Price: approximately $4,500 USD plus airfare for a solo rider. Less expensive for couples riding two-up.This is a great price for all that you are getting. This is an upscale tour, which promises to be one of those trips of a lifetime.
Group size is limited, so best to reserve your space early and to get your choice of motorcycles. You can do so by visiting the link on Hear the Roads website, filling out the booking form, and making a deposit.
Again:
Here's the link to Hear the Road's website with the itinerary and booking form information.

Related Articles
Thinking of Going On An Organized Motorcycle Tour: What you need to know