If you're new to motorcyling or know someone who is, you'll want to visit the brand-new and completely redesigned
WRN Beginner's Guide to Getting Into Motorcycling
. This section has been active on WomenRidersNow.com for several years, but we've spent the past few months overhauling it to include even more articles, smoother navigation and a more organized layout so that the new woman rider can easily find all the information she needs to get started.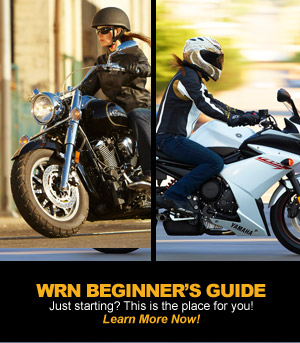 WRN was founded under the belief that women are an overlooked but important segment of motorcycle riders, and this same principle holds true for beginners. The process through which a woman ventures into motorcycling is often different than the experience of a man—different obstacles, different mindset, etc.—so the WRN Beginner's Guide was created specifically for women, though it will be useful for any rider just getting started. In its eight sections, you'll find everything from how to overcome common obstacles for women whod like to ride a motorcycle—like lack of confidence, lack of knowledge, and financial barriers—to choosing your very first bike, for which you'll find a comprehensive, illustrated breakdown of the makes and models most popular with new women riders.
Even for experienced riders, the sections in our Beginner's Guide provide valuable information that can act as a refresher or even as inspiration for new motorcycle adventures, as with our So You Want to Compete page, which includes articles for street riders interested in moving to the race track or a dirt bike.