This is a press release issued by Intermot, the largest motorcycle trade show in the world.
Motorbikes are no longer a mans world so it comes as no surprise that motorbike shows are attracting more and more women. This October, INTERMOT Cologne, the international trade fair for motorbikes and scooters will be an event that appeals to men and women alike.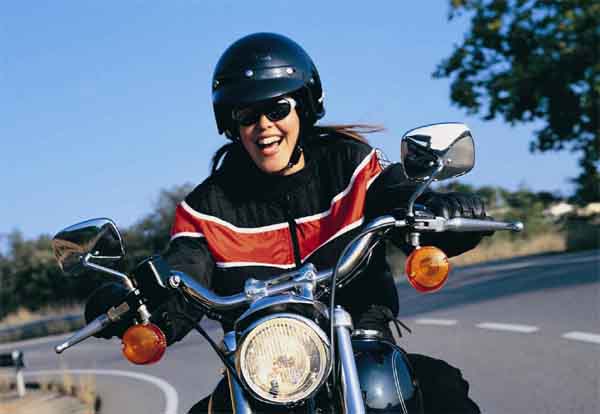 The number of female pillion riders and motorcyclists is growing.
Which came first, the chicken or the egg? Are there so many female motorcyclists because the range of available motorbikes, scooters and accessories is greater than ever before? Or has the motorbike industry responded to the fact that so many women enjoy motorcycling?
When springtime arrives and the first motorbikes venture out onto the roads again, it will be clear to see that more and more couples go out on trips together. Some women ride pillion, but many others ride up front or have their own bikes. Its becoming evident that the number of female motorcyclists is steadily increasing.
There are no statistics on how many women in Germany ride pillion, but the fact that female owners accounted for more than 15 percent of the 500,000-plus newly registered or re-registered motorbikes in Germany last year speaks volumes. This figure does not include women who registered their bikes in their partners names to take advantage of cheaper insurance tariffs for second vehicles. The German Motorcycle Industry Association estimates that around 1 million motorbikes in Germany are ridden by women.
According to a study by the University of Braunschweig, 70 percent of female bikers started out by riding pillion before sitting up front themselves. And the number of female motorcyclists is increasing. This comes as no surprise to ex-pillion rider and recent Enduro rider Antje Dusberg, who says, "The range of motorbikes available today is so huge that it took no time at all to find the right bike for me." However, the concept of a typical "womans motorbike" with a low weight and low engine output has become a thing of the past. Women now ride whichever bikes they like and feel comfortable with. If necessary, a large, heavy bike can be lowered and the seat cushioned to make it easier to ride.
No wish is left unfulfilled when it comes to equipment, either. Clothing for female motorcyclists has a special cut to ensure comfort, safety and a touch of class. And there are special clubs, driving schools, safety training programmes, courses and motorbike trips available specifically for women. Womens growing interest in the world of motorbikes is accompanied by a growing need for information; after all, female pillion riders also want to have a say in which bike to buy. Koelnmesse is therefore expecting to attract a large number of female visitors to the leading trade fair for motorbikes and scooters, INTERMOT Cologne 2006, which is taking place in the new trade fair halls of the Cologne exhibition centre.
From 11 to 15 October 2006, female bikers and potential bikers can discover all the latest developments in terms of motorbikes, equipment, clothing and services tailored to meet womens needs. And of course they can see which bikes they like best in theory at the trade fair stands, and in practice at an outdoor test track on the Koelnmesse grounds.