This years Legend of the Motorcycle Concours dElegance hosted a private pre-event ride that broke new ground in the industry by uniting executives from motorcycle manufacturers Confederate, Ducati, MV Agusta, and Triumph in a first-of-its-kind activity. Joining the ride were select media representatives, executives from Lucky Brand Jeans and Smith amp; Hawken, and guests Peter Fonda and Charley Boorman. (Incidentally, Boorman came over from England to warm up for his three-month Long Way Down trek with pal Ewan McGregor scheduled just a week later.) Dubbed the Ride of Legends, the special trip was sponsored by Triumph and Land Rover.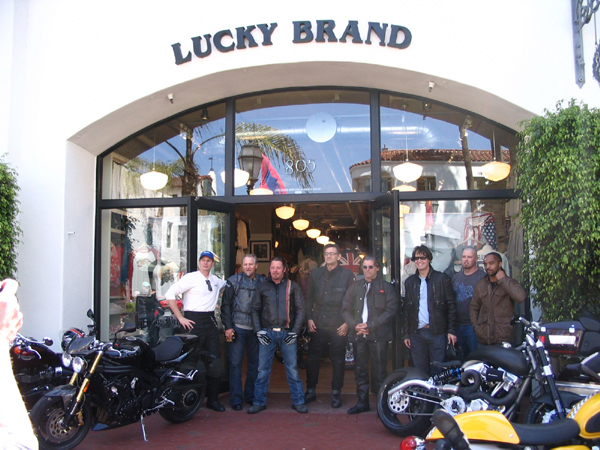 Led by television host and Le Mans racer Alain de Cadenet, the rides three-day route from Los Angeles north to Half Moon Bay primarily followed the famously scenic Pacific Coast Highway 1 with intermittent detours on twisties through the mountains. In addition to the various models of Triumphs generously provided, Confederate rode its new Wraith B120 prototype, and MV Agusta rode its new F4CC #8211; the first time for this exclusive bike to be ridden in America.
Never before have executives from motorcycle makers been brought together for such an occasion and the result was pure harmony. "To unite these guys on a pleasure ride was really something else," says Concours co-founder Jared Zaugg. "At first there was some trepidation because, after all, they are competitors. But after a couple hours they were all swapping bikes and having a blast. When Pierre Terblanche (Ducati Chief of Design) and Matt Chambers (Confederate President) are discussing design, and Todd Andersen (Triumph Director of Marketing) and Larry Ferracci (Cagiva USA President) are discussing distribution, and theyre all getting out and doing what the entire end-focus of their business is all about #8211; riding, then its something very special."
Upon arrival at the Concours riders met up with other industry executives and legends, such as Mert Lawwill, Bud Ekins, Willie G. Davidson, recipient of the Lifetime Achievement Award; Mark Kennedy, CEO of Triumph North America; Dirk Biehler of BMW Motorrad; and Erik Buell, Founder of Buell.
With each participants demanding schedules, uniting such a group wasnt easy but with their shared passion for motorcycles and the world-class Legend of the Motorcycle Concours as their destination, little encouragement was required. For more information on the second annual Legend of the MotorcycleInternational Concours d#8217;Elegance, visit LegendofTheMotorcycle.com.