The newest motorcycle from Harley-Davidson to join the Dark Custom family of motorcycles that includes the new 2010 Sportster Forty-Eight, the Nightster, and the Cross Bones, is the 2010 Ultra Classic Electra Glide which went through the CVO (Custom Vehicle Operations) treatment to get its blacked out treatment. CVO is the department within Harley that produces high-end customs and every model year about four new models come out of CVO.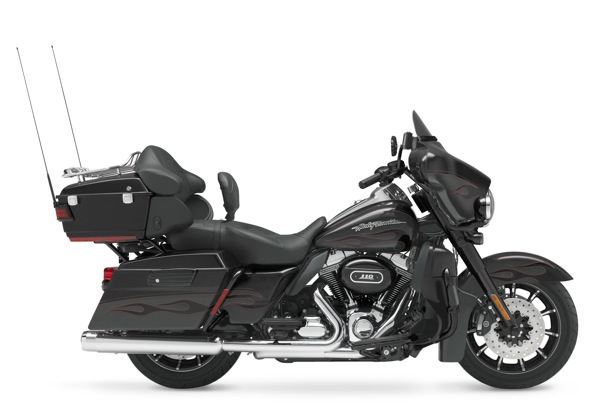 Each CVO Ultra Classic is serialized from one to 999, and displays a array of blacked out components led by the serialized CB pod insert, the Gloss Black Rumble Collection of accessories, and low-smoked windshield. The new CVO Ultra adds leading-edge technology with a handlebar-mounted Road Tech zumo 660 GPS Navigator and an integrated automatic lock system that now includes the ignition knob.
The CVO Ultra is powered by a black and chrome Screamin#8217; Eagle Twin Cam 110 engine and a 6-speed Cruise Drive transmission, which is the largest-displacement V-Twin engine offered from the factory by Harley-Davidson. Besides the black powertrain, this touring bike revels in all things dark with a Crimson Mist Black / Dark Slate and Flame graphics base color, and approximately 185 other unique black parts, components and accessories meticulously melded to form and function by the CVO team.
The CVO Ultra presents a lower profile up front with a 6.5-inch smoked windshield and adds premium Touring features like anti-lock braking system (ABS), LED saddlebag lights, Electronic Sequential Port Fuel Injection (ESPFI), a six-gallon fuel tank, Brembo brakes and 160-watt CD/AM/FM/WB/MP3 Advanced Audio System by Harman-Kardon, CB and intercom, and passenger audio with controls, cruise control, plus standard XM Radio. The CVO Ultra is built on the innovative Touring chassis introduced by Harley-Davidson in 2009, based on a single-spar, rigid backbone frame and swingarm specifically developed to suit the needs of long-haul touring rides.
Production of the 2010 CVO Ultra Classic Electra Glide will be limited to approximately 999 units with a retail price of $36,499.
Related Articles
News: Harley-Davidson Unveils New Sportster