Its something many women dream about, to ditch life and travel the world on a motorcycle with no time contraints. Well thats what Canadian motorcyclist Doris Maron did when she liquidated her life, literally giving up security as we know it, to venture around the globe for close to three years on a motorcycle.
Upon her return, Doris wrote two books covering every detail of her journey. Untamed Spirit and Untamed Spirit II are a great read for anyone who dreams of doing what Doris did, or simply wants to live vicariously through her. Doris set out to experience local culture so she stayed in peoples homes when she could. Along with that, she kept the cost for accommodations down by camping, staying in guest houses and budget hotels. This was no luxury vacation; she set out to see the real world.
| | |
| --- | --- |
| | |
In Nepal Doris had a serious accident; in Bihar, India, she had trouble getting money; in Pakistan she found herself with a police escort on the day of her 55th birthday, and in Iran she encountered another episode with the police this time not so helpful and friendly. Doris continued on through Turkey, Europe, Morocco and South America where she encountered the worst roads of her entire journey in Bolivia. The last part of her trip took her through Central America, Mexico, the USA and back home to Edmonton.
The books are available on her Web site UntamedSpirit.net or at select Indigo chain of stores in Alberta. Also check out her Web site for newsletters and photos she posted along the journey.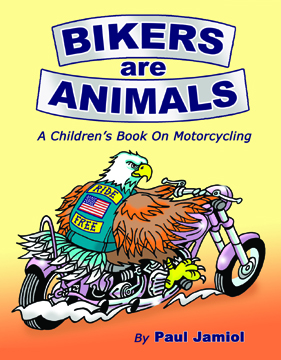 Great Biker Book For Kids
In this fun book, Bikers Are Animals, cartoonist and motorcycle enthusiast Paul Jamiol introduces children to the world of motorcycling. Youll meet Thor and Trash, two tough bears who love to ride their motorcycles everywhere. Together they founded the Bears Motorcycle Club. They also share their love of motorcycling with other riding animals. Youngsters will meet an eagle named Talon, an elephant named Slick and even a squirrel named Akorn.
There are many other animal riders as well. Jamiol introduces the characters of this motorcycle-riding menagerie with a short description of their personalities and their likes and dislikes, followed by a colorful portrait of each character on his or her bike. Children will enjoy meeting the unusual cartoon characters in Bikers are Animals while they learn about the joys of motorcycling. There is a section on motorcycle safety, and Jamiol even includes a section of line drawings at the end of the book so kids can use their imagination to color some of their favorite Bikers are Animals characters. This reading adventure is for all kids who love animals and who could imagine them having fun in a world of motorcycles.
Bikers Are Animals is available at BikersAreAnimals.com and retails for $14.95.