The third annual Femmewalla all-women track day started off cold and damp but ended with new skills learned, new friendships formed and lots of smiles. More than 60 women riders attended the December event at Chuckwalla Valley Raceway in Desert Center, Calif., some traveling from as far as the East Coast. The strong turnout made it clear that Femmewalla has come a long way since the inaugural event in 2010, when just three female road racers participated.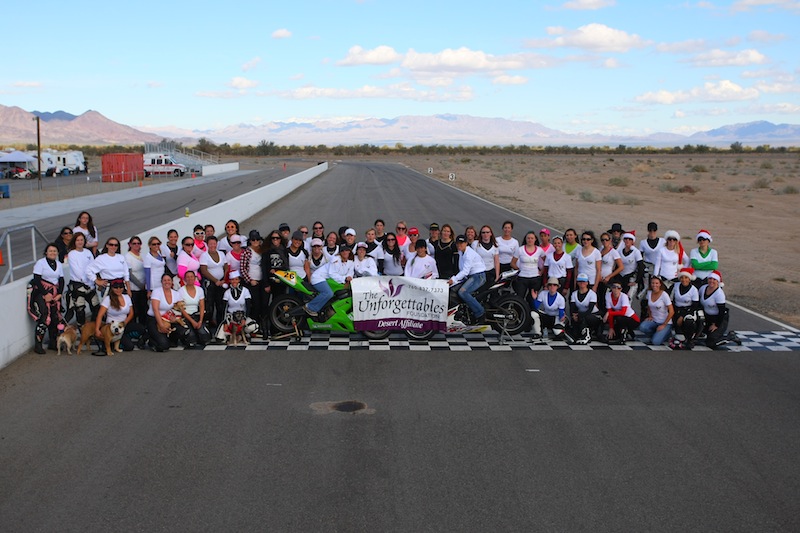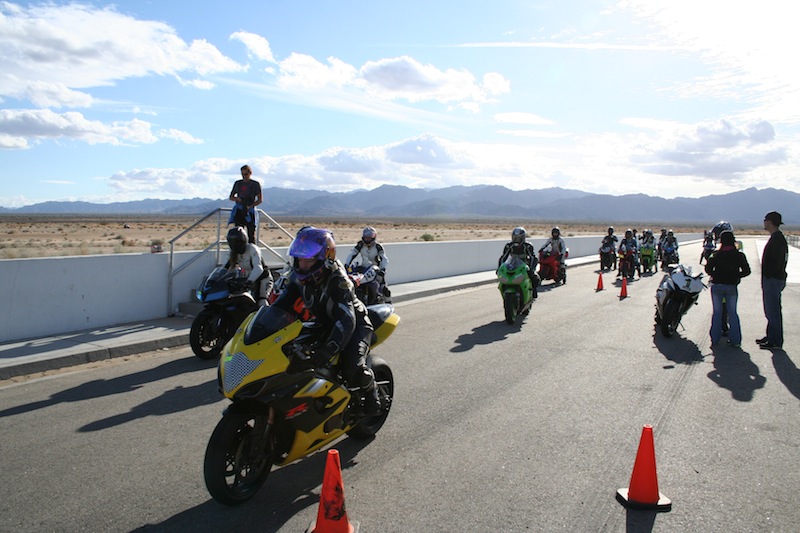 Aimee Grana, co-owner of Chuckwalla, started Femmewalla as a way for women to race on the track free from the intimidation that often comes with being surrounded by checkered-flag-hungry men. "Being a female rider, I wanted more women to be able to come and enjoy this sport," Aimee said.
| | |
| --- | --- |
| Aimee Grana and her husband, Micky, explain the history of Femmewalla and the rules of the track for an audience of female riders. | AMA pro road racer Melissa Paris-Hayes and CVMA racer Christin Voros sign in the ladies and pass out free shirts for the Femmewalla track day. |
Women of all skill levels, from novice street riders to AMA pro road racers like Melissa Paris-Hayes,rode on the track. Windblown ponytails and pink-accented leathers abounded, and the mood was one of exhilaration and excitement. Some spent part of the day riding two-up with instructor Jason Pridmore to get a sense of how to ride effectively on a track. "I've only been on the track once by myself," said Janet Wang from Irvine, Calif., who rides a 2005 Honda CBR600RR. "I got back on with Jason the second time and just tried to keep my feet on the pegs as he did wheelies with me on the back of the bike!"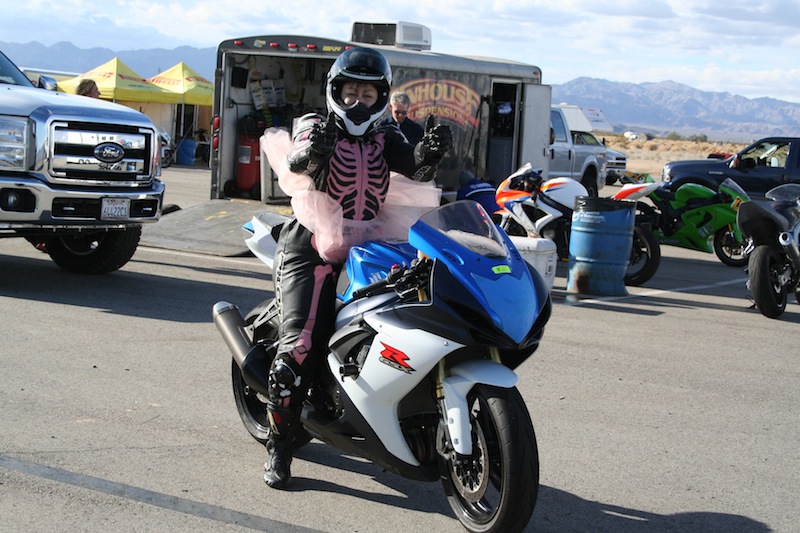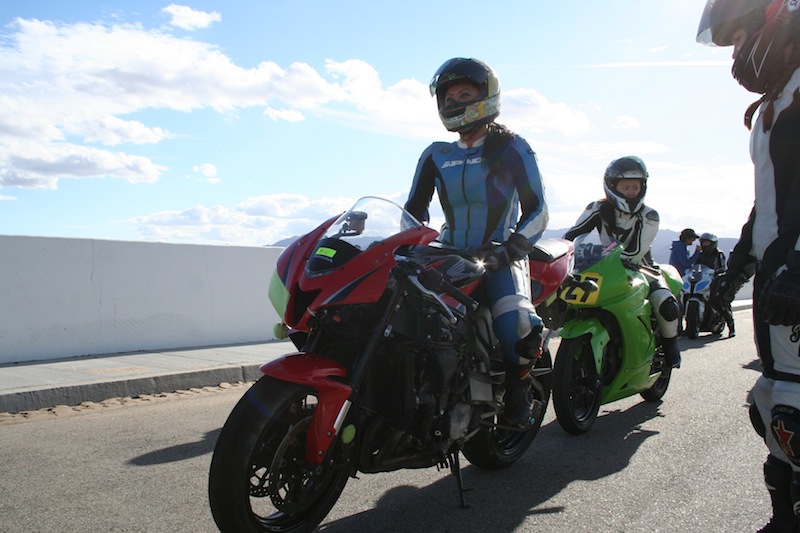 Jason was one of the instructors onsite from the Jason Pridmore Star Motorcycle School, who came out to provide instruction and promote safety. Randy Acevedo from InHouse Suspension was also on hand offering suspension tuning services, while Dale Kieffer from Racers Edge Performanceprovided on-track video instruction. All fees collected from these services, along with participation fees and raffle tickets, were donated to the Unforgettables Foundation, a charity providing financial assistance to families who have lost children unexpectedly.
| | |
| --- | --- |
| CVMA racer Sofia Amadio taught a clinic during the lunch hour about how to change a bikes oil with simple everyday tools. | Jason Pridmore provided two-up demos throughout the day, a big hit with some of the women riders. |
The work of the Unforgettables Foundation is a deeply personal one forAimee and her husband, who received assistance from the charity when their youngest daughter died in an accident in 2008. "This racetrack saved our lives because it gave us a purpose to keep moving forward," Aimee said. "We'll do whatever we can to give back to the foundation that helps other people who have suffered the same devastation that we have."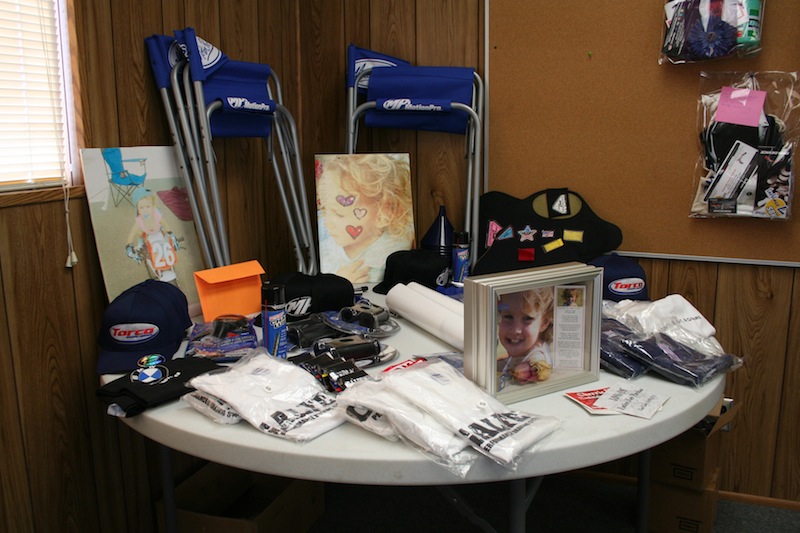 Several sponsors, including those businesses already mentioned, came together to offer their services to attendees and donate items for the raffle. Overall, the event raised nearly $10,000 for the Unforgettables Foundation, some of which was expected to go toward helping families affected by the recent Connecticut school shootings.
"A lot of people will benefit from today," said Jorie Starr from Hemet, Calif., who rides a 2002 Suzuki GSX-R600, adding that the track day had been "awesome." With the number of women who attend Femmewalla growing exponentially every year, next year's women-only track day is sure to be just as inspiring and exciting. Keep up to date with the organization and see more pictures from the 2012 event by visiting the
Femmewalla Facebook page
.
Related Articles