OK it may not be for everybody, but I LOVE IT! I finally have the bike paint job I want. JoAnn Bortles of CrazyHorsePainting exceeded my expections and then some. The flat, matte, rough finish paint job is exactly what I envisioned when I bought my new 2008 Harley-Davidson Street Glide in January and sent off the black painted parts to her to do her magic. No glitz, no glamour, no fuss, no shine just a sedate, eye-catching, nature/western themed colors that express my personality.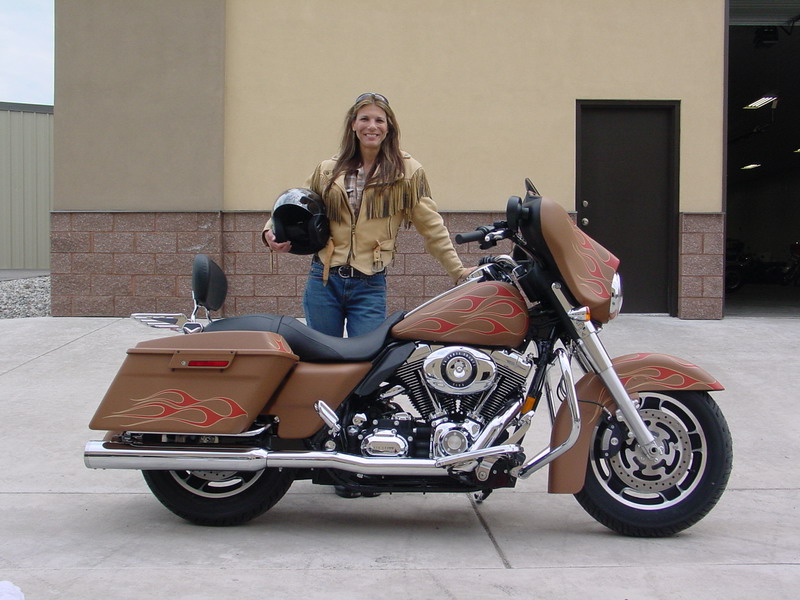 Major kudos to JoAnn whos been painting motorcycles for nearly 30 years with many awards for her work under her belt. She told me to go The Home Depot and pick up some paint chips of the colors I wanted for my bike. I then told her I wanted simple biker flames. She was puzzled at first when I showed her the paint chips, but as it all came together, she "got" it. The colors she mixed matched what I sent her perfectly and the flames she painted are exactly what I wanted. The finish feels like suede when you glide your hand over the metal. Yessss! Brown suede my cup o tea!
My new motorcycle has me excited about riding this summer. Ive got several accessories put on the bike which Ill elaborate on in a future blog. For now, Im cant believe thats my bike. Ive always wanted to say that about my bike.
Computer Gremlins
I got over the my email debacle, but I never did recover my inbox with 100-some-odd saved or unanswered emails. Im never using Microsoft Outlook again. Just because the power failed in the middle of me moving an email from my inbox to an archive folder, the whole inbox went corrupt, got corrupt, was corrupt however you say it. I worked with experts to try and recover and then restore the corrupt inbox, but it was never to be found on my hard drive. How could that be?! Where did it go? Those computer gremlins are ruthless!
Ohio Bike Week
Ohio Bike Week came and went. If you visit this site regularly, you know I organized a women riders symposium called Women Riders: No Limits! at the 10-day rally in Sandusky in early June. It was well attended and all who came gave the event rave reviews judging by the surveys. Im still organizing all the photos from it and will post a story in pictures in the WRN Photo Gallery soon.
Motorcycling Friends
A couple of weeks ago, I received a visit from a good friend I knew when we both lived in L.A. Jill Zorn has organized some of the biggest motorcycle rides in motorcycling, including a ride across the country to raise money for 911 victims. She now works as the marketing director at RGV Harley-Davidson in McAllen, Texas, down near the Mexico border. Jill visited my neck of the woods in Montana with some friends renting Harleys to tour the Big Sky state. She stopped by the Women Riders Now office before heading off on her journey. For you shorties out there check out the picture of Jill and the bike she rented.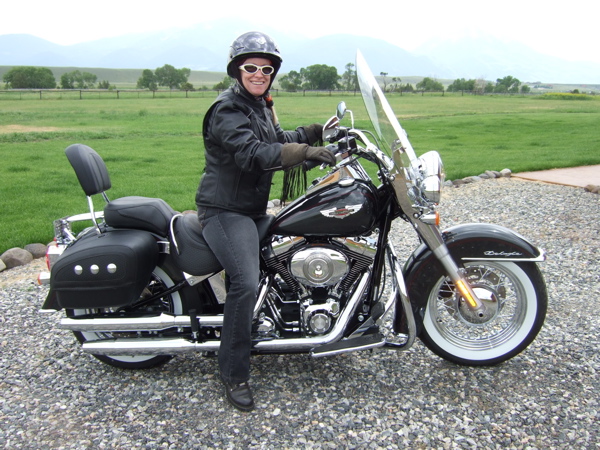 Want to keep up to date with the latest news in women and motorcycling including new products, and riding tips? Then subscribe to free WRN e-Newsletter. Just click on the link on the left under Extras. Enjoy summer!