Motorcycling and Relaxation
Sounds like a great combination. Imagine you, Maui and motorcycles for a seven-day retreat for women. The Pink Biker Chic and the Peaceful Woman are collaborating to hold the Chic Maui Motorcycle Retreat for Women. The no-lecture retreat is designed to help a woman discover her personal truths, creativity, intuitive nature and inner peace.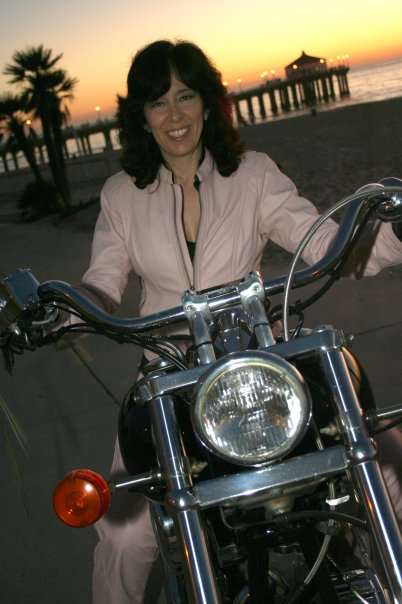 Twelve motorcycles are reserved for 12 women who want to explore their truths, connect with nature, and rejuvenate themselves to a level they never imagined possible for seven fabulous days. More information can be found at ThePeacefulWoman.com. You can also contact Eldonna at Eldonna@GoPINKMagazine.com or 310.591.9803.
Look Who#8217;s Getting Inducted!
I#8217;m so excited to report that my fellow Motor Maid (and friend to all motorcyclists!) Gloria Tramontin Struck will be inducted into the Sturgis Hall of Fame this summer. Gloria is 85 years old and still rides a motorcycle. I got to know her better last year when I joined the Motor Maids. She stands all of 5-foot-1 and rides her Heritage Softail from New Jersey to Daytona Bike Week and the Sturgis Motorcycle Rally with her daughter Lori.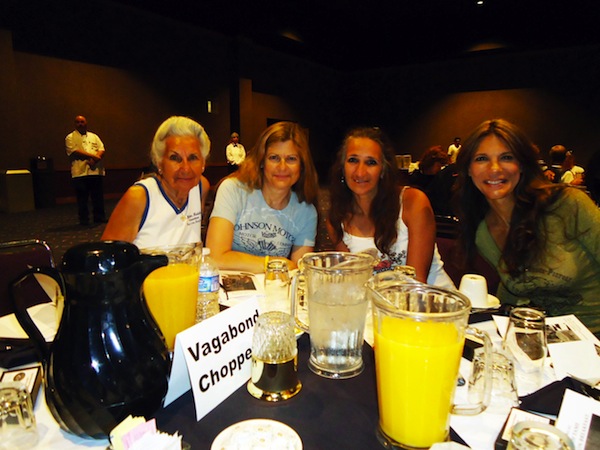 Here#8217;s the blurb about Gloria from the Sturgis Motorcycle Museum#8217;s press release: #8220;You#8217;d never believe this outspoken 85-year-old woman is the same girl who in 1941 at age 16 tearfully told her brother, #8216;I do not want to know how to ride!#8217; Well, her brother won that argument, and she#8217;s been riding from that day until today. She#8217;s owned 14 motorcycles in her lifetime, has traveled every state in the continental U.S., as well as Canada. At the age of 76, she took two trips to Europe, traveling more than 6,500 miles in eight countries. Gloria has been a Motor Maid for 65 years, having joined in 1946, and is the longest member still riding. She continually encourages women to ride and to be involved. Gloria is an inspiration to riders and non-riders alike.#8221;
I#8217;m also excited that Margaret Wilson, another longtime motorcyclist and Motor Maid, is being inducted along with her husband, Mike. Here#8217;s the blurb about them:#8220;While both Mike and Margaret Wilson have contributed individually to the sport and lifestyle of motorcycling, those who know this couple consider them to be a pair. Mike was an expert dirt track and TT racer both before and after his stint in World War II. Upon his return, Mike bought a 45-cubic-inch Harley-Davidson motorcycle as a birthday surprise for Margaret. Mike and Margaret were business partners in a Harley-Davidson, then Honda, dealership in Cedar Rapids, Iowa, for more than 25 years. Both Mike and Margaret have been avid riders and have spent countless hours encouraging others to ride, too. Known to an entire generation of women riders, Margaret is a golden life member of the Motor Maids, celebrating 60 years this year. Mike and Margaret both serve on the board of directors of the AMA Motorcycle Hall of Fame Museum and continue to work to preserve the heritage of motorcycling through their involvement.#8221;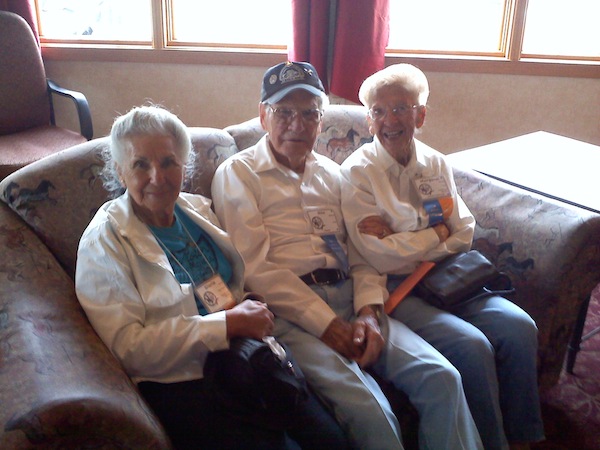 Other inductees this year are former racer and now motorcycle magazine publisher Don Emde, Harley-Davidson dealership owner and activist Del Hofer, motorcycle builder Michael Prugh, and Robert Craig #8220;Evel#8221; Knievel. Evel passed away in 2007; I suspect his son, Robbie, will be there to accept on his behalf.
The annual Sturgis Motorcycle Hall of Fame Induction Breakfast is scheduled for Wednesday, Aug. 10 at 9 a.m. at the Rushmore Plaza Civic Center in Rapid City, S.D. Breakfast tickets are available for a $35 donation; tables of eight cost $300. Tickets can be purchased through the museum#8217;s Web site at
SturgisMuseum.com
or by calling 605.347.2001.
Motorcycle Safety Conference to be Held
Accident Scene Management Inc. (ASMI), a national provider of training for motorcycle-safety-related classes, will be holding its second annual Biker#8217;s Betterment Conference (BBC) on March 25-26, 2011, at the Doubletree Hotel and Convention Center in Chicago.

The conference is hosted by ASMI#8217;s Road Guardian program and includes nationally known speakers addressing the six educational categories derived from the National Agenda for Motorcycle Safety. More information can be found at RoadGuardians.orgor by calling 877.411.8551.
Calling All SoCal Girls!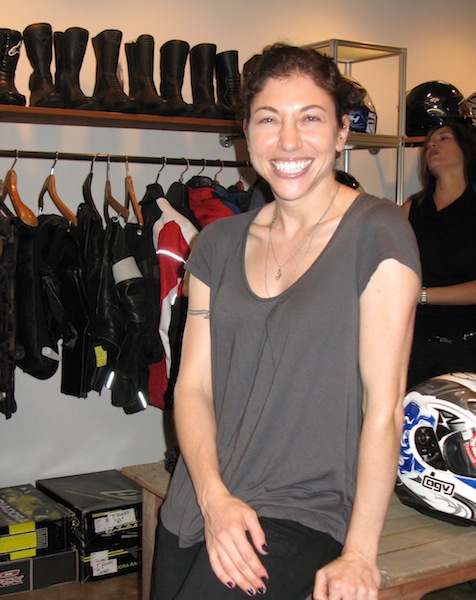 Jessica Prokup, our friend and recent subject of the
Way To Go Girl!
column, will be speaking about how to care for motorcycle gear at an upcoming D-Store event in Orange County, Calif. The store#8217;s second annual #8220;Ladies Night: A Celebration of Women Motorcyclists#8221; will be held on Wednesday, March 23 at 6 p.m. In addition to Jessica#8217;s presentation, Kathie Rohloff, a Motorcycle Safety Foundation instructor, will talk about safe riding habits and rider training available for women. This is a great opportunity to meet other women riders from all over Southern California. D-Store is located at 1645 Superior Ave. in Costa Mesa. For more information, visit
DStoreOrangeCounty.com
or call 949.650.2300.
Fun to Watch
Here are some interesting videos I came across recently.
The first one
is a commercial for a Japanese bank. It#8217;s so well done, capturing the essence of motorcycling.And the next is for the Lyle Lovett fans out there. Lyle is a motorcyclist who has supported the efforts of the Pediatric Brain Tumor Foundation for years.
Here#8217;s a PSA
he recently did for them.
New Daytona Artwork
Artist David Uhl is at it again, using a woman rider as the subject of his latest masterpiece. #8220;Ready to Rally#8221; features a woman rider readying her ride for the next leg in front of Daytona Harley-Davidson on Beach Street.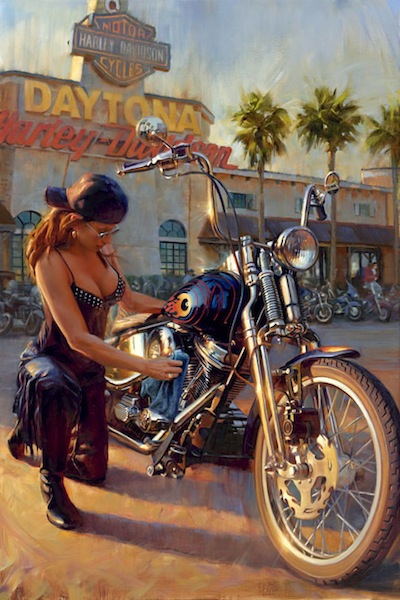 In David's words, "This being the anniversary year for the rally, I wanted to paint a subject that was very rally specific. Looking over the last six years of my Daytona Commemorative pieces, I realized that there was not a #8216;Bike Week#8217; depiction in the whole group. So I thought it appropriate this year to create a work that represented a sight that would most certainly grab your attention while you were cruisin' the streets. This is my favorite model, Elizabeth, and she will be with us at Destination Daytona in Ormond Beach on the 11th and 12th to meet and greet all those who care to stop by and say hello.#8221;
For more information, visit
UhlStudios.com
. I'd love to hear your comments on this painting. Please post them below.