Full Throttle on TV
So I received a press kit in the mail a few weeks ago on TV show about the Full Throttle Saloon in Sturgis that was debuting in November. I was curious and popped in the promotional DVD to watch. Wow! Where I have been the last year? This is the second season of the reality show / behind the scenes look at the famous Full Throttle Saloon in Sturgis. The weekly show debuted on November 17 on truTV. Since I stopped in to the Full Throttle this past year during the Sturgis Rally I was curious to see what the show is all about. I must say Im finding it rather interesting. Its raw motorcycling at its best and now that Im in the midst of winter here in Montana with no motorcycles in sight, Im enjoying watching all the sights and sounds of Sturgis rally, which happens to be one of my favorite place to visit each summer.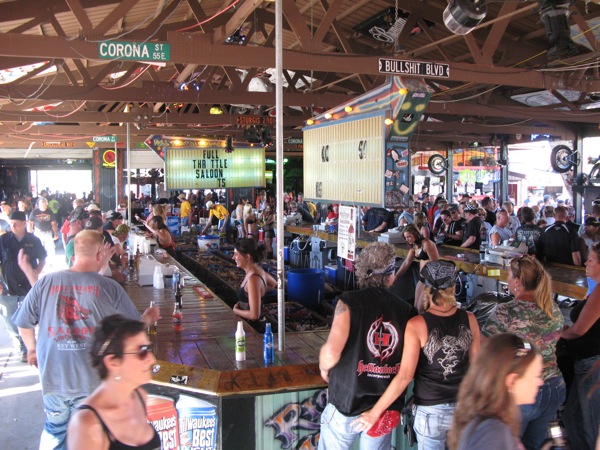 Having visited all the major bars and concert venues at Sturgis over my last 15 years of attending the rally, the Full Throttle Saloon, dare I say, is one the wildest. It has an edge to it not found at the other saloons. Someone told me when I was there that this bar caters to the blue collar biker. Id say thats a fair assessment.
| | |
| --- | --- |
| Interesting decor everywhere you look. The saloon makes good use of old signs. | Two semi cabs form the light booth for the stage. |
The Throttle is no ordinary establishment. This enormous, 30-acre indoor/outdoor bar features several large stages, a burn-out pit, a tattoo parlor, zip lines, a wrestling ring, restaurants, dozens of stores, hundreds of cabins for rent and parking for thousands of bikes. As if those elements weren#8217;t enough to set it apart from other biker bars, The Throttle is only open two weeks out of every year, during the rally so owner Michael Ballard and his team have to pull in a year#8217;s worth of receipts in these two wild weeks. The show follows him as he gambles that the country#8217;s most beautiful bartenders and biggest music acts will bring in the thousands of patrons he needs to make his number.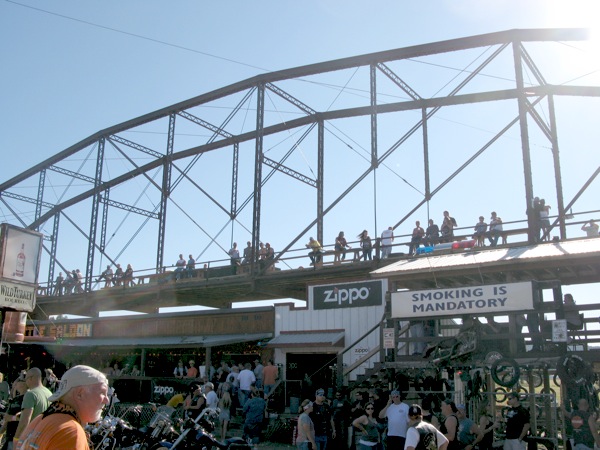 This season, the Throttle crew prepares for an eagerly anticipated performance by Bret Michaels. Other story lines include Mike and Jesse James Dupree getting locked in conflict as Jesse prepares an explosive stunt for Jackyl night. And Mike gears up for some major changes as he considers the possibility of franchising, as well as taking his relationship with Angie to the next level. Angie is his girlfriend who is the other leading player on the show.
| | |
| --- | --- |
| Michael Ballard, the owner of the Full Throttle. | Angie Carlson, Michaels girlfriend, is part of Full Throttles signature dance act called Flaunt. |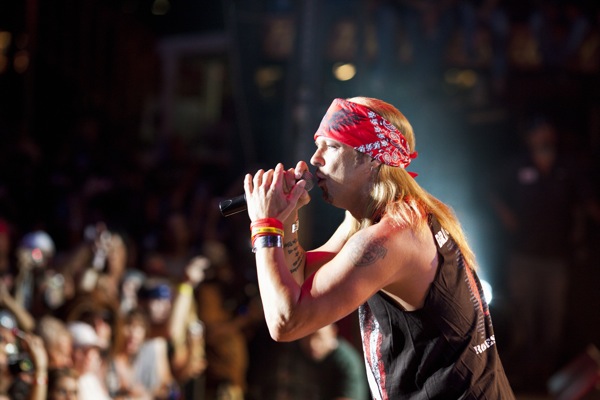 Some interesting facts about the show. It premiered in November 2009 and averaged 1.4 million viewers in its first season. The Dec. 15 season finale scored a series-high 1.7 million viewers and with 1.1 million adults 18-49. The episode ranked among cable#8217;s Top 5 entertainment programs in its 10 p.m. time slot among men 18-49. Check your cable or satellite listings to find truTV to check out the show… and by the way my interest in covering this in my blog is because I always find it interesting when mainstream media finds some aspect of the motorcycle industry and chooses to make and a show or entire series out of it. Its an interesting cultural study, quite frankly.
A Tour Worth the Splurge
If youre planning your next years motorcycle trips, I want to make you aware of a tour that I went on that I think is "worth the splurge." Rocky Mountain Motorcycle Holidays has an incredible slate of 2011 tours, and when you sign up and take one of their tours, youll receive a special gift from WRN. Click here to see their 2011 tours. And click here to read my review of the Rocky Mountain Motorcycle Holiday tour and find out why I think its worth the splurge.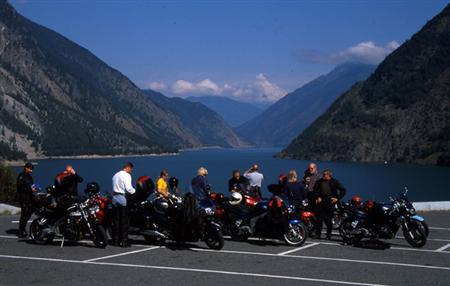 Daytona Bike and Hot Leathers Team Up
Hot Leathers, a supporter of Women Riders Now, is the official merchandiser for Daytona Bike Week 2011. "We are delighted to have a company the caliber of Hot Leathers joining our team as a licensee for Bike Week in Daytona Beach," said Sean Belgrade, Bike Week Festival Task Force Licensing Chairman. 2011 marks the 70th Anniversary of the Worlds Largest Motorcycle Event and the new designs the company has created arecertainly worthy of such a milestone."

With an estimated 500,000 bikers rolling through the hot sands of Daytona Beach from March 4-14, 2011, this years 70th anniversary celebration of Daytona Beach Bike Week is sure to be a once-in-a-lifetimeexperience.
Hot Leathers extensive selection of merchandise will be showcased at a numberof locations including Main Street, the International Speedway and theCabbage Patch. "Weve been an integral part of the Daytona community forquite some time now," explains Andy George, Retail Operations Manager forHot Leathers. "Were thrilled to be the official merchandiser at DaytonaBeach Bike Week 2011. We have some great new designs and products so we hope tosee everyone down there!" Be sure to tell them you saw Hot Leathers onWRN. For a glimpse of what they have, visit HotLeathers.com
Related Articles
Diva Amys Lucky Breaks: Meeting Bret Michaels at the Full Throttle