Aprilia, BMW, Buell, Harley-Davidson, Ducati, Honda, Kawasaki, Kymco, Moto Guzzi, Suzuki, Triumph, Victory, Yamaha all want you to buy their motorcycles. Thats the main reason these and other manufacturers spend thousands of dollars to make their bikes available for licensed riders at no charge to test ride at events like Daytona Bike Week, Americade, and the Honda Hoot and the Laughlin River Run (to name a few).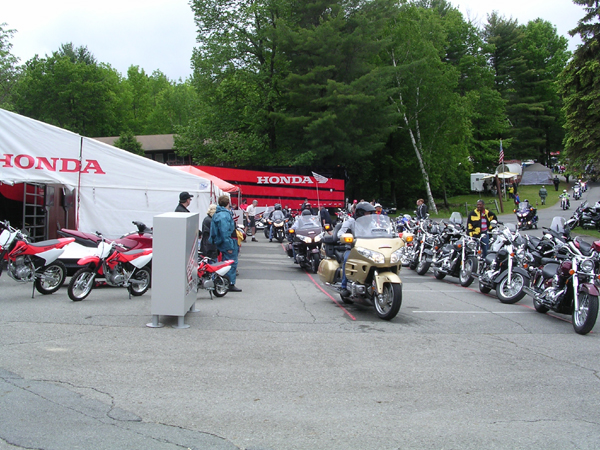 Most of the manufacturers organize escorted rides at scheduled times. Test riding a motorcycle is an ideal way to get a feel for a motorcycle. Few dealers offer a way to take a new motorcycle for a test ride, so these manufacturer demo rides are often the only opportunity a customer has to test out a new motorcycle.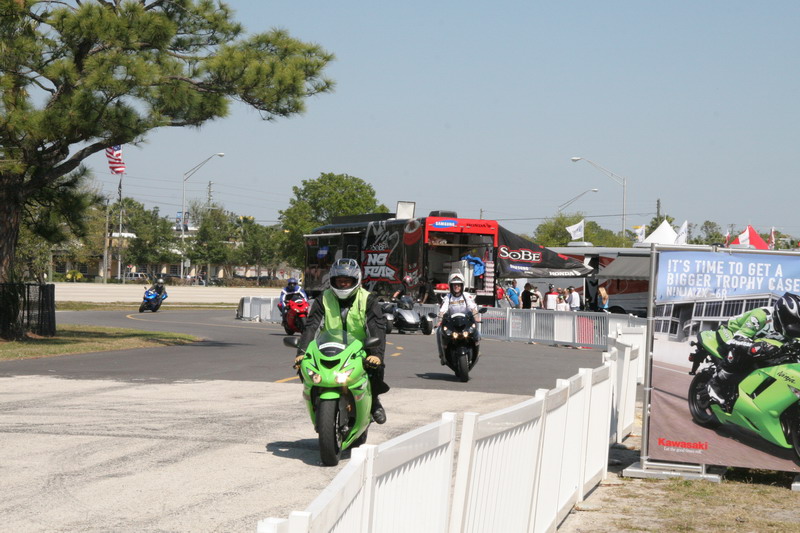 Heres a guide to help you get the most out of your test ride experience.
What youll need:
A valid motorcycle license. All the manufacturers require test riders to show their drivers license with a motorcycle endorsement. A representative from the manufacturer will scan or photocopy the license and put it on file. All the manufacturers reps are familiar with the the different state licensure requirements and how theyre indicated on the actual license, so a word to the those who think theyre "wise" dont even try and fool them with a phony motorcycle endorsement.
What to wear
Some manufacturers require full gear, including a D.O.T.-approved helmet (regardless of the requirements of the state youre in), over-the-ankle boots or shoes, full-fingered gloves, long-pants and long sleeves. Most require riders to provide their own riding gear. The specifics are usually posted in the demo ride area, including the minimum age required to ride.
Before the Ride
There are a few things you should before you arrive at the demo ride venue. Look up the event Web site. The schedule and duration of the manufacturers test rides will often be posted and sometimes allows riders to sign up for a demo ride in advance. Some manufacturer owners groups (like ROK – Riders of Kawasaki) allow its members to schedule rides for the next day.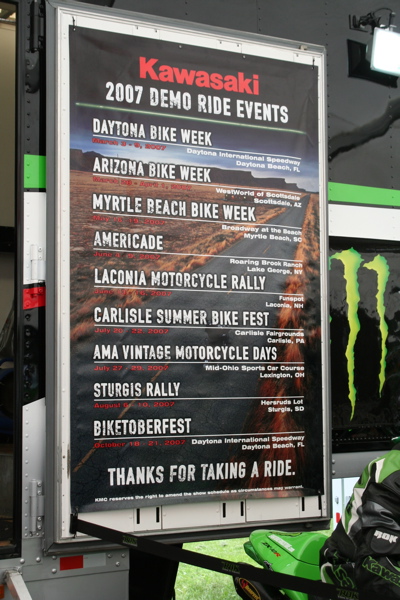 Once you arrive
Stand in line, show drivers license, sign a waiver, choose a motorcycle (or confirm a motorcycle youve chosen on the Web site), and pick a demo ride time thats often based on availability. Riders will need to return about 10 minutes before the scheduled time to check in by showing their wristband or reservation slip that was handed to them upon check in.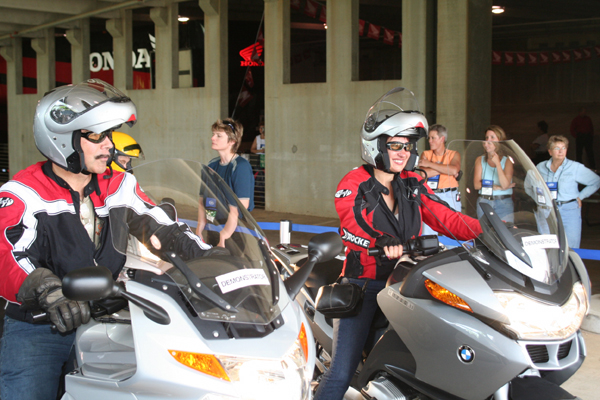 The ride leaders will take attendance and have a group safety meeting. They will review what riders can expect on the ride including road conditions, directions, and other instructions. Riders are then dismissed to the staging area – the place where all the motorcycles are lined up. Riders will need to find their assigned motorcycle, mount it, and start testing the placement of the controls. Adjustments can be made if necessary like, moving the position of the side mirror, clutch/brake levers, etc. Riders should make a mental note of the rider directly in front of him or her and try to stay in that order. As a final courtesy, say thank you to the manufacturers rep and/or ride leader.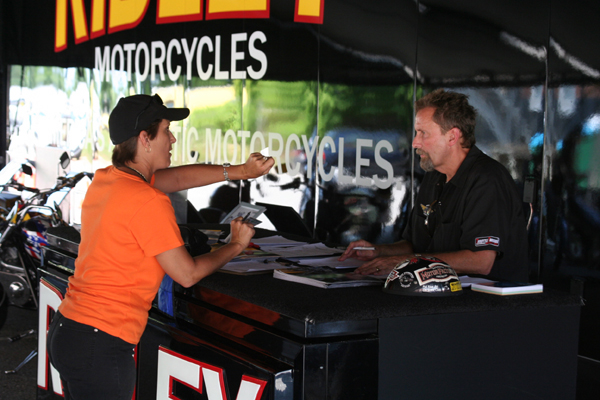 Tips from experienced demo riders
I polled a number of experienced demo riders at Daytona Bike Week and Americade to find out what they would recommend to the novice demo rider. Here are some of their tips and techniques:
• Wear layers and get there early. Some manufacturers start signups at 7 a.m. and some lines may start forming before 6 a.m. By 9:00 a.m., often all the the slots are taken.
• Bring a pen to sign the waivers and memorize your drivers license number. (WHY?)
• Know what models you want to ride before you show up so you dont waste time in line deciding what you want to test.
• Make sure you can reach all the controls. If you cant ask a manufacturer representative to make the adjustments before the demo ride starts.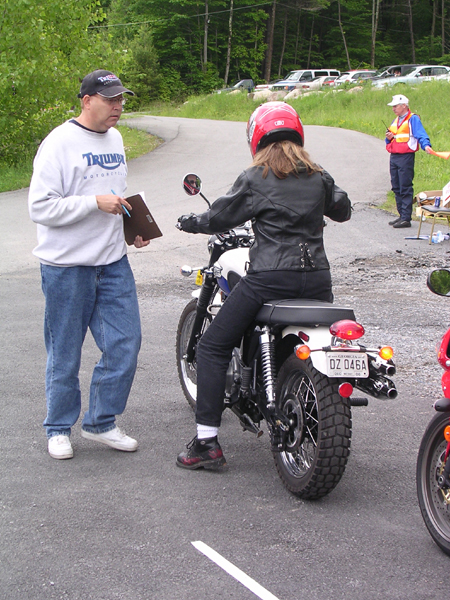 • If you want to ride more than one manufacturer motorcycle, plan your day accordingly. Find out which manufacturers start their signup process early and go there first. Then join another line that hasnt started registering yet. Its advised to not take the first ride of the day so you have time to get on another line.
• When youre on the ride, keep an eye on the rider in front and behind you and remember to leave them enough room to maneuver. Remember, theyre also getting used to the motorcycle theyre riding, too.
• Know group riding procedures (staggered formation).
• Dont overestimate your riding skills. If you are used to riding a small cruiser and youre test riding a high-performance sportbike, dont take this opportunity to test the limits of the motorcycle.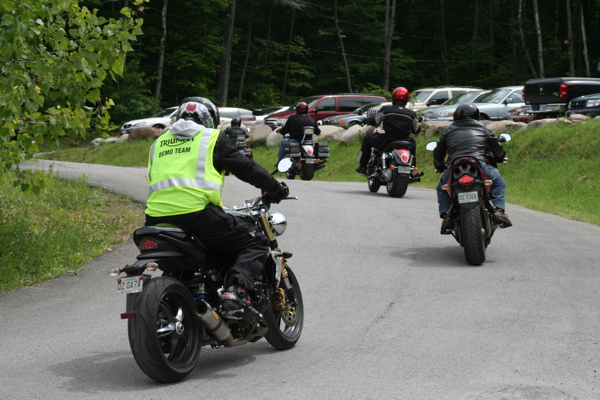 • Ride conservatively. Remember, you are a guest of the manufacturer. Wheelies, stoppies, rubberbanding (staying behind so you can go very fast to catch up) or other dangerous behaviors can cause a crash that could injure yourself or others. Dont even attempt them. Demo ride leaders have been known to stop a ride and take the keys from the bike of an egregious offender and make them walk back.
• Be respectful of the equipment and treat the bike like it is your own. Youll have fun, learn about the different motorcycles available and maybe youll find that perfect bike youve been looking for.