The Deerhurst Resort, nestled on 800 acres of rolling wooded countryside, beside Peninsula Lake in the small town of Huntsville, Ontario, made the big time this past June when it hosted the 36th annual G8 summit. Serving to unite eight of the world's major industrialized democracies, leaders met in the elegant setting to discuss the major issues facing the world. Just two months later, from August 12-15, the resort was also the suiting locale for the inaugural International Women Riders Congress and Festival (IWCF).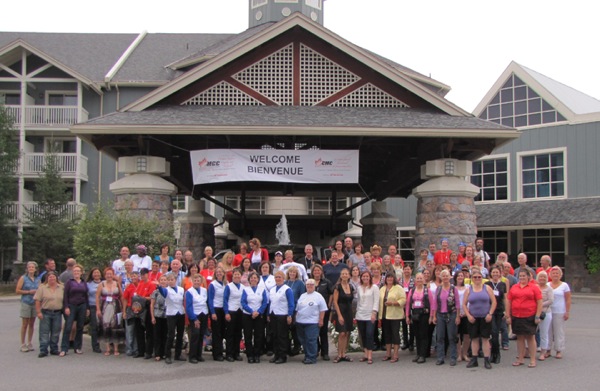 Created by the five-year-young Motorcyclists Confederation of Canada (MCC), the IWCF featured four fun-filled days packed with activity focusing on celebrating and uniting women riders from Canada and the United States. Competing with the Sturgis Motorcycle Rally and the nearby PD13 rally in Port Dover, which brought in an estimated 100,000 Canadian bikers, the first IWCF attract only about 150 registered attendees.
Besides the competing rallies, most Canadian riders simply aren't familiar with these types of large group motorcycle events. While there are some women's riding clubs in the larger cities, many groups exist on small, local levels. Some groups had scouters at the IWCF to check it out and report back to the rest of the club members. And then there are plenty of women riders who simply don't know about the resources that are out there to find riding buddies. The IWCF was the perfect place for new connections for these women.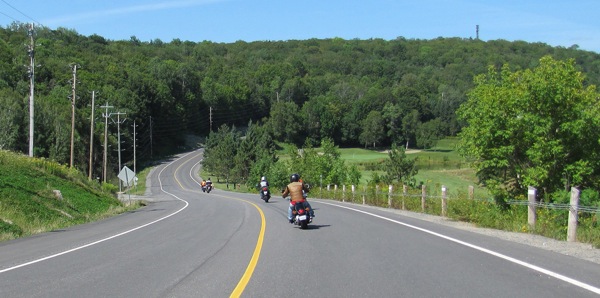 How did the idea for the IWCF come about? While several members of the MCC were participating in the 2009 AMA Women amp; Motorcycling Conference in Keystone, Colorado, they got feedback from attendees expressing interest in riding to a similar event in Canada. And, since the AMA schedules its women's conference once every three years, there would be plenty of time to organize and hold another women's event in North America before the next one.
So, MCC's director, Liz Jansen, who also served on the advisory council to the AMA conference, teamed up with five other powerful Canadians to form the Women Riders Council (WRC), who immediately began planning the Canadian event. Heading the WRC board was Myra Abstreiter (Alberta), with support from Kellee Irwin (British Columbia), Mary Johnson (Manitoba), Jo Peat (Saskatchewan), and Jennifer Ross (Quebec). Additional help from AMA special events marketing manager, Tigra Tsujikawa, proved to be priceless. All of these incredible ladies brought their own unique experiences to create a fun and meaningful event.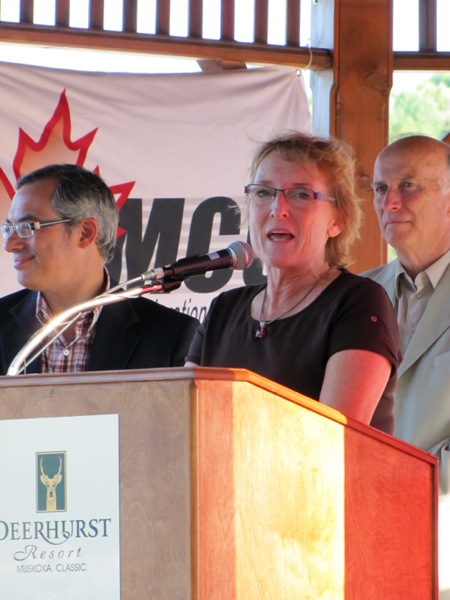 Women from five provinces and 11 states rolled in to the resort, beginning on Wednesday. Scheduled festivities began on Thursday morning with a full day of seminars, guided rides, and demo rides. The first evening kicked off with opening ceremonies held at the resort's beach area. With the smell of the gourmet barbecue wafting through the air, participants gathered as Huntsville's Mayor, Claude Doughty, and the Minister of Industry, Honorable Tony Clement, welcomed us to the area.
While the oddly aggressive ducks pecked at our toes, Honda's Nick Smirniw, Tsujikawa, and Jansen sparked our excitement for the next days' activity schedule. As we ate with the sun drawing closer to the gleaming lake beside us, both old friends and new ones alike shared tales of two-wheeled adventures as well as life's lessons. This is the special blend of camaraderie that makes women-specific events so special. New bonds were formed that would be carried through not only the next three days, but possibly throughout lifetimes.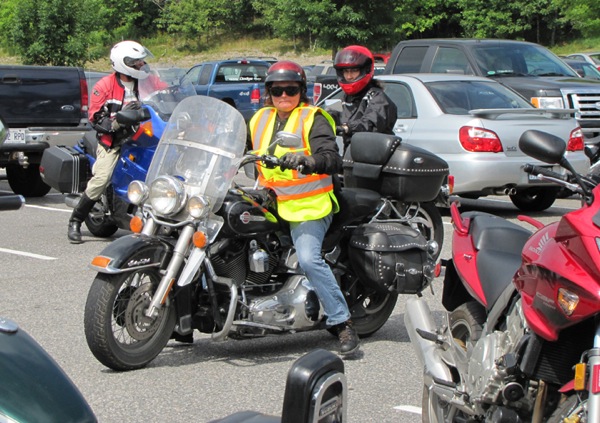 Besides demos of streetbikes and off-road powersports by presenting partner Honda, there were plenty of BMWs, Can-Am Spyders, and Ducatis to go around. These were found at Deerhurst's nearby airstrip, where skills challenge courses were also set up. If you wanted to talk tech, Honda's product planning coordinator, Nick Smirniw, was on hand to teach one-on-one how to do regular maintenance like chain adjustments, brake inspection, winterizing tips and more. Even more, he turns out to have a certain passion for the CB125R, which, unfortunately isn't available in the States.
Seizing my opportunity to try it out, he led me on a private tour down some great twisties that had been perfectly paved in preparation for the G8. Keeping the little bike at redline nearly the whole way proved to be more fun than people who overlook the little bikes will ever understand.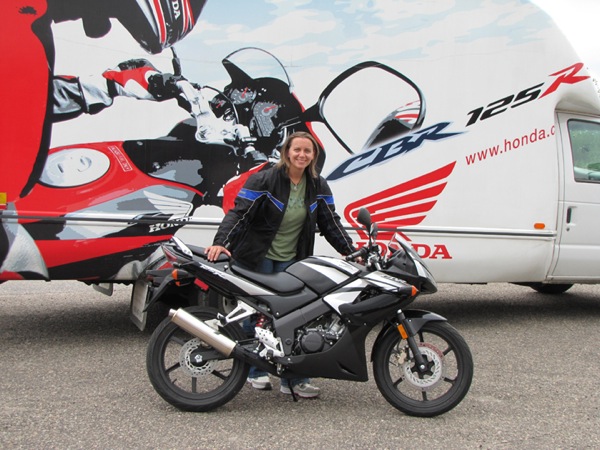 Back at the resort, the vendor area was set up in the main building's indoor tennis courts. Vendors included items for sale such as Butt Buffer and Royal Distributing, who had items from National Cycle, Icon, Vega and more. If you wanted handmade jewelry, clothing, or Bijoux belts, you could find plenty of that as well. Other supporters included Chrysalis, which was selling Diva Rider Wear Tees to raise money for the local women's shelter; PowerLily, a peer-to-peer network for women in powersports; the Canadian Motorcycle Hall of Fame, MotoQuest Tours and more.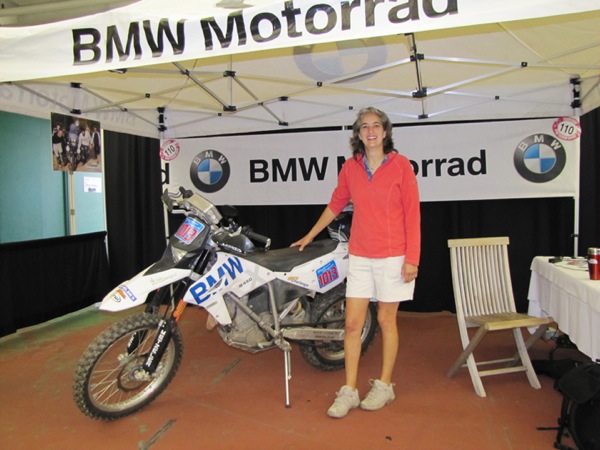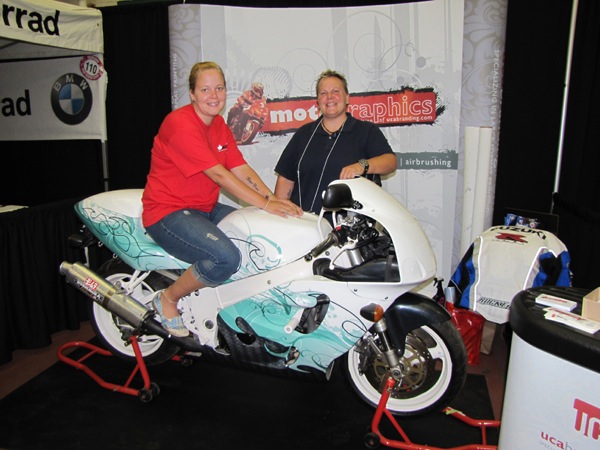 The real gem of the IWCF, just like its AMA counterpart, is the seminars. The biggest challenge was figuring out which of the 17 different classes to attend. Covering informative topics like helmet safety, group riding techniques, and the effects of riding while impaired are just the beginning. Other seminars focused on balancing life and making incredible life-altering journeys. The objective was to empower women riders to reach their goals and exceed their dreams in all aspects of their lives. My favorite was the Speed Networking session, hosted by Powerlily's Jessica Prokup. It was a great way to quickly form connections that will be useful even after the event is long over.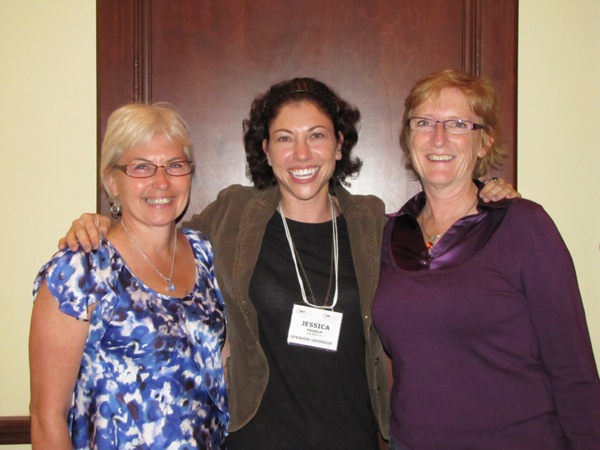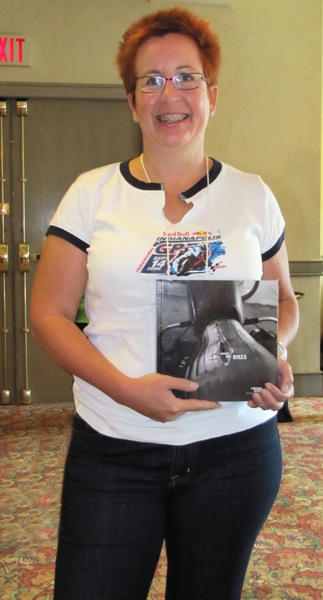 As energizing as the opening festivities were, the closing ceremony was even more motivating. Wrapping up the event with a delicious dinner served at Deerhurt's ballroom, tons of donated door prizes were awarded (including several subscriptions to RoadBike magazine.) Finally, WRC member Kellee Irwin presented a slide show of some special women of influence including Audrey Alexandre, the first woman inducted into the Canadian Hall of Fame; artist Lesley Gering; the first female Canadian police motorcycle instructor, Lise Grenier; enduro racer Meg Thorburn; and ice/flat track/road racer Toni Sharpless.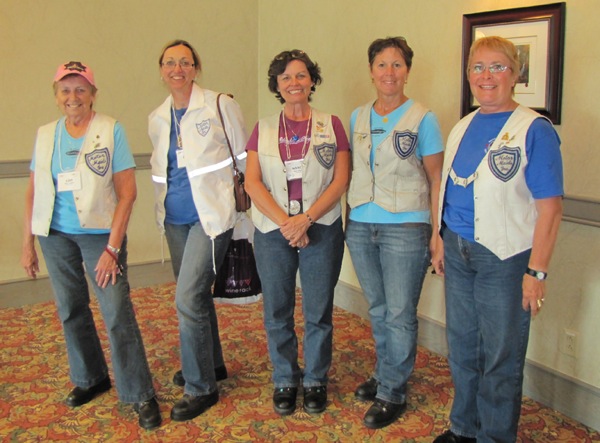 The keynote speech was delivered by Jennifer Botterill, gold medal winner of women's ice hockey at the 2010 winter games in Vancouver. Taking us on her quest for the gold, I was reminded of how one's personal journey is rarely accomplished without the support and camaraderie of others. Together we can break barriers and bridge worlds.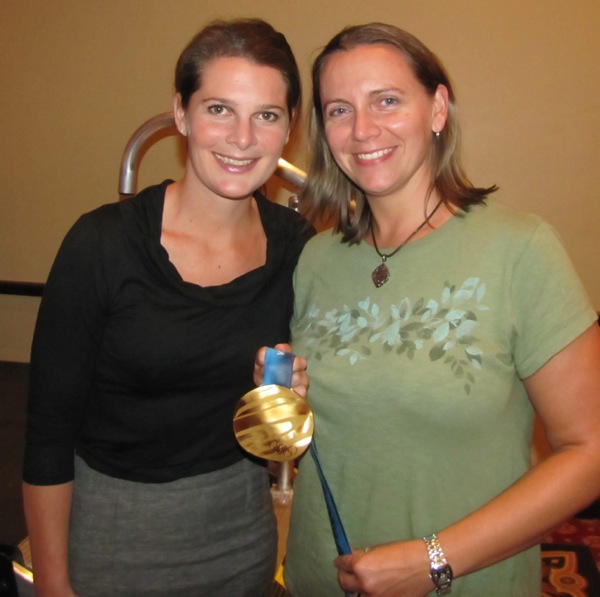 About the Author:
Tricia Szulewski has maintained the woman rider's perspective inRoadBike magazine for since 2000. She became a certified MSFinstructor in 2008 and logs thousands of miles each year on anythingthat shows up in the company stable. You can find some of Trish's bikereviews, adventures, product evaluations and more at RoadBikeMag.com.

Related Articles