Like it or not, a big part of owning any vehicle is taking care of it. How you decide to do that and the level at which you decide to participate can depend on your financial situation and your level of time and interest. Because I've been in the motorcycle world for more than 20 years, appearing in TV documentaries about motorcycling and writing for motorcycle publications, people often assume that I must wrench on my own bike.
My lack of knowledge of motorcycle maintenance doesn't embarrass me. I drive a truck every day, and I don't wrench on that either. I do so many different things that I just don't have the time or the interest in the maintenance end of things. Some profound woman once sang that girls just want to have fun. She pretty much nailed me.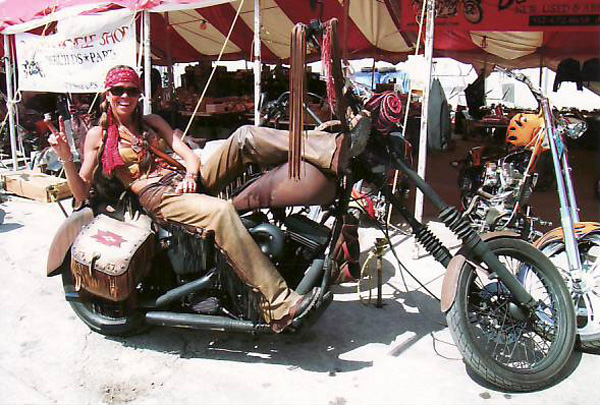 Yes, it would be ideal if I knew how to fix my motorcycle, especially since I have been setting off alone, cruising across America even when I just had my little white Honda 400. For many years, I rode my Honda Shadow 1100 from Los Angeles to Sturgis, then on to Minnesota, and back. That was before the days of cell phones, and I can guarantee I never had more than a few hundred dollars to my name. I wouldn't even bother to pitch a tent. I had my sleeping bag and would just sleep in cow pastures or along streams — any place that looked like my bike would still be there when I woke up. Of course, I chained it to my foot so they would have had to take at least part of me if they wanted my bike.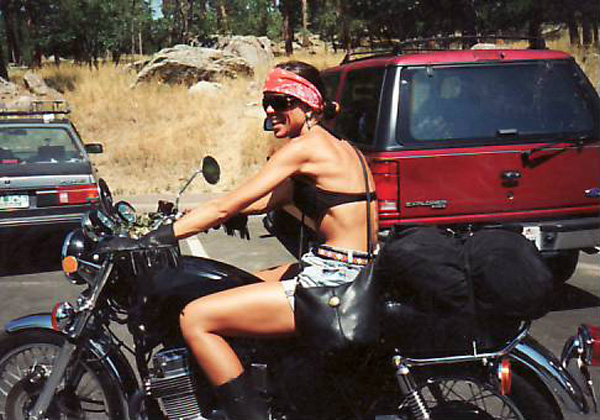 Is that a smart and safe way to live your life? Yikes, I call myself Calamity for a reason. I am just a biker chick, plain and simple. Take away the cameras and magazines, I have been riding a motorcycle across our nation for more than 20 years, by myself, without a dollar to my name, and without an ounce of knowledge about how a motorcycle is built or maintained. I can, however, ride one like the wind — and I love that wind on my face and blowing through my hair. I ride in shorts and a bikini top, and I love the sun warming every part of my body as I glide through nature, wildlife, and my own thoughts.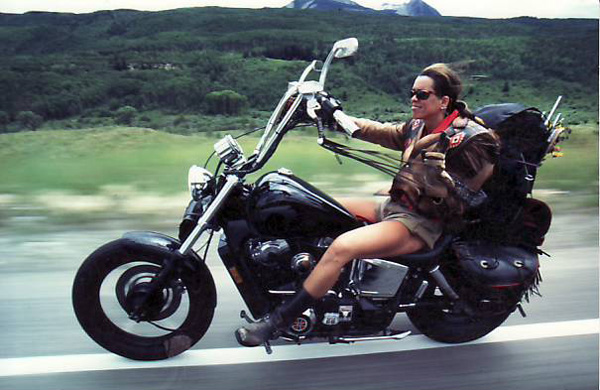 But what if something goes wrong? Oh, it will and it does. Those are some of the funniest stories of my life, funny now, anyway. I remember one time my buddy Genevieve Schmitt getting a simple flat tire. We were in the middle of nowhere in Idaho, and we eventually got a tow truck to rescue us, or so we thought. As the tow guy was cranking the tie downs one last notch, Gen looked at the guy and said, "Those tie downs are pretty frayed." He looked up at her still cranking down on the ratchet. "Don't worry ma'am. I do this all of the time," he replied as the tie down snapped, shooting her Harley into the air and landing in a ditch. What the heck can you do but laugh at a moment like that?
Then there was the time when she and I were headed to Sturgis on a beautiful sunny day. CAAAA-PIIIING! was the sound that rang from her bike just before it shut itself off for good. Here we are, a couple of seasoned motorcycle women in the middle of nowhere. Well, we checked the gas, and it was good. We checked the oil, and it was good. Hmm…kicked the tires. Still had air in them. That about covered our motorcycle maintenance skills. Once again, laughter was about all we had to get us through.
Her engine was blown, and she went to Sturgis on the back of my bike. Our bags ended up in the back of a pickup truck of people who just wanted to help. They dumped our belongings off at our campground. Blind faith, and trusting your fellow man has actually been a part of my biker mentality. Do I realize that could go hugely wrong and that some evil-doer could use my skin for a lamp shade, and the little bit of meat he could get off of my bones in a stew? Yes, I watch the evening news. I have never carried a weapon of any kind, and I have never had anyone do anything but help me in these types of situations. It never ceases to amaze me how nice, helpful, and trustworthy people have been to me.
I know motorcycle mechanics in every town of every state between the Pacific Coast and the Mississippi River, but putting yourself at the mercy of strangers is a risk. For every mechanic who has saved my butt, another one has caused me grief. How can you tell if a mechanic knows what the heck he is doing? How can you know that he isn't going to rip you off? If you are in the middle of nowhere, and he is your only option, you probably are going to pay the price. I am a Janet of many trades, and a master of, well, some. But for the most part, yes, you do have to pay your dues once in awhile, and let someone who is a master at working on machines, get the job done.
But trusting your bike with a mechanic can be putting your life in his hands. I have seen unbelievable accidents over the years as results from botched builder jobs. I will never forget riding behind my buddy Qian Ma on the road up to Bear Butte in Sturgis, when her newly fabricated handlebars snapped in half at the weld. Luckily, we were going slow as she was literally trying to hold the limp bars up as she skidded to a stop.
I myself had a huge problem when I let the wrong person completely tear my bike apart to do a variety of things. Six months later, if I went to the shop, it was never open. If I called the guy, he would never answer his phone. It was like paying a ransom just to get the bike back together and out of his possession. He had screwed up my rake so badly, that the death trap zigzagged its way to the next few mechanics where I had to spend thousands more to correct the damage.
The bummer is, I loved that mechanic. He had beautiful blue eyes, and a humble sincere demeanor that could have had me buying ocean front property in Arizona. I still don't think he intentionally screwed me, because I honestly think he just had his own problems that were bigger than my bike. The bottom line is you should do your homework before selecting a mechanic.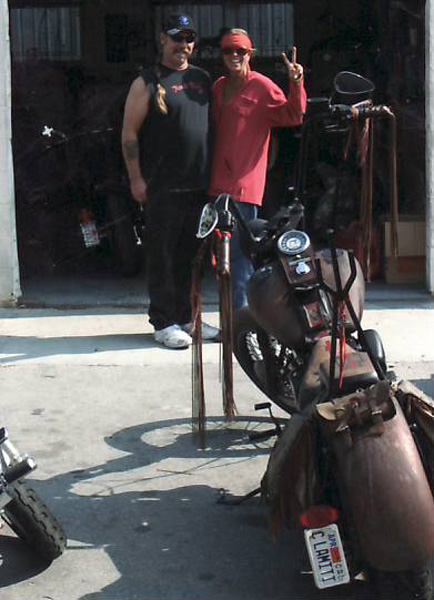 Oliver Shokouh, owner of Harley-Davidson of Glendale in Glendale, California, and his staff have always been very good to me providing me with fast and reliable service. But personally, I like going to a small privately owned business close to my home where the same guy remembers me and my bike, and its history. I like having a trusting friendship with my mechanic. I have been going to Michael at WW Cycles for years, and when I am about to go across country alone, he looks my bike over as if it was his own wifes. He tells me what has to be done immediately, what can wait a few months, and what can wait another year. He knows that I am always riding on a wing and a prayer, and he helps me get the most out of every part before replacing it. Most importantly, with his preventative medicine, he keeps me on the road safe and sound. But he also helps me continue to create my own vision, regardless of how impractical it seems.
My rusted fuel tank has no seals left and leaks a lot of gas, especially on a hot day when gas expands. Im making a little sign for the front of the bike that says, "No Smoking," but I think it might be time for a new tank. So, as long as Im changing the tank, I asked Michael if he could just remove my speedometer, and not have all of that clutter on my tank. No problem. He doesn't try to tell me that I shouldn't remove my gauges. He just helps me actualize whatever it is I want done.
There are those people who just dont want to see you screw up your bike. Removing working parts, purposely rusting a good paint job, and painting over shiny chrome goes against some peoples idea of sanity. But I had a vision, and little by little, it has become a reality. It is forever a work in progress, but I love personalizing my machines! Even when I first had my little Honda 400, I painted the entire bike flat black, and it had a white tank. I thought it was so cool!
Then when I upgraded to my Honda Shadow 1100, I put Arlen Ness chromed, flamed grips and pegs on it. I installed a derby cover with "Buddha eyes" on it, engraved by my friend Bob Epstein from Pan Galactic Sculpture. Then I had 16-inch ape hangers put on, plus the same sissy bar that I have today on my Harley, which, by the way, is not a devil's pitch fork. (It often gets mistaken for one.) I have no affiliations with the devil whatsoever. I live in the desert, and have an acre of cactus gardens. I see it as a cactus.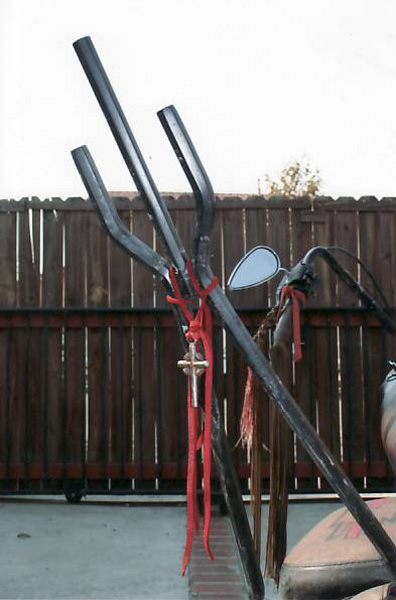 I had a guy in Sturgis with a thick southern drawl look at my bike last year and ask, "Did ya'll do this to yer bike on purpose?" As if maybe I just forgot the bike out back of the shed for a while, and this was the result. A lot of people do ask who did the bike, and how each part of the process was done. So here are some answers on how to deface your bike on purpose, or how to build on a budget!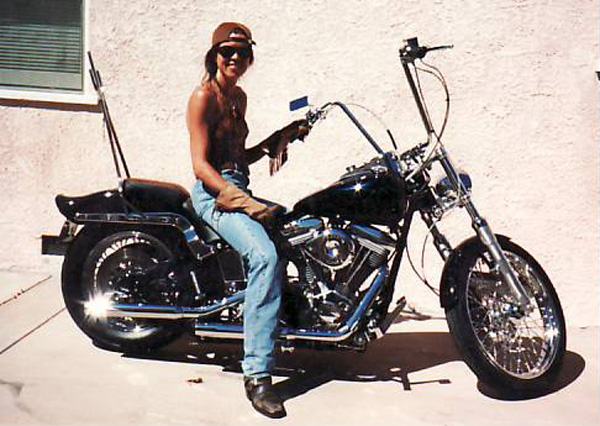 My bike started out as a 1991 Harley-Davidson Softail Custom. I guess its called a special construction these days, but it will always be a Harley. Once a Harley-Davidson; always a Harley-Davidson. It still has its original motor and 5-speed transmission, although it now sits on a chopped and raked Paughco frame. Rake by Dr. John in Orange County, California. It has Delkron cases, an S&S carb, an Andrews EV3 cam, FLH fork tubes, a belt drive, and twisted spoke rims. Sixteen-inch apehangers are the only way I like to ride, so I always put those on my bikes. This time my friend Bob Epstein from Pan Galactic Sculpture created cow skull derby covers. I took my own deerskin into LePera Seats, and the designers there created my custom leather seat.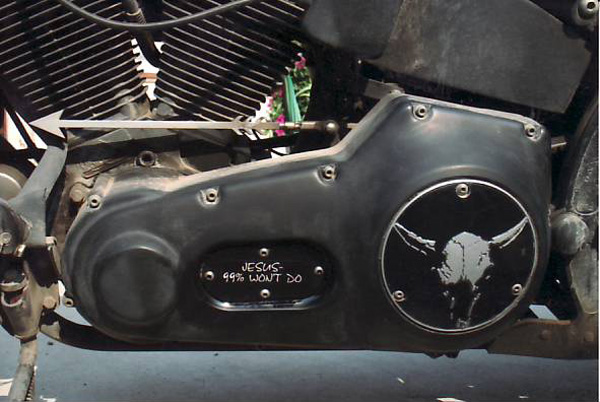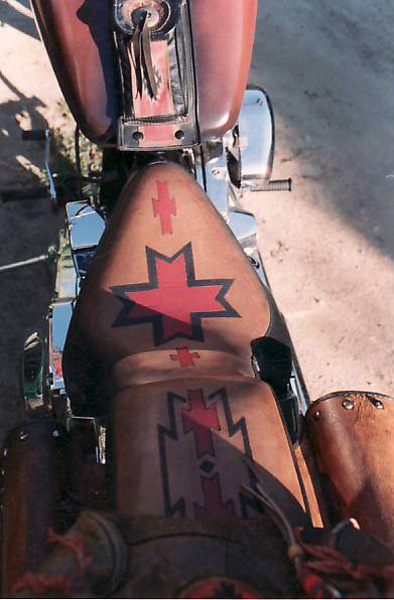 For a while, I had a styling custom paint job that was black with barely detectable ghost flames. It was a shiny wonder, and I loved her. But over time, she got more and more dirty and abused, and it gave way to the next phase, which was flat black. The more time that went by, the more things I took my can of barbeque flat black to. Little by little, I covered everything that shines. The barbeque paint does flake off with time, so I had some of the parts powder coated, and some of them I just touch up from time to time.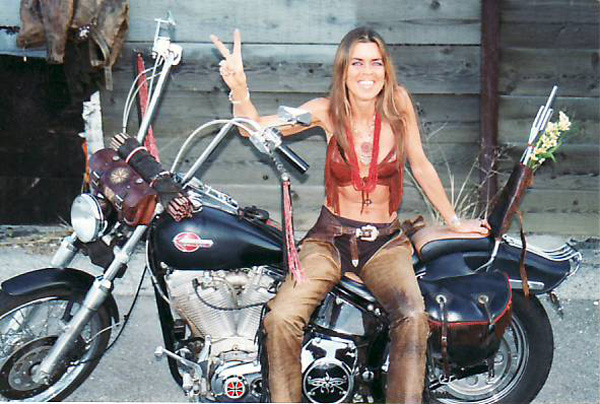 When I decided to go with the rusty look, I first tried a faux rust paint from the Home Depot, but I was unhappy with the results. The actual rust is what I wanted, and ultimately what I did. I found that acid solutions rusted the pieces too quickly. I had better luck with plain Morton salt and a garden hose. It did eat through my Python 3 Pipes, so now I have a cheap set of pipes from the swap meet. Rust is like cancer, and it spreads and eats its way right through metal. But it takes awhile, so I'll replace the parts when they fall off. The little pieces of rust are also not good on the inside of your gas tank as they clog the fuel system and carb. So, I still have a few kinks to iron out. I wanted a bigger back tire, so I had to have a rear fender fabricated.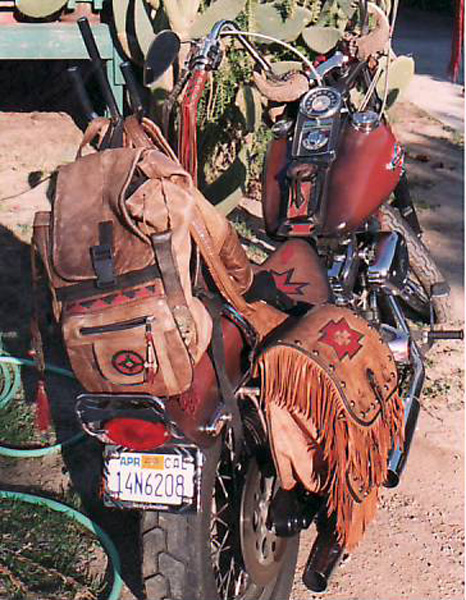 I collected all of the leathers and blankets that are bungeed to the bike from my travels to places like Tibet, Nepal, and Peru. I used a wood burner to make the native designs on my seat and bags, and used leather paint from Tandy Leather for the colors. The paint and stains have to be redone every now and then, as the sun and wind dull the leathers over time.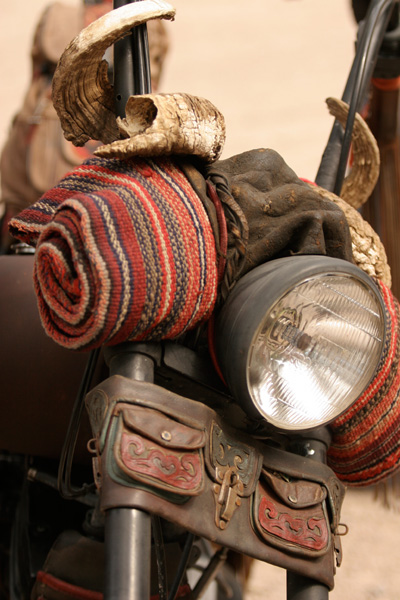 Like I said, she's a work in progress. Luckily, I love the process. I can't even imagine wanting a different bike at this point. Which is a good thing, because I'll probably never be able to afford one. So maintenance is something we all have to deal with. Whether we do it ourselves, or try to find the best person for the job. It's part of owning, riding, and loving your motorcycle. I wish you all safe and happy trails until next time!
To read more about Betsy, visit her Web site at BetsyHuelskamp.com.
Related Articles
Backroads With Betsy: Motorcycling Trip of a Lifetime
Backroads With Betsy: Best Friends
Motorcycle Maintenance Articles on WRN