In my lifetime, I have experienced the pleasure of simplicity many times, and I have appreciated it many times. But have I really learned it as a way of life? Apparently not, because it seems I have to keep relearning it. "Are you going to Laughlin this year?" my friends would call to ask. Of course I am going to Laughlin. If I am in the country, I always go to the Laughlin River Run. I always go to Sturgis. I always go to the Love Ride. Its who I am, and its what I do. But sometimes you do things so habitually in life that you forget to ask yourself why, and if it serves your purpose anymore.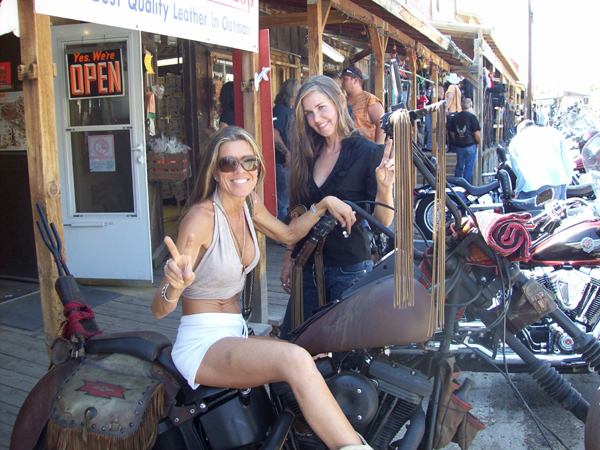 As I was coming home from the chaos of the Laughlin weekend, and dealing with the gridlock traffic that backs up where Interstates 15 and 40 meet, I started thinking about the reasons I fell in love with riding a motorcycle. I love riding alone on an open road. I love flying through tight turns in the canyons and smelling the pavement. I love small town runs like Mariposa used to be, where everybody is equally filthy from riding and camping. And I love and miss the element that came along with one-percenters being omnipresent at these gatherings. Where have all the cowboys gone? Is it just me, or has the motorcycle scene gone#8230;generic?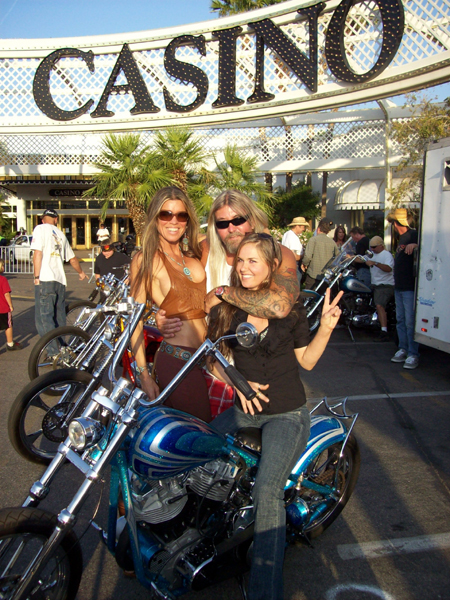 From the beginning of time, Hells Angels ruled the streets. Marlon Brando, Peter Fonda, Dennis Hopper, the Fonz, and Lorenzo Lamas were fun to watch as bad boys, but they didnt really match up to the actual club boys on the streets. And although my own personal life has never included smoking, drinking, or doing drugs, I have always held a certain fascination for the wild side. As an adventure seeker, I always manage to live life on the edge. But one-percenters take that to a whole other level. And being around that, watching it, feeling and being a part of that energy used to be really exciting.
Long ago and far away when I rode a little white Honda 400, I used to go up to bike night at Ricks drive-in on Monday nights in the valley and park way in the back. Id walk around and just look at the Hells Angels and their bikes. I didnt have any girlfriends who rode, so I would go up there alone, or take a friend on the back of my bike. I half expected to have my Honda smashed to pieces with baseball bats. But on the contrary, no one was ever anything but nice and funny. And for the most part they would say, "At least you#8217;re riding!"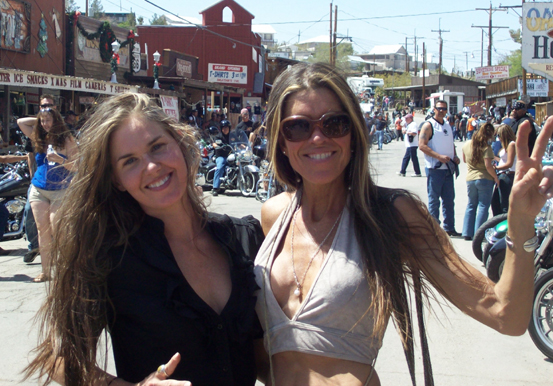 It wasnt long before I fell for a Hells Angel prospect named Rod, and over the years became good friends with him, Tiny, and his buddy Rusty. By then I had upgraded to a Honda 1100, but lets face it#8230;a Honda is a Honda. At 6 foot 6 inches and nearly 300 pounds, Rusty commanded respect. So when he let me, a 120-pound girl on a Honda, ride in the front with him, it didnt go over very well with his club, but he let me ride beside him. He let me park my Honda in front of the clubhouse, and he always stood up for me. No one really argued with Rusty. I look back on those days, and how well those men treated me, and it still makes me smile. I ran into Rusty in Laughlin, who is now happily married and running Illusion Motorsports. Seeing him certainly reminded me of those days gone by.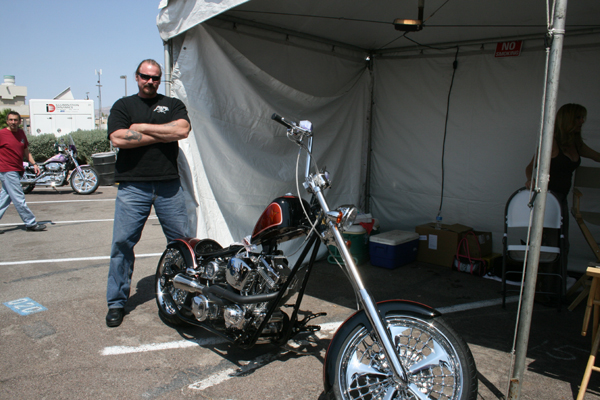 I remember when the Flamingo Hotel in Laughlin was the center of all activity, and one-percenters made a thick barrier out front of the casino. It was intimidating to just walk through. You could usually watch them doing wheelies or burn outs right on the sidewalk. I even saw a guy ride his chopper through the black jack tables and back out the door. The area around the bar was the place to be, and it went on all through the night.
But then came the year of the shoot out down at Harrahs between the Hells Angels and the Mongols, and it changed Laughlin history forever. Genevieve and I just happened to be staying at Harrahs that year, which by chance is where the Mongols hung out. The shoot out went down around 2:30 in the morning. I went up to my room around 2:15, and was in an elevator with three Mongols, who were friendly and funny guys. When morning came we learned the hotel was in lock down, and that half a dozen bikers had died on the casino floor. We couldnt leave the casino until noon that day, or access our bikes until two days later. Thats when we could finally stroll through the lobby, which looked like the Bonnie and Clyde car at the fair. Yellow tape, blood stains and bullet holes marked the area where several bikers lost their lives. I guess I always knew that bad boys sometimes do bad things, but I had never actually seen this before.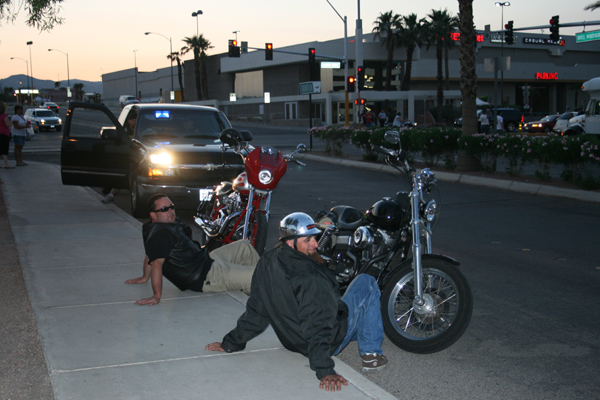 After that night, security at every rally and event in the country was beefed up ten-fold. Many casinos and bars posted signs stating, "No colors allowed." Any guy wearing colors was hassled and arrested just for being there. In fact, everybody was hassled, for any little reason, or sometimes no reason at all. I rarely break the law, with the exception of going excessively fast once in awhile. And yet I have been hassled for everything from high handlebars, an illegal helmet, excessive noise from pipes, no eye-wear, and even J-walking and evading arrest.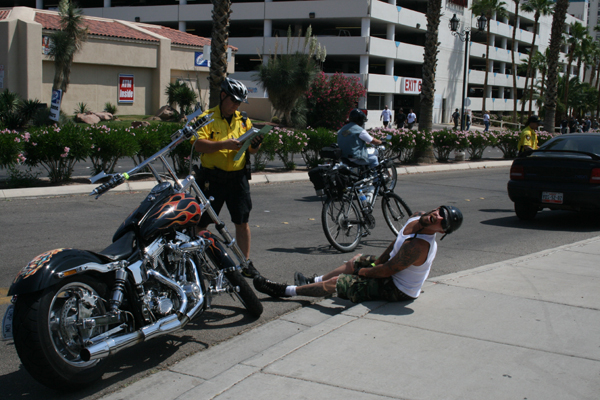 One cop was so sure he was going to find SOMETHING on me, he went through my entire set up, and cut out the linings of jackets hoping to find drugs, or anything to charge me with. I asked him if he was on meth, and he almost lost his mind. He found nothing, and had to let me go. This type of treatment is partly responsible for low turnouts at major events. Youd think at $800 for a hotel room for three nights, that the city would be glad to have you. But they seem to feel the need to jack every last dollar out of every last person.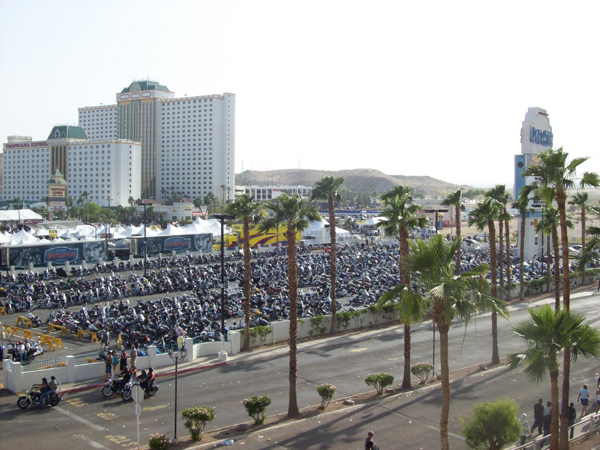 That, and our nations economy, with the price of gas looming around $4 a gallon, the streets of Laughlin were empty. Lonely guys holding their Mardi Gras beads in the hopes of seeing bare naked ladies, and the only thing bare naked was the streets and the casinos. With prices up, and business down, even most of the major bike builders were not in attendance. The vendors that were there complained of the low numbers. The front of the Aquarius, alias "Flamingo" was quiet. The bar inside was calm. You know you are getting old, when you miss the "old days!"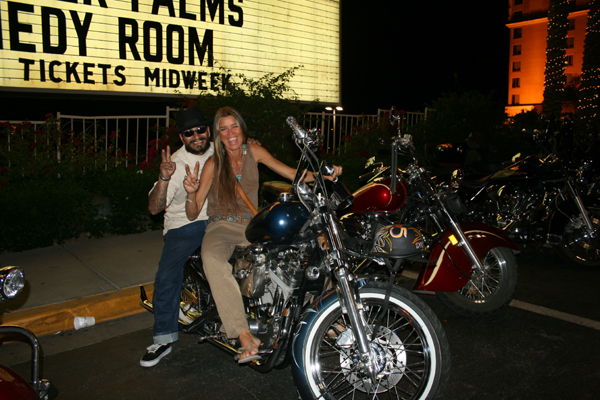 The weather was warm, sunny and windy, so poolside and the river boat rides were still a lot of fun. I was on a riverboat with a group of Latino guys who had had a few drinks. We were all watching a boat with two topless ladies showing their goods, and the boys started working the pole in the middle of our boat pulling up their shirts to reveal their sexy big bellies. I was putting dollar bills in their shorts while one of them sang, "Pretty vato, walking down the street, pretty vato, oh, you look so sweet." They were very funny! For those who need translation, vato means dude. I brought along my own portion of chaos, my friend Tracy who flew in from Nashville, and my buddies Qian and Gevin were along to liven up the streets.
Oatman is always the highlight of the weekend in Laughlin, and this trip was no exception. The little mining town was jam packed, and the wild donkeys were in full attendance to get their ration of carrots. Tracy and I even met Grandpa from "The Munsters" and his wife – or a guy who thinks he is and certainly looks like him – who stopped us for a picture. (The real Grandpa Munster, Al Lewis, died a few years ago.) I didnt get out to any of the concerts, but I heard the Black Crowes rocked the house down on Thursday night, and Joan Jett brought back the 80s on Saturday night. I ate at the sushi bar next to the Hideaway every night while I was there. It was some of the best sushi I have ever had.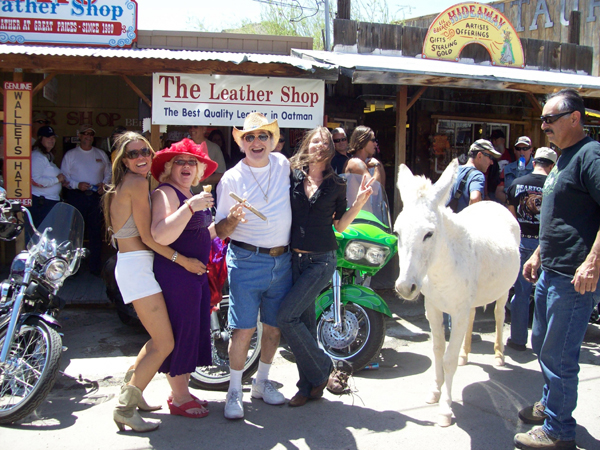 All in all, it was a good time. It just doesn't have much to do with my idea of why I like to ride. But I've got a lot of riding on my calendar this summer, so I'm ignoring the gas prices, and the bizarre economy and going full speed ahead. Seeking pleasure in the simplicity of the open road. Still looking for adventure, and whatever comes my way! Hope to see you on the road between here and Sturgis!
To read more about Betsy, visit her Web site at BetsyHuelskamp.com.