Warriorship is a continual journey. To be a warrior is to learn to be genuine in every moment of your life. As I near midlife, I feel like I have spent the first half of my existence trying to be a warrior on the exterior. It is my intention to spend the second half of my existence working to become a warrior where it matters most#8212;on the interior.To be genuine in every moment would mean to give every action forethought and to then make every decision deliberate. Just the idea of thought before every action sounds exhausting. We tend to live our lives on overdrive, going through the motions of each day in mindless habit.
I have long been on the edge of this cluster of people and events referred to as the "motorcycle industry." If the word motorcycle inspires a feeling of freedom, the word industry would be its polar opposite. I think of industry and I see factories and synthetic lighting. I see smoke stacks and desk cubicles. As a part-time writer and photographer, I sometimes find myself trying to find a place within this community skirting its events. But Ill be honest. If I hadnt had a year-long crush on the event manager for Samp;S Cycle, James Simonelli, I probably wouldnt have found myself at the companys 50th anniversary celebration in LaCrosse, Wisconsin, in late June. I mean, Samp;S they make motors, right?
Once there, I realized the magnitude of the event taking place. In honor of Samp;S being in business for 50 years, the all American V-twin performance company invited 50 of the worlds top builders to participate in a bike build-off. Each builder had to create his own bike utilizing one of the six engine types created by Samp;S. Then they had to get themselves and the motorcycle to LaCrosse for the three-day event. The builders were competing for a variety of places in several categories, with the winner of the all-around best bike taking home $50,000 worth of product credit.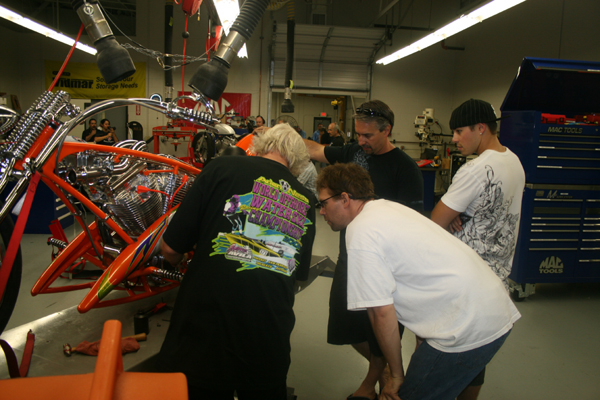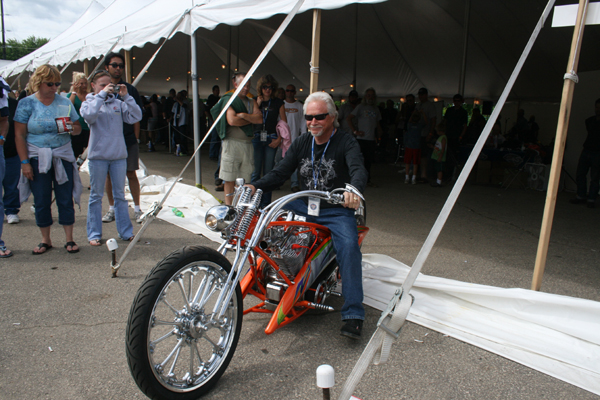 So I am here at this event walking around the factory and tent where many builders are busy putting the final touches on their creations. Heavy hitters like Arlen and Cory Ness, Donny Smith, and Rick Fairless were on hand with their masterpieces seemingly unaware of the fact that they are legends in their own time. They were in competition with builders at the top of their game from Australia, New Zealand, Italy, Japan, Germany, Belgium and France. Not to mention the celebrities of OCC, and the man who started the builder frenzy, Jesse James.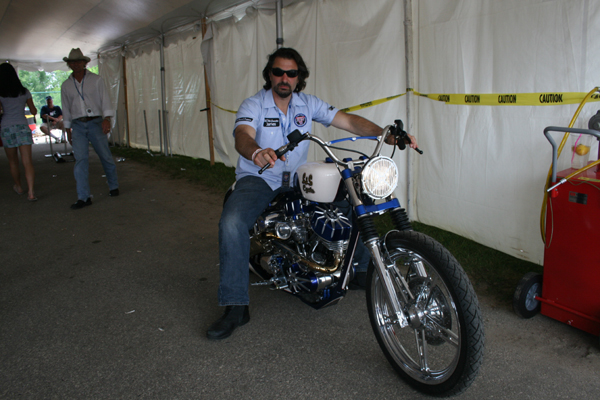 This enormous tent was placed at the Oktoberfest grounds among vendors selling motorcycle accessories and good old Midwestern food like mini donuts, and pork chops on a stick. James says of the 28,000 people who attended the event, he received just one letter of complaint and it was about the food. James added, "I guess that means 27,999 bikers thought the food was pretty good."There were river boat cruises going up and down the Mississippi every day, and you could sign up to be on a boat with one of your favorite builders. Rudys Drive In, complete with cute roller girls, had classic cars and motorcycles oozing from its lot the whole weekend. Jay Allens mobile Broken Spoke Saloon had a huge set up and, as always, provided music, drinks, and the finest of entertainment for every boy and girl! There were games, and dancing girls, and even male wanna-be strippers dancing on a mock pole. Everybody needs a little comic relief, dont they?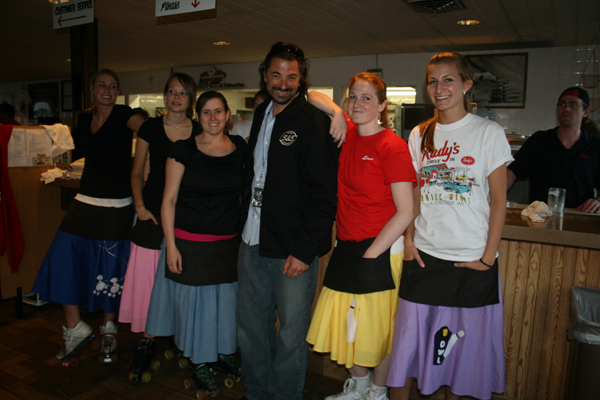 But the main draw to the event were the builders, and in the middle of the builder display was Michael Lichter with a very clean, makeshift travel photography studio. A motorcycle celebrity in his own right, Michael was shooting each builder at the event for a coffee table photo book to be released this fall.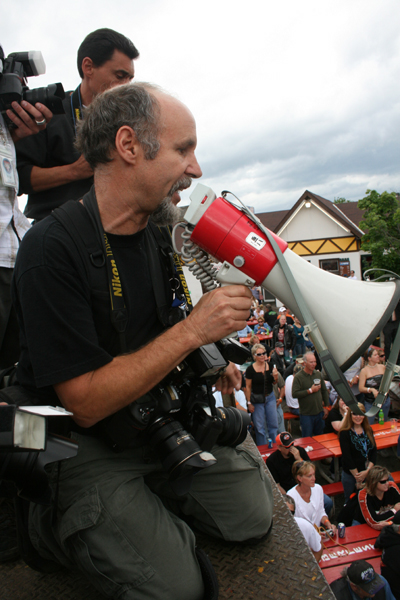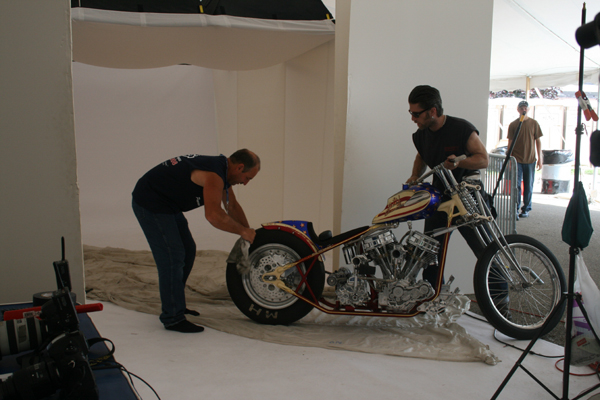 A ride of all the builders from one Samp;S location to another was supposed to be shot as a part of the book, but was canceled due to a torrential downpour. There was a bit of rain, hail, and wind over the course of the five days, but people in Wisconsin dont let that slow them down. The party just ducked into tents when it needed to, and went right on through the wet weather.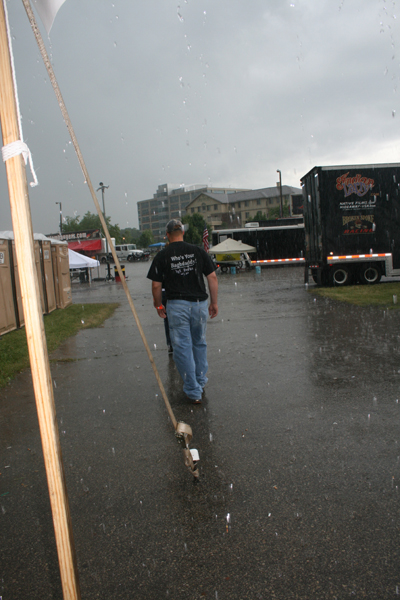 People circled the big tent time and time again, ballots in hand to vote for their favorites in each category. They studied the bikes and all of their Samp;S parts, diligently placing their votes. The builders themselves, along with Samp;S employees, and the media had vote booklets. This was serious stuff, and at the end of the voting, it was somebodys job to tally up the enormous bins full of casted votes.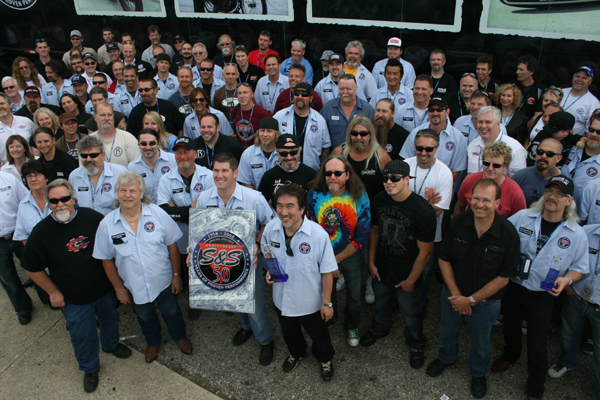 Walking through these bikes felt more like I was in an exclusive museum than at a bike rally. I like a bike that looks like a bike. I like a bike that can get dirty and get me across the country. I just like to ride the things. I dont like to look at skies. I like to slam the bumps. I dont like to look at scuba gear. I just like to swim with the rays, and eels, and dolphin. I do like looking at the creative genius involved in some of the outrageous machines that are being built these days, but ultimately, I like to just ride.
So, I believe it was by no accident that I met a woman named Grace. Now I know where they came up with the name of the song Amazing Grace because Grace is amazing! Meeting her was the highlight of my trip. Well, one of the highlights. I had heard about this little woman who was 74 years old and riding around the country on her old Indian that she bought 50 some-years ago. Even my buddy Jesse James said, "You have to meet Grace. She is amazing!" So when I saw her in builder Kiwi Mikes booth, I went running over to meet her.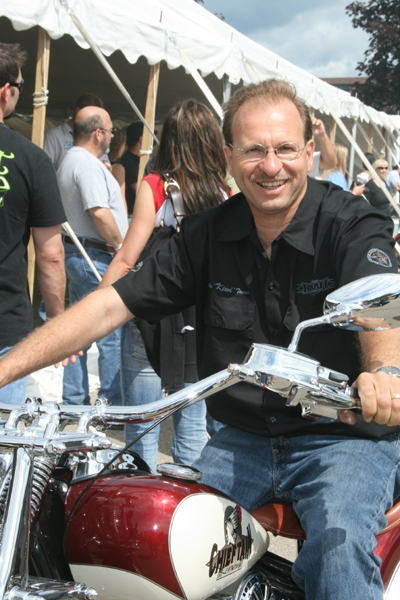 Kiwi Mike is my friend who builds, fabricates, and works on just about anything, but specifically old Indians. So it did not surprise me to find out that he was Graces mechanic who kept her old original machine on the road. I shot pictures of Kiwi Mikes shop, "Kiwi Indian Motorcycle Company" for V-Twin magazines July 2008 issue to accompany an article by Kit Maira. If you have a love for all that is old, or looks old, Kiwi Mike is your guy. He can keep your old machine operational, or fabricate any part that needs to be replaced. Or he can build you something from the bottom up to look old, but have the luxury of it being state of the art new. He is truly in his own league, and a more humble guy you will never know. If Kiwi is saying something bad about someone, he MUST be an idiot because the guy never has a negative thing to say!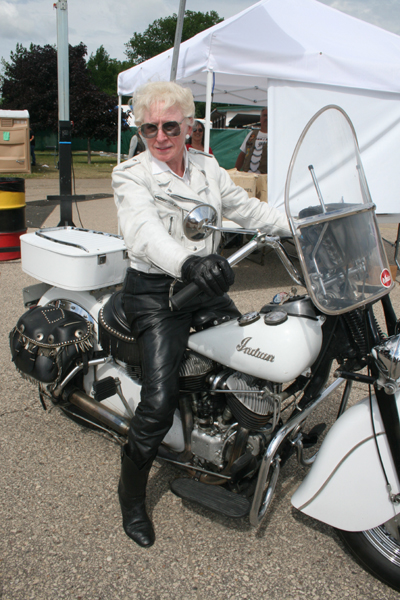 Grace was just a little peanut of a woman. Her white hair was in an up-do just like my Grandma Fern used to wear. Grace was wearing a white leather biker jacket, and black biker boots and she was on this old Indian as classic and vintage as she was! There was a line of people fighting to talk to her at the same time I approached her. And she backed herself right into a display of an old engine that Kiwi had in his booth. She turned to see what she had run into, and looked at me and said, "I dont know what that is, but I think its what makes my motorcycle run!" I looked at her and said, "I know you dont know me yet, but I think I might be your long lost daughter!"
An hour later we were still talking about everything from men to foreign travel. I knew this woman would have a story to tell, and that is definitely an understatement. She told me that her classic Indian sat in the corner of the garage covered by a blanket for 24 years while she raised a family, and didnt uncover it until her husband passed away eight years ago. So at 66, this adorable little lady decided to hit the road again. I asked her if she was going to Sturgis, and she said she really wasnt into crowds. I told her that Jesse James thought she was amazing, and she asked me who Jesse James was. I explained that he was a quirky monster with a garage in Long Beach. She said she didn't watch a lot of TV.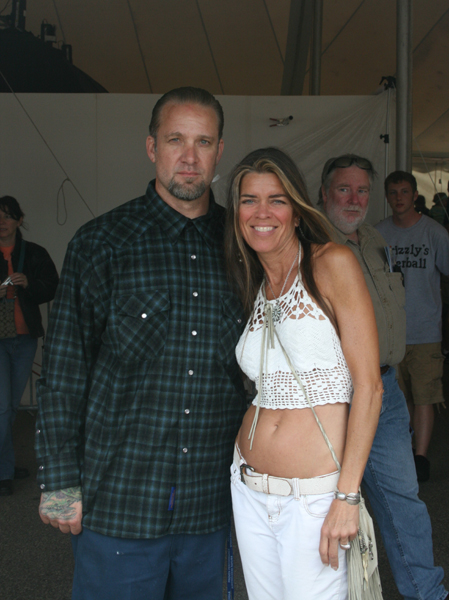 This is just a little old lady who loves to ride. And I am just a little old lady who loves to ride! I could not have been more inspired if I had met Hilary Clinton! I asked Grace if we could spend a day riding in the hills together when we both returned from our summer travels, so I look very much forward to getting to know the full story of Amazing Grace and sharing it with you in one of my fall columns.
My conversation with Grace went into overtime as I didn't want to stop listening to her stories. But that made me late for the announcing of the winners, so I lost my up-front spot for photographs. The sea of people was so huge and tight you would have thought Steven Tyler was on stage! The owners of S&S talked about the history of those things that make your bike run, and, more importantly, go fast. Then they got down to the business of announcing the winners.
The people's choice award went to a really cool local builder named Doug Wozney, and that seemed appropriate as he is a great guy who is well liked by his community. Without even looking at who built the bikes, I will almost always choose Dave Cook's as my favorite, and his bike won for best in the SH series (referring to the type of S&S motor used).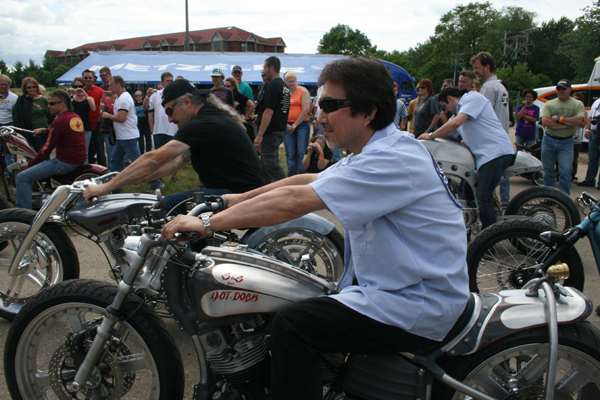 The award for all-around best bike went to a builder all the way from Tokyo, Japan, named Keiji Kawakta. His whole adorable family took the stage, and it just so happened to be his wife's birthday so the whole crowd sang happy birthday to her as she half cried and half giggled. For a list of all of the builders and winners, visit the S&S 50th celebration site at SSCycle50th.com.
The minute the winners were all announced, the place just sort of cleared out with everyone headed for the highway or the airport. The next day a small group of builders that remained all rode out to a drag strip in Minnesota. Of course, the sun came out providing the first perfect day now that nearly everyone had gone home. James let me ride one of his bikes, a little, slightly modified red FXR. Looking at the bike, which looks like a scooter compared to my work horse, I couldn't help but feel like my personality would be misrepresented. But I rode that bitchin' FXR and loved the fast, smooth, responsive ride. It cornered effortlessly, and hit 100 mph in seconds. And as much as I appreciated the talent of the masterpieces, the creativity and individual expression of the 50 bikes on display, it was easy for me to see why an FXR is the choice of Hell's Angels. It's a bad ass machine.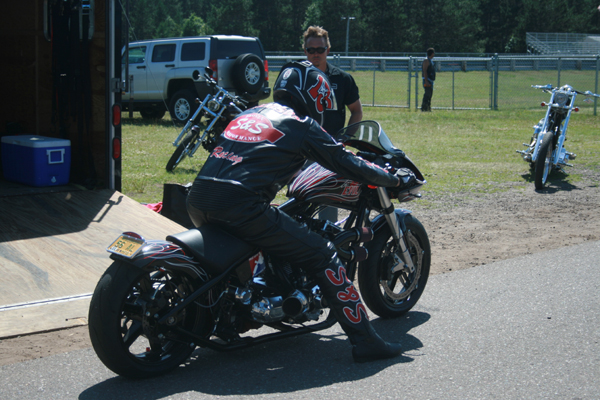 It was a day of sun and fun, friends from foreign countries, and riding through the very green rolling hills and back roads of Wisconsin and Minnesota. The drag strip was less than crowded, and a handful of guys took their turns ripping it up. All in all, a perfect end to a fun weekend.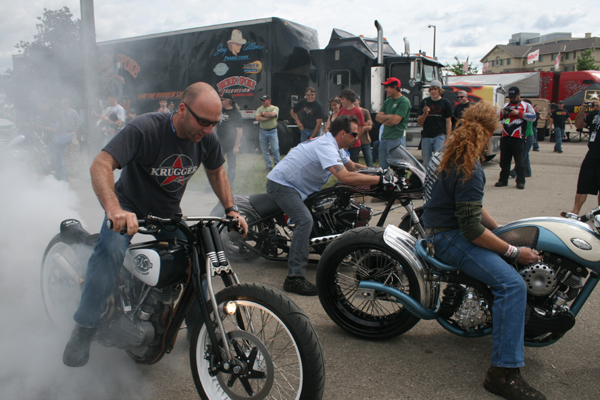 Sometimes, this looming midlife crisis has me wondering and asking what it's all about; what the bigger picture is. Am I doing enough? And how can I be a better person. I long for higher purpose, greater meaning, and something or someone to aspire to. And then when I least expect it, I receive inspiration in the form of the littlest, old warrior — Grace just riding around being Grace. And it's enough. She's amazing, she's genuine, and it's beautiful.
Editor's Note: S&S Cycle was founded by husband and wife team, George and Marjorie Smith. Marjorie is credited as being one of the first female businesswomen in motorcycling. To read WRN's profile of Marjorie, click here.
To read more about Betsy, visit her Web site at BetsyHuelskamp.com.