In England, if you get the chance to meet the queen, it is customary to drop to one knee to pay your respect. We have no queen in America, but there is a woman I find so remarkable that she warrants that kind of respect in my book. In the world of motorcycles and bad asses, Samantha Morgan is the queen, and long live the queen! Sam rides the Wall of Death, a circular motordrome where riders appear to defy gravity. If youve ever seen Sam ride the Wall of Death, you wont forget her. Even if youve seen the amazing Rhett Rotten or anyone else ride the Wall, its not the same thing as seeing Sammy girl in action.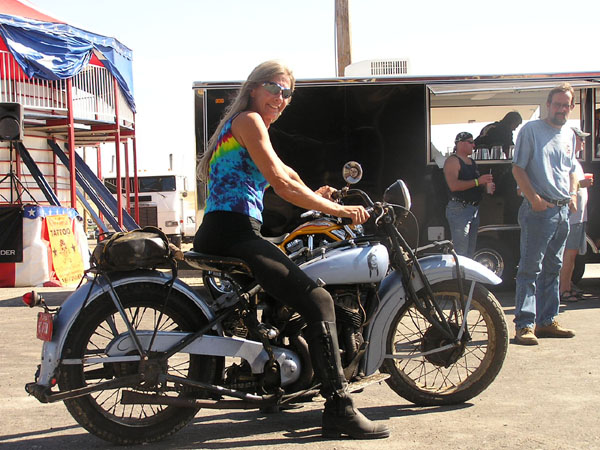 Sam is a skinny little thing, but her riding style is fast and furious. As she whips up and down the wall, she kicks her back wheel right up into the thin cable that separates your face from her bike. Her long, ash blonde hair flies in the wind as she snatches dollar bills from outreached hands. All the while her infectious smile shares with the crowd how much she loves what shes doing. This woman loves to ride. She was born to ride. Every time Ive watched her ride the Wall of Death has been a privilege.
For the past five years, Sam has been riding at motorcycle events all over the country with a group of guys with whats called the American Motordrome, otherwise known as the Wall of Death. It is basically an old wooden carnival act that has been kept alive by a select few people including Sam, whos roots tie her to the people who originated the sport back in the 1920s. Inside this big wooden barrel that gradates from the floor to the wall, riders scale the wall, and ride in a tight circle using centrifugal force to keep them upright. Viewers watch from above on a surrounding ledge.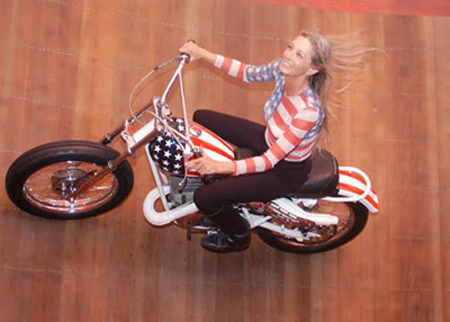 These wooden structures are very old so keeping them properly maintained is essential to the safety of the riders. Same goes for the maintenance of the vintage Indians the riders use. For some time now, Sam has expressed concern to the people she works with about the deteriorating condition of the American Motordrome. Her concerns were disregarded. The show went on with Sams fearless attitude allowing her to continue. To her dismay, in front of a horrified group of onlookers at Phil Petersons Harley-Davidson in Miami recently, Sam hit a spot on the barrel that was slick due to residue from a quick fix. She doesnt remember crashing, but she does remember the painful ride home.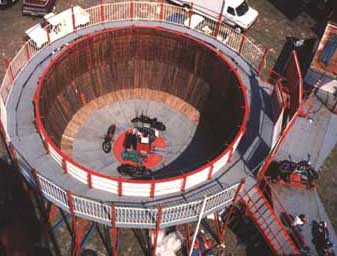 She now lies in bed with a multitude of injuries. She smashed her face and teeth, broke her right wrist, left shoulder, and a couple of ribs. Her back, leg and knee are bruised and sore. When I asked her how many accidents she has had in her career, she couldnt recall the total. She has broken ankles, foot bones, tib and fib bones, her pelvis, numerous ribs, and her back three times, all in different places. Shes blown out her knee, wrist and shoulders, and smashed in her face, temple, and head numerous times. Maybe it would be easier to ask what havent you hurt. Her reply to that is that shes never injured either elbow!
Ill tell you what else has never been broken Sams spirit. I asked her if most of her accidents were in front of an audience or during practice. She explained that she only rides in front of an audience. This way she "never injures herself for nothing!"
Life Changing Moment
At 46 years young, Sam is an old soul. Her earliest memories of a mother and father were foster parents she describes as a passive good man, and the bitch from hell. At the ripe old age of 11, she made the decision to run away. She somehow thought it might actually make life easier for the passive man, and thought she was doing everybody a favor. With no birth certificate, or papers to identify her in any way, she drifted around until one day she found herself at a county fair, witnessing the fearless display that would awaken her soul, give her an identity, and change the course of her life forever.
She was 14 years old when she saw Sonny Pelaquin ride the Wall of Death for the first time. For a young girl who had never really admired anyone for anything, she found something she could really admire. Much like a stray pound puppy, Sam started hanging around the wall and offered to help out. She took tickets and cleaned up the place. When the group picked up to go to a new town, so did she. She worked hard to prove herself and Sonny literally took her under his wing becoming her mentor and the father she never had.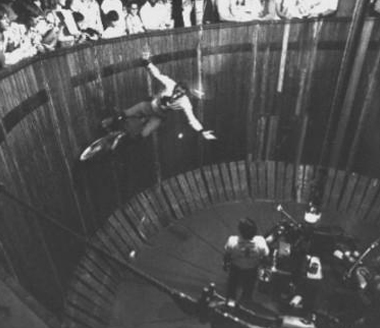 Sonny Pelaquin was literally born into the business. His father, mother and brothers all rode the wall, riding back when the carnival act included lions. The lions were taught to ride on makeshift sidecars with their manes blowing in the wind. Much the way a dog likes to stick his head out of the window of a car, Sonny told Sam the lions really loved it. Sonny enjoyed riding with the big cats, and loved sharing the stories with Sam who never grew tired of listening. His passion for the sport, the riding, and the lions was passed on to him from his parents, and he passed it on to Sam.
And Sams passion for it all is evident right through the telephone lines as she shares her story lying in bed facing six weeks of recovery. Her love of riding the Wall of Death is still there despite her accident. Her love of the late Sonny, his stories and his inspiration still burn brightly in her heart. She tells me the story of the last lion that worked in the business. His name was King. He had to be shot because the wrong person stuck his hands where they didnt belong. Human error caused Kings death. Sam recants Sonnys stories like they were her own. She is one of the last who still participates in a dying art, a ride that only a select few have the balls to even imagine trying. We talked about death, and both agreed it wouldnt be so bad to go out doing what we love to do. OK, maybe old age in your sleep would be a more peaceful way, but she explained that at the speed she is traveling, she probably wouldnt even know what hit her.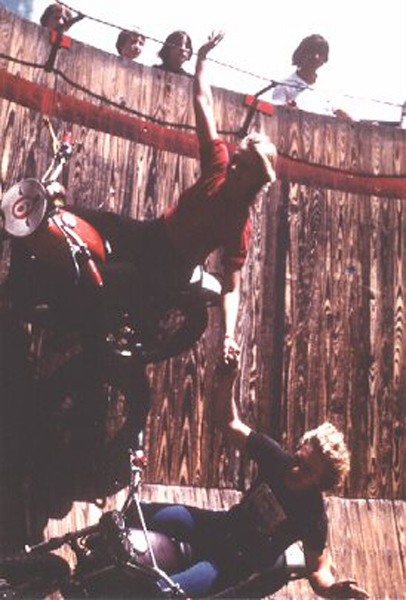 The Wall of Death isnt the only place Sam has a need for speed. This past summer she set two speed records at the Bonneville Salt Flats in Utah. Jay Allen, owner of the Broken Spoke Saloon, invited Sam to race his 1946 Indian Chief. She went on to set a record. She then set another record riding a 1936 Indian Chief owned by Indian Lawrence. In addition, Sam is one of a handful of women to be inducted into the Sturgis Motorcycle Museum Hall of Fame. One of the others is WomenRidersNow.com founder and editor Genevieve Schmitt. Both are recognized for their efforts inspiring men and women in the motorcycle industry.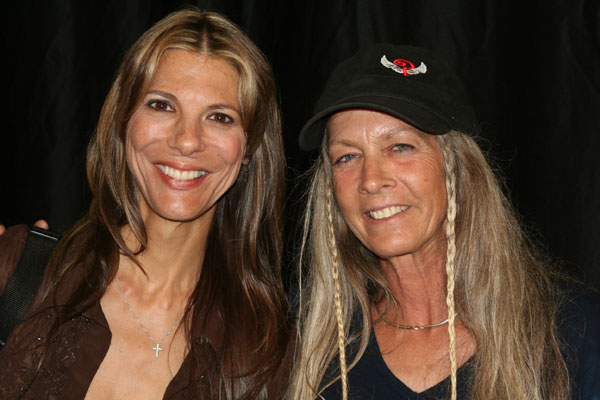 While lying in her bed recuperating, Sam shared a dream with me, one shes had for a long time #8211; having her very own American Motordrome. She feels now is the time to start turning that dream into reality. Awhile back an old dismantled drome was donated to her when its owner and rider, TJ Howard, passed on. She has never had the resources to assemble it and make it operational, however, now shes making that task a priority. She is her own carpenter and knows what needs to be done. Her most important need, she says, is help from her friends and from people in this industry to make her dream come true. Her vision is to have an all female American Motordrome riding team. Shed like to incorporate the talents of her motorcycle-riding friends, Goth Girl playing piano, and Sara Liberte with her creative photography. I most definitely believe that if she builds it, they will come! Her spirit and talent are unmatched.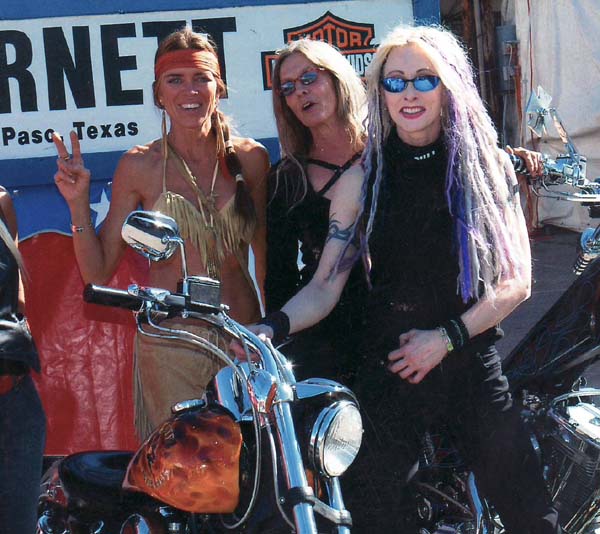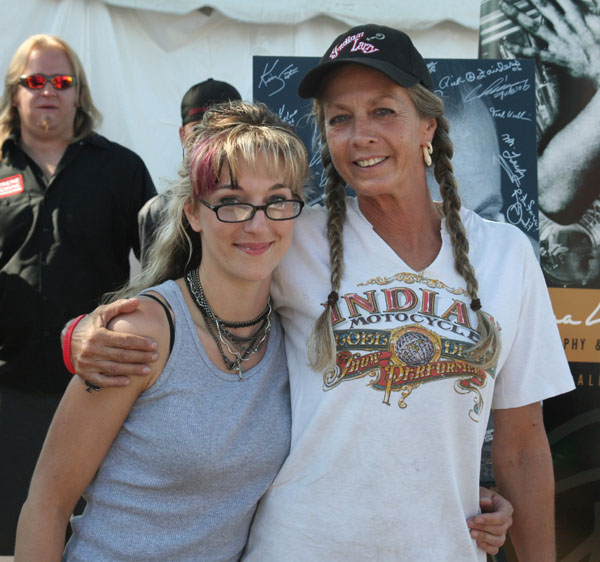 In the meantime, this daredevil is quietly recuperating in her Loxahatchee, Florida, home with her two best dog pals, Mischief and Daisy. She is creating a new Web site for herself at ThrillArena.com to be all inclusive of Motordrome history, her life, and current events. Some historical information can still be accessed at thrillarena@hotmail.com.
To see more of Betsy, visit her Web site at BetsyHuelskamp.com.